IN MID-SEPTEMBER, CALIFORNIA AMERICAN WATER, the privately owned water utility that serves the greater Monterey Peninsula, sent out a glossy mailer with a photo of a scuba diver descending into clear blue water.
The words on the front page read, "A Deep Dive."
The mailer folds out into eight pages – there are three creases – and the headline on the inside page reads, "Measure J: A fact-by-fact analysis."
The mailer is one of many that Cal Am has sent out over the last several weeks in an attempt to defeat Measure J, a ballot initiative that could compel a public takeover of Cal Am's local water system – if a study finds it feasible and in the public interest.
The mailer's analysis of eight different "claims" – it's not cited who has made the claims – merits its own fact-checking analysis, because it can tell voters most everything they need to know.
And while there's a lot of information, and misinformation, being floated about regarding Measure J, there are a few facts that everyone can agree on: Whether or not J passes, water on the Monterey Peninsula will get more expensive – much more, perhaps.
And if it does pass, and the board of the Monterey Peninsula Water Management District finds that a buyout is feasible, and in the public interest, that would set off long and contentious battle in court.
What proponents and opponents of the measure can't agree on is whether that's a good thing.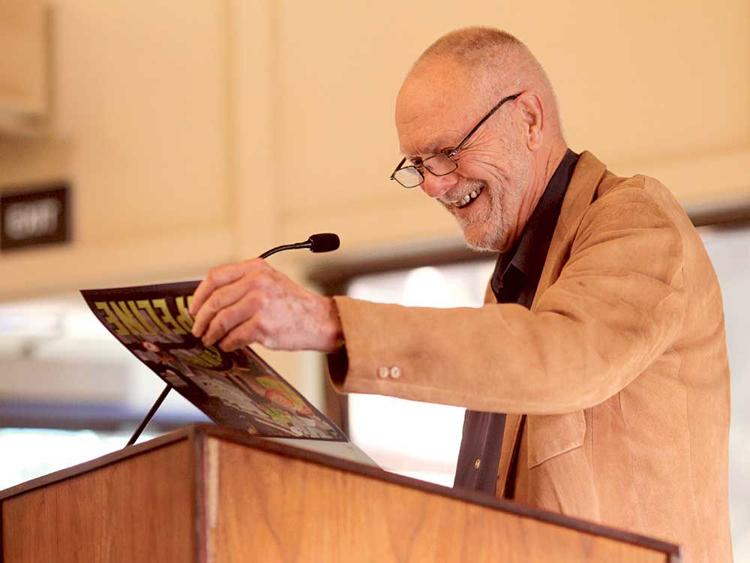 MEASURE J WAS BROUGHT TO THE BALLOT BY PUBLIC WATER NOW, a group that local activists founded in 2013 with a mission of "achieving the lowest cost, sustainable water supply for the Monterey Peninsula through public ownership."
The first effort in that mission was Measure O, a June 2014 ballot initiative very much like Measure J. Measure O was defeated at the polls – after Cal Am spent more than $2.2 million fighting it – by a 44-56 margin. (As of Sept. 27, the latest campaign finance filing deadline, Cal Am has spent $842,000 fighting Measure J, and Public Water Now has spent $75,000 supporting it.)
Since that time, water bills on the Monterey Peninsula have continued to rise, and Public Water Now has continued to gain supporters.
If Measure J passes, it would compel the Monterey Peninsula Water Management District to make public water ownership an official policy goal, and to complete a feasibility study within nine months that would assess whether buying out the local water system is feasible and would provide public benefit.
If the district's board, who are elected officials, were to make such a finding based on the studies, it would then vote to initiate a buyout.
Given the timing of the California Public Utility Commission's recent approval of Cal Am's controversial desalination project in Marina, it might be tempting for voters to conflate that project with Measure J – to treat their vote as a referendum for or against that project – but the two issues are wholly separate.
In fact, the water management district has explicitly supported Cal Am's desal project from the beginning, though it has recently expressed concerns to the CPUC over the water's potential cost to ratepayers, and the lack of a backup plan if Cal Am's project gets derailed by litigation.
But more on that later, after a dive into the Cal Am mailer's "deep dive."
"TAKE A DEEP DIVE INTO MEASURE J – AND GET THE FACTS."
These are the words awaiting those opening Cal Am's mailer, which folds out to reveal eight different claims that are presented as "fact."
Cal Am's first claim states that "government takeovers lead to higher water costs."
It is true that the cost of delivering water, irrespective of other factors, typically goes up year to year due to inflation, but it's disingenuous to say that rising rates after a public buyout come as a result of it. And in some place where public water buyouts have happened, rates have come down.
One recent example is in Ojai, where 87 percent of voters passed a similar ballot measure in 2013 that compelled the Casitas Municipal Water District to initiate a buyout of Golden State Water's Ojai franchise. After a predictably contentious legal fight, that buyout was completed in mid-2017.
Richard Hajas, who prepared the feasibility study for Ojai's buyout, says that current rates are lower than Golden State's rates were in 2016, and estimates that the average customer stands to save about $8,500 over the next 10 years.
Cal Am's second claim – that Measure J "requires the MPWMD to attempt a takeover" – presumes a big "if."
The takeover would only happen if the district's board were to find that the feasibility study showed a takeover would provide a public benefit – a legal standard that must be met for the water management district to successfully initiate the eminent domain process. Broadly speaking, feasibility in this context could mean, say, that the cost of operating Cal Am's system would go down or stay the same.
The third claim, that Cal Am's "profits are regulated and less than 10 percent," is true in one sense, but is also misleading. Cal Am is authorized to collect profits of up to 9.2 percent annually, per a CPUC rate-setting decision earlier this year, but that is after the company has paid state and federal taxes.
Cal Am's fourth claim states a buyout is "a costly risk we cannot afford."
There is one recent example of an attempted public buyout, in Claremont, that failed to meet the legal threshold of public necessity – a legal term that, broadly, means benefit – in a trial to begin the eminent domain process. The failed buyout left the city of Claremont on the hook to pay Golden State Water Co. $7.6 million in legal fees, which the city later negotiated down to $4.8 million. That's on top of the $6 million the city had to pay for its own fees.
However, there are also recent examples of successful buyouts – in Missoula, Montana, and Ojai, Felton and Montara, California.
Furthermore, the decision to initiate the buyout would be made by MPWMD's board after analyzing the feasibility study. The only guaranteed cost if Measure J passes is the money for the study itself, which MPWMD estimates would cost between $400,000-$700,000 to hire third-party appraisal consultants to assess the water system's value using publicly available data, and do third-party financial modeling to show the impact on rates and revenues of converting private debt (which has higher interest rates) to public debt (lower interest rates).
Cal Am's fifth claim is that its local system – which it bought in 1966 for $42 million – is now worth more than $1 billion, a claim based on a recent appraisal solicited by Cal Am. Among other things, the appraisal includes as an asset Cal Am's $279 million desal project in Marina that has not yet been built (construction couldn't even start, at the earliest, until first half of 2019), and given the legal challenges it faces, may never be.
In an analysis done by members of Public Water Now that looked at successful public buyouts, they end up costing up to one-and-a-half to two times a water system's rate base – Cal Am's invested capital – which in Cal Am's case was about $125 million at the end of 2017, according to filings with the CPUC.
Using that metric, PWN calculates Cal Am's local system is currently worth $200 million to $300 million.
Initial price estimates can also be seen as a negotiation tactic: In Ojai, Hajas says the Casitas Municipal Water District initially valued Golden State's water system at $16 million to $18 million, while Golden State's valuation pegged it at $120 million.
Casitas finally purchased the system for about $42 million, which included legal fees.
In Felton, which was a Cal Am-owned small system until the San Lorenzo Valley Water District completed a public buyout in 2008, Cal Am claimed their system was worth $24 million, while the water district estimated it to be worth $7.6 million.
The water district ultimately acquired it for $13 million, including legal fees.
Cal Am's sixth claim is that Measure J "could make our water crisis worse."
This claim is unsubstantiated by any facts – the initiative has nothing to do with water supply – and is predicated on the notion that MPWMD may lack the competence to operate a desal plant. MPWMD launched in 1978 with the mission to "promote or provide for a long-term sustainable water supply, and to manage and protect water resources for the benefit of the community and the environment."
MPWMD has never operated a water system. But it was a critical partner in the success of Pure Water Monterey, a recycled water project that will deliver 3,500 acre-feet of water annually to the Monterey Peninsula starting in 2019. Other previous projects the district has taken on – often jointly with other entities – have added or saved approximately 6,700 acre-feet of water annually.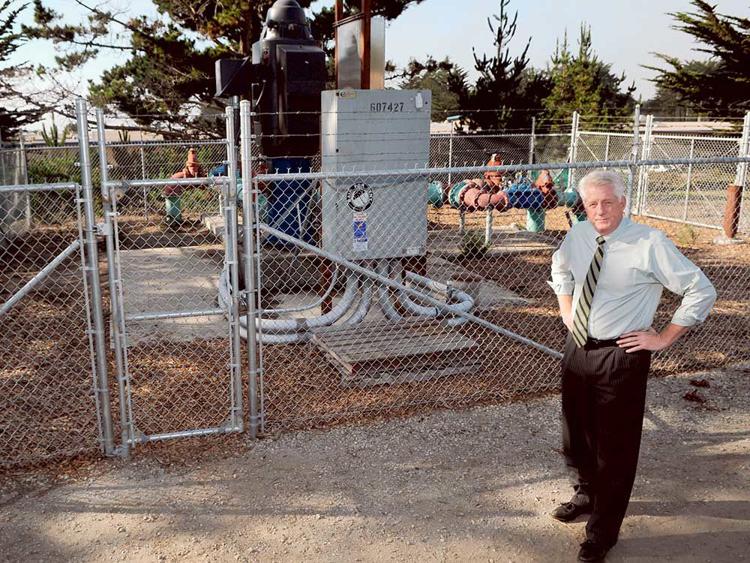 Cal Am's seventh claim is that Measure J "could mean no oversight of rates," because a public water utility, unlike a private company, is not overseen by the CPUC. But there would be oversight – it would just happen locally, to an agency accountable to ratepayers.
"The way public agencies do rates and charges is far more locally accessible," says MPWMD General Manager Dave Stoldt. There are public hearings, mailers and opportunity for public comment before the district's board.
Cal Am's eighth and final claim in the mailer is that MPWMD has "no experience running a water system."
To that, Stoldt says, "That's interesting because we have guys on staff who run water supply right now," adding that publicly owned water utilities serve 87 percent of the U.S. population. (Taxpayer groups also criticize a process that would make MPWMD, and its public payroll, bigger.)
"Putting teams in place to become a bigger operating utility is not that big a deal," Stoldt adds. "And eminent domain takes a such a long time that that transition could be very well-executed."
THERE IS NO WAY TO PROVE THAT A PUBLIC TAKEOVER of Cal Am's local system would lead to lower costs in the future, and after getting sued in August over the initiative's ballot language, Public Water Now was forced to remove that claim from the measure's title on the ballot.
This is what is known: In 2015, nonprofit Food & Water Watch surveyed the country's 500 largest water systems – public and private – and using publicly available rate structures, calculated what the water bills would be for each for a household using 5,000 gallons a month (for a family of four, that's about 40 gallons per person per day). In that survey, Cal Am's Monterey district ranked as the ninth most expensive water among the 500 largest water systems. (Four other districts owned by American Water, Cal Am's parent company, were also in the top 10.)
In 2017, FWW did another survey, but this time only comparing the bills from the systems that ranked in the top 10 most expensive in 2015. In that survey, in just a difference of two years, Cal Am's Monterey district was found to have the most expensive water among them after bills increased by 68 percent.
"Almost always, we see private companies charging more [than publicly owned systems]," says Mary Grant, FWW's public water campaign director, who spent months working on the 2015 study.
Cal Am's local system is a privately owned, state-regulated monopoly, and the profits the company is allowed to earn are approved by the CPUC, and are based on the company's invested capital, minus depreciation.
That means the more Cal Am spends on a project that the CPUC agrees meets its standards of "used and useful" to their water system and supply, the more profit Cal Am can deliver to its shareholders.
This means a private company can have a disincentive to pursue lower-cost water supply projects. A case study for how that plays out can be seen locally right now when it comes to desalination.
Cal Am has been under a state-imposed cease-and-desist order since 2009 to curtail its illegal overpumping of the Carmel River, and has a series of milestones it must hit by December 2021 for the order to be lifted, so that new water connections can come online.
If Cal Am's desal project is built, the water management district estimates that at current demand, the plant would only operate at 36-percent capacity. At that capacity, if the cost of the entire project is spread out among the desalinated water that is sold to ratepayers, that water would cost $15,442 per acre-foot. (That's compared to $271 per acre-foot for water from the Carmel River, or $1,720 from Pure Water Monterey.)
Whether or not current ratepayers – versus shareholders – would have to pay for that extra, unused capacity in the desal plant is not specified in the CPUC decision, and remains an unknown.
If it is passed on to ratepayers, and if the plant is operating at, say, 50-percent capacity, MPWMD estimates the average water bill will increase $110 per month. Cal Am spokersperson Catherine Stedman says it will take the average bill from $78 per month today up by about $40, to $120 per month in 2021.
What is known is that Cal Am, in its comments to the CPUC on the topic, stated that shareholders footing the bill would be "punitive."
PUBLIC WATER NOW'S DRIVING ASSERTION is that public water is more affordable than privately owned water. Whether or not that is true is one thing that will be brought out by the feasibility study.
But Public Water Now also asserts "there's no risk" in passing Measure J.
While it is true there is no risk in gathering new information, there is a risk that the MPWMD board, when looking at the feasibility study, votes to initiate a buyout and have the process fail, which would be costly.
The process would take at least one step, and possibly two.
The first is a bench trial, wherein a judge would decide if MPWMD's case for public necessity – which could mean, cheaper for the public – meets the legal threshold to move forward with eminent domain proceedings. (If not, case closed, and MPWMD is on the hook for legal fees.)
If that threshold is met, the eminent domain process, which would likely take years, would proceed, and through the discovery of documents, the fight would begin for deciding how much Cal Am's system is actually worth.
"That will be the telltale number to determine if we go forward or not," Public Water Now co-founder George Riley says. He calls Cal Am's claim the system is worth $1 billion "ludicrous."
As for Measure J's chances at the polls, Riley says one key difference from 2014 is that many local politicians have come out in support of public water.
"It doesn't pay to be overly confident," Riley says, "but the political terrain seems to be vastly different this time."