The guy from Marina in the Teenage Mutant Ninja Turtles T-shirt, shorts and sandals has a resume that's more professional than his preferred outfit.
Dr. Michael Graham is director of research and development at the Moss Landing Marine Lab's Center for Aquaculture and its accompanying graduate students, editor of the world's top scientific publication on seaweed and algae (Journal of Phycology), the go-to expert on kelp when the media and government come calling, and Marina Man of the Year for work running organizations like Marina Youth Soccer Association, Marina Pony Baseball/Softball, Marina High Parent Teacher Student Association and the Marina Academy of Sustainable Science and Technology at Marina High.
He's also the father of seven, ranging in age from toddler to late teen.
But his most important resume item, to anyone who eats out in Northern California, doesn't appear there. Instead it would be this: He loves seaweed.
"I'm a kelp fanatic," he says on a recent Friday by phone – as he leads a Girl Scout troop through Disneyland, before returning home to take several of his kids to an out-of-town soccer tournament. "Other people see something slimy on the beach, I smell the productivity of the ocean!"
It's been that way since he was 12. He remembers surfing El Niño double overhead waves at Los Angeles' El Porto break, noticing all the seaweed the surges washed ashore, asking himself how it might affect the fish who depend on it for habitat and sustenance.
"What's going to happen to all the rockfish and the sheephead?" he remembers wondering.
Despite rather robust parental and professional obligations, he and his wife Erica recently started Monterey Bay Seaweeds, where they cultivate seaweed in an above-ground farm in Moss Landing for restaurants around the Monterey Peninsula and the San Francisco Bay Area, and soon Seattle, Los Angeles and Las Vegas. In fact, Sheila Bowman of Monterey Bay Aquarium's Seafood Watch just took a box of seaweed in seawater on a plane to New York City to share with tastemakers there.
The type of chefs, eateries and foodies who are responding indicate that despite MBS's almost entirely family-staffed workforce, modest 90 friends on Facebook and beach bum aesthetic, their latest baby is about to go big.
~ ~ ~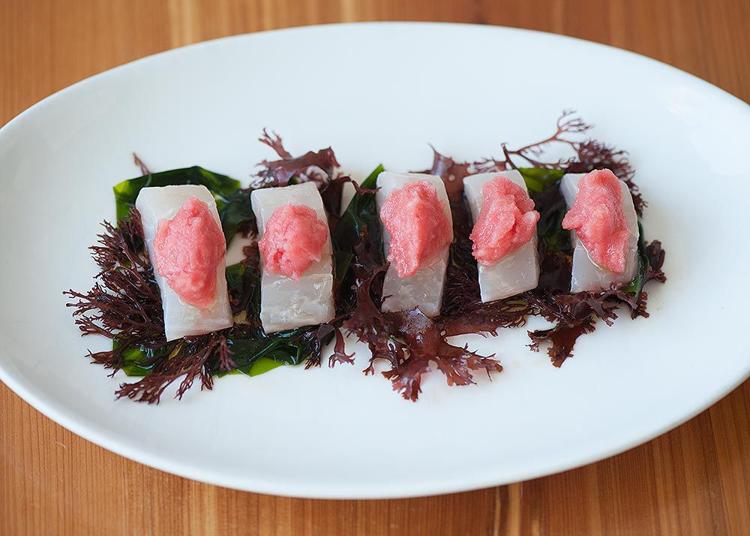 Hawaiians honor Hina-lau-limu-kala as their goddess of seaweed and keeper of the kahuna priests, who concoct medicines from the sea and use seaweed in rituals that purify and heal.
They're onto something. Seaweed enjoys superpowers that go well beyond mythical.
A massive amount of the world's oxygen – around 70 percent – comes from macroscopic seaweeds and other microscopic algae. The ocean, and the planet, wouldn't work without it: Along with phytoplankton, algaes like seaweeds, which provide both food and habitat, are the foundation of the ocean ecosystem.
The fact seaweed helps grow crops as a fertilizer, feeds livestock, treats wastewater and rheumatic pain, stabilizes toothpaste and jellies, softens lotions and bolsters shampoos, is a scoop of ice cream on top. Ice cream, that is, that doesn't melt as quickly because it contains seaweed.
~ ~ ~
One of the longest living nationalities on Earth is the Japanese. Okinawans enjoy the most longevity in the country, living an average of 81.2 years, according to a 1996 World Health Organization report. They also eat the most kombu, or kelp.
This does not surprise Graham, whose contagious enthusiasm for seaweed spikes when it comes to nutrition.
"I'm a carnivore, and I eat hardly any carbs," he says. "I am a Whaling Station steak and blue cheese guy, and if I eat veggies, I push toward the protein side. And my seaweed fits into that. All the carbs are fiber. It's thought of as a garnish or a little bit of minerals from the sea, but it's jam-packed full of protein relative to other vegetables."
He's got a point. Seaweeds like dulse, a Monterey red, pack as much protein and twice the nutritional value as kale. They deliver zero fat and a boatload of dietary fiber. They bring an avalanche of antioxidants and brain-functioning aid vitamin B12, a rarity among vegetables. They contain generous amounts of iron, potassium, magnesium, zinc, manganese and 60 other helpful trace minerals. Many seaweeds also contain anti-inflammatory and anti-microbial agents; the ancient Romans even used them to treat wounds, burns, and rashes. (See nutritional tables, below.)
The National Oceanic and Atmospheric Administration (NOAA) is among those identifying the potential for even greater benefits. "Certain seaweeds do, in fact, possess powerful cancer-fighting agents that researchers hope will eventually prove effective in the treatment of malignant tumors and leukemia in people," NOAA reports. "While dietary soy was long credited for the low rate of cancer in Japan, this indicator of robust health is now attributed to dietary seaweed."
Still, the country's best chefs don't exactly drop their knives when they hear about seaweed's impressive levels of manganese. But their ears do perk up when they hear, "tastes like bacon."
~ ~ ~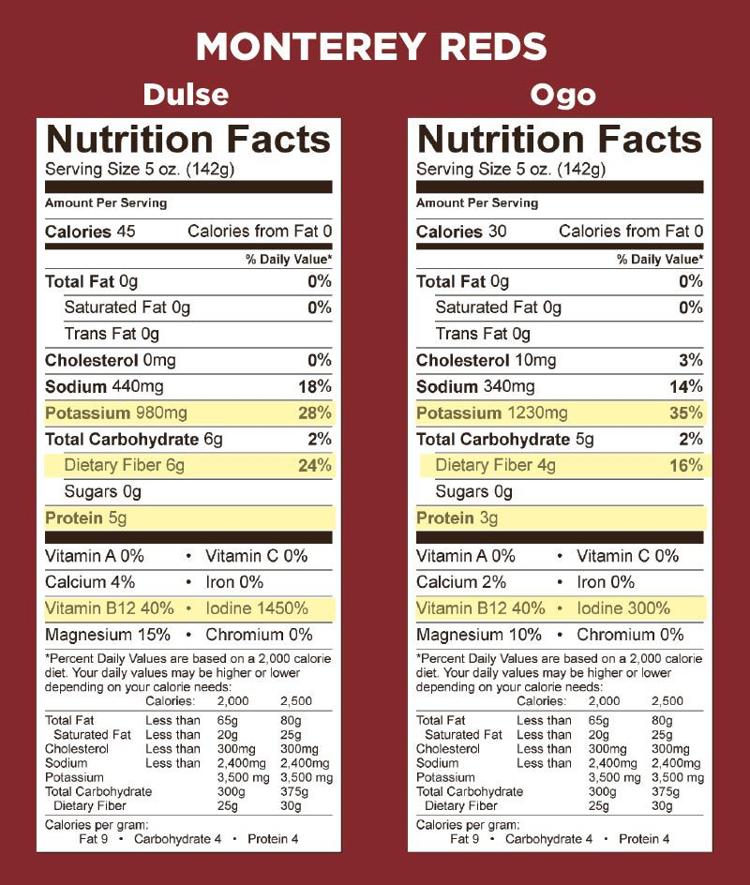 Bring on the "Spring Tidal Pool with Shellfish, Mushroom and Seaweed" at Michelin-starred Manresa in Los Gatos, the striped bass crudo with pomegranate granita and seaweed at Passionfish in Pacific Grove and the seaweed-and-avocado salad at Poke Lab in Monterey.
Around 20 restaurants currently use one or more of Monterey Bay Seaweeds' products, delivered in sanitized seawater so it's still alive. That includes five foodie destinations on Opinionated About Dining's just-released 2016 Top 50 Restaurants in the U.S.: Saison (#1), Manresa (#3), Aubergine (#14), Commis (#44) and Quince (#47).
Each MBS seaweed is a California native. The green cellophane-like sea lettuce is mild and tender. The dark red, branch-shaped ogo proves lightly peppery and crunchy. The increasingly legendary dulse (rhymes with pulse) and its rich marine umami gets saltier and fuller over fire, leading to a flash media frenzy last summer with headlines like CNN's "Dulse: The guilt-free superfood that tastes like bacon."
Justin Cogley of Aubergine, James Beard finalist for best chef in the western United States, uses all three with his Monterey red abalone – which gains its color from native red kelps – and takes MBS product to every guest-cheffing appearance he makes, including a recent dinner with Michelin three-star Yannick Alleno in Paris.
"It's a product, like the abalone, that is truly special to this area," Cogley says. "We want guests to really take as much of this area in, as it is such a special place."
Former Sierra Mar Exec Chef John Cox nerds out over his sourcing as much as Cogley, and loves giving the dulse just a quick vinegar pickling.
"Graham is extremely knowledgeable about seaweed cultivation," Cox says. "You can definitely tell that he is very meticulous about the way he raises the product."
Graham can't remember wearing anything other than sandals, except for the time he testified at the state Legislature in Sacramento and his wedding. He figures chefs get the biggest kick out of his atypical beach look. But Cogley and Cox, like Johnny DeVivo of Chopped and Porter's in the Forest fame, love that enthusiasm as much as the product.
"He's the funniest guy," says DeVivo, who uses MBS seaweed with things like sweet-and-sour duck, softshell crab and Arctic char. "He's trying to talk to me about seaweed – and he's the most passionate dude you'll ever meet – and his toddler's crawling all over his face. He didn't break a sweat or acknowledge it was happening."
The tardiness with billing, DeVivo believes, provides more proof of passion: "He's a total artist. He doesn't worry about an invoice because his priority is clearly doing what he loves so much."
Graham is in the throes of one of his breathless seaweed soliloquies when he insists that different categories of seaweed are about as similar genetically as are fish and anemones.
"They're not closely related," he says. "The only reason they can both be called seaweeds is they live in ocean and you can see them with your eyes."
He's similarly quick to point out MBS doesn't happen without his wife. She brought the restaurant background, having started in the business at 16, advancing to manager at places like Kula Ranch Steakhouse and Watsonville Fish House, working catering and later back of the house, out of her passion for cooking. That furnished a different lens on Michael's passion.
"I'm the weird seaweed one," he says. "She understands chefs."
Erica elaborates.
"When he realized how healthy it was and that he enjoys eating it, he figured many others would also enjoy eating it," she says. "So we started his crazy venture of putting seaweed on the table."
Beyond the Top 50 standouts listed above, they serve a number of other award-winning restaurants. Those include one of the hardest reservations in Carmel – and a place where more chefs dine than any other spot (la Balena in Carmel), the Weekly readers' vote for Best Restaurant in Monterey County for several years (Passionfish), and the hottest new fast casual concept the area has seen in a long time (Poke Lab).
More and more will soon come calling, which presents a challenge for Graham.
"If we get too big that I can't go to my 20 restaurants and meet with chefs in the kitchen," he says, "I'll be upset about where the company went."
~ ~ ~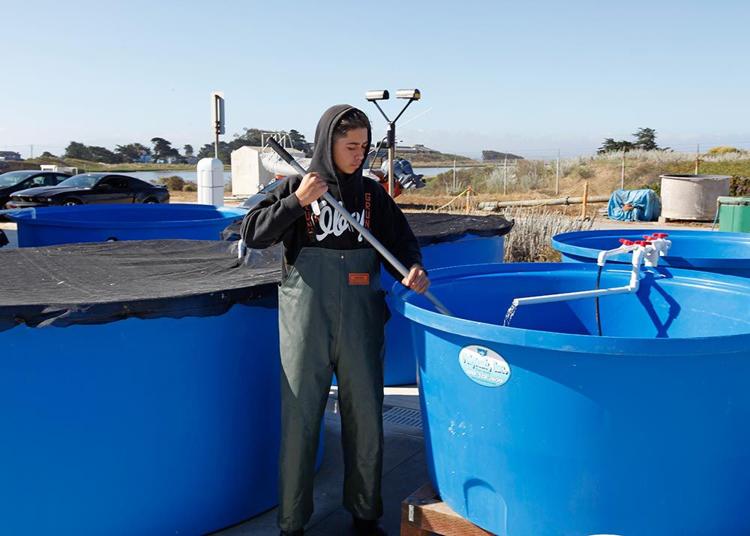 As a decorated scientist, Graham lives to experiment. As a father of seven, he lives to play dad. So as he builds out MBS in Moss Landing, and can combine those passions, he lives a dream. 
But he does want to clarify something: "I don't run experiments on my kids," he says, "but I do bring logic and invite them to solve their own problems."
He asks the three oldest boys, "How should we build this tank?" and sets them free.
"Like working on the car with dad," he says.
Sixteen-year-old Josh has gotten so into it he helps make deliveries and manages packaging in addition to his farm-design duties.
"Our oldest son has grown so much as a person and has become responsible enough that he comes to the farm on his own and works on days when we can't," Erica says.
Her husband says his own instincts as a field ecologist – "to take things apart, see how it changes, put it back together and see how it's going on" – led to their design philosophy, and make his farm a little more casually put together than some might expect.
"The seaweed farm isn't scientific and it's not anecdotal, and I'm not coming at seaweed from scratch," he says, "but there is so little time and so little money, I can't do as much science as pure problem solving, hit and miss."
If it isn't the prettiest thing in the world, it is certainly beautifully efficient and eco-elegant. Sun and sea are the only inputs, no chemicals come into play and processing is nil.
And the yield is huge – with production levels as much as 10 times that of land-based agricultural systems and no fresh water needed. (They even clean the equipment with ocean water.)
Community-supported fishery Real Good Fish, which headquarters across the street, was the first to distribute MBS's 2-ounce zippered pouches.
"Dr. Graham and his wife Erica's operation is simple: A few open tanks… and sunlight does the rest," Real Good Fish Marketing Director Maria Finn writes in a blog post. "In optimal conditions the crop can double in size in just one week!"
That gets at the most glorious piece of potential for MBS: environmental impacts. While California and the U.S. import seafood at a startling rate, farmed kelp and seaweeds play a key role in sustainable aquaculture, or fish farms.
To that end, Graham's MLML Center for Aquaculture is conducting a range of aquaculture experiments. It's also connecting researchers from all 23 campuses in the California State University system, one of the largest systems of its kind worldwide, to choreograph research, policy development, education, workforce development and entrepreneurship.
At meetings they can serve seaweed salad.
~ ~ ~
Graham gets called "doc," "professor" and even "captain" – his school audiences tout him Captain Kelp – but it seems he might like the title "coach" best.
After starring in soccer while growing up in Southern California, he has gone on to spend a decade as president of Marina youth soccer. (Erica is VP.) He estimates he's watched somewhere between 2,000 and 3,000 games.
He says the thing he likes most about sports isn't the lessons it teaches about hard work, teamwork or resilience. It's the relationships. He says the highest compliment he gets paid is when a young adult walks up years later – like one did at the recent Teenage Mutant Ninja Turtles premiere in Marina – and says, "Thanks, coach."
Dan Gossard works under him as a graduate student at MLML and is the first (and currently only) non-Graham to work at MBS's farm.
"His personality shows through in both the professor position and as a boss: He's very well-thought-out and takes on so many different responsibilities," Gossard says, "but more than anything he's just a huge people person."
That's apparent with his Monterey Bay Seaweeds work in at least two ways.
One, he loves interacting with chefs, turning them on to new ideas, hanging out in the kitchen, fine-tuning everything he can to make them happy.
"I make sure to talk to each chef every time – even though I have no business being in there, look at me! – and I'm talking to them about seaweed as a food item, not as a scientist, and I love it.
"They teach me every time, especially the guys who get stoked and send me photos."
Two, he gets to hang with his family.
Erica, who normally prefers to let her loquacious husband do the talking, reflects on that frequently.
"Trying out different ways to make this work has been an experience [and] an amazing ride and our children have joined it on every level," she says. "I find so much joy in working side by side with my family and watching us grow together in this adventure."
Both parents acknowledge it does get to be a lot. But Michael insists there's a strategy at play there too: Don't think about it. Do it.
"If we thought about it, it wouldn't work," he says.
The same could be said for eating seaweed. It's a lot to get the brain around while sitting down to dinner: centuries of Japanese wisdom, the insight of the region's brightest chefs, kelp science, environmental implications and a catalog of health benefits.
Fortunately there is another tack to take than trying to digest all that: Simply eat up and enjoy the umami.