WHEN MATTHEW BACHELDER PICKED UP THE PHONE AT 7:07PM ON APRIL 7, he spoke calmly, despite the desperate request he was making. Bachelder told the 911 dispatcher on the line, "I want to go to CHOMP right now. I've got a 9-millimeter to my head."
The dispatcher asked a series of matter-of-fact questions: his address, how to spell his name. Then he asked Bachelder, "What makes you want to hurt yourself?
"That's a stupid question," Bachelder replied.
The call continued for five minutes. The dispatcher asked him repeatedly to put the gun down. Bachelder didn't.
"I just want someone to get me away from this gun before I fucking fire it," he said.
The 911 dispatcher contacted Seaside Police. "Just keeps saying to hurry," the dispatcher wrote in a message to police. At 7:12, the dispatcher reported, "We've got officers on the way." Bachelder said goodbye and hung up.
Seaside police arrived a minute later, pulling up to the Contra Costa Street duplex where Bachelder was house-sitting for a friend. "Get him back on the line and have him come to the door and wait," Officer Fred Carlin told the 911 dispatcher.
Another minute later. Officers were out of their patrol cars, approaching the house to form a perimeter, when a single shot rang out.
A tense three hours followed, as the SWAT team and hostage negotiation team responded. There were phone calls to Bachelder's cell, which went to voicemail every time. Police made repeated requests on the loudspeaker asking Bachelder to crawl to the front door, if he could. The SWAT team fired foam rounds breaking four windows, trying to get a view into the house. As dusk settled in, the SWAT team shone bright lights on the house.
Without being able to see Bachelder, Seaside Police Cmdr. Chris Veloz says officers had no way of knowing what was happening inside. Veloz watched as darkness fell and indoor lights were turned on, giving him concern that someone might be inside with a gun, waiting for the police.
"In these sorts of incidents, there have been hundreds of occasions where officers have rapidly forced entry," he adds, "and then shoot the person who was calling for help. That's what we're trying to get away from."
Police won't disclose specifics about their timeline and what took so long, but at 10:01pm, police finally saw Bachelder through a window closely enough to discern he was facedown on a bed, a handgun magazine next to his head. He was still breathing, but unresponsive. Nine minutes later, police guided medical responders in. They brought Bachelder to Natividad Medical Center, the county trauma center. The 36-year-old died there two days later, after family members agreed to remove life support.
It might sound like a situation gone terribly wrong. But from the perspective of the police, it went right.
There's a progressive system in place to train local law enforcement in crisis response, and a partnership with the county Health Department's Behavioral Health Bureau that means social workers are on the scene alongside the SWAT team. Advocates for the mentally ill, police and national organizations have recognized Monterey County's work as visionary.
When the SWAT team responds, they're accompanied by a hostage negotiation team, a group of law enforcement officers trained to talk down a hostage-taker, a dangerous suspect or a suicidal person. The two teams – the tactical and the negotiation sides – make up the Special Response Unit.
Veloz commands the Peninsula SRU, one of three in the region (another SRU operates out of Salinas PD, and a third out of the sheriff's office). Each is bolstered by social workers.
Two such workers from County Behavioral Health responded to Bachelder's call the night of April 7. They had access to confidential medical records, pulling up a history of mental health treatment, including a recent hospitalization at Natividad.
Ideally, police would have arrived before Bachelder pulled the trigger, and with this information at hand, persuaded him to rethink things. Even with this tragic ending, their response illustrates a successful partnership, cultivated over years.
But that long-term relationship is in a precarious place itself. The day before Bachelder shot himself, the county's crisis team supervisor and behavioral health manager, who had trained hundreds of local police officers in crisis intervention, were both placed on leave.
Many law enforcement officials are irate. From their perspective, change couldn't come at a worse time. Use-of-force policies by police are under more scrutiny than ever, and agencies across the state and the country are looking to models like the one that's long been in place in Monterey County.
But local police chiefs worry the sudden changes could lead to dangerous encounters with suspects. Possibly even fatal ones.
• • •
BACK IN 1998, CHARLES VAUGHAN SR. WAS A 60-YEAR-OLD RETIRED TEACHER. He was also schizophrenic and acting erratically. Two mental health worker tried to coax him into going to the hospital for an evaluation, but Vaughan wasn't cooperating, and said he'd stopped taking antipsychotic medication. The health professionals called the police to intervene, and when they arrived, Vaughan climbed out the window and up to the rooftop of a Seaside building next door.
Vaughan was holding a corkscrew. An officer approached him on the rooftop and sprayed him with pepperspray. Vaughan made a sudden movement, and an officer below shot and killed him.
Community groups called for better training for police, and retired Sand City Police Chief Michael Klein, a 50-year local law enforcement veteran, responded.
Fifteen years before Ferguson; before Baltimore; before four Latino men, three of them acting erratically, were shot dead by Salinas police officers in 2014; the police agreed to team up with activists pushing for police accountability.
Klein, who retired May 1, led a task force to implement crisis-intervention training, or CIT, to help police officers respond to psychological crises.
"That shooting was not necessarily unique, but it showed problems," Klein says. "Behavioral health and law enforcement are, in essence, dealing with the same client base. How do we respond to a medical situation if we don't have cooperation from the people who deal with them on a daily basis?"
Since launching in 2000, Monterey County law enforcement has embraced CIT. Local chiefs have sent more than 1,400 officers to intensive 40-hour trainings.
More than half of Monterey PD and close to 80 percent of Salinas PD are trained. All of Seaside PD has participated. In CIT, they learn to recognize signs of schizophrenia, dementia and PTSD. They create practice scenarios and learn how to talk to someone in crisis. Another vital piece of the CIT puzzle: lots of advice, available all the time, via a direct line to the behavioral specialist who trained them.
The crisis program isn't foolproof, but when it works, it prevents violence. On a May 2013 weekend, Monterey Police Officer Paul Oelfke got a call that a man had kidnapped a girl from the Monterey Bay Aquarium. He'd scooped up a toddler from the crowded sea of tourists and dashed outside with the child.
Even before Oelfke found the man and girl a few blocks away, he wondered if the crowded venue might've triggered post-traumatic stress disorder. So when he radioed for back-up under Code 3, the most urgent level of service that comes with speeding cars and flashing lights, he asked fellow officers to kill the sirens.
"I knew the elevated noise was going to bring anxiety," Oelfke says.
Then, instead of advancing aggressively, Oelfke summoned his CIT knowledge and opted for a lower position: He took a seat on the Rec Trail's retaining wall.
"He told me, as soon as I arrived, 'Stay back, stay back.' I respected that."
Instead of demanding the man put down the child, Oelfke took a page from his training playbook and spoke gently.
"I started talking," he says. "'What is going on today? Are you OK?'"
After just 2 or 3 minutes, the man put down the toddler – who turned out to be his daughter – and explained what happened. He was a veteran who'd served in Iraq and Afghanistan. Sure enough, the bustle had triggered his PTSD.
On Halloween 2013, Oelfke responded to a call at craft supply store Beverly's, where a young man dressed in camouflage was spraying shoppers with a fire extinguisher and using the butt of the extinguisher to strike them. Officers confronted him in the parking lot.
Oelfke drew a bean bag gun; his partner drew a normal firearm. Oelfke told the young man, a Marine who'd served in Iraq, to put his weapon – the fire extinguisher – down.
"His response was, 'No you put it down.' He was trying to disarm us. That's what he would say in the military," Oelfke says. So Oelfke obeyed. He dropped his gun, and eventually the man agreed to cooperate, and even said he would turn over a rifle and a handgun (which turned out to be fakes, but that could have led to an officer-involved shooting).
Erwin Lenowitz once thought his son showed signs of ADD. But as the boy grew up, he had run-ins with the law; nothing major, mostly minor drug possession charges. But four years ago, Lenowitz's son, now 35, started lashing out violently, showing signs of schizophrenia.
He confronted police officers, accusing them of causing the voices in his head. Lenowitz and his wife got a restraining order against their own son, keeping him away from their Carmel home.
"We were afraid of him," Lenowitz says. "He wouldn't go in for counseling, and he wouldn't go in for medication."
About two years ago, their son returned to Carmel, where he attacked a cop, tackling him to the ground.
CIT-trained Officer Chris Johnson intervened, wrestling the young man to safety and restraining him. Johnson would later win an award for his response that day, and for keeping the young man safe instead of killing him to defend a fellow policeman.
These situations rarely get headlines, but local police chiefs point to these as cases of training gone right.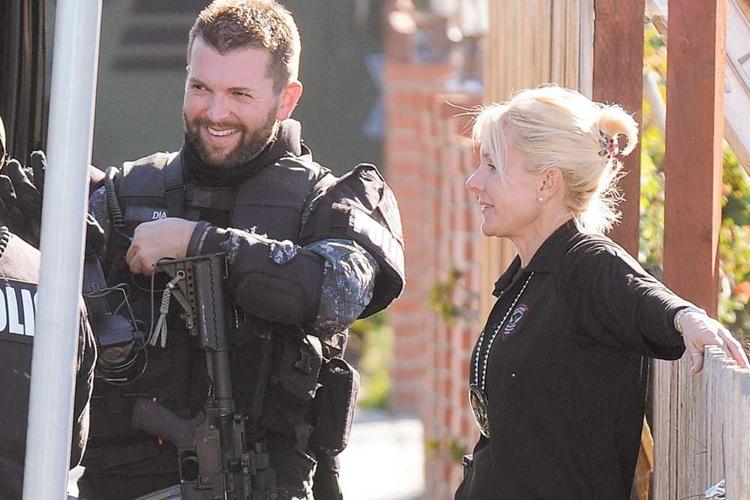 • • •
SINCE SHE CAME ON AS THE COUNTY'S CRISIS SERVICES SUPERVISOR SIX YEARS AGO, DEVON CORPUS HAS TRAINED HUNDREDS OF COPS on handling crises, earning accolades from national and international crisis intervention organizations. In 2013, she was honored by Baltimore's International Critical Incident Stress Foundation.
Part of her success, according to both local chiefs and clients, was her constant availability: a cell phone she would answer all the time, offering guidance and answering questions, even when a crisis wasn't immediately at hand.
At the time she was placed on involuntary leave, she was preparing to expand the county's crisis services in two new directions.
In one program, three mobile units were set to launch, located out of Salinas PD, Monterey PD and Gonzales PD. Social workers assigned to each unit would join police on non-crisis ride-alongs, where the situation wasn't dangerous enough to require SWAT. (The Monterey staffer for the Peninsula had already been hired.)
Gonzales Police Chief Paul Miller was planning to transform an under-used conference room into an office for a mobile worker who would cover South County.
"I think having a mobile crisis worker is pretty vital," Miller says. "We're seeing a steady increase in mental health calls."
In a separate initiative, Monterey County Department of Emergency Communications was working to get CIT training for all medical first-responders. The vision was discussed by the county Emergency Medical Care Committee Jan. 14, but without a quorum, the committee took no official action.
"Behavioral health and law enforcement are dealing with the same client base. How do we respond to a medical situation if we don't have cooperation?"
Chief Klein, along with former Behavioral Health Director Wayne Clark, had already lobbied State Sen. Bill Monning, D-Carmel, to mandate CIT training for first responders statewide.
Monning said he would be willing to pursue a bill requiring training for medical personnel if the county did a pilot. Klein pledged to launch that case study, forming the basis of a statewide initiative.
"Our hope was that a local pilot project could inform the architecture of legislation," Monning says. "My hope is that there will be support to move forward on this at the local level, and I remain interested in exploring statewide options."
The vision had been to start rolling out the 40-hour training for medical first responders this fall, says Kirk Schmitt, former director of county Emergency Medical Services. "There is groundwork laid out, and momentum," Schmitt says, "but that momentum could be slowed or halted, depending on who the next directors are."
County Health Director Ray Bullick won't talk about why Corpus and her boss, Behavioral Health Services Manager Robert Jackson, were both placed on leave April 6, because personnel matters are confidential.
Personnel decisions and changes happen all the time, but rarely is there so much on the line. For Lenowitz and his son, Corpus' accessibility and, he says, her kindness, have been vital.
"She made herself available 24/7, anytime we had a question or he did," Lenowitz says. "Devon was singular in her ability to roll up her sleeves, sit down eyeball to eyeball, and speak to patients and really take the time to understand, evaluate and suggest a course of action."
His son is now living independently and attending Monterey Peninsula College.
For police who worked with Corpus, the change did not go over well.
"My big issue is, we had a well-running machine," says Monterey Police Chief Phil Penko, who retired May 1. "Devon Corpus was CIT in Monterey County. Without any consultation with law enforcement, they have taken this and turned it upside down. The chiefs said, 'This is not OK.'
"It's nothing against the people that are in place now, but this is clearly going to impact our ability to respond to crisis in the field," Penko adds. "They don't have the credibility Devon and her team have developed with law enforcement."
Part of her street cred comes from a personal place. Her father was a retired police officer and Vietnam War veteran, who drank himself to death while dealing with PTSD. Before her job at the county, Corpus worked for five years as a social worker with inmates at Salinas Valley State Prison, and before that served in the U.S. Army.
Oelfke is among those who feel training in CIT with someone who has served in the Army is essential. "Unless you've been in the military, it's really difficult to speak on behalf of it," he says. "You'd come off as a fake."
As part of her trainings, Corpus formalized a program for law enforcement and first responders to debrief after incidents, helping them process gruesome things like a man dying while receiving CPR on Del Monte Beach in March.
Corpus explained her approach in an interview before she was placed on leave. "I'm not going to jump all over officers like a bleeding-heart liberal social worker and say, 'Don't [use the word] crazy," Corpus said. "Law enforcement thinks social workers want to hug the bad guys, and a lot of social workers think law enforcement officers are gun-toting cowboys.
"It's not like that. They realized it wasn't therapy, and we weren't there to do any weird voodoo stuff to them."
• • •
FOR THREE DAYS AFTER CORPUS AND JACKSON WERE RELIEVED,there was no word from top management. On April 9, Deputy Behavioral Health Director Sid Smith sent an email to county chiefs and attached a new phone tree: "In the past, you may have been provided personal cell phone numbers for Monterey County Mental Health staff and/or managers for your agency use on crisis calls or for contacting the Crisis Team. Henceforth, we ask that you use only the official county access numbers for such calls."
For insiders, the message seemed clear: They were being left out of the loop as their trusted partners were replaced with new players who were strangers, meaning it might be hard to rely on them in moments of crisis.
Two weeks passed before Klein, representing the Monterey County Police Chiefs' Association, would confront Bullick asking for answers.
A group meets monthly in a conference room at the Health Department for CIT updates. Monterey County Jail officials attend, providing social workers with news about soon-to-be-released inmates with mental illness. The group troubleshoots issues with specific patients, bringing together representatives from Behavioral Health, law enforcement and the jail.
Sid Smith kicked off the April 23 meeting this way: "I'll start with an apology: We had to make some pretty quick changes with oversight of the programs. We recognize Devon Corpus and Robert Jackson played major roles in those programs; they are not at work at this time."
At that point, Dr. David Soskin, Natividad's chief of psychiatry and medical director of Behavioral Health, realized there was a reporter in the room.
"I have heard rumors about stories related to this that are actually pretty negative stories," he said. "I'm uncomfortable about this."
He left the room, and returned a few minutes later with Bullick's blessing to allow media to attend as long as specific patients were not discussed. Moments later, Bullick entered, smiled, and sat down across the conference table from Chief Klein. About a dozen people seated around the table listened silently.
"We have a lot of questions. We are all very concerned," Klein said. "How is this going to affect our application out in the street? Lacking certain programs can have fatal outcomes."
Bullick told Klein to stop conflating the CIT program with Corpus. Services would continue with different staffing, he said: "Let's just move forward and do the best we can."
Klein responded, "We're not looking for information on personnel."
That's when it got really tense.
Bullick kicked up the volume: "That's exactly what you're looking for. I've had people tell me, 'You are losing a jewel of Monterey County.' It's all about persons."
Klein replied that their primary contact had been axed, and new management hadn't been introduced. (Penko of Monterey PD says that, while social workers have responded to crisis calls in the field, it's been harder to reach counselors in non-emergency situations.)
Finally, as voices lowered, Soskin gently broke the shouting match. "I just hope you'll give us the opportunity to work for you," he said to Klein.
Amy Haynes, the unit supervisor now overseeing the crisis team – newly renamed the Emergency Department Access Team as part of restructuring – asked Klein if she could attend the next chiefs' meeting to introduce herself.
Klein said no.
"Coming in to say, 'Hi how are you, my name is Amy and here's my number' is a bunch of B.S.," Klein says. "It's like being handed a phone list. How does one build trust? It truly has to be built.
"My comment to Ray still stands: What the hell is going on?"
• • •
WHAT'S GOING ON IS A SERIES OF BIG CHANGES IN COUNTY MENTAL HEALTH. Some have been years in the making, and some changes are a direct response to two damning consultants' reports.
One improvement that's been a long time coming: Boosting the number of staffers to help ease an overburdened system. Wait times at county clinics average 86 days – a very long time for someone experiencing symptoms of mental illness. The county Board of Supervisors approved 31 new positions March 17, a big improvement.
Another problem, highlighted in the recent reports: First-time patients at county clinics have historically had access only to a social worker, meaning they need to schedule a follow-up visit to see an M.D. and get a prescription.
The new positions include two new psychiatrists who will be available to see first-time visitors. And a new triage system is designed to help get those patients the care they need, right away.
Bullick's been serving as interim director of mental health since February, when former director Wayne Clark left to work as executive director of the California Mental Health Services Authority.
Since Clark's departure, Bullick has engineered a shakeup, aiming to make things better. The problem, as he's learning, is that he didn't talk to some essential project partners.
"It would've been great to contact the police chiefs, understanding that they had their relationship [with Corpus], and just give them a heads up," Bullick says.
But the close relationship between Corpus and cops was also a concern, and a surprise, to Bullick: "The flip side is, I was unaware – everybody was unaware – of the level of participation that some people had with law enforcement."
As he sees it, Corpus' constant cell phone availability for cops and clients like Lenowitz and his son was actually a sign of problems: "We had a system before that was not a good system. No one should be on call 365 days a year."
In the immediate future, Corpus is headed to South Sudan for a two-week mission trip. Jackson was on vacation in Hawaii and declined to comment.
Meanwhile, Corpus has retained an attorney who specializes in workplace protections and litigation.
"I am unable to discuss the facts of this case," that attorney, Phillip Griego, writes by email.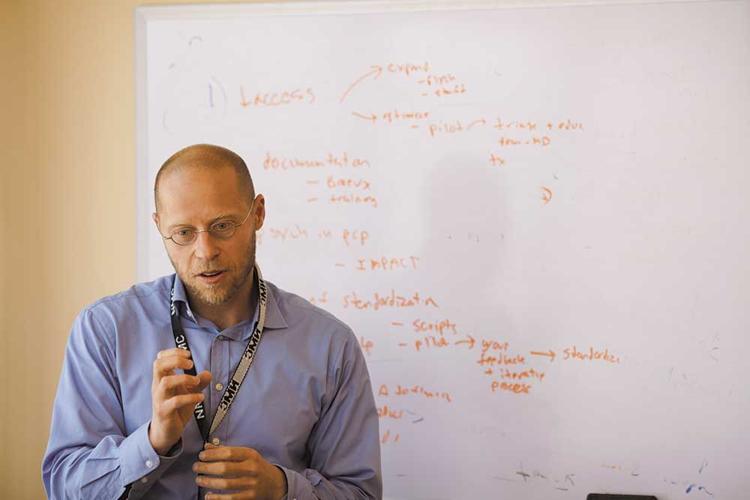 • • •
SOSKIN, A HARVARD-TRAINED PSYCHIATRIST WHO TOOK OVER AS MEDICAL DIRECTOR LAST YEAR, attempted to keep peace during the tense CIT meeting.
He's so enthusiastic about the changes underway in county mental health that he can barely sit still. He talks with his hands, then stands at a whiteboard, then kneels at his desk to pull up an example of a technological tool designed to drastically cut report-taking time.
He has a website, opensourcepsychiatry.com, where he uploads short video clips of himself giving lectures, hoping to help educate a wider audience of psychiatrists. He speaks passionately about meds the way others might talk about a beloved sports team or politics.
"This is a beautiful molecule," he says in one video on the anti-psychotic Lurasidone. "The pharmacodynamics of this molecule are awesome."
He drops quotations from the Buddha and Shakespeare. He's engineering the improvements in triage and staff support at county clinics. And where Klein and company see programs fraying, Soskin zealously believes things are on the up.
He's even optimistic about getting on with law enforcement. After the public portion of the April 23 CIT meeting closed, the group moved on to talk about confidential patient information. (The press was require to leave, and Bullick and Klein left after verbally sparring.) Soskin says the mood lightened.
"It was a super-friendly vibe," he says. "We actually got phone calls [from team members] saying they're happy to be working with us, and hang in there."
He and Haynes say they're open to implementing projects that were underway – the mobile crisis unit, and the crisis training for all EMTs and firefighters – but not quite yet.
"It sounds like a great idea, but we have a million great ideas," Soskin says.
Bullick and Soskin promise all the changes coming are for the better. Soskin and Haynes are ready to partner with law enforcement as they remake certain programs, and slow down on others.
If the chiefs will agree to work with them, that is.
Klein admits his reluctance to trust the new leaders is a little unfair, but it's too late to backtrack.
"They will have immeasurable hurdles to cross to gain trust, by virtue of management's decisions," he says. "That is going to be extremely difficult."
Nic Coury contributed to this report.