Matt Lumadue and his partner spend their work days bringing bad news to the people of North Monterey County.
On a recent Thursday morning, the target of their attention is a smattering of single-family homes on Shady Drive in Prunedale. They drive into the neighborhood and park their Cal Fire-issued sport utility vehicle under a tree on a patch of dirt. The fact that the roads are not entirely paved around here is one sign that they're in the wildland-urban interface, the transition zone between wilderness and human development. An estimated 10 million Californians live in wildland-urban interface areas, leaving them especially vulnerable to the spread of wildfire.
Before he begins knocking on doors, Lumadue pauses for a moment to explain his job. As a fire inspector, he's about to talk to homeowners about how they are failing to maintain defensible space around their properties.
"One of the things I am looking for is any leaves or vegetation on the roof," Lumadue says. "I am also checking out propane tanks pretty closely. They are supposed to have 10 feet of bare mineral soil around them." His observations can mean that homeowners will have to spend time or money on cutting tree branches and clearing brush. "Telling people what they are doing wrong can sound judgemental," he says.
It's not the impression Lumadue likes to make, which is why he has mastered one of the most important skills of a fire inspector: giving out compliments. Every conversation he has with homeowners starts with the positives. He points out what they are doing well and thanks them for it; it's a way to remind himself and the homeowner that he's there to protect people from the spread of wildfire, not to burden them. His approach is also more likely to produce cooperation – Lumadue must get a property owner's permission before he loops around to inspect the back of a property.
Arriving at the first house on the Shady Drive, Lumadue interprets the pattern of vegetation around it: "I see some downed limbs," he says. "Here, I see some branches that are a little bit low and need to be limbed up. They are in the process of doing work but I can't assume they are going to finish it." Lumadue marks the issues on an inspection checklist and knocks gently on the front door. It takes a few tries but eventually, the homeowner answers.
Kazuyoshi Yamaguchi is an elderly but fit man with a head of thick white hair. "I think you are doing a great job," Lumadue tells him. As the two of them talk, it's clear Yamaguchi worries about fire danger a lot and welcomes the professional feedback. He explains that he had his roof replaced after the Oakland firestorm of 1991. "We used to have wood shingles," Yamaguchi says. He then points across the street at an undeveloped parcel. "It belongs to Caltrans but we have to mow it ourselves," he says. "One cigarette from the road could make fire come this way."
The road he's referring to is an on-ramp to Highway 101. Lumadue says county and state properties alongside highways often go unmaintained. And he confirms that someone tossing a still-lit cigarette butt out their car window has been known to ignite wildfires in the past. A fire can even start from a safety chain dragging on asphalt, which causes sparks to shoot out. "For fire protection reasons, that's really great you did that work," Lumadue says to Yamaguchi. "I apologize on behalf of the state of California."
For all his efforts at hardening his home and its surrounding environment against fire, Yamaguchi is being rewarded with a $250 spike to his home insurance bill. It's not a massive increase – at least not compared to other property owners in the region. But his situation is emblematic of a larger challenge for people who make an effort to increase fire safety. Insurance companies operating in California do not set rates based on the status of individual homes. Their perspective is more zoomed out and informed by satellite data.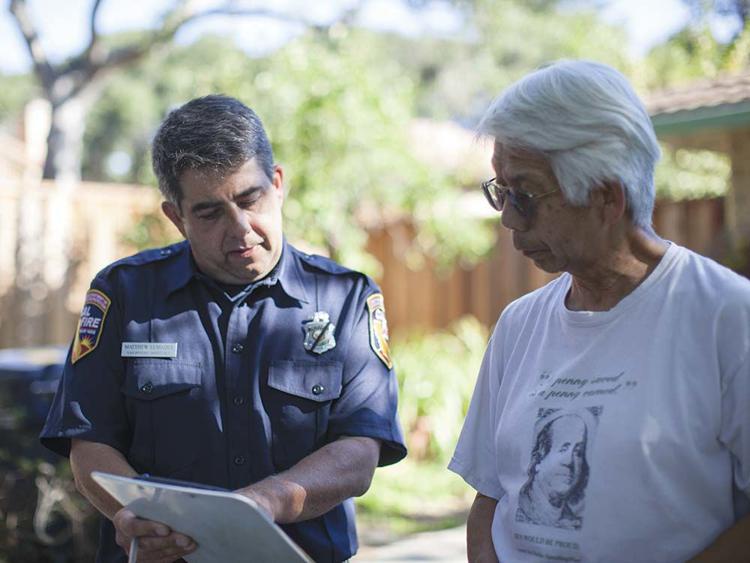 HOME INSPECTIONS ARE ONE PART OF A FIRE MARSHAL'S JOB. The other part is office work and Joel Mendoza, the chief of the North County Fire Protection District, is finding that he's increasingly spending more time behind a desk fielding phone calls and emails and filling out paperwork. Many homeowners in his district have seen their insurance bills go up over fire risk and their response is often to turn to him for help.
"We are getting one to two calls per week from people asking for help," Mendoza says. "It used to happen once a month."
There also appears to be a growing awareness of the need to harden homes against fire, according to interviews with multiple fire marshals working in rural areas across Monterey County.
The change came in the wake of the massive wildfires of the past few years, especially the Camp Fire, which tore through Butte County in November. A recent federal report ruled 2018 the worst fire year in California history. The conflagrations killed 100 people and destroyed 17,000 homes and 700 businesses. About 1.8 million acres burned in 8,000 separate fires, including the Woolsey Fire in Southern California, the Carr Fire in Shasta and Trinity counties, and the Mendocino Complex Fire.
2018 was such a bad year that it can be hard to remember the Napa and Sonoma wine country fires of the year before. Or the 2016 Soberanes Fire, the last major one to hit locally.
Survivors, of course, remember very well. So do insurance companies. As a result of the record claims they paid out during this time, all insurers that operate in the state have been reevaluating their exposure in fire hazard areas. They are increasingly declining to write new policies and refusing to renew insurance even for longtime customers.
"It has been horrific," says Dan Hoag, vice president of Monroe-Kelly Insurance Services in Carmel. "One company after another is not renewing insurance policies. Customers get mad at me. It's like kill the messenger out there."
In August, California Insurance Commissioner Ricardo Lara released data showing that from 2015 to 2018, insurance companies dropped more than 340,000 customers across the state. Monterey County residents account for 5,952 of the total.
"We are seeing an increasing trend across California where people at risk of wildfires are being non-renewed by their insurer," Lara said in a statement. "I have heard from many local communities about how not being able to obtain insurance can create a domino effect for the local economy, affecting home sales and property taxes. This data should be a wake-up call for state and local policymakers that without action to reduce the risk from extreme wildfires and preserve the insurance market, we could see communities unraveling."
The unraveling can start with a single prospective homebuyer. They may have found the right house and lined up their financials to be able to afford a down payment and monthly mortgage payments. But all lenders require insurance coverage. If that house is in one of the high-risk zones that insurers are retreating from, unless the buyer can somehow afford higher insurance rates charged by some alternative carrier, the deal might fall apart, with possible ripple effects on the local real estate market.
The data firm Core Logic, in a report that came out last month, calculates that 11,314 residences in Monterey County are located in high or extreme fire risk zones. Replacing those homes would cost $6.39 billion. That's a figure high enough to rank the region among the 15 top metropolitan areas in the western United States for risk to property from wildfires. Regions like Los Angeles, San Diego and Denver topped Monterey County, but they are all far more populous.
MINUTES AWAY FROM DOWNTOWN MONTEREY, there's a neighborhood that might as well be in the wilderness, at least based on George Dean's interactions with insurance companies. He runs a 32-unit condominium in Skyline Forest. It's a neighborhood off Highway 68, studded with Monterey pine trees and the occasional driveway.
Earlier this year, Dean received a notice from Travelers Insurance letting him know the company would not renew the condominium's policy when it expired on July 5 due to "excessive brush."
Dean set out to find a replacement insurance policy. But 15 different insurers wouldn't have him. On fire hazard maps, the condominium is located within the high risk zone, the same as if it were located in Big Sur or Carmel Valley.
"We are being redlined by all the insurance companies," he says. "They are treating us like we live in the heat in the Central Valley. But we are up here in the fog."
And even if he wanted to, Dean couldn't simply start clearing the trees around him. The property abuts the Huckleberry Hill Nature Preserve near Veterans Memorial Park. "We are buried here in the Monterey pine forest," he says. "We can't cut these trees because they are protected."
Even California's insurer of last resort, the FAIR plan (California Fair Access to Insurance Requirements), was of no help in Dean's case. Often misidentified as a state-funded or state-run plan, the FAIR plan is simply a private association of all the insurers in California. The association is required by law to provide insurance to those not served by the regular market, but the policies it offers are not comprehensive and they are capped at $1.5 million for houses and $3 million for condominiums; $3 million would come nowhere near the value of the units at Dean's Hacienda Del Sol townhouse, estimated at $11 million by the insurance industry.
Eventually, Dean turned to the surplus line market, which is made up of nontraditional, out-of-state insurers like Lloyds of London. He had to patch together three different policies to reach $10.8 million of coverage.
The insurance will cost $116,000 a year, up from the roughly $20,000 the condominium was paying before, nearly a six-fold increase. That comes out to $3,625 per unit, up from about $625. "We are going to have to increase our homeowners' dues," Dean says.
He hasn't broken the news to the condominium owners yet.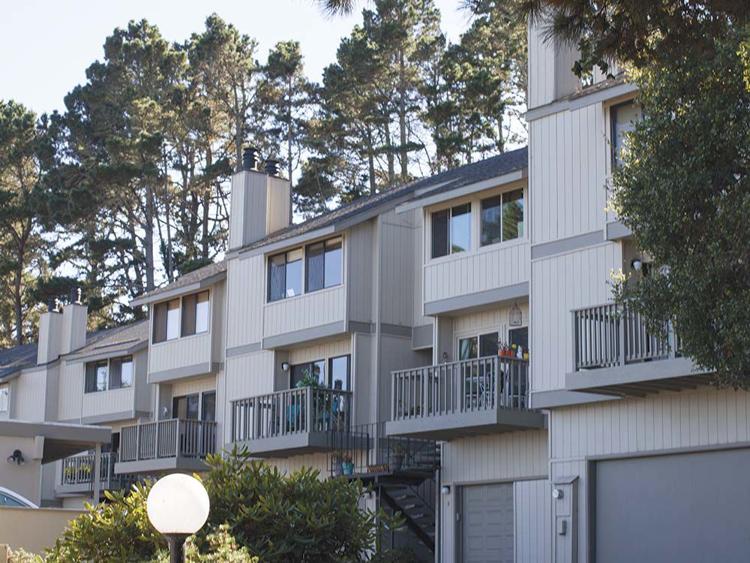 DEAN'S SITUATION IS ONLY A HARBINGER OF WHAT'S TO COME, says Eileen Topete, a local insurance agent and broker with Wright & Kimbrough. "Insurers were under a false sense of how much coverage they were underwriting," she says.
But there's a delay between the data coming in about risk, and the decision by insurers to drop certain customers. "I believe we are going to see a whole lot more non-renewals," Topete says. "It's only going to get worse." The fact that insurance companies have also had to pay for damages from recent hurricanes is straining the system, she adds: "There are so many catastrophic losses happening at once."
Topete and many other operators in the market are waiting to see what the California Department of Insurance and state lawmakers might do to step in.
State Sen. Bill Monning, D-Carmel, said there's been an increase in complaints and that his office is tracking 10 cases, mostly in Big Sur and Carmel Valley. Besides referring them to the FAIR Plan and other resources, there's not much that Monning can do to address individual cases. "One of our challenges is that the private insurance market is under no obligation to issue insurance," Monning says.
Some believe that the state should enter the market and provide insurance coverage to those not served by private industry. But according to Monning, no one in Sacramento is considering moving in that direction. "There's no economic model I believe that makes that in the interest of taxpayers or the state of California," he says.
He points out that similar suggestions have been made about Pacific Gas & Electric as the company wades through bankruptcy proceedings over its role in multibillion-dollar damages from recent wildfires. Monning thinks that having the state acquire and run the electric utility would backfire. "If there was a $21 billion liability, who would we take that from?" he asks. "Schools? Colleges? Health programs? Nutrition programs?"
In the short term, lawmakers are working on incremental insurance reforms like Assembly Bill 1816, which would require that insurers must notify customers 75 days, instead of 45 days, ahead of a policy nonrenewal. The bill also tinkers with regulations that govern the FAIR Plan, creating "some incentive to write policies in [high-risk] areas and hopefully will result in additional coverage options for consumers," according to a legislative analysis. AB 1816 passed with more than two-thirds support in both houses of the legislature. If Gov. Gavin Newsom signs the bill it will become law immediately, because of an urgency provision lawmakers included in the language.
At the cutting edge of Sacramento policy circles is another idea. Remember the defensible space inspectors? Maybe your house has been visited by one. But as it stands now, insurance companies couldn't care less that you have limbed up your tree or cleared all the leaves off your roof. Monning says that California is trying to learn from a program in Colorado. "Based on certain actions by homeowners of clearing defensible space or fortifying their property in wildfire areas, they become eligible for credits in their insurance rates," he says.
Even with defensible space, fires are likely to get more frequent and more severe. But even more than the conditions themselves, or regulators who limit where development can happen, it might be the private insurance market that alters the pattern of settlement in California. More than two decades ago, geographer and historian Mike Davis wrote an instantly famous essay called "The Case for Letting Malibu Burn." He faced backlash and ridicule and his perspective was seen as almost un-Californian. Now, as climate change has extended wildfire season, giving us a series of unprecedented conflagrations, the idea of retreating from certain areas, or at least not rebuilding in them after a fire, seems far less incendiary.
Rather than a prohibition on building in fire-prone areas, Monning supports incentives for infill development. He believes California is already headed in that direction, spurred in part by insurance companies: "The question is, will market forces see the writing on the wall?"