IN MAY, COMPTON, CALIFORNIA MUSICIAN KENDRICK LAMAR became the first rapper to receive a Pulitzer Prize in music for his album DAMN. According to Nielsen Music, in 2017, R&B/hip-hop ranked as the most-consumed genre in the U.S. for the first time ever.
Thanks to social media and music streaming services, it seems like new hip-hop stars are being discovered every day. XXL magazine, the hip-hop equivalent to Rolling Stone for rock 'n' roll, attempts to spotlight some of these rising artists with their anticipated annual "XXL Freshman List."
In the spirit of XXL's influential Freshman List, this local list presents five rappers who illustrate the diversity of Monterey County's hip-hop scene. They have different sounds, but where they're similar is that they all have dedication to their music, and they have a project – whether a full album or a single – for 2018.
Here, they reflect on what inspires them to rap, the state of the local hip-hop scene and some of their most meaningful rhymes. Check out the links to listen in, or visit mcweekly.com/entertainment/local_bands for all of these.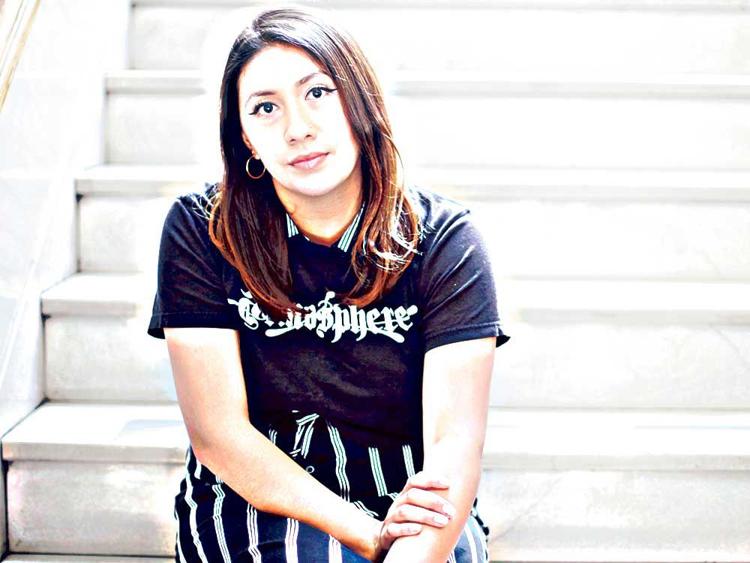 La Sofa Queen | Salinas
On a chilly October night, the back door of craft beer bar XL Public House in Oldtown Salinas is wide open, letting out the sound of rhymes over bass-heavy beats. They come from the basement, where the crowd is dense enough to make the room feel warmer. A series of rappers at the corner of the room perform under the glow of neon strobe lights.
Live hip-hop shows are relatively rare in Monterey County. A live show like this one, the second edition of the Hip-Hop Speakeasy, with performances by about 10 artists who are mostly local, is practically unheard of.
This hip-hop-centric event was started by Salinas rappers La Sofa Queen, Jota Effectus and several other friends after organizing similar shows at the Alisal Center for the Fine Arts.
"When some people think Salinas rap they just think of gangsters, but we wanted to challenge that idea," says La Sofa Queen, whose real name is Amanda Ramirez. "When I think of hip-hop in the area, I think of my friends like Jota Effectus, [theater group] Baktun 12 and Alaric. That's the scene to me, a community of artists."
How she defines her own style as a musician is similarly open-ended. Though she performs a poem with Jota and a few untitled tracks at the Hip-Hop Speakeasy, she won't say she's a rapper. "I guess if I had to call myself something it would be a spoken-word artist," she says.
La Sofa Queen, born and raised in Salinas, has had a lifelong love for poetry and hip-hop. (For work, she is a nurse; music is a side project.) Her interest in rap was sparked by sharing an iPod with her older brother and listening to his collection of artists with complex, multi-syllable rhyme schemes like MF Doom and KRS One. After her younger brother began performing at the open mic at East Village Coffee Lounge in Monterey, she followed by performing poetry. Her first rap performance as La Sofa Queen was at that same coffee shop.
Her 2018 music video, "A Better Way," seamlessly weaves together La Sofa Queen's slow-paced lyrics about youth stuck in a cycle of violence over acoustic guitar with crisp visuals of drama within one household. In a scene where a man (played by Jota Effectus) frantically cleans his hands of blood, La Sofa Queen rhymes:
"You wash your bloody hands in the kitchen sink/ Now you can't seem to sleep/ That man that you shot up on Abbott Street leaves behind his young lover."
"That song brought me out of my comfort zone," Queen says. "It's like the guitar made me have more emotion."
She's now working on an album, a collaboration project with Jota Effectus and some spoken-word pieces for this year. Her goals with music right now are more community-oriented, aiming to provide events like the Hip-Hop Speakeasy for local rappers to perform.
"Everyone (who performed) brought something special to the Speakeasy," Queen says. "It's about community and hip-hop."
In addition to planning the third Speakeasy, she's also setting up a recurring "poetry in the park" event in Salinas where participants can recite their rhymes. Her aspiration is to present more events like the Speakeasy to show there's a following for local hip-hop and increase its presence locally.
"How dope would it be to be in Salinas on a Friday night and have two hip-hop shows and a poetry reading going on at the same time?" Queen says. "That's the goal."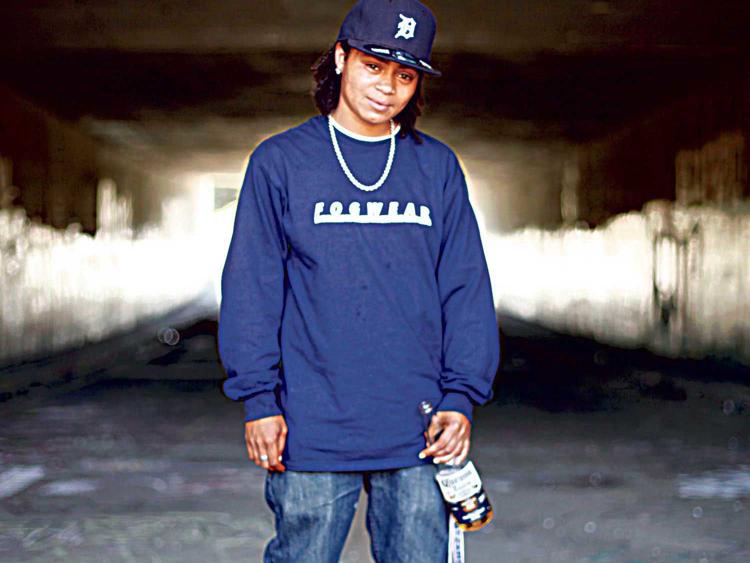 Bar$ Marley | Marina
Bar$ Marley, real name Reece Dixon, recorded her first project as a way to kill time with her siblings in 2011. "Me and my older brother were at my sister's house with a USB microphone and a trial pass to FL Studio (production software)," Bar$ recalls. "He suggested we all make a mixtape together. My sister sang and me and my brother were rapping."
What started as a novel way to use some music equipment became a genuinely fulfilling experience for Bar$.
"That was around the time I found out I was adopted, so I used that as an outlet to let go of my emotions," she says. "Music has helped me. People can tell I light up when I perform."
Her radiant persona while performing was on display at a show in front of streetwear store Atomic 1800 off Lighthouse Avenue in Monterey last summer. The venue may have been unconventional, with pedestrians almost bumping into performers and the sound of passing traffic competing with the music, but the modest crowd seemed captivated.
Performing "I Don't Need Her" off her 2016 debut, Fog Town's Finest, Bar$ commands her sidewalk stage and recites each lyric with the gusto of someone performing for thousands.
"I be sliding through Marina in a motha-fucking beamer," she shouts, pointing the mic toward the crowd as if they know the words by heart.
At 21, Bar$ already has a decent amount of experience performing live. Within a year of releasing her first album on Soundcloud, she performed for Atomic 1800's grand opening in 2016, at Planet Gemini and the second annual Yetti Fest at The Bull and Bear.
"Yetti Fest was one of my best, so many people jumping on the stage and they hadn't even heard me before," Bar$ says. "I had to be escorted out at the end since I was still underage."
Bar$ has remained busy, releasing two mixtapes since her debut and a few singles this year. Her songs range from the bombastic "Mike Jacc" to more introspective tracks like her personal favorite, "F.O.G. Fear Only God."
Her comfort with performing and constantly writing rhymes indicates the ambition to go further, but Bar$ faces some practical problems. She rarely has access to recording studios so she's taught herself the basics of engineering and mixing music with what she has available.
"I can record a song easily, but once I sit down to mix them it can take days," she says. "But I like having control of my music."
Obstacles aside, Bar$ has her eyes set on a successful future performing more often and in larger cities, but she recognizes the rarity of local rappers "making it" to that level. "There's a lot of talent in the 831 that fades out quick," Bar$ says. "I feel we have potential here, just none of the recognition yet."
For rappers in Monterey County, that idea of "making it" to the point of performing outside the county can be a slow process, but it's possible.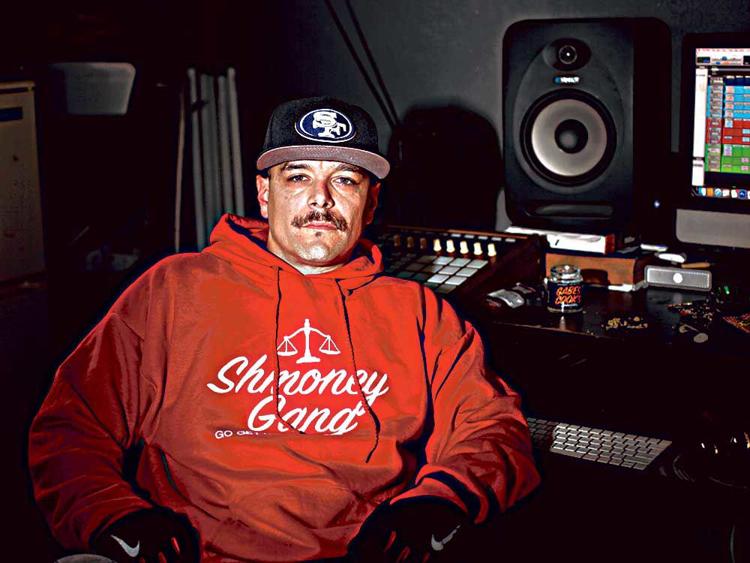 Casper Locs | Gonzales
As the day ends and the bar of Taquitos Mexican Restaurant in Salinas begins to get busy, two young men approach rapper Casper Locs.
"'Talk's Cheap' goes hard," one of them says, referencing a new song.
The track, featured on this year's Product of the Struggle collaboration album with Tito Loc of Salinas, finds Casper boasting about his street cred through a rapid delivery of clever lines.
"It's a reflection of my older music and what's going to come," Casper explains.
Between sips of a huge chavela – a cocktail of beer, wine, tequila and tomato juice – the 36-year-old considers his musical journey. Casper (real name Robert Irachetta) recalls making his first mixtape with a friend known as "Pelon" in 1998.
His early hits, like 2001's lo-fi recorded "Can't Stop, Won't Stop," aggressively present the cold realities of street life. His official debut album, Validated, complete with beats by producer Cuddi on the Beat and that has reached the Billboard charts, was released in 2016 under local label Strivin for a Buck.
"I'm bringing my music back to sharing experiences," Casper says. "My last album had a more club feel, but this album is more me. I've survived some things and have a right to talk about it."
Since leaving the Strivin for a Buck label Casper has indicated a return to his lyrical roots withProduct of the Struggle. A standout track, "All I Know," is an earnest telling of coping with isolation while incarcerated by focusing on daily routines. Casper's verse encapsulates feelings of separation from the outside world with lines like, "Been over three years since I've seen myjefa/ and I watched my kids grow up through pictures and letters."
"I wrote that song on the ride going to the SHU (Solitary Housing Unit) from Centinela State Prison [in Imperial County]," Casper says. "It's not really a gang member's perspective, but the life in there."
Casper's music constantly touches on street violence and its consequences through the perspective of both those who perpetrate it and those who experience the loss. Some of his songs, like many in the gangster rap genre, come off as menacing. One chilling example appears in 2017's "Momma's Lil Angel" featuring prominent Oakland rapper D-Lo.
"Claimed to be a soldier then he said he's a civilian/ my baby homie pulled a banger on him/ nearly killed him," Casper raps.
"I've experienced losing people you love, harassment from police, so I feel I have an obligation to do this," Casper says.
It's that drive that's pushed him, fresh from celebrating the birth of his new daughter, to record his next album, Salad Bowl Sickness. In addition to his solo project, he plans on releasing albums with Conspiracy of Marina, Big Rome of Salinas, and longtime collaborator Sandman in 2018. Meanwhile, he's working as an Amazon delivery driver to pay the bills.
In a musical genre that's sometimes been equated with crime in popular imagination, Casper's story – and lyrics about his time in prison – might look like evidence of a correlation. But analyses of FBI crime statistics in the past decade show that in fact as hip-hop has grown in popularity, accounting for a higher proportion of top-rated songs – crime rates, both for violent crime, and crime overall, have gone down. (Writing for The Atlantic in 2014, political journalist Philip Bump superimposed the graphs of crime stats over the graphs of the music charts, and his story has been circulated repeatedly since. "If anything, hip-hop is saving America from crime," Bump wrote.)
At the restaurant's parking lot Casper plays some songs from the soon-to-be-released Salad Bowl Sickness. The storytelling-driven songs are reminiscent of Woodie, the late California rapper who Casper credits as a major influence, and deal with themes of betrayal between homies and surviving imprisonment.
From the driver's seat of a cargo van, Casper turns up the stereo's volume to highlight a verse from his new song, "I Do Time."
"I do time/ it don't do me/ I read books/ write hooks/ send love to the streets."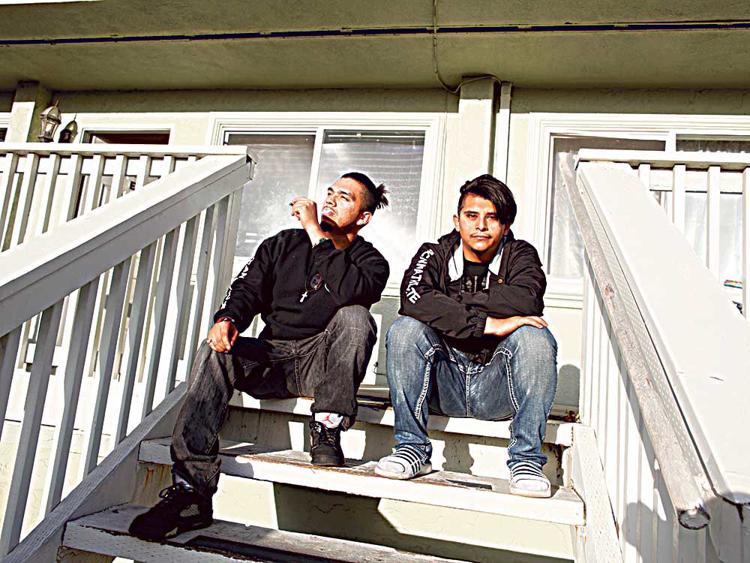 Seaside Organics | Seaside
It's a Friday night in March, and the shared space of Above Sea Level and A Taste of Monterey on the second floor of Cannery Row's Steinbeck Plaza is packed with young people. The crowd has come for a pop-up art and streetwear sale, a wine tasting and live performances by a few local musicians.
Just before 11pm, Seaside Organics, a duo made up of Jose G and Stevie C, grab their mics to perform "Fosachi," a song with breezy instrumentals about carefree partying. It's unclear from the back of the crowd, but either Jose or Stevie light a joint while performing and begins puffing away. A staff member of the winery swiftly walks over to the musicians and the smoking stops before a cloud can even form.
Two months later, sitting on a couch of a Seaside apartment and passing several (legal) joints, the duo – real names Jose Garcia and Steven Cardenas – reminisce about that Cannery Row show.
"It was more popping than I thought," Cardenas says with a smile. "It was humbling to have people watch us and that they wanted us there."
Garcia also felt fulfilled from their first live performance as a duo. "I was nervous at first," he says. "But once the music came on, it was all good vibes."
Those "good vibes" are the best way to categorize the group's musical style. Seaside Organics was originally, and remains to some extent, a group of marijuana cultivators. Garcia and Cardenas, both raised in Seaside, formed a duo in 2017 and wasted no time establishing a presence.
They've released music videos nearly every month for a year. Their first video, "Good Stuff," displays smoke-hazed scenes ranging from balconies of Las Vegas hotels to a Seaside tennis court.
"Chemdog got you barking at the stars," Garcia raps on the track. "Searching through a realm of possibilities/ are you feeling me?"
Seaside Organics alternates between the duo and solo tracks. Cardenas says the dynamic of a duo is good for creativity: "I know for sure when I do a track with Jose he's going to bring his A game. Being a team gives extra motivation."
The consumption and cultivation of marijuana is an ever-present theme in Seaside Organic's music. But the group that cites rap stoners Cypress Hill, Wiz Khalifa and Berner (who they've collaborated with) as influences aren't limited to making songs exclusively about weed.
"Lion," a solo track by Cardenas, is a solemn tribute to a fallen friend that's equal parts joyful memories of boyhood and painful reflection on the loss of a young man.
"Anyone from the city by the sea would tell you that boy is a beast," Stevie C rhymes.
"We used to go head to head during football practice/ Spartan drill/ crack each other then just ended up laughing."
Seaside Organic's first album, The Expansion – with album artwork inspired by Dr. Dre's debut and West Coast classic The Chronic – was released July 10.
"I'm excited to drop it and show the world what we're working on," Jose says. "The album is definitely a step up for us."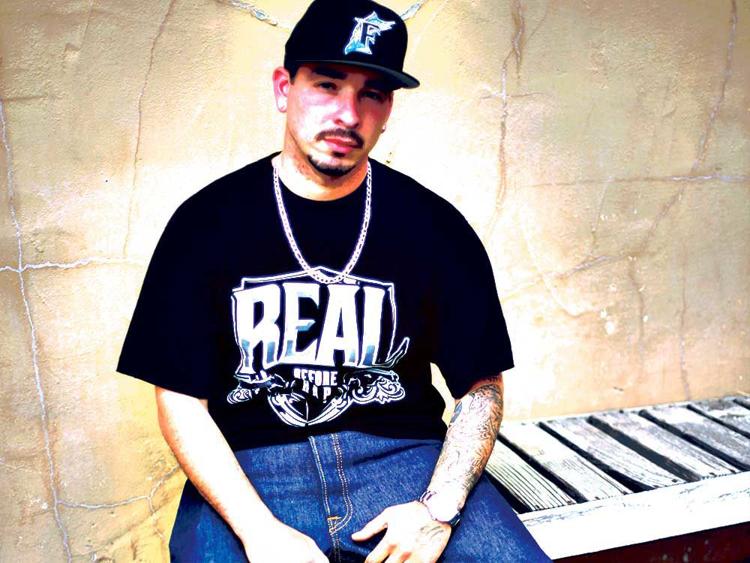 Conspiracy | Marina
In over a decade of making music, Conspiracy has released 12 album-length projects.
The prolific rapper, real name Mario Loera, began making music on a karaoke machine and recorded his first project in 2006. On a calm evening in his backyard he's on the phone discussing moving his catalogue from one label to another while still retaining rights to hard copies.
"They're my babies," Conspiracy emphasizes.
He keeps cardboard boxes packed with copies of some of his albums next to his garage-studio setup of a microphone, a large keyboard controller and a computer running a song production software. Framed copies of Zips-Clipz-N-Lickz (2011) and Loyalty (2015), the two collaboration albums he's done with Salinas rapper Sneaks, hang prominently on a wall.
His modest success in the local music scene didn't come without struggles along the way. After releasing a string of projects to kick off his rap career, he was sent to prison in 2008 after he was convicted on charges of narcotics for sale while possessing a firearm. His two-year sentence strengthened his will to make music. Within months of being released in 2010, he recorded three albums.
Conspiracy's music can be categorized as "gangster rap," both because as a producer he's incorporated elements of 1990s gangster rap instrumentals and his lyrical content. That classic gangster rap sound and introspective lyrics blend best on "Cold World" off of Loyalty. At over 900,000 views, the song – which has no music video – is his most popular on YouTube.
"No matter what I smile through the pain," Conspiracy raps on the song. "Willie passed before my birthday/ now my birthdays ain't the same."
The lyric, a tribute to a friend who was killed in Marina in 2011, is packed with personal meaning. "I hated the song at first but it's truly from the heart," Conspiracy says. "Every year I put flowers on his grave and a few days later it's my birthday. How can I celebrate?"
Throughout his recording career he's given frequent shoutouts to his hometown of Marina. The cover of All Funk No Love, his 2017 album, features a lowrider cruising past Marina's Charles Apartments off Seacrest Avenue.
His affinity for Marina doesn't mean his music is approved by local law enforcement. Conspiracy was set to appear with two other local rappers at the grand reopening of the 831 Smoke Shop in Marina this year, but says the town's police prevented the meet-and-greet event.
"They shut us down all the time," Conspiracy says. "They see it as if we put on a show we'll bring trouble, but I've done shows in Watsonville and everything goes smooth."
Marina Police Cmdr. Eddie Anderson says that despite what local artists might say, there's no malice against the music or the rappers. "The concern was they were advertising live music, which the business didn't have a permit for, and some of the artists had significant gang affiliations on the Peninsula," he says.
Conspiracy, a father of four young children, is winding down on the hip-hop front, with plans to release his final solo album in 2018. But he's done well, recently performing at venues in San Jose, Sacramento and, just three months ago, Denver, Colorado with Big Tone, a prominent figure in Northern California rap. He's hopeful that a Monterey County rapper will one day achieve that kind of mainstream success.
"Eventually one of these new generation artists will blow up," he says, though he doesn't think it will be him, adding a derisive joke about mainstream sound: "I won't be going out my way to auto-tune my music."