Mike Mills opens a royal blue 1970s-era photo album with his rough-hewn hands, hints of black grease under his fingernails from a life of fixing cars. Inside the album are fading photos, some fixed in place under plastic, some loose, all depicting scenes from happy times. A family vacation to Lake Tahoe. Kids running across the beach in Monterey. And indicative of Mills' love of cars, snapshots of family autos, including his dad's 1982 Coupe de Ville Cadillac, white with a blue half-vinyl top. "He liked luxury," Mills, chief mechanic for the city of Marina, says with a smile.
Two other photos of Mills' dad stand out. One is a faded, slightly crinkled black-and-white photo of the elder Mills from his days in the Army as a staff sergeant during the 1950s. On the back, written in pen in neat handwriting is a note to Mills' three older sisters. It says, "With love to my three Girls, I love you with all my heart. Daddy."
The second photo is dated April 14, 1992. Mills' dad is smiling, relaxing on a large flowered easy chair inside his Marina living room. "That was right before it happened," Mills says. "It happened in May."
"It" is his dad's brutal murder at around 5:11pm Friday, May 29, 1992, at the Cork 'N' Bottle Liquor Store on North Fremont Avenue in Monterey, where he was working a part-time cashier shift. Durward Bellmont Mills, "Dan" to all who knew him, was stabbed in the liver and left bleeding on the floor. He was 66. Mike estimates the killer got away with maybe $150. Despite all efforts to save Dan – Mike told doctors to take part of his liver – Dan Mills died at 1:30am on May 30. "It devastated our whole family," Mike says.
May 29 will be the 25th anniversary of his killing.
"Twenty-five years and not one person has contacted me from that police department, can you believe that?" Mike asks. "Does a cold case just get thrown under the table? Does it just get pushed aside because somebody is more important? Instead of a person who worked his whole life, a retired veteran, totally forgotten about. Swept under the rug. I don't understand."
Investigators say they know family members of murder victims like Mike Mills are frustrated. And while it may seem they have forgotten victims and crimes long since passed, investigators say a homicide case is never closed and the victims are remembered.
In Monterey County, where the murder rate more than doubled between 1995 and 2015 – and with it, the percentage of unsolved murders also doubled – closing out those cases presents a challenge. With police budgets and ranks stretched thin, it's the latest cases with the hottest leads that get attention. Older case binders, sometimes called "murder books," stay shut, waiting for someone from the past to speak up and offer a solid lead that could mean solving a case and bringing justice to grieving families, like Mike's.
• • •
On the back wall of Investigator Allen Rowe's meticulously kept office inside the King City Police Department, 28 white case binders sit neatly on a tall bookshelf. They represent 29 unsolved murders since 1999. Some are double homicides and attempted homicides. Almost all are men, except for one woman.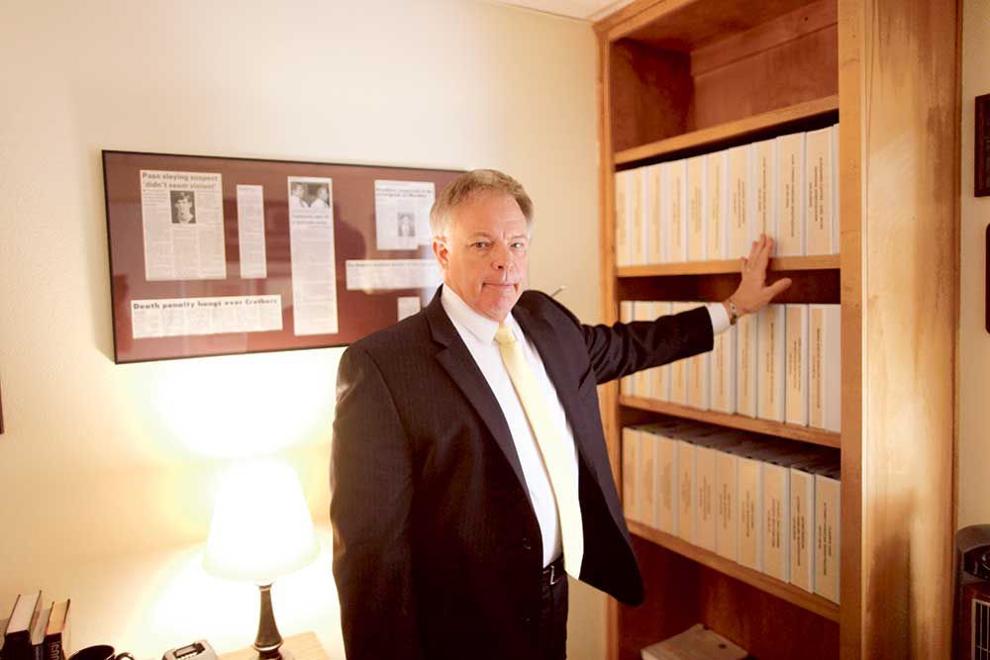 When Rowe took on the task of tackling King City's 29 unsolved murders, he started by organizing the cases by their "solvability," and prioritizing them by which had viable leads to follow. Rowe's binders contain written reports contributed by officers over the years, DVDs and CDs of video and audio interviews, contact lists of witnesses, possible suspects, family members – anyone connected to the case. The idea is that if one detective leaves, the next can pick up the binder and pick up where previous detectives left off.
Rowe retired from the Monterey County District Attorney's Office in May 2013, and in April 2015 he was hired part-time to work homicides for King City, where the murder rate is at epidemic proportions for the small farm town of about 14,000 people.
In 2014, King City came into the public spotlight after annual FBI crime statistics came out, showing it was the city with the highest per capita murder rate in California. News broke the same year that the police department was rocked by a scandal where officers were found to be towing and impounding cars under false pretenses, then keeping and gifting the cars. Six officers were arrested – including the interim chief and recently retired chief – leaving an already small department understaffed.
The following year, Monterey County was declared the "youth homicide capital of California" by the Violence Policy Center in Washington, D.C. Its data showed the rate of homicides for youths ages 10-24 was 23.48 per 100,000 population, three times the statewide rate. The study noted that firearms were involved in 83 percent of those killed.
And while murder rates have been falling for the U.S. as a whole since 1991, and in California since 1993, it's been almost the opposite in Monterey County, according to murderdata.org, created by the Washington nonprofit Murder Accountability Project. Monterey County homicides went up and down between 1965 and 2006, then skyrocketed, hitting one peak in 2009 with 51 murders. After coming down again, it hit the most murders since 1965 with 60 murders in 2015, the last year data is available, with most of them occurring in the Salinas Valley. The rate of murders in coastal towns has decreased, reflecting national trends.
This year is already proving to be a vexing one for law enforcement. As of May 1, Salinas has already clocked 15 murders; King City, two.
Monterey County also has a lower rate of murders solved than the rest of the nation. Over the 50 years studied, the overall rate is 66 percent solved nationally, but in Monterey County it's 53 percent. In 2015, the rate was 36 percent.
For 40-year law enforcement veteran Rowe, it's too many murders and not enough time. Literally, in his case, because as a retired officer he's only allowed to work 960 hours per fiscal year, or about 20 hours a week, and still collect his pension. When a new murder happens Rowe must follow the leads, and when he hits his hourly limit, he has to stop until the start of the next fiscal year. Which means most likely the binders will remain closed on the bookshelves, unless a new lead comes up and King City's other officers have time to pursue it.
Rowe blames the rise in drugs and gangs since the mid-1990s for why the murder rate has gone up in King City, despite falling elsewhere. All 29 unsolved murders there are classified as gang-related, although not all victims were connected to gangs.
Sitting in his King City office dressed in a sharp dark suit and tie and polished black dress shoes, Rowe says the high murder rate in the Salinas Valley is a "sad testament" for the entire county.
"I don't know if people just don't care about it, and there's a certain amount of, 'It's just gang members killing gang members, who cares?'" Rowe asks. "Well, not in all cases of gang-related homicides do they involve gang members. Sometimes innocent people get hit.
"It's just a tragedy. It's amazing how many people have told me stories like, 'My husband and I used to take our kids down to the park in the afternoon and let them play. And we haven't been to the park in five or six or seven years,'" Rowe says. "Because of the fear of something happening, or getting caught in the crossfire. That's horrific. You're just being held hostage by people who commit these cowardly acts."
---
• COLD CASE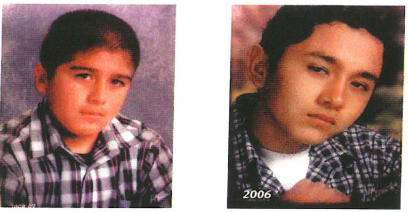 Alex Cortes and Abel Silva were playing video games in the garage of a friend's home with several others, when two men walked up the driveway and opened fire on the boys. Cortes was killed almost instantly, according to news reports. Silva, shot in the head, was flown to a trauma center and died the next day. Two others who were shot survived with partial paralysis, according to police.
Despite investigating the case for several months, and a $10,000 reward approved by the City Council for tips leading to the arrest and conviction of suspects, police were unable to find suspects.
---
In an idyllic Pacific Grove setting overlooking Monterey Bay, a jogger found a horrific scene on the morning of Sept. 19, 1997: The body of 17-year-old Monterey High School student Kristopher Olinger, beaten and stabbed 29 times. He had been thrown over the cliff in Pacific Grove and left for dead. Only he wasn't dead. With what little life force he had left, he crawled up the cliff to a turnout along Ocean View Boulevard, and it was there that Olinger died.
The car he was driving at the time, his mother's Honda, was gone. When it was found 10 days later in San Jose, police were able to lift fingerprints and palm prints off the car, but no matches came up in databases at that time. The case went cold.
There is a saying in law enforcement, "The older a case is, the colder it is." But it doesn't take long for a case to go cold once all the good leads are exhausted, investigators say. If witnesses don't step forward, if the evidence is scant, a case can practically go cold overnight. But while the trail may be cold, homicides are always open cases, and investigators interviewed say they are always optimistic a case can be solved.
"I don't think a case is ever unsolvable," says Lt. Ethan Andrews of the Monterey Police Department, which keeps cases in the public eye with a page on its website devoted to unsolved murder cases. "Who would have known that in 2017 cars would be driving themselves, and there would be such improvements in technology? We don't know what's going to change."
Monterey Police and neighboring departments have banded together for several months at a time to combine resources in special task forces to solve cold cases. Most recently it was the Monterey Peninsula Cold Case Project in 2015-16, with earlier attempts in 2010 and 2005. Investigators pore over evidence and take a look at cases collectively with fresh eyes.
A recent example of those fresh eyes leading somewhere: The April 14 charges against Charles Holifield, 56, in the 1998 kidnapping and murder of 13-year-old Christina Williams. Monterey County District Attorney Dean Flippo made the announcement of the impending charges at a press conference April 6, surrounded by representatives from the departments – local police, Monterey County Sheriff, the FBI, local NCIS and Homeland Security – that investigated the case.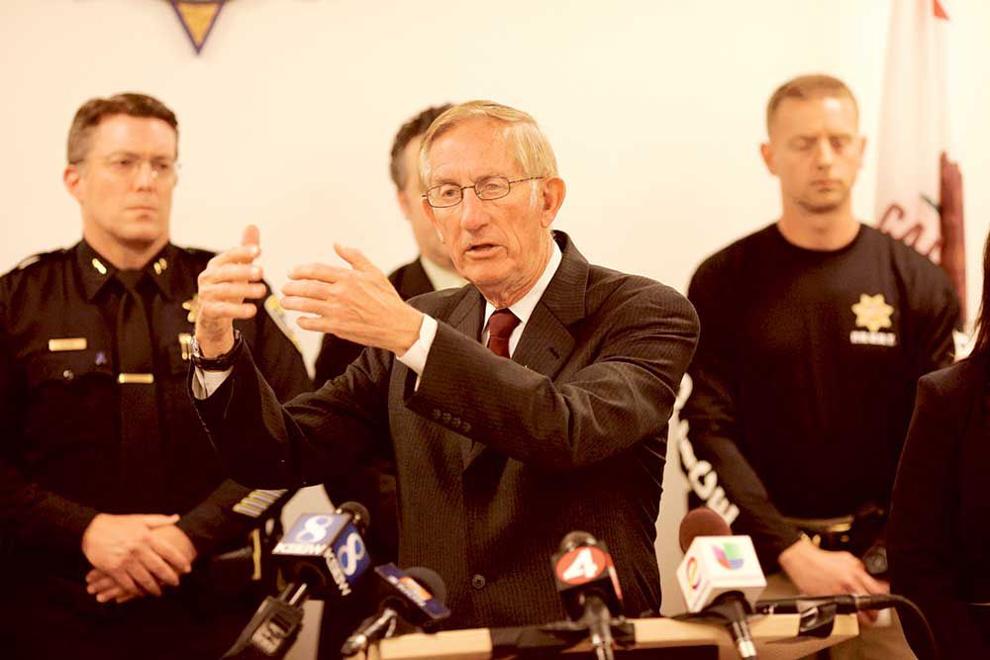 Flippo said the 2016 cold case project group pored over the physical evidence collected from the remote area of Fort Ord where Williams' remains were found, and after ordering new DNA tests, determined they now had "strong" evidence.
Holifield, who is currently serving a third-strike sentence of 25 years to life in prison for attempted kidnapping and making criminal threats against a woman in 1998, was always a suspect, Flippo said on April 6, but it wasn't until 19 years later they had enough evidence to charge him. During the press conference, as Assistant District Attorney Jeannine Pacioni read the charges against Holifield, a cousin of Williams' mother sat off to the side and wept.
In the Williams case, police were able to use DNA to justify filing charges against Holifield, but sometimes DNA isn't enough. Despite having some DNA, along with meticulous record-keeping of the investigation – investigators compiled 31 binders filled with more than 15,000 pages – it took witnesses finally speaking out to convict one of Olinger's murderers.
Olinger's case stayed cold from 1997 to 2005, when the small Pacific Grove Police Department received a state grant that helped pay for investigating the case, and after continued prodding by Olinger's family members. The fingerprints and palm prints were run through a new state database to see if a match could be found, and this time they got hits. Those hits led them to witnesses and two suspects.
Suspect Jacobo Ruelas was identified and arrested. DNA and fingerprints found on the steering wheel of the car were linked to his brother, Angel Ruelas. The two were 18 and 17, respectively, at the time of the murder.
Angel Ruelas pleaded guilty to murder during commission of a kidnapping, robbery and carjacking, and was sentenced to life in prison without the possibility of parole. Jacobo Ruelas' chose to fight the charges, and at one point represented himself in court. It took seven years from his arrest for the case to get to trial in September 2013, almost 16 years to the day Olinger had been found murdered.
A man who had been with the brothers at the time of the murder testified that they had come upon Olinger in his car, apparently sleeping. They shoved Olinger out of the driver's seat and into the back, then drove to another location where they dragged him out of the car, the third man testified. Jacobo stabbed Olinger multiple times, and Angel hit and kicked him before also stabbing Olinger. Then they shoved him off the side of the cliff, according to the witness testimony.
The witness, whose fingerprints were found on Olinger's car said he originally lied to police out of fear for his own life. He finally spoke to P.G. police after promises he would be taken into the witness relocation program. Jacobo Ruelas was convicted of first-degree murder with special circumstances, kidnapping for robbery and kidnapping for carjacking. He was sentenced to life in prison without the possibility of parole. He appealed his conviction, and lost, in 2015.
Today a bench faces Monterey Bay near the spot Olinger was found, inscribed with the words, "Until we meet again, my sweet angel." His mother reportedly would visit the bench and weep. She died of cancer in 2003. The only father Olinger had ever known, his stepfather, died in 2008.
The Olinger case included a key factor that ultimately led to Jacobo Ruelas' conviction: witnesses.
In many crimes, especially gang-related, witnesses remain silent. Their reasons for silence are often connected to fears such as gang retaliation, or, in the case of undocumented immigrants, deportation. In some cases, bad experiences with police in the country of origin lead to distrust of law enforcement.
Even if years go by and memories fade, Andrews says, it's never too late to speak up. "It doesn't matter that you think the information is useful or not, we absolutely want to hear from folks because you never know what will be the next break in the case," he says. "Don't assume we already know certain things."
---
• COLD CASE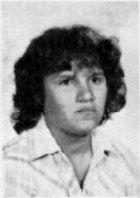 A friend remembers seeing Shelia Chavez waiting for a bus in Carmel Valley on Aug. 10, 1982, the day she disappeared. There were no leads in her disappearance until Sept. 18, when a woman picking blackberries behind the Monterey Public Library found a body in the bottom of the ravine there. Two days later police confirmed the body was Chavez's. The cause of death reported by police was blunt force trauma and asphyxiation.
In 2015, the Monterey Peninsula Cold Case Project announced that her case could be linked to convicted killer Alfred Powell, who was named a "person of interest," but never as a suspect. Powell was convicted in the 1983 killing of Pebble Beach resident Suzanne Nixon. Powell was charged in a second case, the 1982 murder of Sandra McGee, for which he is scheduled stand trial in October. Monterey Police report they have not identified any suspects in Chavez's murder.
---
The memory still haunts Debbie Aguilar. "I just remember my body started trembling," she says. She refused to believe it at first when friends started calling to ask if the news that her son Stephen had been shot and killed was true. She and her husband had heard nothing official, so they waited, hoping for different news.
When the word came that yes, it was true 18-year-old Stephen Joseph died of multiple gunshot wounds in a drive-by shooting, Aguilar collapsed.
"Everything got knocked out of me, my life and air. We both fell," she says. "And the journey begins."
That was over 14 years ago, on Nov. 16, 2002. The case is considered gang related, although Stephen was not a gang member – he was on a track to leave Salinas and enter a four-year university in Silicon Valley.
The "journey," as Aguilar calls it, has had many twists and turns, dark days and lighter ones, and many hard lessons. She now shares those lessons with other parents of murdered children through the support group A Time for Grieving and Healing. She runs a Facebook page by the same name, and meets with members on the fourth Thursday of every month at the Pizza and Pipes restaurant in Salinas.
The group took more than 100 people to Sacramento on April 6 for a march to mark National Victims' Rights Week. For years now her group has taken one bus of families; this year they took two. The event gives families a chance to have their lost loved ones remembered publicly.
When new families come to the group for support, Aguilar comforts them, and she gives them advice on how to talk to investigators to maintain a good relationship. "I give them tips of what not to say so they won't help you any further."
Aguilar says she had to clear the air with police early on after word got back to the department that some mothers who came with Aguilar to an interview with a reporter had been complaining that police didn't care about their children's murders. "Since I was the leader, it fell on me, even though it didn't come out of my mouth," she says.
The investigator on her son's case sat her down. "'This is not how we work here,'" she remembers the investigator saying. Her interactions with police since that time lead her to believe that the police take each case seriously, and they don't forget the victims – even if many cases go unsolved. "Cold cases, these are very common words in Salinas," Aguilar says.
Today, she tells families, "Words can hurt, even police officers." She reminds them that even though they are angry and hurting, getting angry at investigators and blaming the police is not productive.
"'Go ahead and call them, but be polite,'" she tells them. "'Stay on a good rapport, and remember you won't always get the answers you're looking for.'" That was hard for Aguilar herself to realize. She desperately wanted answers about her son's case, but as her investigator explained to her, the police cannot share details of investigations, because it can jeopardize a case headed to court.
One of the most pressing questions Aguilar hears from parents is will their child's killer be caught? She's honest in her reply: "In our county, murder has been around, and so many cold cases."
She's lost hope that her own son's case will ever go to court: "Some are solved, but not very many."
• • •
As Dan Mills lay bleeding on the floor of Cork 'N' Bottle Liquor in May 1992, witnesses saw a man run out of the store at about the time of the murder, and in his rush to leave he touched Mills' 1982 Coupe de Ville, according to news reports at the time. Despite having palm prints from the car, and a composite drawing of the man based on witness' descriptions, no one has ever been arrested. Mills' son, Mike, has contacted police off and on again over the years, hoping for progress, but none comes.
"I don't think I'll see the crime solved in my lifetime," he says.
While Mike wonders if police have forgotten his dad, Andrews of Monterey PD says no, they haven't. If a new witness comes forward, or something else breaks in the case, the police will pursue it.
In King City, the 28 binders in Investigator Rowe's office are a constant reminder of victims and families waiting for justice.
"I've been so busy working the new [cases] it's been really hard to get to any of the old ones," Rowe says. "That's really tragic for all of the families of the victims, for the victims themselves, people who care and love them, and want to see justice for their loved ones, and it's not just King City, that's true for Salinas, the LAPD, wherever. It's just the nature of crime. Wakes me up at night."
After 40 years, Rowe says he still remembers the victims and families from decades ago. "There are many ghosts of the past that stay with us in this business."
As the 25th anniversary of his dad's murder approaches, Mike Mills says his family has found ways to honor his dad and remember the good times they enjoyed. His wife was pregnant at the time of the killing, and they decided before the baby was born that it would be named after his dad: Dan if it was a boy, Danielle for a girl. Danielle Mills is now preparing to walk down the aisle at her wedding in July.
But first, the family will pass another anniversary in May, marking Dan Mills' death. Members plan on gathering around his and his wife's grave – Elizabeth died several years before Dan – at Mission Memorial Park in Seaside.
"I don't know what else I can really say except I miss him," Mike says. "We all miss him."