How Nuestra Familia, a criminal organization, took control of MILPA, a community group in Salinas.
Northern California's most notorious prison gang has infiltrated a nationally known Salinas nonprofit organization dedicated to nurturing young leaders.
Public records and extensive interviews with law enforcement as well as gang sources paint a disturbing picture of how the Nuestra Familia and its affiliated Norteño gangs took control of the MILPA Collective. The name stands for Motivating Individual Leadership for Public Advancement, and is the Uto-Aztecan word for "cornfield."
Recent events involving MILPA staff, much of it brazen and made public in news reports, indicate a pattern of gang activity and identity. But a deeper gang infiltration of the organization is corroborated by court documents, police reports and multiple sources who declined to be named out of fear for their safety or because they are not authorized to speak on the record.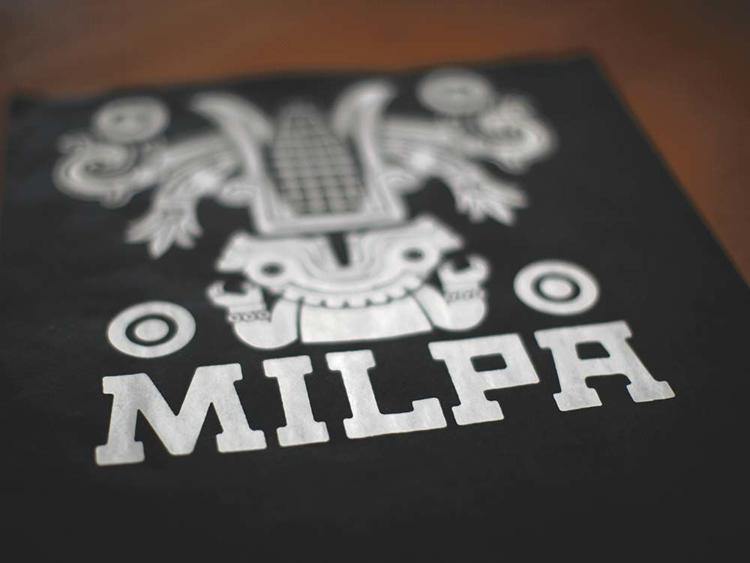 Many in the Salinas community suspected something was wrong with MILPA following the August 2018 beating of a 14-year-old boy at a skate park during a MILPA-hosted event, where the group's community liaison instructed bystanders not to intervene in the attack. Now, following the release of a jailhouse video showing MILPA's program and policy coordinator, Israel Villa, using gang signs to intimidate an inmate, many community leaders are condemning MILPA for its gang affiliations.
MILPA has garnered nearly $2 million in grants and support and achieved national recognition for its social justice efforts involving formerly incarcerated people. It's funded by The California Endowment and other respected grantmakers. It has partnered with national think tanks like the Center on Juvenile and Criminal Justice and was featured inThe Atlantic and The Chronicle of Social Change for helping to "direct juvenile justice policy in California." Its staff have served on a panel for the California Assembly subcommittee on public safety and worked in jails and prisons on the East Coast.
Many sources say they believe MILPA didn't start out under the influence of gangs when it was created in 2012, and don't claim MILPA itself is a criminal organization. But there is convincing evidence it has been infiltrated at the highest level by active gang members.
The organization's philosophy, as stated on its website: "MILPA uses (a) healing-informed, relationship-centered approach to incubate next-generation leadership and infrastructure while striving for social justice."
But control of MILPA took a sharp turn after a number of Nuestra Familia associates got involved.
ISRAEL VILLA GREW UP A MEMBER OF SALINAS EAST MARKET, OR SEM, the Norteño street gang that's known as an incubator for lower-level leaders of the Nuestra Familia. In the 1990s, he did a stint at Chad, the California Youth Authority prison near Stockton that's officially known as N.A. Chaderjian. Chad, too, was a hub for future gang leaders.
Villa has declined repeated requests for an interview, and said as of Oct. 21, he is seeking the counsel of an attorney and will not comment before he has gotten legal advice.
In 1999, Villa, then 21, was arrested and charged with attempted premeditated murder. According to police reports and court records, Villa and another man, Karlo Haros, were in a Salinas 7-Eleven when they asked another customer where he was from – a classic gang challenge. The man said, "From the south." The exchange led to gunfire; the victim was shot in the leg, but survived.
Villa accepted a plea deal for assault with a semiautomatic weapon and was sentenced to nine years in state prison, where gang investigators report he was a confirmed member of a mid-level subset of the Nuestra Familia. He was ordered to register as a gang member upon his release, court records show.
More recently, he did time in federal prison for drug trafficking charges. In a 2011 affidavit, an FBI agent wrote that he first looked into Villa while investigating Norteño/Nuestra Familia criminal activities. The North County Gang Task Force had identified Villa as a Norteño gang member and methamphetamine dealer in Salinas. According to the affidavit, while the FBI's undercover buyer was purchasing 14 grams of meth from Villa, he asked if Villa could provide him with a gun.
According to the affidavit, "Villa said he had a .357, but it 'had two bodies' on it, which (the informant) took to mean it had been used in two murders."
Villa pleaded guilty to possessing methamphetamine for sale and was sentenced to five years in federal prison. He was released two days before Christmas in 2014.
Along the way, Villa, now 41, got an "M" tattooed on his neck, a reference to the "Market" in Salinas East Market. He got involved with MILPA, where his brother George Villa, also validated as a Norteño member by the California Department of Corrections and Rehabilitation, was MILPA's program assistant.
In an interview last month to talk about the future of the group's work in particular and community organizing in general, Villa spoke about the opportunity MILPA presented him, and others like him, who had spent vast amounts of time incarcerated and for whom job opportunities were scarce when they were released from prison.
"Even just one person given a chance at a paycheck can impact the whole community. I've finally managed to re-enter society," Villa said. "I've always had a support system, but there have been a lot of barriers. I could never find a job because my record is ugly, and because of all the violence. Here I've had the opportunity to do something positive."
Asked then about the future of MILPA, Villa said, "We ain't going nowhere. We're doing a lot of good work. We're going to fight our fight the way we need to fight it."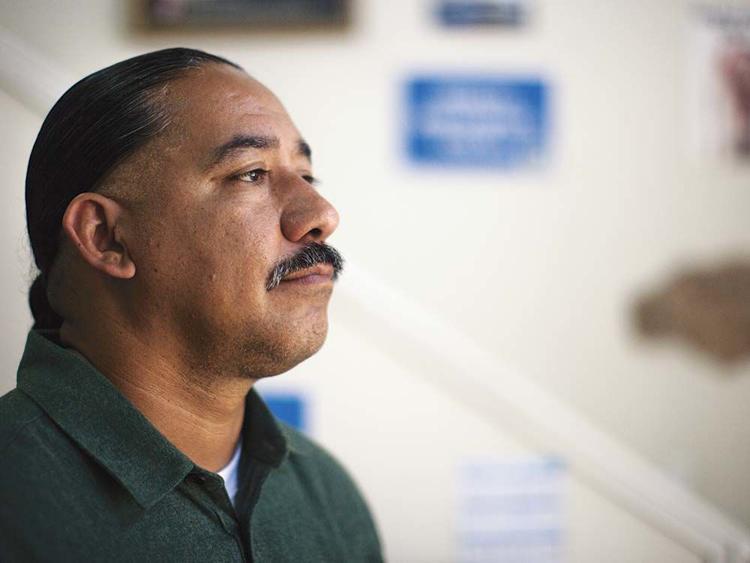 SOON AFTER MILPA FORMED, SERGIO DIAZ DE LEON – A TECH-SAVVY NUESTRA FAMILIA MEMBER KNOWN ON THE STREETS AS TRIX, according to multiple sources – was helping set up the group's website, databases and infrastructure, according to the MILPA section of his LinkedIn profile, which was removed after a reporter contacted him for this story. (He says he resigned from MILPA over a year ago.)
Besides developing MILPA's business systems, de Leon was recorded by investigators in multiple phone calls with Michael Escobar, who is currently standing trial in Santa Cruz County for a 2014 double homicide in Watsonville. One of the victims was 4-year-old Jaelyn Zavala, who was killed by a stray bullet in her family's restaurant when the shooters targeted a rival gang member outside. (It is expected that these calls will be played for the jury in Escobar's ongoing trial.)
Louis Gutierrez, another of the Nuestra Familia's rising leaders, was also drawn to MILPA's glow, to the point that he wore a MILPA shirt when he went to register as a gang member at the police department.
"Knowing what I know now, I'm not going to invite them anymore."
Together with Israel Villa, the involvement of de Leon and Gutierrez would ensure the Nuestra Familia's foothold in MILPA – and Salinas.
NUESTRA FAMILIA'S VISION OF BECOMING A MORE SOPHISTICATED CRIMINAL ORGANIZATION with a legitimate public face began a decade ago, sources within the gang say.
The gang was about to be dealt serious blows in a series of takedown raids around California, many led by agents at the state's Department of Justice working with the FBI and local police.
Threatened, the gang's leaders decided to take a lesson from history, striving to become less like street thugs and more like the East Coast mob, which operated hotels, charitable organizations, trash hauling companies and strip clubs. Court documents show that Nuestra Familia leaders decided they would continue to rob, extort and sell drugs on a wholesale level, but agreed they'd also learn how to better use legitimate businesses as fronts and how to use lobbying and advocacy as political tools. By 2007, the gang was testing the waters, operating businesses such as a Metro PCS store in Jack London Square in Oakland, a clothing store in Los Banos and a tattoo parlor in Hollister.
But the raids kept coming and progress on the "legitimizing project" was slow.
Meanwhile, in the wake of four police shootings of unarmed Salinas residents in 2015, community support for MILPA's criminal justice reform agenda began to swell. Unaware of the group's Nuestra Familia connections, Alisal (or East Salinas) residents who grew up frustrated by systemic racism found hope in MILPA's vision of a spiritually empowered and healed community.
Dozens of volunteers flocked to the group, and soon MILPA was attending academic and justice conferences around the country, speaking about Chicano identity, racial inequity and decolonization. Their message and programs incorporated curricula developed by Jerry Tello, a well respected motivational speaker and recognized authority in family strengthening. His El Joven Noble and Xinachtli, two leadership frameworks for young Mexican-American men and women that blend indigenous spiritual traditions with a social change and awareness mission, have been widely used by multiple organizations. They adopted Tello's strategy of "La Cultura Cura" (Culture Cures) and wove indigenous traditions into their advocacy programs.
Retired Salinas Police Chief Kelly McMillin says his department tried working with MILPA in its early days.
"My early perception was that this was Jerry Tello's work being brought to action," McMillin says. "So why wouldn't I support that? It was another step in violence reduction, which shouldn't be all law enforcement-centered."
The U.S. Department of Justice suggested in a 2016 report that the police department should meet more often with community organizations, and named MILPA as one of them.
"I had the sense from day one that this was a Norteño-influenced organization," McMillin says now. "But they got together and they're seemingly trying to do something good, and I thought to give them a chance, to take some chances on trying policing in a different way."
Soon, however, some of McMillin's officers told him they had concerns about active, violent gang members working at MILPA.
And then Salinas residents began to notice that things didn't add up. Young parents who'd grown up associated with Sureño gangs – the Norteños' main rivals – noticed their children were treated differently when they tried to join El Joven Noble. Certain young men, especially those from Norteño families, were seen as having "potential," according to police and gang sources. These youths were given extra attention with the idea they'd ultimately be groomed to sell drugs or do other tasks for the gang, the sources say.
Others noticed that MILPA's leaders, including Villa, were – and are – often seen in public wearing red, the Norteños' color, and posing in photos captioned with gang slogans from Salinas East Market on social media. Residents noted that MILPA never mentioned the words "gangs" or "youth violence," and rarely talked about teaching young people how to avoid guns, drugs or the gang life. It seemed an odd omission in a community historically plagued by one of the state's worst youth violence rates.
The myth began to unravel in 2016. Raul Tapia, a MILPA co-founder, was found with $3,000 in cash and 85.5 grams of meth in his car. Police searched his residence and reported finding "a rifle, a shotgun, a replica pistol that had real gun components installed, 6 grams of base cocaine and 44 grams of methamphetamine."
Tapia was given a suspended four-year prison term for narcotics trafficking and was ordered to serve felony probation. But a few months later, in April 2018, he violated his probation terms when he was caught with meth in his car. This time, he was sentenced to serve his four-year term in Monterey County Jail.
SINCE ITS INCEPTION IN SALINAS SEVEN YEARS AGO, MILPA's advocacy and programs for mentoring youth have attracted prominent, well-intentioned funders. It has received more than $1.7 million in funding, most of it from The California Endowment, and some of it public money.
As connections between some prominent MILPA members and Nuestra Familia emerge, questions about funding have followed this week. "The county will now have to review whether any future funding should continue," County Supervisor Luis Alejo says.
Karen Smith is a spokesperson for the County Health Department, which oversees a MILPA grant. "We are concerned, management is concerned and they're taking the matter very seriously," she says.
Through Monterey County Behavioral Health, California's Board of State and Community Corrections awarded MILPA $270,000 to conduct community outreach around Proposition 47 – which reclassifies some felonies as misdemeanors – and that project is still underway. Its next community advisory meeting is scheduled for Dec. 7.
As part of that outreach, MILPA members have regularly attended orientation meetings for returning parolees, where the group makes a presentation about services it offers, says state Parole Agent Joel Orozco. The last time MILPA staff attended such a meeting was in July, Orosco says, but adds the group's gang ties now raise concerns about the safety of returning felons: "Knowing what I know now, I'm not going to invite them anymore."
The group received $500,000 from the San Francisco-based Latino Community Foundation in 2015. Earlier this year, MILPA was awarded a $35,000 grant from The Community Foundation for Monterey County, which had received grant funds from The James Irvine Foundation designated "to ensure low-income workers in Salinas have the opportunity to advance economically."
Dan Baldwin, president and CEO of the Community Foundation, is asking questions. Specifically he's asking a mentor who is funded through the Community Foundation grant to work with MILPA, an added layer of due diligence.
"We've been getting positive reports from the mentor about progress [MILPA is] making in developing programs, so we're very caught off guard, by the idea that this organization has been conscripted by a major gang," Baldwin says. "But on the other hand, we're not naive, because it's a model that probably has more risk exposure. They're going to utilize people who have been in gang life and who are very qualified to try to act as a deterrent for a new generation of getting involved in gangs.
"The other thing to remember is that we are talking about one of the most deeply embedded, intractable problems that has just burnished itself onto the identity of Salinas. It's a tough, tough problem and there's just not a lot of options on how philanthropic dollars can get to the heart of the matter."
MILPA's principal source of local funding comes through Building Healthy Communities, a 10-year project of The California Endowment, a Los Angeles-based organization with $3.8 billion in assets. MILPA has a two-year grant from The Endowment for $866,302. MILPA receives funds via the Action Council of Monterey County, which is the fiscal sponsor for BHC.
MILPA has received approval from the IRS to operate as a standalone tax-exempt nonprofit, but has not yet made the transition to operating independently.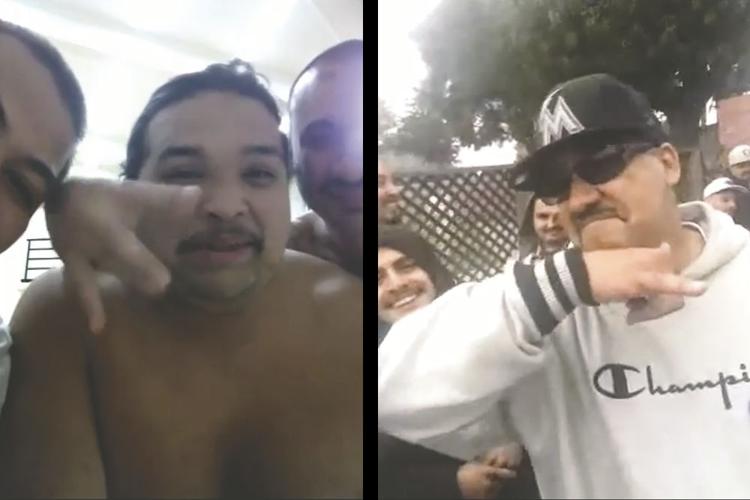 MILPA'S FOCUS ON CRIMINAL JUSTICE REFORM MAKES THE GROUP A NATURAL ADVERSARY OF THE POLICE. Members testify at hearings in Sacramento in support of restrictions on when police may use force, and rally community members together after police shootings in Salinas.
Some community members feel the current moment is yet another example of how the police will stop at nothing to destroy MILPA, because, they say, it's been effective at organizing people to speak out against school resource officers and to end the city's participation in the reality TV show Live PD.
"The actions of one individual should not penalize the entire organization," says Phillip Tabera, a Salinas Union High School District board member. "This is not the first time that these type of things happen to an organization that's trying to do great things for the community."
In a statement, the Action Council emphasized MILPA's mission: "Salinas and Monterey County needs a group like MILPA that can take a strong approach against the criminalization of youth and works to end the systemic racism that continues to push youth of color into the incarceration system."
The California Endowment issued a lengthy statement signed by CEO Robert K. Ross and Sierra Health Foundation President/CEO Chet P. Hewitt that reads, "We know firsthand that organizations and advocates working to reduce violence in their community and bring peace to so many are at times targeted themselves for speaking out and pushing for systems transformation to an oppressive and discriminatory justice system."
But others see a gang conscripting an organization for its own gain as a betrayal.
"We're starting to see more and more evidence come forward of infiltration of a criminal street gang into a group that was originally created to do good for our community," says City Councilmember Scott Davis, who also works as a Monterey County deputy sheriff. "It's sad that nobody from MILPA, BHC or The California Endowment can come out and either apologize or condemn the behavior.
"Philanthropists who are not from here who don't see it. It's a little embarrassing."
"MILPA, as an organization doing what it was created to do, has done some good things," Davis says, "but you can't be a social justice warrior by day and a gangster by night."
THIS LIST OF MILPA ASSOCIATES INVOLVED IN NUESTRA FAMILIA GOES ON. About a year after Tapia's arrest, Michael "Jap" Obiacoro led police on a chase – his BMW reaching 75 mph on East Market Street – and ultimately pleaded no contest to evading officers. He was sentenced to four years in prison and is serving his term in Pelican Bay. He told officers he worked at MILPA, and his Facebook page still declares he is "working with Milpa in downtown Salinas as a community activist."
Obiacoro was previously convicted of robbery for the benefit of a street gang in 2000. In 2014, while he was still in prison, correctional officers learned he planned to smuggle out Nuestra Familia writing and messages upon his release that July. A police report says he was held under what prison guards call "potty watch," during which he ultimately defecated a plastic-wrapped "bundle of gang notes" that included the gang's history, latest rules and "no good" (hit) lists.
Then on Aug. 7, 2018, MILPA held an event it dubbed "Night Out for Safety and Liberation," an alternative to the police-sponsored National Night Out. In a video captured at the scene, a 14-year-old boy said something perceived as offensive to MILPA community liaison Louis Gutierrez, an admitted Norteño member. Gutierrez responded, "What did you say? What did you say?" Then the boy was beaten up by 21-year-old Richard Alex Diaz. As Diaz was assaulting the boy, others yelled, "He's just a little kid." But Gutierrez stood between onlookers and the fight and said, "Let him."
Gutierrez, who has made a point of letting others know he's a nephew of longtime Nuestra Familia leader Matt Rocha, was sentenced last month to two years in prison for the assault, and admitted committing the attack for the benefit of the Norteño gang. Diaz pleaded no contest to felony assault in April. He was sentenced to three years of felony probation, with gang conditions.
Despite the damning video, MILPA went on a public relations offensive, saying in an emailed appeal that the organization was "slandered and attacked by the media due to an unfortunate and unexpected altercation." To counter the news media's "bullshit narrative," MILPA asked supporters to pose with an "I support MILPA" sign.
A longtime Alisal resident said at the time that locals were too terrified to come forward about the incident, that word on the streets was that anyone who talked about it would be "dealt with."
PAULINO GUZMAN III WAS 18 WHEN, IN JANUARY 2016, HIS FAMILY REPORTED HIM MISSING. According to the Salinas Police Department, investigators received information that Guzman had been killed by Tai Agoun Cruz. The revelation led to a months-long investigation that included interviewing witnesses, analyzing digital evidence and social media postings and issuing search warrants.
From that, police pieced together the following story:
On Dec. 12, 2015, Guzman was at a party at an apartment on North Main Street in Salinas. Cruz and other people affiliated with the Norteños were at the party as well. At some point that night, several attendees were cleaning their firearms, and Guzman was said to be holding a weapon, but not pointing it at anyone.
Cruz took the weapon from Guzman's hand, pointed it at his head from about three feet away and shot Guzman in the face. He died almost immediately.
The next day, Cruz and multiple other people returned to the apartment, placed Guzman's body in a plastic tub and cleaned up the scene, ripping up the carpet in the area where Guzman was shot. The tub, with Guzman's body, was taken away in a green car; Cruz, another man and a woman were seen in the car as it drove away from the apartment. The vehicle has never been located.
Cruz had pleaded guilty on Feb. 20 to one count of voluntary manslaughter with gang and firearm enhancements. On April 10, Monterey County Superior Court Judge Andrew Liu sentenced Cruz to 35 years in prison.
Both the judge and Guzman's stepmother pleaded with Cruz to tell them where the victim's body was: "He took a path in his life and he made a wrong choice to do what he did, as you did, too," the stepmother said. "As a parent, we try to raise our kids right, and now he's no longer here.
"I'm not here to judge you. As a mom, as a Christian, I just pray for you. I just want to know where his body is so we can lay him to rest."
She ended with scripture: "Do not repay anyone evil for evil. Be careful to do what is right in the eyes of everyone. If it is possible, as far as it depends on you, live at peace with everyone. I just pray to God you find it in your heart to do the right thing and let us know where he is so we can lay him to rest."
Cruz's only reply as to the location of Paulino Guzman III: "No comment."
INMATES AT MONTEREY COUNTY JAIL CAN MAKE VIDEO PHONE CALLS TO THE OUTSIDE, which are recorded.In a video obtained by the Weekly, Voices, KSBW and other news outlets, Cruz appears flanked by two friends, making a video phone call from the Monterey County Jail to friends at the banquet hall of the Salinas Rodeo Grounds. The roughly nine-minute video call took place on March 22, just weeks before the sentencing hearing and before Cruz would refuse to give up the location of Guzman's body.
The video shows the call's recipient walking the phone around to various people so Cruz can greet them from within the jail's D-Pod, an area reserved for active Norteño members.
At roughly the seven-minute mark, the video shows Cruz talking to Villa. The video shows Villa point to the "M" on his Miami Marlins hat. He then puts his hand over his mouth and then quickly draws a finger across his neck. On his end of the call, Cruz, who up to that point had been cracking jokes and mugging for the camera, goes quiet and puts his hand over his mouth in response. Villa blows kisses at the camera, flashes the "5" and "0-0" signs at him, representing the 500 block of East Market Street where SEM originated, and the call continues as Cruz talks to other friends.
Police say the message Villa gave was obvious: You snitch, you die.
"In the gang, every hand gesture means something," a source familiar with Villa and the Nuestra Familia gang says. "Each movement was a full and complete message. It told a story."
Considering that Villa was incarcerated because of a federal informant, the source says, his gestures suggest one of the Nuestra Familia's cardinal rules: If you are a traitor, I will kill you.
WHAT WILL HAPPEN TO ITS MANY PROJECTS and whether any of MILPA's criminal justice reform work can be salvaged remains to be seen.
As one former Norteño gang member critical of MILPA puts it, "When you're sick, it's important to eradicate the cancer or the virus. But do you have to eradicate the whole body?"
Monterey County District Attorney Jeannine Pacioni says she had long been aware of MILPA's association with the gang, and wonders how it will affect community members who rallied around a legitimate cause.
"I agree that when people come together for a good purpose it's a great thing. But if you're not working toward a positive goal and you're using it as a front, I'm very offended by that. Because other people are buying into it – other people want to do what you're going to do."
Salinas Police Chief Adele Fresé says MILPA's founding mission seemed noble and good, but it got muddled as people who are not "out of the life" and remain active gang members make their methods known. And they do that, for example, in the video call that captured Villa's behavior toward a fellow gang member, and by the skate park video of Gutierrez standing by as another man beat up a 14-year-old boy.
"I think as police chief I would like to see MILPA as an organization, and any and all associates of MILPA and its supporters denounce gang activity outright and say, 'You have to have a 100-percent clean break out of the gang life before you participate in this organization,'" she says.
Brian Contreras ran Second Chance Youth Program, a gang-and-violence-intervention program in Salinas, for nearly three decades. He understands maybe better than anyone the struggle MILPA faces in using experts who have lived the lifestyle they're now advocating against.
MILPA, he says, "is a really good idea and they have a good philosophy. When it first came out, I thought it was a great idea.
"But my question is, do you denounce gang activity? If you're going to sit there and model that to the community, you can't straddle that fence."
Contreras still believes MILPA is a good – great, even – idea, but he says they have to change the way they do things.
MILPA released a statement on Oct. 21, five days after news stories about the video of Villa and Cruz talking. "We are disappointed, but not surprised, by the recent attacks on our organization," it reads. "MILPA gives voice to marginalized communities, youth and residents. We stand by our community and leaders because they are the most impacted by a justice system that is racist and oppressive… We do not condone violence, criminal, or gang activity. As we have seen repeatedly, the response of the media and Salinas law enforcement is to rush to judgment and allegations."
Also on Oct. 21, MILPA posted a quote from Malcolm X on their Facebook page: "If you're not careful, the newspapers will have you hating the people who are being oppressed, and loving the people who are doing the oppressing."