CALIFORNIA ROOTS MUSIC AND ART FESTIVAL CO-FOUNDER, CO-PRODUCER AND CO-OWNER JEFF MONSER RECALLS THE EVENT'S 2010 DEBUT YEAR when headlining reggae-rockers Dirty Heads delivered a raucous version of the Rolling Stones' psych classic "Paint it Black." Tribal Seeds, Thrive and The Holdup were also top billers.
"I tend to get emotional when it comes to the event," Monser says. "There were a lot of emotions flowing that day."
Ear-to-ear people, from left to right and front to back, bounced in sync in front of the Garden Stage at the Monterey Fairgrounds. Large plumes of ganja smoke looked like low-hanging fog on Monterey Bay.
"There were a lot of people who had never heard of Dirty Heads," Monser says. "People walked away blown away by the event and the caliber of talent."
The 10th edition of the festival plays out this weekend, May 24-26. To mark the occasion, here's a look back through the years, to the roots of Cali Roots.
Year Two (2011):
The one-day, afternoon event, with the Dirty Heads headlining, morphed into a two-day festival the following year. It also doubled in attendance, drawing nearly 5,000 people per day.
"That's when I really got into the booking and was booking a lot of bigger bands, so I got to see a whole other side of the planning part," Monser explains.
The first year he just booked four bands and did so through a management firm. Year two, he lined up 20 bands.
"I looked out into the crowd during Rebelution and said, 'It doesn't get better than this,'" Monser recalls. "I thought that's as big as we were going to get. It was a pivotal moment for us."
From the first year, when Monser says no one really knew what they were doing, to the following year, it's been a journey leading up to Cali Roots' 10th year in 2019, where 12,000 people are expected to flood the Fairgrounds each of the festival's three days.
"It's been a growing experience," Monser adds. "I definitely feel like we are veterans now."
Year Three (2012):
Looking back at Cali Roots' inaugural year, Monser refers to himself as a then-novice to festival operations of any kind. In fact, he admits that it wasn't until Cali Roots co-producer and co-owner Dan Sheehan was brought on in the third year that the festival became the bonafide annual gathering it has since evolved into. A large Cali Roots main stage was erected for year three, which is now second to the mainstage arena, aka "The Bowl."
"[Sheehan] helped take the event to a whole other level," Monser says. "Our production value went through the roof. We became top-notch."
Monser no longer had to manage every detail. There was an entire production team, so he was able to take in the music and festivities.
He refers to an overhead nighttime photograph of the attendees, shot during the third night of that third year. It was before all the big rig lighting and ambience; street lights and stage lights are the photo's sole light sources.
"It was gorgeous," Monser says. "I was like, 'Holy crap, I can't believe this happened. Is this a dream? Is this real?' [Sheehan] and I knew right then and there that this festival was going somewhere. We knew we were going to be around for awhile. There was no event like us at the time. Our passion is bringing this to the fans."
SOJA, Pepper, Iration and J-Boog topped the two-day bill.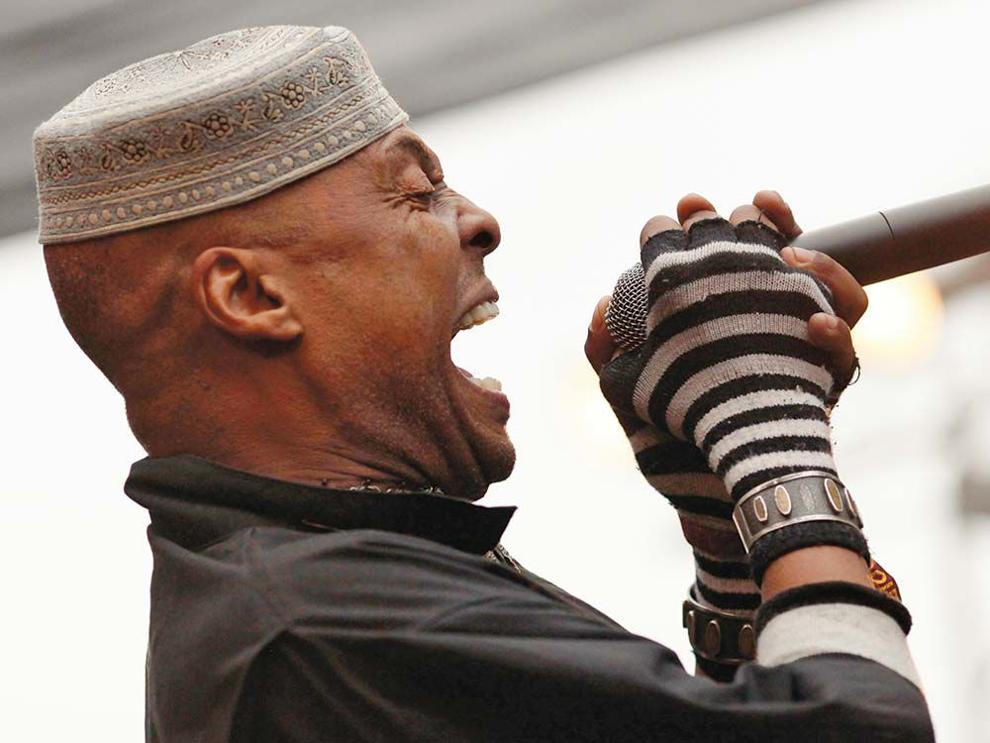 Year Four (2013):
Cali Roots extended to three days with Slightly Stoopid, Matisyahu, The Expendables and Don Carlos among a lineup smattered with over 45 acts. It was also the first year the event employed digital backgrounds and more extensive lighting on their stages to elevate the experience to a show beyond the music.
In addition to ambience and production, Cali Roots took its branding to the next level. Cali Roots logos were plastered on all banners, tents and signage.
All three days sold out.
Slightly Stoopid and Tribal Seeds performed an unexpected collaboration, resulting in a YouTube video that's garnered over a million views. And as if to complete the event's branding, a three-ounce birthday joint was gifted to Slightly Stoopid frontman Kyle McDonald.
"Every year, I walk out at night and the grounds almost look magical – there's so much to look at"
Year Five (2014):
The main stage arena, "The Bowl," was used for the first time, and headliners included Rebelution, 311, Ziggy Marley, Steel Pulse and the event's biggest get at that time, Damien Marley.
"It was a who's who of everyone around," Monser says. "We didn't miss anyone."
The vision: "A gladiator arena," Monser says. "We wanted flags all over like the gladiators were coming and people were going to a coliseum."
"I remember when they were putting down sod and seeing how that venue transformed into something completely different," adds Sheehan.
The festival sold out three weeks in advance. "Cali Roots is a festival that has been growing steadily every year," Rebelution's Eric Rachmany told the Wall Street Journal that year. "It represents how far this new-school reggae sound has come."
So year five was a milestone. Musicians saw the event as important. And the organizers saw it, as well. "I thought, 'We have 12,000 people we are responsible for,'" Sheehan says. "'It's become a major event'."
Year Six (2015):
SOJA frontman Trevor Young lit his guitar on fire in The Bowl to pay tribute to Jimi's impromptu six string campfire at the 1967 Monterey Pop Festival, which went down on that very stage. Beebs and Her Money Makers caused music writer Kristy Rose to observe "It's also not every day that you wake up and see a girl with long purple hair in a blue and yellow tutu skank with a unicorn, a dreaded cuckoo bird and a hotdog with a rasta-colored mohawk," in Top Shelf Music. And The Ethan Tucker Band gave a ripping performance.
And Cali Roots delivered its best and most versatile lineup yet, featuring The Roots, G. Love & Special Sauce, John Butler Trio, Cypress Hill, Fishbone and Dilated Peoples.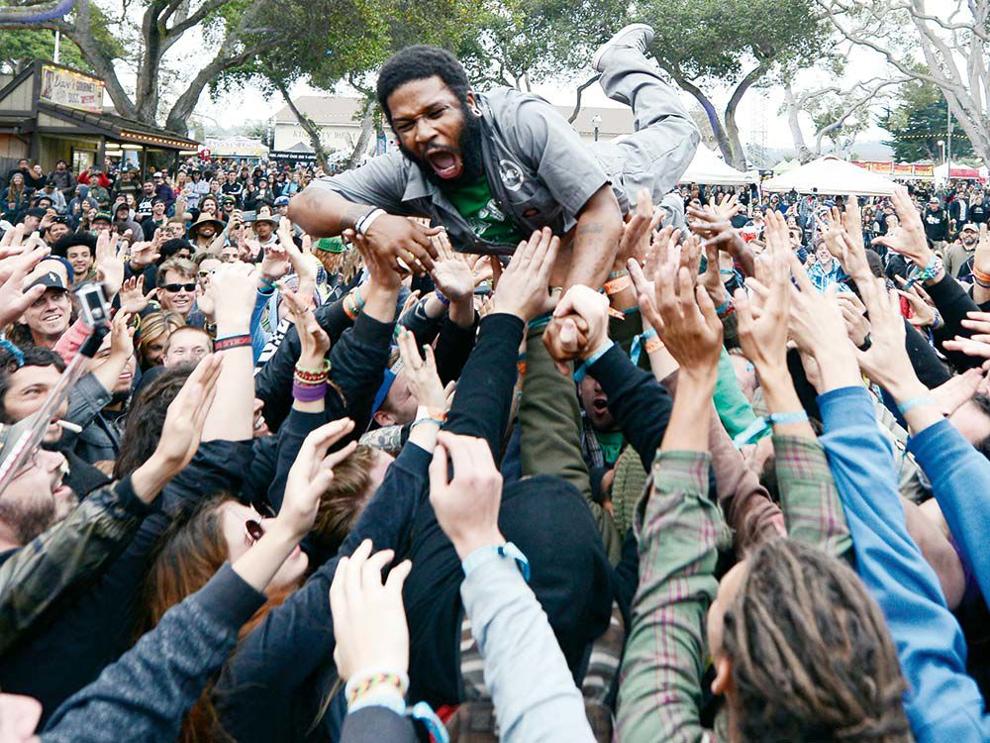 Year Seven (2016):
The entire Bowl – 12,000 people and change – sang "Happy Birthday" to Sheehan's wife while she held their 4-year-old daughter.
Michael Franti and Spearhead, Barrington Levy, The Green, Damian and Stephen Marley and Slightly Stoopid helped deliver another powerful 40-plus act bill.
Collaborations between bands was becoming a thing, and 2016 is notable for the time Eric Rachmany from Rebelution jumped on stage with Stick Figure. And some of Sensamotion's lineup helped close out Fourtunate Youth's set.
Year Eight (2017):
By 2017, there were already festival veterans – bands and performers that fans expected on the bill. But this year stood out in part thanks to Cali Roots newbies Nas, Thievery Corporation and Jurassic 5. They joined Cali Roots vets Stick Figure, Rebelution and Dirty Heads for another three days of sold out, smoked out Memorial Day weekend bliss.
While Dirty Heads caused a wild reaction from the crowd – start to finish – Humble Soul set a more mellow, island tone that also resonated. And there was an impromptu sing-along with Anthony B.
Year Nine (2018):
One performer stood out. Oh, the lineup included outstanding sets by Dispatch, Atmosphere, E-40, Iration, Steel Pulse and Fortunate Youth, just a sample of the 40-plus acts that shook the Fairgrounds steadily throughout the three-day experience. But this was Tash Sultana's weekend. No other act caused so much buzz (not even the weed). For weeks after, fans continued to boast of being there when Sultana took the stage.
"Every year, I walk out at night and the grounds almost look magical – there's so much to look at," Monser says.