"Bill, what are you doing about the American Tin Cannery?"
That was the almost weekly message Pacific Grove Mayor Bill Kampe received a few years ago from his wife, Cheryl, whose daily morning walk with friends took her right past the ailing, and mostly empty, outlet mall.
Kampe relayed that story at an Aug. 26, 2015 press conference, getting a laugh out of the crowd inside offices at the American Tin Cannery. It preceded a momentous announcement: The often-empty building they sat in would be transformed into a beautiful 160-room, five-star luxury, eco-friendly hotel, with spectacular views of Monterey Bay, the likes of which had never been seen on the Monterey Peninsula. The developers had a code name for the hotel, Project Bella.
Civic and business leaders – including five of seven Pacific Grove City Council members, Ted Balestreri of Cannery Row Company and Foursome Development, and Monterey Bay Aquarium Executive Director Julie Packard – joined Kampe in singing the praises of Project Bella.
A lot of hopes and dreams were pinned to the project. Hopes of transforming what Kampe called "an underutilized asset" into a revenue-generating machine for Pacific Grove, the Monterey Peninsula, its developers and the landowner. City leaders and developers sold those hopes and dreams to the citizens of Pacific Grove.
In the lead that day was Ronald Meer, president and CEO of Domaine Hospitality Partners, LLC, the company that already had a long-term lease agreement for a hotel on the site with the American Tin Cannery's owner, Foursome Development.
"My partners and I have been thinking about, really dreaming about building one of the leading iconic hotels in the U.S. and maybe the world," said Meer in his opening remarks, dressed in a dark suit and red striped tie, with aerial views and artists renderings of Project Bella on either side of him. Standing at the podium, his outstretched arms gesturing to the renditions, Meer called the American Tin Cannery "maybe the best luxury hotel site in the world." He promised a LEED Platinum-certified hotel, every room with an ocean view, and a three-star Michelin chef at the helm of the restaurant.
Transforming the outlet mall into a hotel would take a zoning change approved by voters. In just three months, a group called Friends of Pacific Grove, financed by Domaine, gathered 1,108 petition signatures, enough to place the zoning change on the ballot, and on April 19, Measure X passed with 59 percent of the vote.
On election night, a beaming Kampe took to the microphone and shared with jubilant guests the long journey of a successful sardine cannery to a struggling shopping center.
"I haven't heard anyone say they like it how it is, and I haven't heard anyone say we should start canning sardines," Kampe said, drawing laughter from the crowd.
In just eight months, the city had pulled off an impressive election win.
But a few months later, the partnership behind the ambitious undertaking began to fall apart. The group behind Project Bella, Domaine Hospitality Partners, is at odds and battling in public. One partner on the outs is airing the dirty legal and financial laundry of another. Work on the environmental impact report stopped months ago, and the city has received no plans or drawings from Domaine.
The troubles raise a question: Will the luxury hotel Project Bella, promised to the citizens of Pacific Grove, ever get built?
~ • ~
Domaine Hospitality Partners started out in 2011 with two collaborators, Michael Crall and Grant Sedgwick. Even before establishing the limited liability company, the two worked together for more than 10 years on hotel and other development deals, while also working separately on their own projects. Crall, who lives in Carmel, was the general contractor for luxury condos at the Residences at Spanish Bay, and construction manager of the Pasadera Country Club, as well as others around the world. Sedgwick, a Los Gatos resident, was a developer responsible for The Fairmont Hotel San Jose and the Hyatt Regency Santa Clara.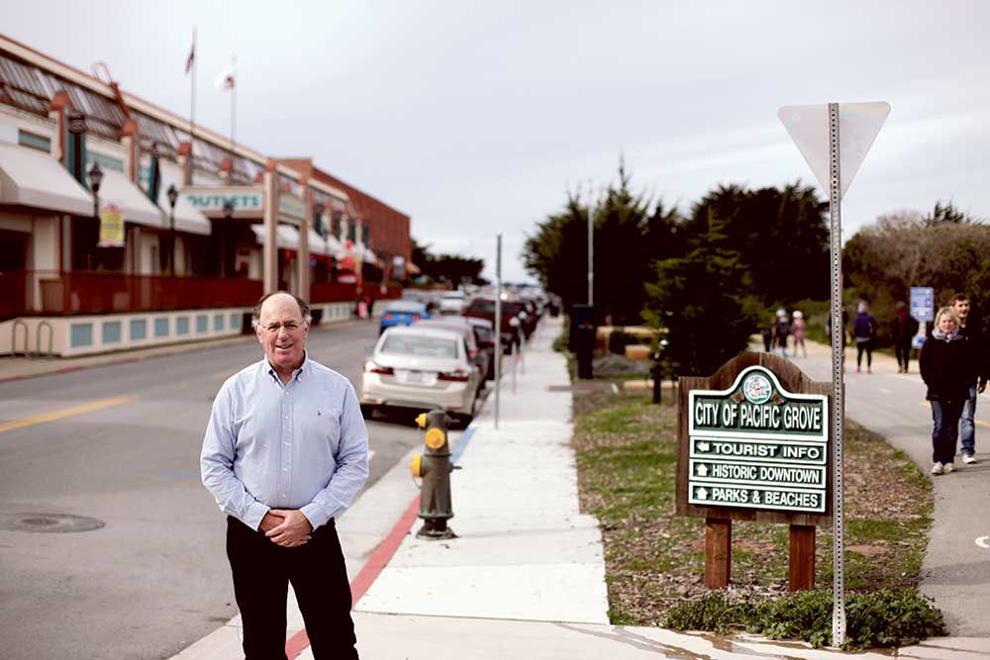 In 2013, Crall was approached by then-Pacific Grove City Manager Thomas Frutchey, who asked if he would be interested in helping create a luxury hotel concept for the American Tin Cannery site. Crall enthusiastically agreed.
"A project like this comes around once in a lifetime," Crall says. "I can count on one hand places in the world that are a better place for a hotel. It is such a unique site."
Crall had built hotels and secured approvals for developments in places as far-flung as the Great Wall of China – a luxury resort planned, but yet to be built – and, he says, more than 40 projects for Planet Hollywood in the 1990s. For years, he wanted to build an upscale hotel on the Monterey Peninsula.
"If Ron Meer was good enough for Gen. Wesley Clark, he was good enough for me. That was the biggest mistake of my life."
Crall and Sedgwick worked for about a year with Ted Balestreri and others from Foursome Development creating a plan for Project Bella, while simultaneously looking for financial partners to bring investor cash into the project. Crall says a friend contacted him in 2014, suggesting he meet with Gen. Wesley Clark. Since retiring from the U.S. Army, the four-star general, former NATO Supreme Allied Commander and one-time Democratic presidential candidate had started his own investment firm.
Crall says he called friends of his father, a West Point graduate, who congratulated him on his good fortune of linking up with an American hero. "Who else do you call?" Crall says.
Clark told Crall he wanted to bring his own partner, Ronald Meer, into the project. "If Ron Meer was good enough for Gen. Clark, he was good enough for me," Crall remembers. "That was the biggest mistake of my life."
Meer says he met Clark three or four years ago through a mutual friend, and "joined forces" in at least two partnerships, one of Meer's Newport Beach companies, Bear Capital Partners, LLC, and Palladian General Mortgage Group, LLC.
"He's an impressive man, and a patriot," Meer says of Clark. "He's got a quick mind, and grasps the core issues very quickly."
The four men – Crall, Sedgwick, Meer and a representative of Clark – met in December 2014 and agreed to develop Project Bella under the Domaine banner.
Meer was named president and CEO of Domaine, and a co-manager of Project Bella with Clark. Sedgwick was named executive vice president, and Crall was called the development director.
"In the original letter of intent, it was very clear Michael and I were to have very active roles, because we were the only ones with the hotel experience," Sedgwick says. But almost right away, from Sedwick's perspective, things started to shift: "After the dust settled, all of the authority was granted to Meer and Clark. For all intents and purposes, Michael and I were excluded as the management of the company."
~ • ~
Things were going well within Domaine in May 2016, especially after securing a big win with Measure X. Then an exchange between Crall and Meer, according to Crall's recollection, sounded off alarm bells for Crall. Meer and Crall had been out at a meeting closing the terms of a deal that would potentially bring in money to the partnership, Crall says. Back at Domaine's American Tin Cannery offices, Meer put his arm around Crall and pulled him in; he suggested the two keep the deal a secret from their other partners. (Through a spokesman, Meer declined to respond to questions about this exchange.)
"That's when my radar started spinning out of control," Crall says. He was on the phone with Sedgwick within minutes. Like a small crack in a windshield that starts to spread, the relationship between Crall and Sedgwick and Meer and Clark was on its way to a split.
Through the rest of the spring and summer, Crall and Sedgwick began taking a more critical look at Domaine's operations, concerned by what they saw as mismanagement by Meer. Sedgwick resigned as executive vice president on Sept. 22, while remaining a minority partner.
In October, Crall and Sedgwick outlined their concerns in a letter from their lawyer. They were met with a letter from a lawyer representing Meer and Clark, refuting each claim.
Crall says he resigned soon after; Domaine's public relations spokesman, David Armanasco, says Crall was "removed from his duties," but remains a minority partner.
Crall, who Meer had once referred to publicly as "the father of Project Bella," was on the outside of his own dream project. Had he done a little more research than calling his father's West Point classmates, the outcome would have been different.
For example, a simple internet search on Clark turns up a May 15, 2015, news article by Bloomberg Businessweek dubbing Clark the "Penny-Stock General." It doesn't suggest any wrongdoing on Clark's part, but details how Clark has been lending his name to questionable companies seeking to prove their legitimacy to investors.
"Since he ran for president in 2004, Clark has joined the boards of at least 18 public companies, 10 of them penny-stock outfits, whose shares trade in the 'over the counter' markets, a corner of Wall Street where fraud and manipulation are common," Zachary Mider and Zeke Faux wrote in Bloomberg. (Clark did not return repeated phone calls for this story.)
Meer's history reveals a longer and more troublesome paper trail. He was censured in 1990 by the National Association of Securities Dealers for violating municipal securities rules. Meer denied any wrongdoing at the time, but was ordered to pay an undisclosed settlement amount. (Meer says someone under him at a securities firm broke the rules and everyone in the office was penalized.)
There are more recent troubles for Meer, too. Orange County Superior Court records contain a long list of bankruptcies and legal cases representing millions of dollars over the past several years, some of which are tied to a failed housing development Meer Capital Partners attempted to build in Ontario, in San Bernardino County.
"The entity filed bankruptcy, not me personally. It's a very common practice. Even Donald Trump took advantage of it."
According to court documents, MCP Ontario Festival LLC, of which Meer was the manager, took out a $24 million loan from First Bank on Feb. 19, 2008, using information provided by Meer and his wife, Jill Athalie Meer, claiming assets of between $60-$70 million. The loan was used to purchase 24 acres for a mixed-use housing and commercial development, and the project was projected to cost $42.8 million total. The note came due on Feb. 22, 2010.
On Sept. 22, 2010, MCP Ontario Festival filed for Chapter 11 bankruptcy, listing $8.1 million in assets and $31.1 million in liabilities.
In November, the lender – the awkwardly named OF2010 LLC, which had bought the loan originally made by First Bank – sued for nonpayment.
Meer's large, swooping signature is seen throughout the bankruptcy documents, as the "manager and sole member" of MCP Ontario Festival.
"The entity filed bankruptcy, not me personally," Meer says. "It's a very common practice. Even Donald Trump took advantage of it."
The bankruptcy was dismissed by the court, which means Meer could still be held liable for his debts. "The debtor has no assets with which to reorganize," Assistant U.S. Bankruptcy Trustee Frank M. Cadigan wrote.
The deed to the Ontario property sold at auction for $8 million in July 2011.
Also in 2011, Jill Meer filed for Chapter 7 bankruptcy, listing about $58,000 in assets and $413 million in liabilities; Ronald Meer is listed as a defendant. Meer refused to answer any questions about the case, saying it was due to his wife's "health issues."
The court agreed to discharge Jill Meer's debt in 2014, but OF2010 LLC followed up by filing a claim, contending the Meers should not be able to walk back on their obligation.
"The Meers inflated the value of their personal residences and other assets in the credit application," OF2010 stated, claiming the Meers had listed a home in Newport Beach they did not own, and "they have transferred, removed, or concealed" property and funds inside of trusts, "with the intent to hinder, delay or defraud creditors." (The court dismissed OF2010's case in 2010.)
In a more recent case, Meer, his son Bradley, and Bear Capital Partners are being sued for $837,000 in civil court for fraud by a company that claims the two stopped paying for repairs and improvements to a 140-unit apartment complex in Rancho Cordova, in Sacramento County, that Bear Capital was responsible for managing. The complex was hit with a 40-page list of code violations from the city for failure to maintain the property, which was deteriorating and experiencing increased crime, according to the lawsuit. Meer refused to answer any questions about the lawsuit or the complex.
Other cases include instances where Meer and his wife were sued, at least twice, for not paying rent on homes they leased. In 2012, the landlord sued for $91,551 for back rent and damages to the property.
Most recently, the California Fair Political Practices Commission opened an investigation into reporting practices by Domaine in connection to the Measure X election. The company reported spending a total of $238,000; Crall lodged a complaint with the FPPC alleging Domaine failed to report in-kind work on the campaign performed by its employees. The FPPC says its investigation could take upwards of a year.
In another unpaid rent case, Bear Capital rented an apartment from the Irvine Company in Newport Beach, and was sued for $12,000 in 2014. The company, for which Meer is president and CEO, was ordered to appear in court on Aug. 26, 2015 – the same day Meer stood in front of the audience in Pacific Grove announcing Project Bella at a press conference.
Court minutes show neither party appeared in front of a judge.
~ • ~
More than six decades ago, the cannery along Ocean View Boulevard fell silent after the sardine industry collapsed. In 1987, the site came to life again as the American Tin Cannery outlet mall. The owner of the site, Foursome Development Company, the parent company of the Cannery Row Company, touted the new venture as California's first such mall to feature outlet stores. Shoppers flocked to the new concept mall on a promise of below-retail prices.
"The place was hopping," says Pacific Grove Chamber of Commerce President Moe Ammar, who arrived in town around the same time. He remembers at least 55 retail spaces were filled at that time.
But over the years the novelty wore off, and other regional and outlet malls opened, including the Gilroy outlet malls, situated 45 minutes closer for shoppers coming from San Jose. As shoppers vanished, so did sales tax revenues.
A fiscal analysis by Applied Development Economics commissioned by City Council last year estimated the American Tin Cannery would generate $301,000 a year in sales tax revenue. The same study dangled an enticing prediction before Pacific Grove: A luxury hotel like Project Bella would potentially bring in surplus general fund revenues of $3 million to $4 million a year in transient-occupancy taxes, property taxes and sales taxes.
The city's general fund revenues would increase by 16 percent, while only increasing city expenses by 2 percent. And, at full operation years down the road, the project could bring in $2.5-$3.5 million a year in transient occupancy taxes alone.
Transient occupancy taxes are the second-highest form of revenue, after property taxes, for Pacific Grove, which levies a 10-percent tax per room. According to the study, Pacific Grove has 1,065 hotel rooms, not including timeshares and short-term rentals. Ammar, who says the Chamber of Commerce keeps weekly tabs on room rates and occupancy rates, says last year the average rate of a room in Pacific Grove was $130, with a 66-percent occupancy rate. The top price for a room in Pacific Grove is at the Seven Gables Inn, a bed and breakfast, at $350 per night during peak periods.
Project Bella is promised as a five-star hotel, equaling top local hotels like the Inn at Spanish Bay in Pebble Beach or the Intercontinental Clement Hotel in Monterey. The city's report states that the group of comparable luxury hotels in the region had an average daily room rate of $582, and 75.2-percent occupancy in December 2015. Project Bella was expected to approximately match those figures.
The windfall was good news to Pacific Grove officials, who estimated at the time of the study that the city was facing future budget shortfalls of $1.5 million per year, to cover the cost of rising costs to the city for services, infrastructure upgrades and future pension payouts.
Also good news: The study estimated that regional restaurants, shops and attractions, like the Monterey Bay Aquarium, would possibly see huge increased sales. The study did question, however, if guests would spend their money in Pacific Grove, or in more upscale areas like Carmel.
No matter where visitors spend their disposable income, Pacific Grove – which hasn't seen a new hotel built since 1986 – was primed for welcoming a bigger revenue-producing property than the American Tin Cannery.
~ • ~
Sitting in the Monterey office of his spokesman, David Armanasco, Domaine CEO Ronald Meer is short on answers about his legal issues, refusing to dwell on the past. He only wants to talk about the future, which he says is bright for Project Bella.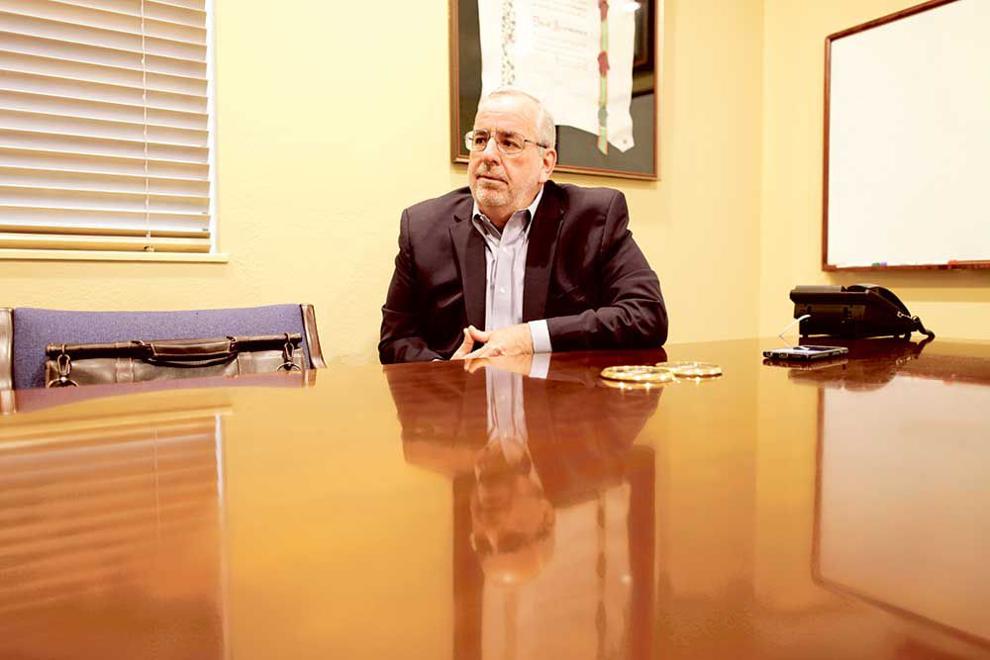 While Crall continues to assert that Meer and Clark do not have the background in hotel development, Meer says that the Domaine team has the experience necessary to build a hotel, and that he himself possesses a key skill: getting the entitlements – receiving the necessary approvals on required government approvals and permits – like environmental impact reports.
"I have a long history of doing entitlements work, and this is first and foremost getting the project approved and the design approved, which I've done a lot of," he says. He says he's successfully secured entitlements for master-planned communities that included hotel pads and hotel sites. "This may be the first hotel I go vertical with, but it's not not the first entitlement I've done."
In an email responding to questions about Meer's business history, Armanasco wrote: "The [Domaine] team is disappointed that you have become a vehicle of Michael Crall's smear campaign. Crall is simply disgruntled; clearly it's a personal vendetta, it's sad how he is embarrassing himself with claims that are unfounded and irrelevant."
Meer's confidence aside, city officials say they are waiting for Meer and Domaine to move ahead on Project Bella.
"The city is in the same status as it was back in September as far as the project itself," City Manager Ben Harvey told the City Council Jan. 11. "We are awaiting an application, a description and any plans. We don't have any of these items at this point."
As of Jan. 31, city officials are waiting for a meeting to renegotiate the reimbursement agreement with Domaine, to repay the city for any EIR costs incurred, in order for more work to commence.
In a related situation, about a year ago the city was in talks with Domaine to reimburse the city for its costs of preparing portions of a local coastal plan that will be submitted soon to the California Coastal Commission, but an agreement was never finalized. The city is now paying a $163,000 bill related to the plan.
Pacific Grove hasn't seen a new hotel built since 1986.
In a memo to City Council before its Feb. 1 meeting, Harvey questions accepting reimbursements from companies that will directly benefit from the regulatory policies created, and recommended the city fund the plan itself: "Consideration should be given to the prudence of accepting third-party contributions," he wrote. (Council deliberated after the Weekly's deadline.)
Back at the Jan. 11 council meeting, Harvey said, "The ball is in Domaine Hospitality's court. The city is prepared to start those negotiations whenever Domaine Hospitality signifies they're ready."
Armanasco assured the council that night Domaine would be ready to move by the end of January. The drama among the partners unfolded publicly, as Crall got up to the podium after Armanasco, holding up a small stack of what he claimed were unpaid invoices from engineering firms and other contractors, representing over $155,000 in debt.
The day before the meeting, Meer told the Weekly that Domaine has either taken care of, or will take care of, any outstanding bills.
It's issues like unpaid bills and no plans ready for the city that leave Crall convinced Meer will not be able to see Project Bella through: "This is not sour grapes. This is an observation based on his lack of character that Grant [Sedgwick] and I have uncovered."
Kampe declines to comment on the acrimony between partners, instead focusing on what's next for Project Bella. "I hope it's a product we can be proud of as a city, that makes good use of a super location," he says. "It's possible [Foursome Development Company] could wind up with a very different proposal. At this point we just don't know."
Foursome's owners, led by managing partner Ted Balestreri of Cannery Row Company, could build their own hotel if Project Bella falls through, now that Measure X grants the required zoning. Balestreri doesn't count that out as a possibility. While Foursome is primarily a landlord, he says, "We might consider it in the future, if the opportunity prevails."
For now, he remains hopeful about Domaine: "They seem to have a track record, and they feel very confident they can do it."
Meer, who lives primarily in Newport Beach, insists the project is moving forward.
"We're so committed to this hotel that my wife and I leased a house in Pacific Grove, we have our dogs with us, so we're spending most of our time here making sure this hotel gets built," he says. "We're happy to be residents of Pacific Grove, it's a great city."
Meanwhile, Crall insists he's not going anywhere, either: "My vision for Project Bella has been the dream of a lifetime," he says. "I will continue to pursue the dream, make it come true and honor the commitments I have made to the community."
Making the dream of Project Bella come true could take a very long time. Balestreri points out the Intercontinental Clement, just a few blocks from the American Tin Cannery, took 28 years and a couple of ownership changes before opening. It's now one of the most popular hotels on the Peninsula.
"People have to understand its a long process, but it's worth doing," Balestreri says.
Kampe says a development like Project Bella "relies on a lot of perseverance on the part of the developer, and a lot of patience and persistence of the city."
Maybe that's fitting language. In one case, another LLC run by Meer was sued in 2011 in Orange County Superior Court for nonpayment on a $1.2 million yacht, which was eventually repossessed and sold for $975,000, leaving Meer on the hook for $308,000.
The name of the yacht: "Persistence."
Editor's note: This story has been updated to reflect the following correction. The original meeting of the group of four partners in December 2014 included a representative of Gen. Wesley Clark, not Clark himself.