Jamie Mitchell was around 5, living in a Los Angeles County foster home. It was among the first stops in a soul-shaking, 18-year sequence of at least 50 foster-care placements and state institutions, and the site of her most violent memory – which is saying something.
She remembers her foster sister coming home, through the double doors to the kitchen, happy-go-lucky about something, like she had a good day at school and wanted to talk about it.
As the little girl came through the doors, their foster mom struck her with a baseball bat.
"In the face," Mitchell says. "It was crazy."
It was also part of a pattern.
That foster mom, Etta, would wake Mitchell up with the hard end of a plunger and beat her with it, daring her to cry and earn more attention.
On other occasions Etta would scatter raw beans on the bedroom floor and make Mitchell balance on them with one leg. If Mitchell dropped her foot, Etta would strike with a belt.
"Pow!" Mitchell says. "All night. She'd tell me to sit down, and I couldn't because it hurt so bad."
Etta routinely starved Mitchell and the dozen other foster kids in her home. Neglect was a welcome break: Mitchell says she was happy to take orders to sit in the corner until bedtime because it was better than the beatings.
"She beat everybody but the baby," Mitchell says.
Rare meals included cereal with spoiled milk, served on the floor. At one point Mitchell remembers getting so thirsty she drank from the toilet.
Etta told Mitchell if she went to school and behaved badly, she'd receive a cookie. If she was good, she'd get a whooping.
Despite the threat of violence and the twisted psychology, Mitchell trusted her own compass.
"I'd do good, because that's what you should do," she says.
She took Etta at her word when the woman told her she'd murder Mitchell if word of the abuse emerged. Some days Mitchell missed school in order to avoid any discovery of injury.
Nevertheless, one day a teacher noticed a tiny Mitchell, then 6, whimpering over what turned out to be a broken arm. The police were alerted, but Mitchell wouldn't talk – until they promised her they'd never send her back home.
"I believed she would kill me," Mitchell says. "She was very wicked."
Mitchell remains amazed at how much McDonald's the police fed her that night. She was so malnourished, they added an extra Ensure protein drink to every meal and woke her in the middle of the night to feed her more. Her testimony would free the 12 other children.
A quarter century later, Mitchell doesn't completely understand how she's able to live free of coping mechanisms like alcohol or drugs, or avoid end results like prison or permanent injury – let alone exist as a single mother days away from an Olympic qualifying tournament, with an adopted father and adopted home base in picture-book Pacific Grove.
• • •
The bully had years and inches on the other orphan, but she still chose the wrong 10-year-old to pick on.
The Los Angeles-area MacLaren Hall Children's Center, where Mitchell and the bully were kept with other kids without anywhere else to go, experienced problems ranging from overcrowding to abusive discipline to over-medication. Housing fifth graders with high schoolers was a symptom of the disarray, which helped lead to the bullying. This time the bully used a broomstick to probe Mitchell's butt in the bathroom.
"She always fucked with me," Mitchell says. "This time I snapped over."
The reaction was swift and bloody. Mitchell doesn't remember specifics because she blacked out. The first thing she recalls is staff pulling her off.
The bullying stopped.
"From that moment, I realized nobody would do nothing wrong to me no more," she says. "I'd make fuckers scared of me."
She elaborates from there.
"I needed a form of protection," she says. "I was thinking, 'Everybody who was supposed to be protecting me isn't.' I always knew [violence] was unacceptable, but didn't give a shit. I didn't care any more about being restrained or beat up or them using medicine to control me."
MacLaren closed around two years later. Without other alternatives, Mitchell was off to juvenile hall.
As she writes on her website, "Each day it was a fight, a bout, combatting the pain of my abandonment and isolation. I was held – no, imprisoned – as a ward of the court, innocent of any crime."
• • •
When detention officer Tina Baptiste started at Central Juvenile Hall in Los Angeles, she remembers staff telling her, "If you took the job to help somebody, you're in the wrong place."
She has worked with troubled and aggressive youth there her entire professional career. She ignored the input.
Rules prohibit Baptiste from keeping in contact with those minors, or wards of the state, after they've moved on. So talking to the press about her relationship with one of them post-imprisonment would fly further afoul of regulations. She ignored that too – her name has been changed for this story.
Not that she keeps up with many former wards of the state. After 20 long years in the system she remains close with only one: Jamie Mitchell.
"She was always a great kid," Baptiste says. "But she was misunderstood. No one took the time out to talk to her, or care."
Baptiste observed a pattern: When staff locked Mitchell in her cell all day or treated her with disrespect, Mitchell would respond.
"She never did anything on my shift," Baptiste says. "But I would hear about it when I came to work."
Mitchell admits she lashed out, that she'd often wait patiently for an ideal moment to get back at detention officers with hurled fists, "to get somebody good." At times she would cover herself in Vaseline so she'd be harder to detach from her target. On one occasion she barricaded herself in her room and turned on the sink, flooding the cell and hallway.
"Staffers were afraid of her, so they would keep her in her room," Baptiste says. "Jamie was very aggressive."
She was well on her way to filling what Mitchell calls "six fat folders" of behavior files. But at least to Baptiste, her compass still tracked.
"Jamie was angry. She was violent," Baptiste says. "But never for no reason."
When Mitchell looks back, she has the gift of perspective she didn't then.
"I might not have been able to articulate it then," she says. "But I felt I was all by myself in this world. For any preteen, it's not a good feeling."
She adds this: "I was born to fight. Put me in situation where I gotta fight, I'll do it, mentally, physically or spiritually.
"I don't know why people did what they did to me. I'm not gonna say I was perfect, but I didn't deserve 98 percent of what happened to me.
"Tigers are not that bad, but go fucking with that tiger, and whatever you got coming to you, that's it."
Mitchell's files got so thick that she was sent out of state to Shiloh Treatment Center in Texas. (Privacy and youth protection laws keep those records, like Central Juvenile Hall's, sealed.) "You know you're in trouble when the state of California decides they don't want all the money they receive to take care of you and sends you out of state," Baptiste says.
Baptiste told Mitchell, then 16, to take down her full name and, in those pre-Facebook days, to remain listed.
"I knew underneath the anger and the hatred, whatever she did she was good at it," Baptiste says. "You gotta understand, I wasn't surprised she made it. At work, everybody remembers her. Everybody's surprised she made it. I'm not."
They'd find one another once Mitchell was emancipated, assuming she survived her time in Texas.
And they did. They've been close for a dozen years since Mitchell left the system. In fact, Baptiste met up during a Mitchell visit to L.A. last summer. Which meant Baptiste was there when Mitchell's sister stabbed Mitchell in the face, arm and back with a box cutter.
• • •
Like MacLaren Hall and Etta's place and, sadly enough, too many foster environments, Shiloh was charged with misdeeds including over-medication, substandard conditions and abuse. At least one child died there under suspicious circumstances.
Mitchell didn't want to go, and she didn't enjoy her time there, but it triggered a turning point. After she pummeled another orphan for a racial slur, the home's owner sent her to a place in Houston called Savannah Boxing Gym.
"I knew how to street fight all day," she says. "But this was different."
Similarly, she never wanted things to get so nasty with her sister. But there she was at their grandparents' place in L.A., a year ago this month, kicking Mitchell's car and yelling at her, trying to start a fight. She entered the house, arms swinging. Baptiste was visiting the ill elders with Mitchell. First she told Mitchell not to get drawn in, then told her it was fine if she needed to protect herself.
"Finally Jamie hit her hard enough to change her sister's mind," Batiste says. "Then Jamie tells me, 'She cut me.'"
Her arm and face bled. A blotch of red on her shirtback mushroomed in size. The gash on her back – deep, into the muscle – made Baptiste light-headed.
Mitchell remained surprisingly calm. Her primary concern: Making sure her son didn't see her bleeding.
The injury required 33 stitches, seven staples and threatened Mitchell's Olympic aspirations. But it also furnished the break she needed to leave her past where it was.
"Kids who didn't have love from mothers and fathers and family search for those people," Baptiste says. "They don't always like what they find. There is no happily ever after for this story."
The ironic thing is Mitchell wouldn't be on the verge of personal triumph and international renown without the help of that same sibling assailant.
• • •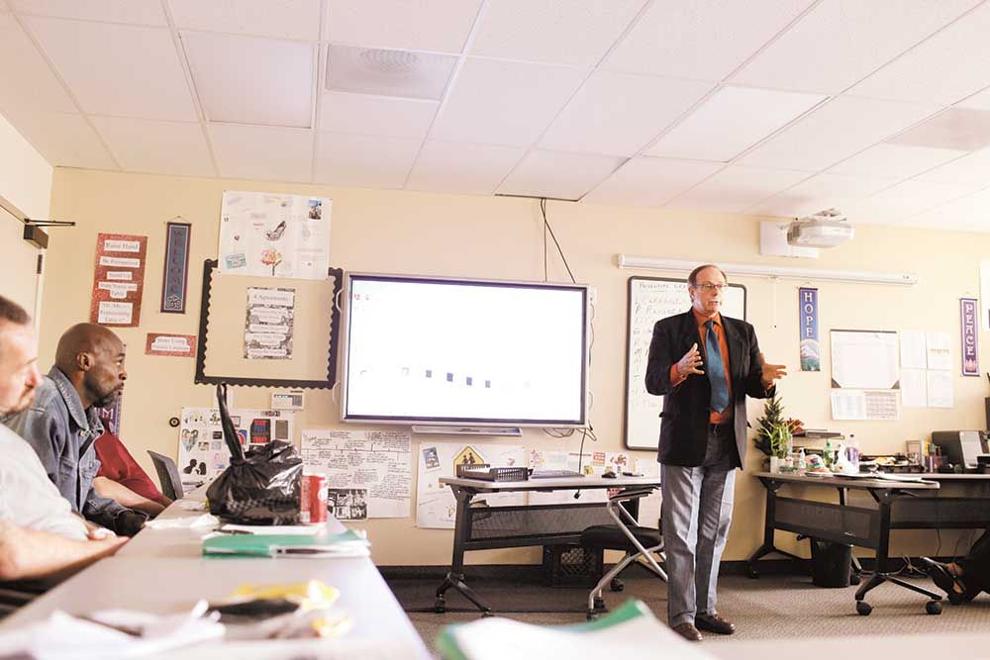 Former cop Barry Pasquarosa remembers the early-2000s tragedy like it was last week. A drunk driver swerved onto the sidewalk by Church's Chicken in Seaside and struck a family, decapitating a young girl and suffocating her brother beneath the vehicle.
The cop, now retired, still has the program from the funeral. "As a reminder how fragile life is," he says.
It sticks out as the most vivid memory from three decades of police work in Seaside, during which Pasquarosa performed seemingly every departmental role there is – toiling as a detective, field training officer and community liaison, among other positions. But at the same time, he says he felt he was doing one duty: Helping people, like the family in the tragic accident, heal.
"I saw the broken families, the isolation of children, the substance abuse," he says. "And just no one out there to help them. It made me more cognizant of my duty to do the best I could. I was their line of defense. I was an advocate."
When he met Mitchell, Pasquarosa wasn't too far removed from a marriage that ended in divorce. They met through Mitchell's now-troubled sister, whom Pasquarosa dated briefly in 1999. He remembers her telling him a lot about her little sister, Jamie, who was almost old enough to leave the foster system.
Mitchell and her sister tried living together, but plans and their relationship unraveled as her sister tumbled into what Mitchell and Pasquarosa describe as patterns of theft, drug and alcohol use, and Mitchell was left to scratch out an existence with public housing and a social security check. Pasquarosa kept in touch and sent food, taking on a protector role instinctively.
"I value life," he says. "I could see Jamie just needed somewhere to start."
Mitchell believes her sister intentionally introduced her to Pasquarosa. "She was on a downward page," Mitchell says. "She was supposed to take me in, but let life get the best of her. She did that favor, knowing that he was going to look out for me because she knew she couldn't."
Eventually it dawned on Paquarosa that he had a safe place and resources to share, so he decided to adopt her. When asked if the process was complicated, he replies it was, but not in bureaucratic ways.
"It's harder to do socially," he says. "People just don't understand. I'm white, she's African American. Some are baffled. But some see the love and the care, that we're truly dad and daughter."
Healing became a shared goal, him from divorce and losing what he thought was his best chance at a family, her from a lifetime of torn trust.
"I started rethinking what family is," he says. "Sometimes it's not biological. I'm happy I opened my heart and did it."
"This is what life's about," Mitchell says. "Family is a privilege, not a right."
Pasquarosa evokes destiny in trying to explain their connection.
"I could immediately sense something was different about her – she was a rose in a weed patch," he says. "I can't explain it. It was some sort of kismet. I could identify with her sense of justice, fairness, her desire for a good life, her struggles, the desire to become the best person possible."
Friends describe an inspiring sweetness between them. He calls her "Buttercup." She calls him her guardian angel.
"He's there for me no matter what," she says.
The unlikely pair also connect over what Pasquarosa calls "the way of the peaceful warrior."
"Boxing, just like martial arts, can be a journey," he says. "A spiritual journey."
His practice is a martial art called baguazhang. Mitchell began boxing with accomplished trainer Daniel Lujan at Salinas Boxing Club, and soon Pasquarosa and Mitchell decided to deprioritize Mitchell's personal trainer career plans and throw it all in the boxing ring.
"We both decided that with such a passion and gift for it, why don't we just focus on that?" Pasquarosa recalls. "Let's go all out. It was a family decision."
• • •
Women's boxing got its Olympic debut in 2012. Anyone who might doubt its intensity need only watch a scrap like Jamie Mitchell-Brenda Hernandez in the finals of their 112-pound weight class at the 2011 Adidas National Boxing Tournament on YouTube.
It came a decade after Mitchell met Pasquarosa and moved to Pacific Grove and started boxing intensively at Salinas Boxing Gym with Lujan, but before she won a tournament belt.
Mitchell comes into the ring with bulging biceps and stars-and-stripes head gear – providing some foreshadowing, perhaps – and proceeds to exchange what seems to be around 500 punches with Hernandez in the first round alone. The relentless toe-to-toe slugfest resembles what boxing fans around the world dreamed last month's much ballyhooed Manny Pacquiao-Floyd Mayweather "Fight of the Century" could've been.
Mitchell tests Hernandez repeatedly with a pesky left jab, then brings a roundhouse right crashing into her ear hole. At one point she unleashes a 15-punch combination, landing all but one swing. And even as she absorbs plenty of punishment from Hernandez – she admits her loose do-rag obscured her vision for part of the fight – there's a natural swagger, a comfort, a joy at being in the ring.
Ultimately she peppers Hernadez's temples with a final flurry of blue gloves and collects her first tournament belt. Today she has five, but it was that first one she ached for more than anything pre-Olympics.
"I wanted it so bad. I gave it my all," she says. "I threw a lot of punches. There was no walking through her."
None of it happens without Salinas Boxing Club.
"Salinas got her set up, out there in the boxing world," Pasquarosa says. "They got her noticed, provided a foundation."
Coach Lujan gave Mitchell the first dose of the tough love which has come to define her training today.
"He gave you about one day to prove yourself," she says. "If you weren't worthy he wouldn't let you back in the gym. He was really tough on me, had me sparring with guys, and rarely girls."
In 2012, though, he was arrested and charged with sexual assault of a minor. He was convicted and sentenced to six years in prison.
For Mitchell it was another undesireable twist that provided another life-changing turning point.
• • •
There's a quote Mitchell places prominently on her website: "Champions aren't made in gyms," it reads. "Champions are made from something they have deep inside them – a desire, a dream, a vision. They have to have the skill, and the will." Muhammed Ali said that. He would recognize Mitchell's will as readily as anyone who sees her train. At the Monterey Sports Center on a recent spring afternoon, she's a blur of activity, shadow boxing, jumping rope, quicker than a flea on fast forward, her feet barely grazing the ground. This, she points out, is a light workout designed to let her rest and recover from her normal training.
The skill, meanwhile, is evolving mightily via body-wilting workout schedules that involve 18 sessions per week, to the tune of three-a-days every day but Sunday. Just one recent workout involved – only in part – 15 75-yard sprints, 15 minutes of agility races, 15 rounds of blistering two-minute sessions of heavy bag, jump rope and other punching, 50 pushups, 100 situps, 50 squats and 210 flutter and scissor kicks while on her back. And Mitchell has kept that regimen going for no fewer than 12 months.
With Lujan around, she thinks she'd still be in Salinas. With him gone, she trains in Las Vegas at three gyms with two coaches toting truly Olympic résumés.
One is Kenny Adams, a former drill instructor and airborne ranger who became the first African-American to coach the American national boxing team. He's worked with upwards of 50 world champions, and trained storied boxers Evander Holyfield, Pernell Whitaker, Roy Jones Jr. and Riddick Bowe in the Summer Olympic Games with Team USA. At one point the man they nickname The Master, Old School and King Kenny went 22 straight championship bouts without a loss.
"I teach every aspect of boxing," he says. "Without being a braggart, I'm the best trainer ever."
He seems proud of bringing tougher-than-tarmac Mitchell to tears more than once. "I'm a driver and a pusher," he says.
Calling his style exacting is like calling Ali's charisma modest. Dude is intense. "You must follow my interactions to a T," he says. "That's what you have to do in this game: Do it till you learn to do it right."
With Mitchell, that means pivots, step arounds and whole other repertoires she didn't have before she started with him.
"I look for perfection," Adams says. "We do it over and over."
Not everybody can work with him because of that. Many call 11-time world champion Mayweather the best boxer on the planet, but industry rumor has it he couldn't cope with Adams.
"It takes a special person to work with him," Mitchell says. For her part, she gushes gratitude. "Kenny is a form of god in this business," she says.
There are other forces driving her evolution from juvenile hall brawler to polished Olympian boxer. Namely Anthony Chase, a 2012 assistant coach for the U.S. Olympic Boxing Team.
He designed the blueprint for the months before next week's Olympic qualifier: to drop Mitchell's weight from 122 to 112 and build her strength to its apex at that mass, while honing technical acumen and overall conditioning.
Between her start in Vegas and now, he sees "a huge difference."
"She can box, she can think, she can set things up, she knows she has power, and has the conditioning to do it," he says. "Before she was pure heart. She still has heart, but now the boxing attributes too."
The plan when she steps into the ring in Colorado Springs is built upon months of relentless running, sparring and plenty of complex planning, but at the same time it's as simple and pure as that heart.
"I want her to go in and let go," Chase says. "To do what she loves to do. She loves to fight."
• • •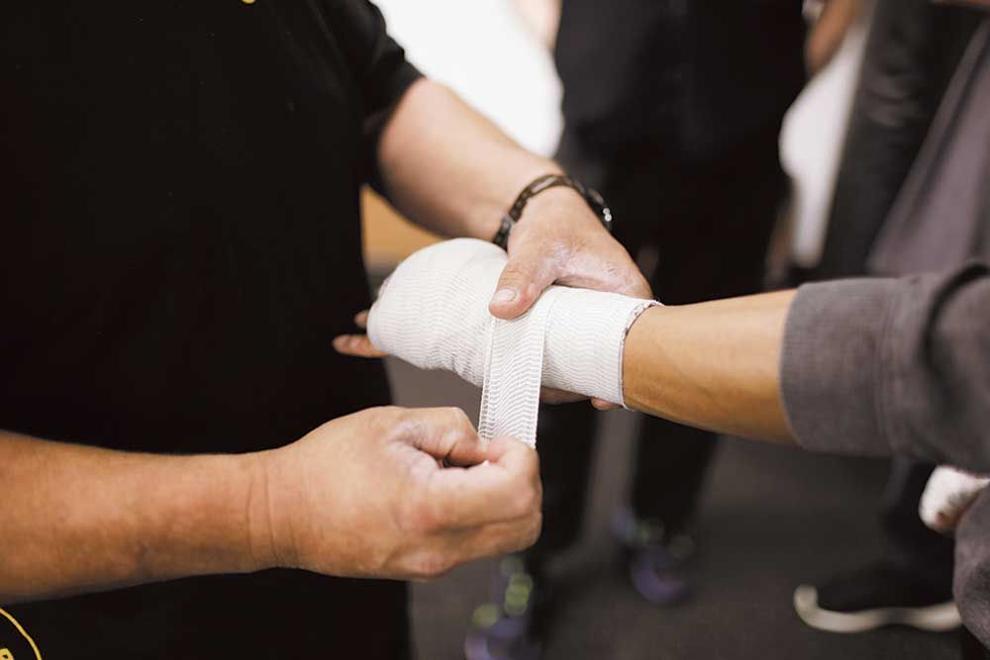 Baptiste can't believe how sweet a mother Mitchell is. Not that she isn't a disciplinarian when appropriate, but that's not what makes her old detention officer marvel.
Mitchell takes 7-year-old Sahe (pronounced "Sa-hee"), bathes him and brushes his teeth. Then he lays in her lap, and she flosses for him.
"To see the mother she is to her son… " Baptiste says, letting the thought hang. "So many wouldn't be a good mother because of the things that happened. My mama loves me, but she never flossed me."
The higher Mitchell rises from the dark depths that defined her youth, the more her story borders on the unbelievable. Kids who are tortured from the time they can walk don't often have a shot at becoming Olympic champions.
But the most unbelievable thing about this goosebump-giving story is not her resilience, but her mercy. Her compass never abandoned her like her dad did before she was born or her mother when Mitchell was 10 days old.
"I'm not mad at my mom for things I've been through because of her," she says. "I don't hate anyone. I don't hate Etta. I don't hate the system. I could be mad at your ass – and beat your ass – but after 10 minutes, if you want to hold onto that, that's on you. I don't care."
That's a move she employs deftly in the ring: Slipping a punch and gathering the response in the same movement.
"Don't let nobody, or anything, stop you," she says.
As singular as her story is, its lessons translate to everyone. Her adopted dad explains.
"Jamie's story is everybody's," Pasquarosa says. "It's one of triumph. Of being knocked down. Coming from a place that is spare, facing injustice, then rising to the occasion. It's that idea of prevailing."
Life hauled off and punched Jamie Mitchell hard. Fortunately she has a hell of a counter punch. And fortunately she loves to fight.