What remains of the grass at Del Monte Manor is no longer green. The expansive sunken lawn on the corner of Yosemite and Sonoma, the property's signature piece of open space, is mostly a bowl of dirt.
Until a few weeks ago, the pole at the center of the property was flying a tattered U.S. flag, stars and stripes residents say have been there since the place first opened in 1969. That flag is now gone, the pole empty.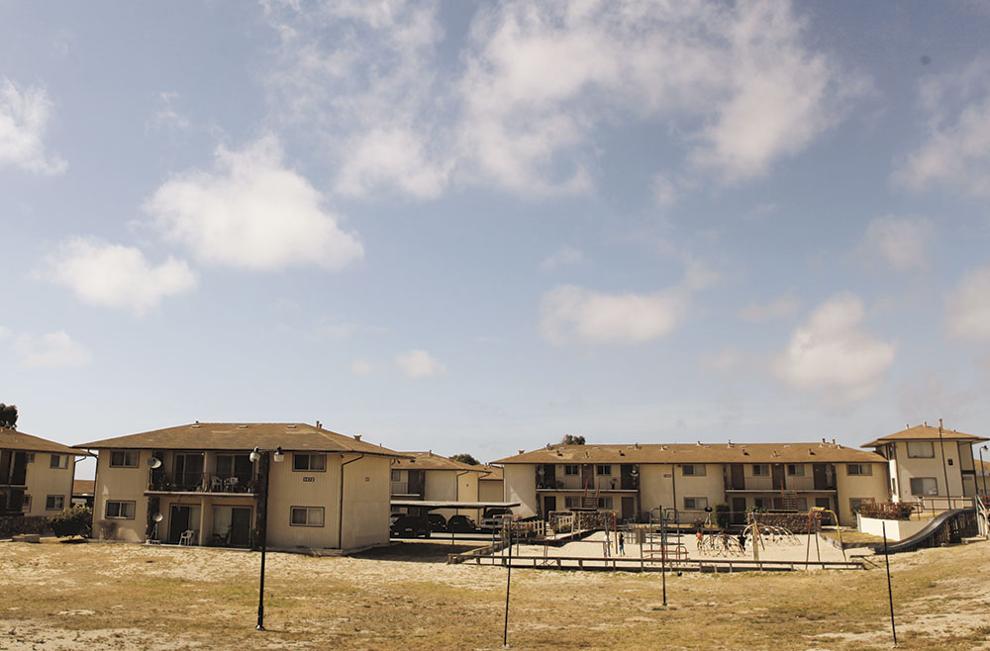 Many people might not know the Seaside low-income housing complex by its name. They just call it the projects. Or those who live in the neighborhood, the PJ's. And for the younger folk in the hood, just the J's.
Many people might not care much about the place, but they should, and here's why: In a county desperately lacking low-income housing, Del Monte Manor is the largest such project on the Peninsula. And last November, the people who live there because they qualify for subsidized housing have been put in a state of fear and uncertainty. Management has repeatedly threatened rent increases in violation of its contract with the U.S. Department of Housing and Urban Development (HUD), which subsidizes the rents of 98 units at the 192-unit complex. A legal standoff with the feds has ensued.
Fearful of eviction, some who lived there have already moved out. Most though, have stayed on, not knowing where else to go or who they can trust.
Del Monte Manor's board of directors, which comprises representatives from two churches and four civic organizations, and its management, maintain HUD is to blame for the current impasse, and is the one putting residents at risk.
The facts tell a different story.
The first sign of trouble for Del Monte Manor residents came on Nov. 15, 2013, fixed to their doors in the dark of night. Citing nearly 15 months of missing subsidy payments by HUD, the notice announced that all 98 HUD-subsidized units at Del Monte Manor would be responsible for the full rent ($654 for a one bedroom, $781 for two bedroom, e.g.) as of Feb. 15, 2014. But what many residents didn't know: The notices were illegal, and violated the property's Section 8 (a federal housing-assistance program) contract with HUD, which runs until 2031 and says no rent increases are allowed without HUD authorization.
What became clear in the weeks and months to come was this: Del Monte Manor is bleeding serious cash. The last month the property received HUD subsidy payments – which average around $42,000 per month – was August 2012. That was also the last month the former property management company, The John Stewart Company, a professional management company that manages properties across the state, including some in Salinas and Soledad, filed for the payments.
The John Stewart Company (JSCo) came to Del Monte Manor in Aug. 2010 after HUD ordered Del Monte Manor to bring in professional management following a similar situation: Between 2009 and 2010, the property had accumulated a backlog of owed subsidies totalling over $700,000 for lack of proper voucher filing.
After JSCo arrived, the paperwork issues were fixed, the money started flowing and the hundreds of thousands owed were recouped. But all was not well: Residents soon began to butt heads with JSCo over the enforcement of new rules it tried to enact, like prohibiting use of the barbecue pit, smoking on the property, and decorating the outside of apartments with plants or wind chimes.
"We were told when this place was first built, go ahead and decorate, make it look home-like," says Del Monte Manor resident Debra Williams.
Enter Dorene Matthews.
Then the executive director of the now-defunct nonprofit Conflict Resolution & Mediation Center of Monterey County, Matthews was called in to mediate conflicts between residents and management in the fall of 2010. Residents saw her as an ally, one who fought on their behalf.
Del Monte Manor's board was also unhappy with JSCo, claiming the company went over budget, and terminated their contract in August 2012.
Matthews started working as a consultant for Del Monte Manor sometime in August 2012 and – against the explicit advice of HUD – as a full-time property manager starting Jan. 1, 2013. She had no expertise, or experience, with HUD's complicated paperwork. Now, Matthews, along with her granddaughter Alicia Rowsey, comprise the current management.
Since Matthews issued the initial notice of a rent increase effective Feb. 15, which came as a result of her inability to obtain HUD voucher funds, the increase was later postponed to March 1, then May 1, then July 1. Costly maintenance issues, such as fixing the roof, have been indefinitely deferred.
In May, Del Monte Manor sued HUD for three months of subsidy payments, about $125,000, to hire a consultant and to pay for HUD-compliant software. (Norm Kolpin, chief financial officer of Salinas-based CHISPA, which operates several affordable housing projects in the county, estimates the software would cost them $3,000 to $5,000 annually.)
All of Del Monte Manor's problems have been avoidable, and primarily center on paperwork. But over the last two years, the project's board has repeatedly ignored advice and demands from HUD, and have used tenants – who have nowhere else to go – as leverage in a high stakes game that appears to have no winners.
They have also continued to stand behind Matthews, even as she's failed to get any money from HUD, and has instead alienated residents.
In some cases, residents say, she's retaliated against them with a vengeance.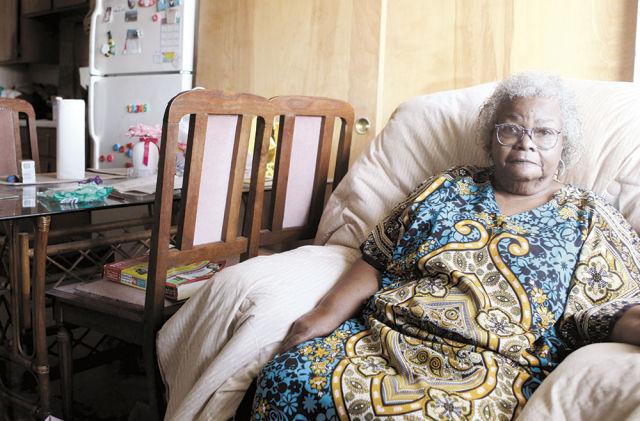 When first setting foot in Faye Coleman's apartment, one gets the impression she is a living saint. Awards of commendation crowd her walls, from the U.S. Congress, the State Senate, the Board of Supervisors, and just about every other local agency that celebrates people who do good things.
Coleman started the afterschool program at Del Monte Manor in 1988, where between 3pm to 6pm every weekday, from that year until now, kids who live there or in the neighborhood can participate in supervised, constructive activities in project's community room.
When the program started, Del Monte Manor was gripped in the throes of the crack epidemic. Drugs were everywhere and trouble was easy to find. It wasn't uncommon, she says, to see needles lying in the driveway. She didn't want kids getting sucked into that life, whether it was using or dealing.
"We had a lot of latchkey kids," she says, "A lot of mothers working."
Those who live nearby often bring in freshly cooked food to the program, giving kids something to eat while they worked on their activities. And according to residents, the kids love those three hours and adore Coleman even more. For many years, Coleman – who only retired from a job in health care a few years ago – did the work for free, but eventually she began getting paid a modest hourly wage by the city of Seaside, and then later, by JSCo and Del Monte Manor.
In late May, she was suspended by Del Monte Manor for 30 days, and the afterschool program with her. Telling the story, Coleman, 79, struggles to fight back tears. "The children are going to be right back where they were."
In the days before her suspension, Coleman signed a petition circulating among residents that called for the ouster of current management. On May 17, she opened the community room for the Del Monte Manor tenants' association, of which she is treasurer, to have a meeting.
Many in the association had signed the petition, and their discontent with management was no secret.
On May 22, Matthews served Coleman a lengthy disciplinary statement for opening the community room for non afterschool-related activities. Coleman was confused by this. "We were always told that the center belonged to the tenants," says Coleman, who's lived at Del Monte Manor since 1985.
She was called into the office on May 28 by Rowsey, the office manager and Matthews' granddaughter, and presented with a formal job description for her to sign, as well as a confidentiality and conduct agreement that included a non-disparagement clause that would prohibit her from publicly criticizing any Del Monte Manor official or employee. Coleman refused to sign the agreement, wanting her lawyer to read through it first.
Rowsey told her she'd be terminated if she didn't sign it. Shocked, Coleman walked away.
Coleman later got a phone call from Rowsey informing her that instead of termination, she would be suspended for 30 days without pay. The suspension included her duty of being on-call at night for residents with maintenance issues, a job that gave her half-off the monthly rent of her non-subsidized apartment.
Other residents who have spoken out have also faced consequences.
Debra Williams first came into conflict with management when Matthews tried to enact a rule in January 2013 stating residents could only have a maximum of three plants, and has spoken heatedly toward Matthews at Del Monte Manor board meetings. When she does, it's in a far less gentle voice than one hears on her voicemail recording: "Remember, Jesus loves you and so do I."
In February of this year, management twice refused to accept her rent checks without giving explanation. On the third attempt, Williams brought a witness and wrote everything down. "They refused to talk to me, they refused to see me."
Because failing to pay her rent could be grounds for eviction, Williams sought out her lawyer, who sent a letter to management along with her rent check, and the problem went away. In May, Williams says they again tried to deny her rent check without reason, and again they ultimately relented.
Last Oct. 7, former Del Monte Manor resident Maigyn Vardaro complained about mold in her apartment. Two hours later, she says she received a lease violation for keeping a dog, which she says was a service animal to help with her anxiety. Within a week, she received two more lease violations: One for one of her sons ruining some landscaping, and another for not signing the house rules, which she had been advised by her lawyer not to sign because they eliminate too many tenant rights. (Numerous other residents have also refused to sign them).
With three violations, a tenant can be evicted. "For six years, I had no violations, no complaints," she says.
Vardaro suffers from an immune disorder called sarcoidosis which developed after her first year at Del Monte Manor. The condition, she says, is aggravated by mold to the point where she struggles to breathe.
The mold had been in the walls for years, she says. "I knew about the mold, but we didn't know how serious it was. No one knew how serious it was," says Vardaro. "The prior managers did something [about the mold]. They jumped right on it."
With the looming threat of rent increases Feb. 15, the possibility of an eviction for lease violations and her health suffering due to mold, Vardaro starting looking for a place early January for herself, husband and four sons. "We didn't have nowhere to go," she says. "We hit the pavement running [to look for a place]."
She received a call in late January about an apartment, and her family was lucky enough to find a place by February. "What happened was by the grace of God," she says.
Her moldy apartment, residents say, is now occupied by tenants paying market rate rent.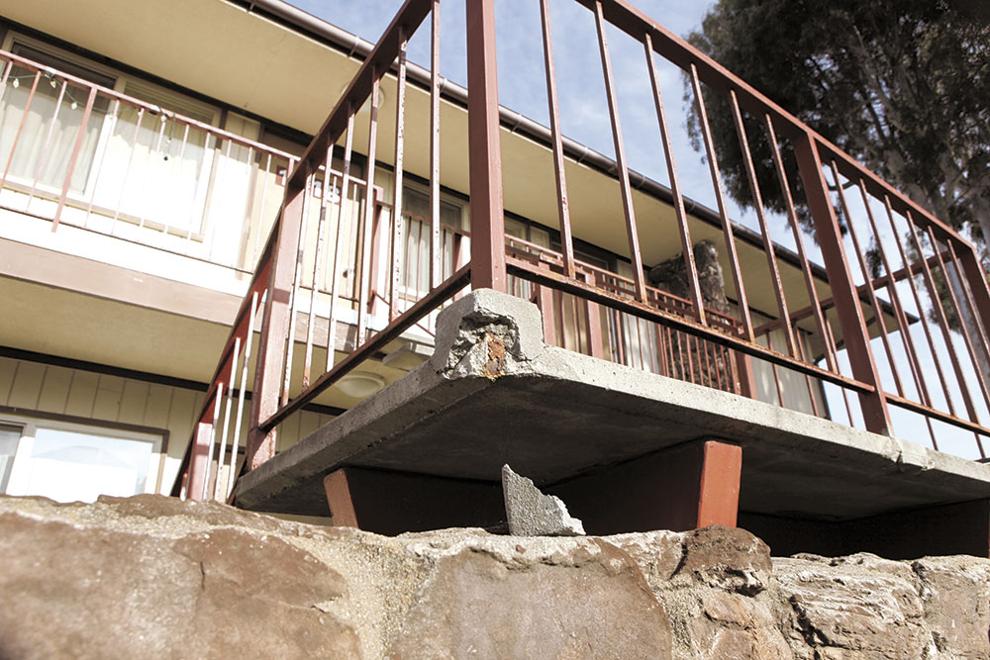 For low-income residents facing eviction, like Vardaro did, Monterey County is a scary place.
"In general, the state of affordable housing in all of Monterey County is deplorable," says Leila Emadin, executive director of the Housing Resource Center of Monterey County. "We have nowhere near the amount that we need. In the Peninsula it's a big problem, and it's not good anywhere."
Some contrast: In San Francisco, which has roughly twice the population of Monterey County, there are 16,954 HUD-assisted units. Monterey County has 974, and Del Monte Manor is home to 98 of them.
There are other sources of affordable housing, like the state-funded Low Income Housing Tax Credit program (which adds 3,924 low income units to the county), as well as a handful of locally-owned community projects such as the City of Monterey's Casa Estrella, which was bought with redevelopment money and is funded through grants.
The County Housing Authority (HACM) also administers HUD-funded housing assistance vouchers, but HACM Executive Director Jean Goebel says the waiting list for vouchers is closed until it's cleared of those already on it, a process she estimates will take two to five years.
And she is gravely concerned about what might happen if the subsidized Del Monte Manor residents are forced to move out en masse. "We've never seen anything like this in this county. It's huge, especially in a small community like Seaside," she says.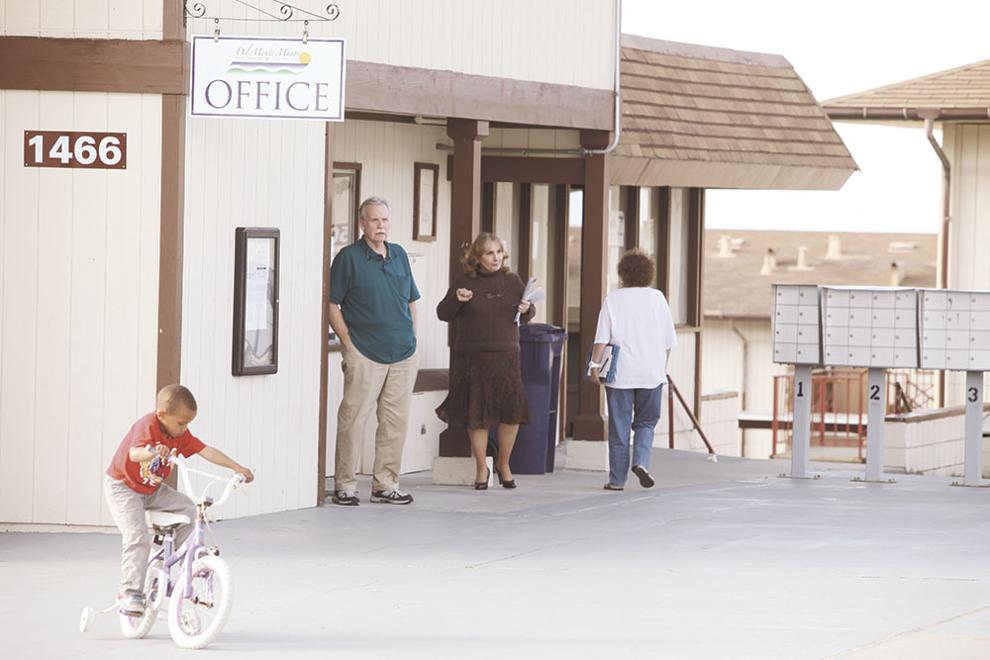 When looking to the future, Goebel does not sound hopeful. "Budgets keep getting smaller and smaller. We only have so much money for rental assistance as it is. It's not a positive outlook at all," she says. "We're gonna be stuck between a rock and a hard place soon."
Lisa Lewis has been on the waiting list at Del Monte Manor since January 2012, and she's stuck between a rock and a hard place now, struggling to find a stable living situation for herself and her daughter.
Lewis, who has a job but a bad credit history, says she and her mentor Helen Rucker met with Matthews in 2012 to discuss her position on the list.
Rucker, the activist and former Seaside City Council member, had known Matthews previously when she was a mediator.
In a later meeting, Lewis says Matthews offered to move her into a place immediately if she paid six months rent up front. Sitting in her Seaside office earlier this month, Rucker shakes her head when she recalls the tale. "Six months deposit?"
Lewis is still on the list (number 11), and residents say empty apartments – like Vardaro's – are filling up with people paying market rate, which runs about $950 for a one-bedroom or $1,200 for a two-bedroom, according to HUD. In an email Matthews sent to HUD on Feb. 24, she even admitted as much: "The property owners have decided to fill the vacancies with conventional market-rate renters."
In a community with a dire low-income housing shortage, Del Monte Manor has begun cannibalizing its own supply.
When Del Monte Manor was founded in 1969, a different kind of spirit governed the place. The property was a prime example of the best things to come out of the '60s – a sense of civic duty, and a great leap forward in equal rights for minorities. People had finally come around to the idea that low-income housing is important, and provides a safety net for those who need it.
The complex was built by – and is still owned by, – Seaside Civic League, Inc., a nonprofit corporation formed in the late '60s. The league is comprised of six community organizations: the Seaside branches of the Rotary Club, the Lions Club and the Kiwanis Club, the Seaside Chamber of Commerce, Ocean View Baptist Church and Greater Victory Temple Church, which sits adjacent to the property.
All of those organizations have a representative on the board. But at the board meetings, it's abundantly clear who's calling the shots: president Norah (pronounced Noah) Saffold, a deacon at Greater Victory Temple.
When asked at the Feb. 27 board meeting how he could justify raising tenant rents in violation of the HUD contract, Saffold replied, "We welcome the federal government to take us to court."
On April 21, the board decided to strike first, filing a complaint against HUD at the U.S. District Court in San Jose, asking for a mass recertification of tenants and a three-month advance of owed subsidies. They also filed a motion for a preliminary injunction to prevent legal action against them, which U.S. District Court Judge Ronald Whyte later denied.
The case file for the legal dispute is rich with communication, both emails and letters, much of it between HUD and Saffold, and HUD and Matthews. It appears Saffold, and the board he leads, have picked the wrong fight.
The government is good at paperwork. Del Monte Manor, not so much.
When HUD learned Saffold planned to terminate the JSCo contract, they sent a letter in August 2012 asking for management transition documents. None came. In early September 2012, when no management was in place, HUD sent a letter saying the property required a HUD-experienced management company.
Just over three months later, HUD was notified that Matthews was hired as property manager, effective Jan. 1 for a period of three years. She was not a professional management agent, and had no experience with HUD.
On April 26, 2013, HUD sent a letter to Saffold stating that they hadn't received a voucher filing since Sept. 2012, the last they received from JSCo. The letter also referenced emails earlier in April requesting Saffold contact them via telephone, for which there was no response. It also asked for Section 8 vouchers to be filed immediately, including unpaid retroactive vouchers.
The letter also states: "Our primary concerns are the well-being of the tenants, the financial viability of the project and ensuring the project is operated incompliance [sic] with HUD administrative procedures."
From May 2013 to July 2013, Matthews attempted to submit voucher payments five times, but failed due to software errors. She was coached cheerfully: "Thank you so much for submitting and resubmitting Oct2012 voucher," writes HUD contract specialist Carolyn Browning in a June 20 email. "However, we continue to get the exact same fatal code."
Shortly after that email, on June 27, 2013, HUD conducted an onsite inspection and found noncompliance in 100 percent of tenant files – items like income verification and proof of citizenship were lacking – and sent a letter to Saffold Sept. 4, 2013, outlining the issues needing correction.
Two weeks later, Del Monte Manor sent a "Grievance and Request for Injunctive Relief" to HUD, the NAACP and U.S. Rep. Sam Farr, D-Carmel, demanding HUD approve rent increases and pay owed subsidies.
But HUD's enforcement branch, the Department Enforcement Center (DEC), had been following the case since April. By the time this court case was filed, the evidence against Saffold and Del Monte Manor had grown thick.
A letter DEC sent to Saffold on April 21, the same day Del Monte Manor filed suit, states that Del Monte Manor is liable for a penalty of $302,500 for contract violations, and possibly more if other violations are discovered.
An earlier letter sent to him on Dec. 03, 2013, states, with respect to said violations: "HUD may take possession of the Project."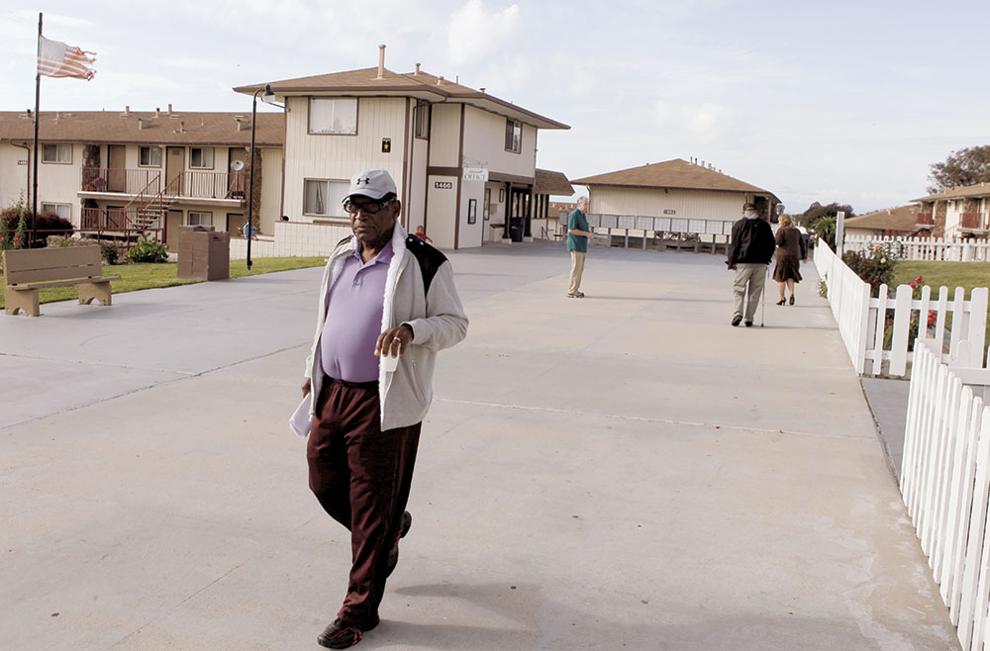 At a hearing on May 19, federal judge Whyte ordered Del Monte Manor's board and HUD officials to met within 30 days to try to hash out a deal. That meeting happened on June 16, and whispers in the wind say HUD might be willing to accept one of Del Monte Manor's demands – hiring a consultant to help manage the paperwork – but that they wouldn't advance any money, and would want to inspect the place for health and safety violations within 60 days.
That inspection would not go well. The 192-unit complex has only one full-time maintenance worker, and one part-time. Subsidized residents say they are now asked to fix things themselves, and that the place is falling into disrepair.
HUD-subsidized resident Cherryl Holmes says she can't leave her apartment in her wheelchair because a rise in pavement blocks her exit. It's been that way for a year. Management, she says, tells her to hire a contractor to build a ramp, get it approved and pay for it herself.
Citing pending litigation, HUD will no longer comment about DMM. A letter sent to Saffold in December 2013 outlines the corrective actions that need to be taken, which includes bringing in new management, completing tenants' files and having a third party audit them, addressing maintenance concerns and making monthly accounting reports available stretching back to July 2013.
Where things go from here requires reading the tea leaves, because much remains unknown. The Weekly filed a Freedom of Information Act request on Feb. 6 for communications between HUD and Del Monte Manor, but that request has not yet been answered. The Weekly also reached out repeatedly to Matthews and Saffold; both declined to comment. Greater Victory also declined comment. Ocean View's Willie Pearson, chairman of the deacon board, says he planned on attending the next board meeting.
That board might be a different one. The Kiwanis Club, Rotary Club and Lions Club are replacing their board members in response to the crisis, and with the Chamber of Commerce – which has supported the idea of bringing in new management – that's four votes out of six. A coup may be in the offing.
At May 22 board meeting, Matthews said: "Part of the reason we issued rent increases was to get HUD's attention," implying that HUD would only agree to negotiate if they felt tenants were threatened.
Rev. Kenneth R. Murray, founder of the The Only Way Outreach Ministry in Monterey, was at that meeting and several others, and said shortly after: "If they are going to use tenants as pawns, they should at least write them an apology."
An apology might be welcome, but all residents really want is a place to safely call home.