Salinas just got added to live PD and there's a fucking bank robbery standoff on the first episode I turn on sheeeeit

— Thicc Ryan Reynolds (@mangosnappleowl) September 23, 2018
---
ON THE AFTERNOON OF SEPT. 22, 2018, SALINAS POLICE OFFICER CHAYENE GARCIAturned his patrol car onto West Alisal Street near the courthouse and accelerated toward the East Side. A camera trained on his face and as he wove around traffic, Garcia explained over the scream of sirens what was happening.
"We're on our way to an active armed robbery at a bank, looks like we have live video footage of at least five masked men ordering everyone to the ground with guns," he says. "Looks like they just started leaving the building. It's in East Salinas so we're going to get there as soon as we can."
It was a Saturday afternoon, one of those late summer days when the sky is an improbably bright blue, and just a day after the rabid fan base of the reality TV show Live PD got its first look at Salinas.
In the eight-and-a-half-minute segment that day, Garcia arrives at the scene as police amass outside the Chase Bank branch at 800 E. Alisal St., grabbing rifles and crouching behind cars. "Might want to get behind a car, dude," one officer tells a Live PD cameraman who's standing on the street in front of the bank and making himself a pretty decent target. As police try to figure out if the robbers are still inside, customers seemingly oblivious to what's going on in front of them walk up to the bank's doors and try to enter as police yell at them, in English and Spanish, to get away.
And to the crowd that's gathered across the street to watch the action, an officer yells, "You guys should move! We have our guns out!" and "Muévanse!"
The robbers, described as men wearing gray hoodies, are gone, although the stolen SUV they brought to the robbery remains behind. Inside the bank, tellers and a handful of customers are directed by phone to come out slowly, with their hands up, and walk toward Field Training Officer Jackie Bohn.
The scene cuts to a TV production room – the "control center," as the host refers to it – where about two dozen people are peering at screens, watching the video feeds of eight police agencies around the country and trying to determine where the action is, what will make the best television during the two-hour show.
"This is a potentially dangerous situation," says Dan Abrams, a Columbia University law school graduate, ABC News legal analyst and host and co-executive producer of Live PD, which debuted in 2016 and has grown to include Live PD Rewind, Live PD Police Patrol, Live PD Roll Call, Live PD Presents: Women on Patrol and Live PD Presents: PD Cam.
Abrams is standing in the control center, along with color commentators Tom Morris Jr., best known from his time as a correspondent for America's Most Wanted, and Sean "Sticks" Larkin, a Tulsa, Oklahoma gang officer who got his nickname when, as a 21-year-old intern with the department, he jumped from a patrol car to chase down and tackle a suspect, prompting an actual police officer to tell him, "Hey fuckstick, you can't do that, you don't have a gun, you're not a cop."
Larkin notes Salinas officers were "looking for ballistic cover" and being careful about positioning themselves. It's reminiscent of the play-by-play during a football or baseball game.
"It seems that the perpetrators have escaped, at least for now," Abrams says. "They were masked, but they're going to be searching long and hard for these people."
Almost a year later, the search for those bank robbers is still on, the show has made social media stars out of a few Salinas officers, and while it's shown the city has an ultra-professional police force, it has also portrayed Salinas to a national audience as a place to be avoided.
For a time earlier this month, it looked like Live PD's year-long presence in Salinas, in which the show sends out two camera crews with a rotating group of officers seven days a week – going "live" on two of those nights – would come to an end.
Here's why: The number of officers willing to go out with the camera crews has waned, from an original cohort of about 20 to a group of about eight. The show's memorandum of understanding with the department ran out on Aug. 6 and hadn't been extended with a written agreement, as required by the MOU. On Aug. 8, in response to questions from the Weekly, the city suspended filming until details of a new written agreement could be hammered out. But whether those details were hammered out appropriately remains up in the air: On Aug. 9, Assistant Chief Roberto Filice signed a new agreement with Live PD, but City Manager Ray Corpuz had not approved it. He did so in writing on Aug. 14.
While the city's participation in the show was spun as budget neutral, the reality is that because fewer officers are willing to travel with a camera crew along for the ride, it means some officers have to come in before their shifts start to accommodate the show, resulting in overtime being paid out. According to Chief Adele Fresé, it's only been about 48 hours of overtime, although the head of the Salinas Police Officers Association ran some numbers and by his estimation, about half the time officers appear on the show's live-feed nights, they're doing so on overtime. If Fresé's numbers are correct, it may be a wash: Live PD cut Salinas a check for about $66,000 last year, payment for use of city logos or the images of officers used in previews.
Still, the "maybe" part of whether the show will continue broadcasting in Salinas is up in the air, and the answer depends on which city or police official you ask.
From Deputy Chief Manny Martinez: "We're on the MOU and as of right now, we intend to move forward. We're getting ready to do our next Coffee With a Cop and people are already asking for the officers on Live PD to be there."
From Salinas City Councilmember Steve McShane: "I asked the chief and I've been told Salinas has had its run and my understanding is the contract is not going to continue due to lack of department personnel that want to participate another year."
From Salinas Mayor Joe Gunter, a retired SPD homicide detective: "My feeling is maybe we need to take a break."
And on Aug. 12, Fresé walked back her statement to McShane.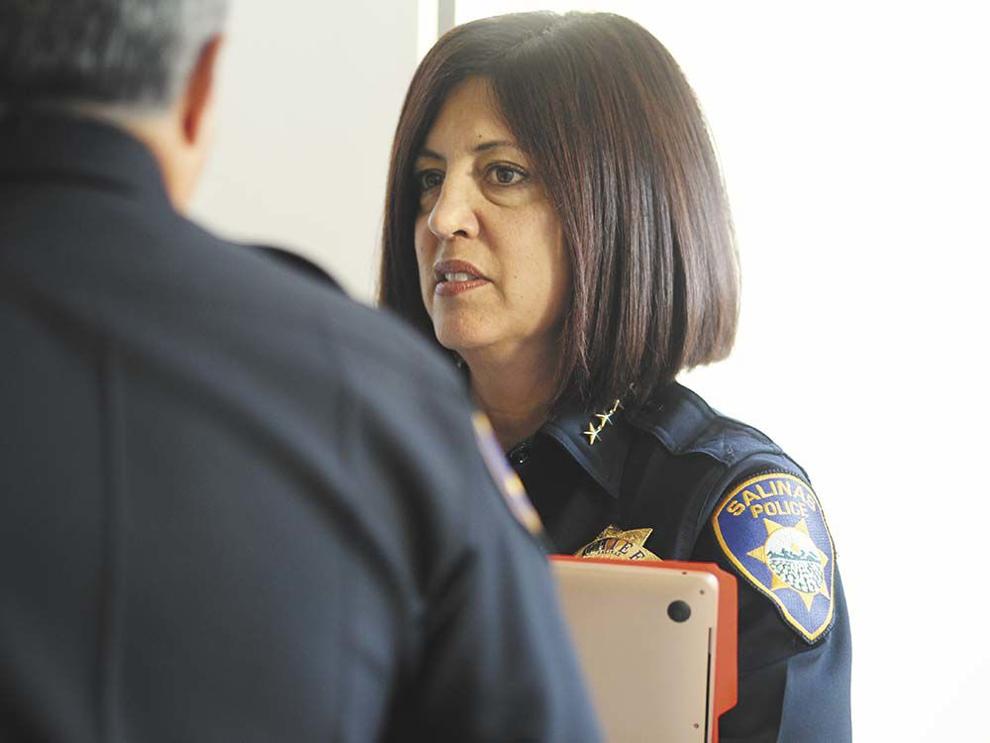 "It is going to continue. I think we figured out a schedule that is going to work for us and the important thing is we select officers from shifts where they are currently assigned. Live PD is working with us on that," she says. "There's a tiny pool from those shifts… and I hope the community appreciates the extent to which the officers go through to be on Live PD."
Watching Live PD tonight from Salinas Ca, near Monterey. A cop was walking through a homeless camp that was at least 40 acres of shanties, card board huts, tarps for roofs and worse. The place ran at least a ,half mile down the the RR tracks. Last time I saw a scene like this was

— Tony Taylor (@lzsdad) July 31, 2019
---
IN AUGUST 2018, WHEN THE SPD ASKED CITY COUNCIL TO APPROVE ITS AGREEMENT with Live PD producer big fish entertainment, it marked the first time any police agency in California would participate in the show. There were less than three minutes of discussion among the council – Councilmember Tony Barrera pointed out the agenda that day opened with an operational analysis of police and fire overtime, and he wondered how the show might impact those numbers – but the council voted 6-0, with one absent, to approve the deal.
From the show's perspective, Live PD provided an answer to the ubiquity of cell phone cameras, and the citizens' ability to post footage of encounters with the police. In the MOU, Big Fish Entertainment writes, "the cell phone has turned every bystander into a citizen journalist" and "the internet is littered with hundreds of thousands of dashboard cams." Many police departments, the company wrote, have instituted "live tweeting" to aid transparency, and Live PD provides an extension of that outreach effort.
In the staff report to the council, then-Deputy Chief Dave Shaw wrote that participating in the show presented a "wonderful opportunity" for the department to display its quality work and skills, and also furthers the goal of recruiting the best officer candidates possible "through free national exposure." Shaw wrote the opportunity aligned with the city's goal of providing a safe, livable community by helping with officer recruitment and retention, and showcasing community policing.
A year down the road, it's hard to say how the show has impacted recruitment.
"I believe it has," Fresé says. "I queried the people from personnel and training who coordinate oral boards and oversee our recruiter, and we're hearing candidates mention, 'You guys are onLive PD.'
"I think it means something when you're a young woman or man and you know you want to be a police officer and by seeing the show, you get to observe solid tactics and professionalism," she says. "If I were that person, it would make me interested in Salinas."
Jim Knowlton, a Salinas K-9 officer and president of the police officers' union, says he has no personal knowledge that anyone who has applied to the department did so because they saw Salinas on Live PD. Knowlton has appeared on the show a couple of times; in one segment from June 21, he and his police dog are brought in to help in the arrest of a child abuse suspect. In a strange twist, that man, 38-year-old Santos Emilio Barriga, was shot to death on Aug. 1 when he answered a knock at the door of his home on Sonora Way.
Knowlton says he's seen the department's participation in Live PD as beneficial because it shows what officers on the street go through – how they relate to the public, how the public relates to them, how they respond to calls and how they implement training into daily practice. It's helped officers explain to elected officials, for example, that Salinas is more like Oakland than Monterey or Carmel when it comes to crime.
"Live PD doesn't go to towns that have a low crime rate. From a crime perspective, Salinas is like Oakland, with a third of the population, and most people don't understand that," Knowlton says. "We respond to these calls and it's a realistic portrayal. From a transparency standpoint, it's all out there, because when you have Live PD, you have the whole interaction."
Still, he says, many officers are experiencing a certain amount of fatigue from the ever-present cameras. Some officers don't want to appear on the show because they live in town and don't want people to know when they're on shift. Some also won't roll out on calls unless they're absolutely needed if they know the cameras are there – "it puts a strain on relationships," Knowlton says.
"I think there's a certain amount of weariness with having them here," he adds. "On the whole, I think it's been a positive thing. But I don't think they're going to be here too much longer because the pool of officers willing to be on the show has shrunk."
Gunter, the retired homicide detective and current mayor, says he's received minimal negative feedback about the show, although a few times people have commented that the show makes Salinas look bad.
"We've shown the public our city, we've shown them some good things and we've shown there are some young cops doing a really good job," Gunter says. "But maybe it's time for them to change venues. We don't need to be on TV to fight crime."
Just heard on Live PD... "I'm being arrested for public intoxiration?"This show is comedy gold!

— Jeff Scott (@GimmeMoreBass) February 9, 2019
---
ON JAN. 22, SALINAS POLICE ROLLED OUT ON A CALL a few blocks to the east of Oldtown on California Street. The call went out as two men assaulting a woman, but when police arrived, they instead found two men falling-down drunk – one of them lying in the middle of the street – and a third man who'd stopped to help them out of the way of traffic.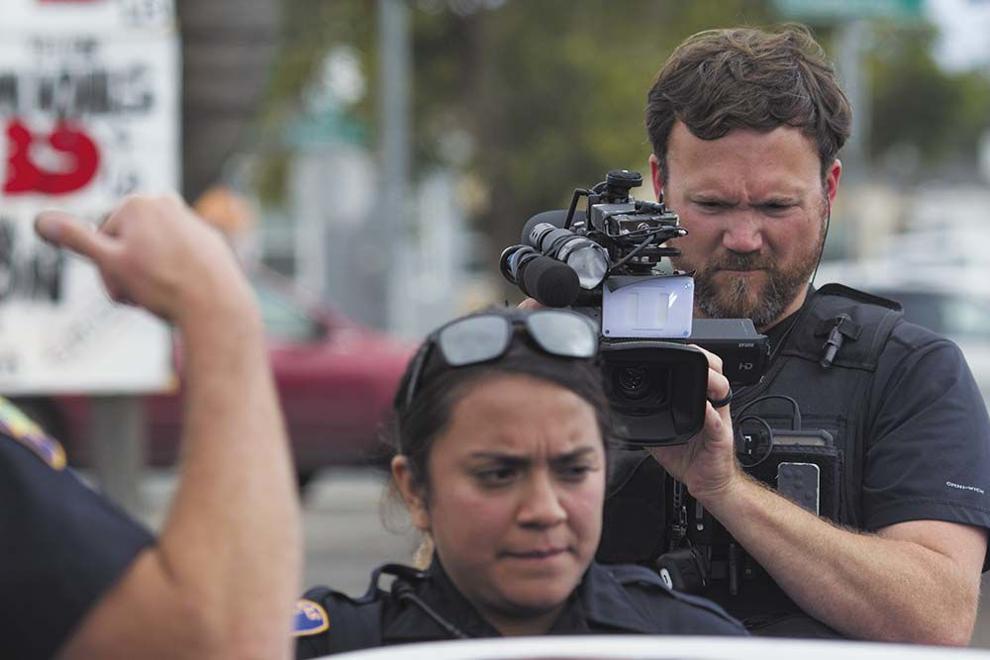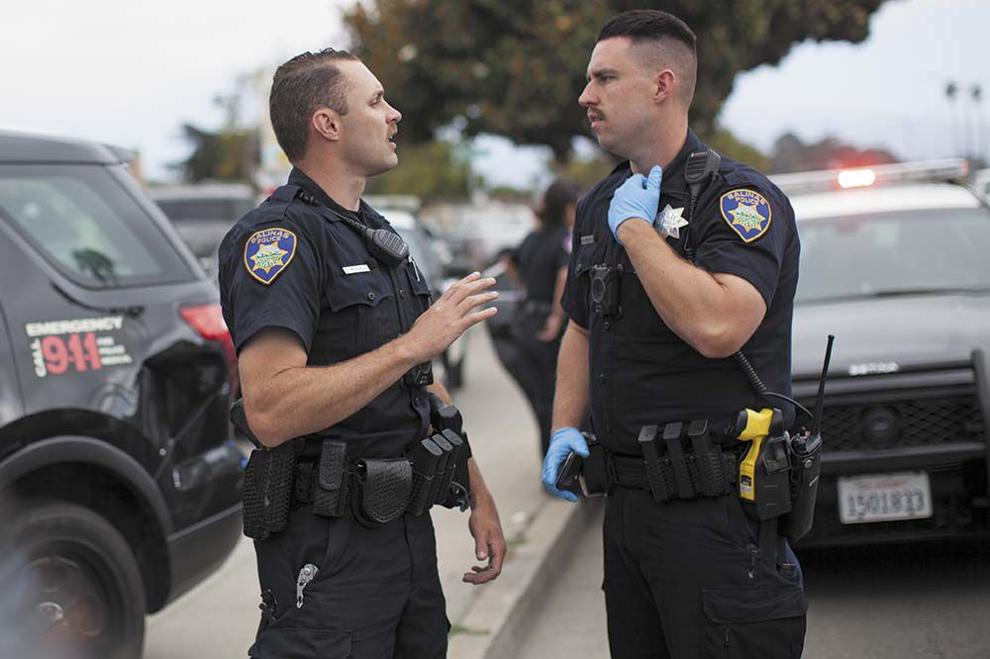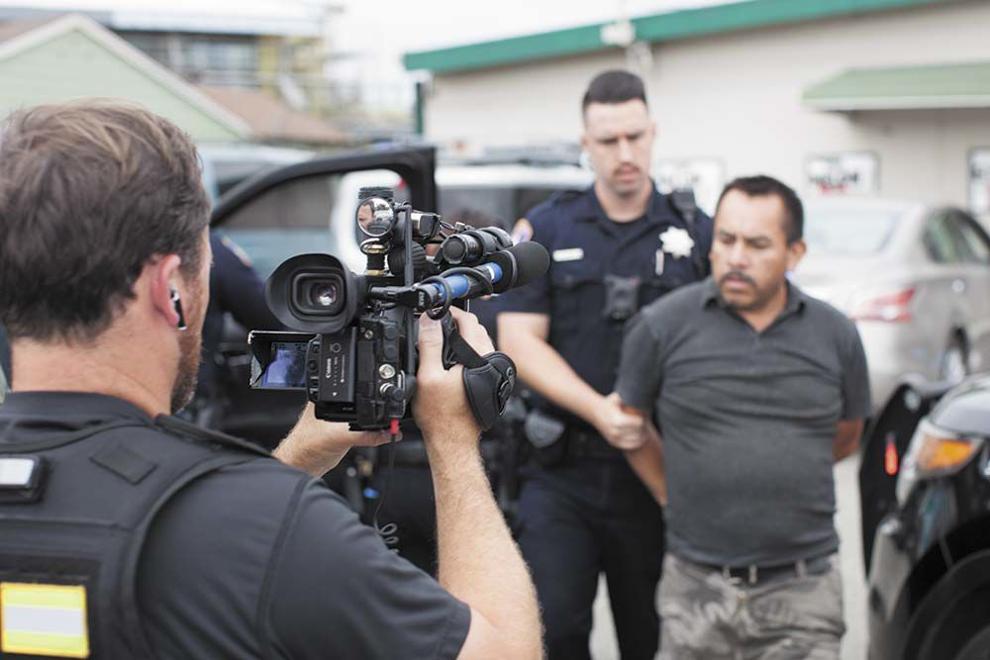 Officer Robert Durst got out of his patrol car with his weapon drawn, ordering the men twice to sit down before they complied. The Good Samaritan explained he found the two in the middle of the road, and that "the little guy" – the smaller of the two men – was trying to help his buddy. The Live PD camera trained on a half-empty bottle of Bombay Sapphire as an officer asks the pair how much they've had to drink.
"Not a lot," says the larger man as the other shakes his head and says, "Don't tell him, don't tell him." The faces of the two, who by then are handcuffed and sitting on a curb, are blurred out by the production team – a signal that maybe the two wouldn't sign a consent form with the show allowing their faces to be shown – and a half-dozen police crowd around them to listen. The little guy says he and his friend were "going to a location that I believe was my house."
The officer tells them to stand up, and the smaller of the two asks, "Am I in trouble?" The officer responds, "Yeah you're under arrest… for public intoxication."
"Public intoxiration?" the man responds. "Public intoxiration," the officer deadpans. The man asks the officer if it's a misdemeanor or felony, telling him, "I got work in the morning and stuff."
It's a funny exchange. Public intoxiration is comedy gold.
As the video nears airing – while the show is described as live, it's really on a 15-minute delay, giving police commanders time to kill anything from airing if it might hamper an investigation – a phone chimed with an incoming text and a mom who'd been waiting for her son to come home read the message.
"It said, 'I just want to let you know that your son was just arrested and he's going to be on Live PD any minute now. It said that there was already video circulating and it had been put on one of the Crime Watch groups on Facebook,'" says Kymm Navarrette, who for years worked at the Public Guardian's Office and now works for the county Health Department.
"If it wasn't our kid, it might be pretty hilarious. It was great TV and I can understand why they did it," she says, "but even though they blurred out his face, it's a small town and everyone knows who it was. My phone started going wild, 'Yo, Kymm, I don't know if you know… '"
He'd never been arrested before, she says. She let him stay in jail for the night and he was released the next morning.
But as for returning to his job? That didn't happen. When you're arrested on live television, there are ramifications that the viewing audience doesn't see.
He got fired from his busser job at BJ's Brew Pub because he had been drinking there that night – served by another employee even though he's not old enough to drink – before he and his friend hit the streets and snagged the bottle of gin. Then he got fired from Patria, where he also worked as a busser, because while on camera he opined that the restaurant's owners were full of themselves.
Shortly after the segment aired, he moved out of Salinas, telling his parents, "I feel like I can't get a job anywhere in town now because everyone knows I was drunk,'" Navarrette says. "He felt embarrassed to go anywhere or be anywhere, so he left and went to Chico."
Navarrette says she and her husband used to watch the show, but that changed when their son got arrested. Even so, she sees value in how it portrays the police.
"A good police officer is a good police officer, and seeing them do their job in a good and respectful way, I liked that," she says. "They're enforcing the law, and people may see how they respond to situations and interact with people. That's the only good I can see coming from it.
"But the clip with my son," she says, "I don't want to see a rerun of it."
Nothing like watching the cops in Salinas, CA pull over a Hispanic suspect and he can't speak a word of English. Happens often in CA. I say check their green card. — watching Live PD on A&E

— James Shiflet (@jamesshiflet) May 12, 2019
---
IN 2018, LIVE PD WAS THE MOST DVR'D SHOW IN THE COUNTRY, according to Dan Taberski, a veteran television producer and writer who produces the podcast Running from COPS, about the TV show COPS and its impact on culture, crime and law enforcement. Live PD reached an all-time high viewing audience in June, when 2.4 million people watched the June 21 episode on the A&E Network. The show's Facebook page, where clips from past episodes are posted, has 2.3 million followers and allows people to armchair quarterback police tactics, and to comment about the various cities being featured.
After the Salinas council voted last year to bring Live PD to town, a few vocal community members took to social media on their own, and wondered how a program that showcased crime could possibly benefit the city.
Some of them spoke again on Aug. 13 at a Salinas City Council meeting.
Matt Huerta, a former Salinas planning commissioner and affordable housing advocate who works with the Monterey Bay Economic Partnership, last year wondered on Facebook why the same people who complain that the city's economic development is constrained by the crime rate advocated for cameras to go out for live coverage of crime.
At the Aug. 13 meeting, he said: "It's been a year and you know what? I don't think we're any better for it. In fact I think we have a big target on our backs.
"We are a community across this country that is under siege these days," he says. "There are raids happening and there are people suffering, there are people being targeted because of who they are and what they look like. These are real issues and this show does not help."
In an email, Susie Brusa, CEO of the nonprofit Rancho Cielo, which helps build job skills and educate at-risk youth, wondered how the national audience of Live PD viewed young Latino men.
"How can a nationwide audience understand the complexities and nuances of the choices the young men must make, given the options offered them?" she writes. "Does Live PD help the audience's understanding of the challenges they face, or further confirm what limited knowledge they may have? Is that helpful to the economic development efforts of the city, or limiting to them?"
While the viewing public of Live PD sees Salinas has an ultra-professional police force, they also see a shantytown of homelessness that spans multiple blocks of Chinatown and runs along drainage ditches by the freeway. They see a man dropping his pants behind a tree near Sherwood Hall so he can defecate, only to have an officer roll up on him and order him to cease defecating and pull his pants up before the officer drives way.
It all happens in a vacuum, without explanation, for example, that Salinas has some of the highest rental rates in the region; that affordable housing development moves at a snail's pace, if at all; that a majority of the county's homeless come to Salinas because it's home to the social services and county hospital; and that the only 24-hour restrooms available to the homeless, at the Chinatown Health Services Center, closed in July due to budget constraints.
They see brown face after brown face getting arrested. That's not abnormal in a majority-Latino city, but it's taking place in an atmosphere where the president verbally attacks immigrants – and where some of his followers physically attack and even murder immigrants as well.
Salinas City Councilmember Scott Davis, who works as a Monterey County Sheriff's deputy and whose district encompasses the city's East Side, has mixed feelings about the show. It doesn't necessarily present the positives of the city, nor does it always show the positives of being a law enforcement officer.
"It's concerning how it paints the community, because you often see people at their worst," Davis says. "At this time, I wouldn't be open to continuing our contract with Live PD. I don't believe the benefits outweigh the potential negative stigma it creates about our community."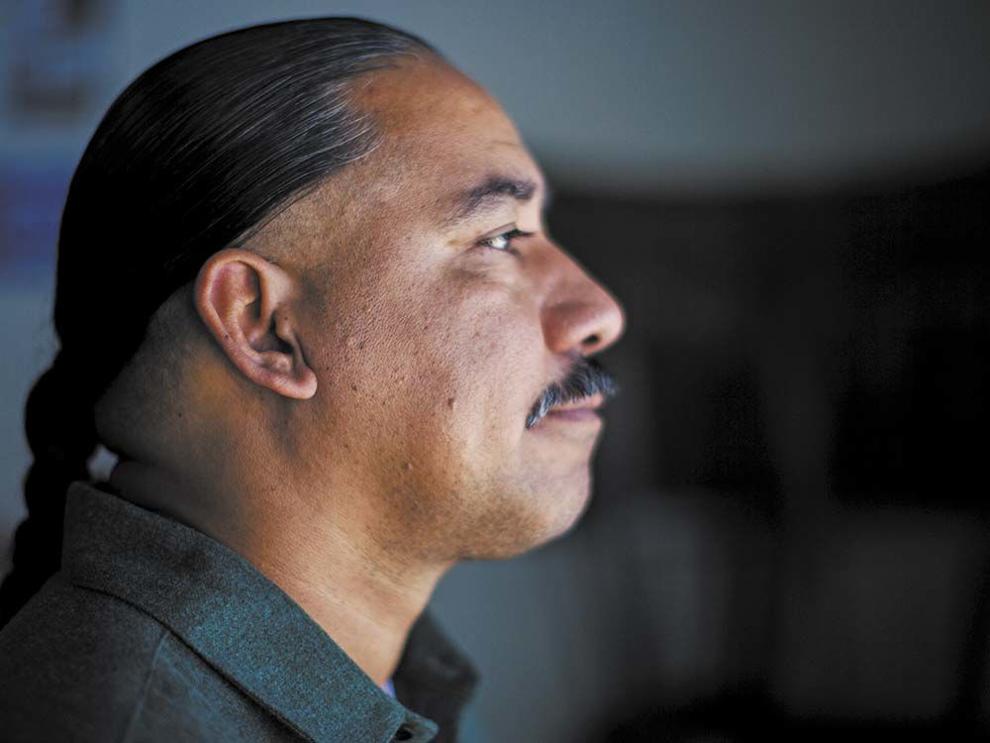 At MILPA, an organization that provides leadership training to teens and young adults with a focus on justice system reform (and employs a number of formerly incarcerated people), Policy Coordinator Israel Villa says he fails to see how the show can improve relations between the community and the police department.
In 2016, the U.S. Department of Justice came to Salinas after four fatal police shootings of Latino men caused tensions between police and community to reach a boiling point. In its report, the DOJ noted the department lacked strategy on community-collaborative policing, and training on implicit bias and cultural awareness.
"The DOJ report talked about the lack of trust and relations between the community and the police. I am trying to put myself in the chief's shoes but I don't see how this show improves those relations," Villa says. "A lot of arrests they show are for frivolous things, but those arrests may impact people's housing and jobs. It's a slap in the face of the community."
But for Fresé, the show has aided the department in its quest for transparency – a quest that resulted from the DOJ report.
"I came to make some changes and I needed some that were quick and effective and preferably inexpensive to make, and I feel like this accomplishes that with as much transparency as possible," she says. "It helps us engage the community. It's a working community, with so many dual-income households, that not everyone can schedule a ride-along. This allows us to bring a ride-along into people's homes. I want people here to have confidence in the community."