It was the late 1920s, New York City, Madison Square Garden.
Through the whoops and hollers of thousands of rodeo fans, the name rang out. It was classic, one-of-a-kind, American: "Jasbo Fulkerson."
Only nobody was likely listening, as it came close to last on the list. Jasbo Fulkerson was not a bull rider or even a bull. He was a rodeo cowboy. A clown.
But his name is the one that made history.
Living history, really: Clowns still work protecting cowboys once they're bucked off. That day in New York was no different.
A rider took a tumble, and Fulkerson scurried in, arms twirling like a windmill to draw the bull's attention. Now 1,300 pounds of fury were chasing him.
But bravery doesn't equal speed. Fulkerson's stubby legs couldn't move fast enough, and he felt the sting of a horn in his back.
"He got tired of having the bull catch him before he got to the fence," says Gail Hughbanks Woerner, author of Fearless Funnymen: The History of the Rodeo Clown. "He thought, 'I've got to have something.'"
Fortunately, the horns hadn't skewered his brain. Fulkerson had an idea for an entirely new invention. Maybe it came from rodeo's saloon-and-tumbleweed days, or maybe it was all he could find on the cheap, but the clown hit a humble solution: He'd use a barrel for extra protection.
It was wood, so it was light enough to run with and plant in the ring. It had a hole in the top, so he could plunge to safety but still prairie-dog out of the top to distract the bull. It gave cowboys, and clowns, a new line of defense.
It wasn't perfect: On occasion, its wooden frame shattered when hit. But barrels have evolved since. Aircraft-grade aluminum replaced flimsy fiberglass, which had replaced Fulkerson's splintery brainchild. And instead of a single opening at the top, the bottom's gone too, so it's even more mobile. Strong straps now line the inside so clowns can hold tight and stay in the barrel if they go flying.
Despite the advances, the hardcore stories haven't changed much at all. No matter how good the barrel, there are still dramatic results when a big, fast bull charges after humans looking to hide. What follows are the anecdotes that help illustrate it:
FLIPPED OFF
Of all the times bulls have rammed John Harrison, four-time PRCA Clown of the Year nominee, while he's in the barrel, one stands out.
It was in Phillipsburg, Kansas, some time in the '90s. A bull named Fender Bender chased Harrison into the barrel and took out his frustration on its metal shell. Bender lowered his horns, charged and performed a violent and clever screw-you, flipping the barrel across the arena like a tin can.
"You can't see how far you're going or in what direction," Harrison says. "You hope you don't go towards a fence."
Even if they don't get slammed against the arena walls, rodeo clowns can't loosen their grip on the barrel, or else.
"You're really not secure," Harrison says. "If you ever relax, you can come out. Bulls break necks, backs, all kinds of stuff."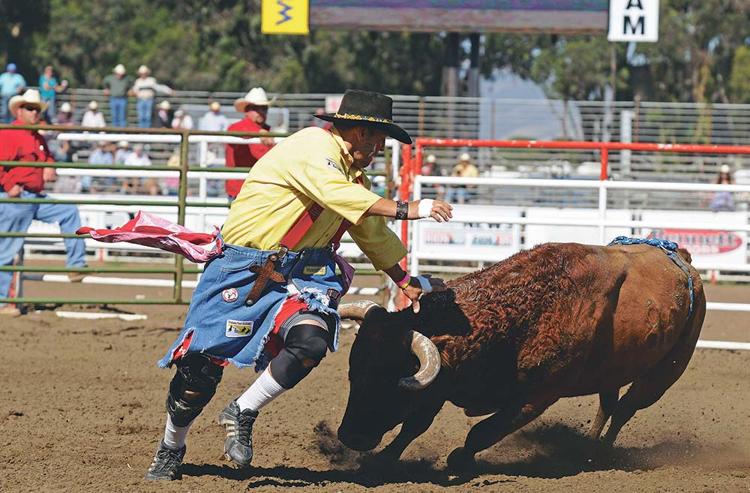 SPLAYED OPEN
"I've had my eyes blacked, my head splayed open," says Jess Franks, a longtime barrel man from New Mexico. "In Leadville, Colorado, I had a bull pick me up with his horn and walk off."
It's arithmetic: Take a three-quarter-ton bull whose family tree stretches back to the Roman coliseums, who's been bred to focus all his anger on a fancy beer keg, and there's bound to be some friction.
"The only way I could describe [being hit]," Franks says, "would be for you to go down to the hardware store and get one of those tin garbage cans and have your buddy run over you at 25 miles an hour."
A rodeo vet, Franks worked the first bullfight at Salinas in 1980.
"[The bulls at pro rodeos] are the best fighting bulls in the U.S. and Canada," he says.
They're also hulking forms with enough inertia to flatten the barrels accordion-style.
"They peeled our barrel off the street after every performance," Franks says. "It went from round to almost flat. We would need hydraulic jacks just to straighten it out."
He says barrel men need something stronger than hydraulics: fearlessness.
"It's not a sissy deal," Franks says. "You've got to man up. Nobody gets in that tub without getting the snot beat out of them."
SET FREE
For rodeo clowns, necessity isn't the mother of invention. Injury is.
Jasbo Fulkerson got cracked one too many times, and the barrel was born. Famed clown Jimmy Schumacher had a bull pick him and his barrel up by the horns, and the barrel got even better.
Schumacher was on the mend from that harrowing experience in 1954, remembering that once they planted their barrels, they were sitting ducks trying to withstand angry bulls.
A previous pioneer put crank-operated wheels on his, meandering through the arena, but when a bull rammed the barrel, the cranks inside would hit him in the face and knock him out.
Schumacher got an inspirational assist from a smaller clown, according to Woerner, the rodeo author.
"He was sitting on his porch… and one of his kids ran across the front lawn in a cardboard box," Woerner says. "[Schumacher] was the one who took the bottom out of the barrel."
GETTING CLOSER
Michigan native Andy Burelle has been a freestyle bullfighter for over a decade. At Salinas, he debuts as a barrel man.
In freestyle bullfighting, a man and a colossus battle one-on-one, with the bullfighter trying to run around the bull as closely and stylishly as possible – like the iconic Spanish version, without the bloodshed. Or, in other cases, jumping over it backwards.
"I was knocked out once in Salinas doing a backflip over the bull," Burelle says.
A bout in Fort Smith, Arkansas, in 2009 documents his bravery. He starts off with his back to the goring machine. It grows nearer and nearer until – boing – he springs over it, feet to the sky. Soon he finds his way to the top of a weighted red barrel in the arena. He tosses his hat at his pawing opponent. It charges him, and he leaps over the dusty black bull unscathed.
Rodeo clowns, on the other hand, don't ask for much fanfare. They're not rich or famous. They just want to protect riders and maybe give the audience a laugh. They put themselves in danger every day, and they take it into their hands to protect themselves.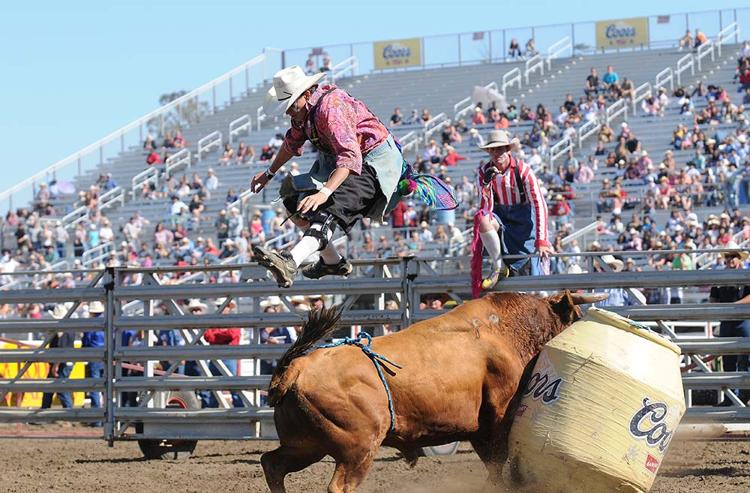 Burelle's about to join the rodeo clown's humble lineage, and it seems like he's going to be a good fit.
When asked about his gutsy stunt at the end of his run in Fort Smith, he says it was "just a move to get a couple extra points at the end of a bullfight."