From the sky, Carr Lake, a 480-acre space of agricultural fields in the heart of Salinas, looks like a nucleus, a green space surrounded by a giant circle of concrete and development that is home to some 156,000 people.
But it doesn't function as a nucleus – if anything, aside from being productive ag land for one growing season each year, it only keeps the communities on its borders further apart.
It doesn't unite – it separates.
But that is set to change, soon, at least in part.
In 2017, the Big Sur Land Trust bought, for $3.95 million, 73 of those 480 acres, which is all the property once owned by the Ikeda family, one of the three families that have been farming on the land since the early 1920s. That was when Carr Lake, a historical wetland, was drained along with the completion of the county's Reclamation Ditch, which passes through the property and eventually flows into Monterey Bay.
And the nonprofit land trust's plans – which were unanimously approved by the Salinas City Council on Sept. 14, 2021 – call for creating a six-acre community park, and restoring the rest of the land to its natural habitat as a seasonal wetland and floodplain, with trails for the public to recreate and view wildlife.
It's a vision that was hatched as early as the 1970s, but which, until now, has remained elusive.
But finally, it's within reach.
ON A SUNNY FRIDAY AFTERNOON ON MAY 13, land managers from across the state are in town for a convention and make a site visit to Carr Lake. Rachel Saunders, the land trust's conservation director, explains the vision for the project, and how it will redirect water coming onto the property through various creeks into a wetland – which will help filter the water's pollutants – before flowing out into the Monterey Bay.
Saunders also emphasizes the extent to which the residents of the surrounding communities have played a part in the planning process, especially as it relates to the neighborhood park, which is envisioned to have a basketball court, multi-use court, amphitheater, multi-generation play area, along with what every great park should have – trails and trees.
"[Those] were ideas that did not come from us, they came from community members sitting around those tables," Saunders says.
The land trust has had five community meetings about the project since 2018 at Salinas' Sherwood Hall, and scores of volunteers, including over 100 local school children, helped plant and have helped tend its 0.25-acre demonstration native plant garden which is flourishing, and is directly behind Saunders.
"There are so many stories you can tell about Carr Lake," she continues, "because of its location in the center of the city. We heard from the community that they want to know more about the natural history of this place. They don't know why it floods…
"It's an opportunity to teach people in Salinas," she says. "Lots of schools don't have resources to put kids in buses and move them to other places, so this would be a much more convenient natural classroom."
The coterie of land managers onsite are quiet, rapt.
Saunders goes into the climate resiliency the project will bring with its flood management potential, and the water quality benefits the wetlands will provide by filtering water before it runs out to the bay. She also highlights the challenges ahead to restore the 67 acres on the land not included in the neighborhood park – permits from the California Department of Fish and Wildlife, NOAA Fisheries, the Army Corps of Engineers and the State Water Board.
Saunders lauds the nonprofits Center for Community Advocacy and Return of the Natives for their work in planting and caring for the small native plant garden behind her, and their commitment to the park going forward.
Saunders then turns to the land managers on tour. "We do what we do because there's a lot of heart in it. This is, again, trying to build the right relationship with the land and among each other," she says.
"We had a group of high school kids who came around, and said, 'What school do I need to do what you do?' This is an opportunity also to plant career ideas and to help foster the future stewards," Saunders says. "I always think about it like a relay race crossed with a marathon, and so we hold the baton, we run it down the field, and we hand it to the next person to run it down the field, and that's the way this work goes. Because it is generational work, but there's tremendous reward and inspiration from all the people who are involved."
Then she sweeps her arms behind her, to the other 67 acres Big Sur Land Trust owns, and says, "And so with that, let's take a walk."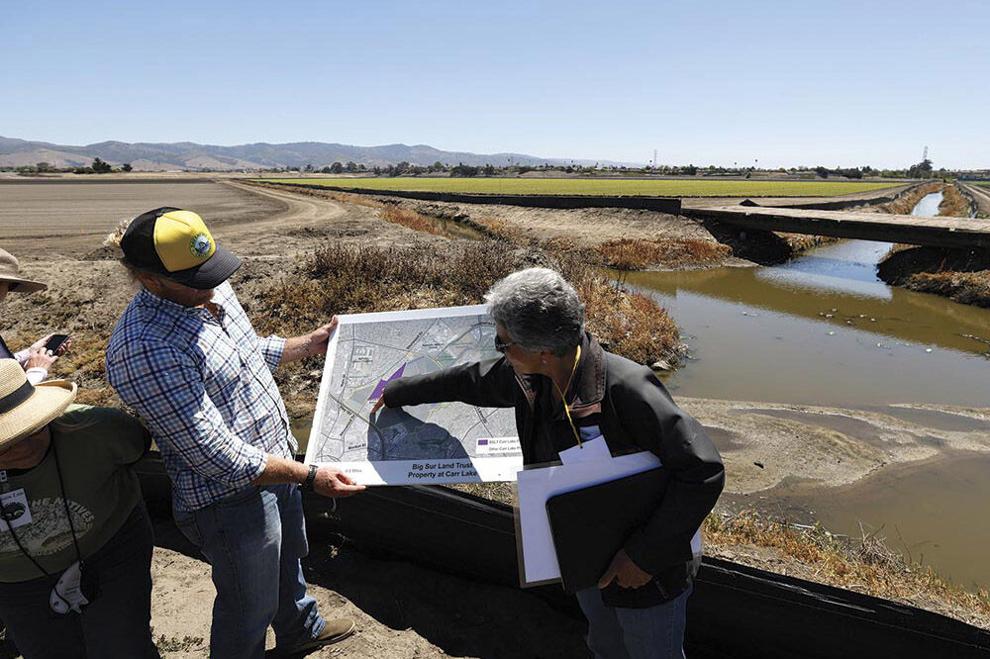 PRIOR TO THE ARRIVAL OF EUROPEANS, WHO TRANSFORMED THE LANDSCAPE, Carr Lake was a wetland, and part of a chain of seasonal lakes in the northern Salinas Valley that have all since been drained. The indigenous Ohlone people who lived in the region for about 10,000 years hunted elk and fished in the region, and harvested tule reeds from the wetlands that they used to make canoes, which facilitated their fishing enterprise.
By the 19th century, the land that comprises Carr Lake was entirely owned by Jesse D. Carr – who it's named after – a staunch conservative Democrat who settled in the Salinas Valley in 1859 and became a longtime civic leader in Salinas. Among other things, he helped found the city's first bank.
Before Carr died at age 89 in 1903 – reportedly blind but still going to work every day – he was a millionaire, and instrumental in the landscape's transformation.
Four creeks – Alisal, Hospital, Gabilan and Natividad – flow into Carr Lake, and in the winter of 1890, the lake flooded, spilling into Salinas.
In the wake of that incident, Carr increased the drainage off some of his properties – he owned thousands of acres in the Salinas Valley – and created about 1,475 new acres of highly productive ag land from the lake's bottom. The word widely used in historical documents, though, is that he "reclaimed" wetlands, as if they represented a form of theft from humanity.
The reclamation – if you want to call it that – of the wetlands in the northern Salinas Valley facilitated explosive growth in the ag industry, and helped make the city of Salinas what it is today.
To further that growth, and to mitigate flooding, local officials initiated plans for the county's Reclamation Ditch in the early 1900s. Construction began in 1917 and was completed in 1920, and the ditch – really, a series of ditches, and the ancillary ones are called "laterals" – drains a watershed of 157 square miles, and ultimately flows out to Monterey Bay.
A few years after it was completed, Salinas, in 1924, had the highest per capita income of anywhere in the country, per a city planning document.
The 480 acres of land that now comprises Carr Lake was sold in the early 1920s to three Japanese-American families – the Hibino, Higashi and Ikeda families – and it's been farmed ever since. Even now, after the Big Sur Land Trust bought the Ikeda family's 73 acres in 2017, it's leasing out its land to the Hibino family while it continues to work on planning and permits to construct the restoration.
John Steinbeck, the Salinas Valley's most famous native son, was acutely aware of the unnatural transformation of the land, and wrote in Holiday magazine in 1955, "Salinas was never a pretty town. It took a darkness from swamps. The high gray fog hung over it and the ceaseless wind blew up the valley, cold and with a kind of desolate monotony. The mountains on both sides of the valley were beautiful. But Salinas was not and we knew it. Perhaps that is why a kind of violent assertiveness, an energy like the compensation for sin grew up in the town."
But even with the Rec Ditch, as it's known, the risk of seasonal flooding in the area is a constant, and is only increasing as climate change leads to a higher frequency of extreme storm events. As a 2006 Monterey County Water Resources Agency report states, "By 1950, the urban and agricultural development had expanded enough to create runoff conditions that were unmanageable by the system during large storm events."
In the winter of 1997-1998, the report notes, Carr Lake filled up to a depth of 42.9 feet, and was "only 0.1 feet away from flooding structures above the lake bottom."
Fifty years after it became farmland, the idea of turning Carr Lake into a central park of sorts took hold as early as the 1970s. In 1989, momentum deflated after a ballot initiative to create a Carr Lake Park Assessment – a property and parcel tax to build a 450-acre park (when the land came up for sale) was rejected by Salinas voters. The vision, at that time, would have included a lake and sports stadium, among other things, and supporters still remember that early concept.
Salinas resident Gary Karnes has lived in the city 52 years and recalls that he and other supporters of the park formed a group called 1,000 Friends of Carr Lake. "We turned out 500 people in favor of the park [at a council meeting]. The other side turned out a few hundred angry old white guys," Karnes says.
Simon Salinas is a former longtime county supervisor and Salinas City Councilmember. He says when he was an elementary school teacher in the '80s, he took his sixth-grade class to the City Council rotunda to speak in support of the vision. "We don't have a lot of open space in Salinas," he says.
Jyl Lutes, who served on Salinas City Council for 18 years before losing her seat in 2016, says the idea got tabled in the '70s for lack of funding. Part of the original impetus, she adds, wasn't just to create parkland and habitat restoration, but that the land could help recharge the aquifer and mitigate seawater intrusion – additional benefits.
It was also contemplated in Salinas' 2002 draft general plan. The 2006 MCRWA report states, "The open space of Carr Lake in the center of Salinas provides a unique opportunity for the city of Salinas by providing public open-space areas simultaneously with multi-use flood control and water quality improvements benefits."
A shorter, better way to say it is: The idea of turning Carr Lake into a park is awesome.
And, it's happening. Now.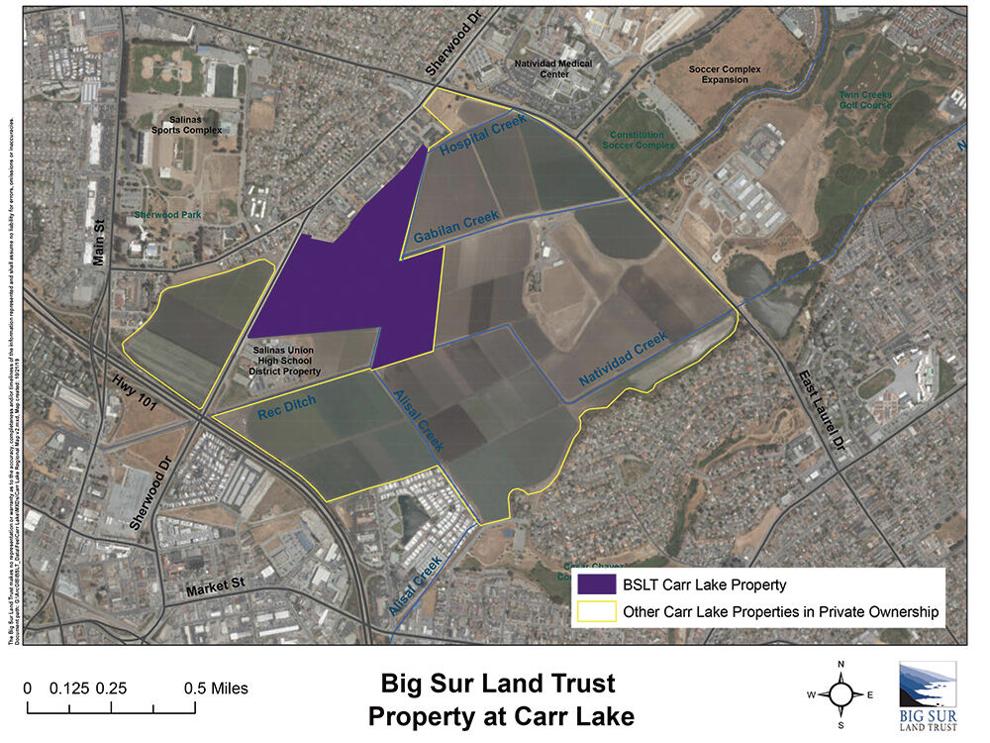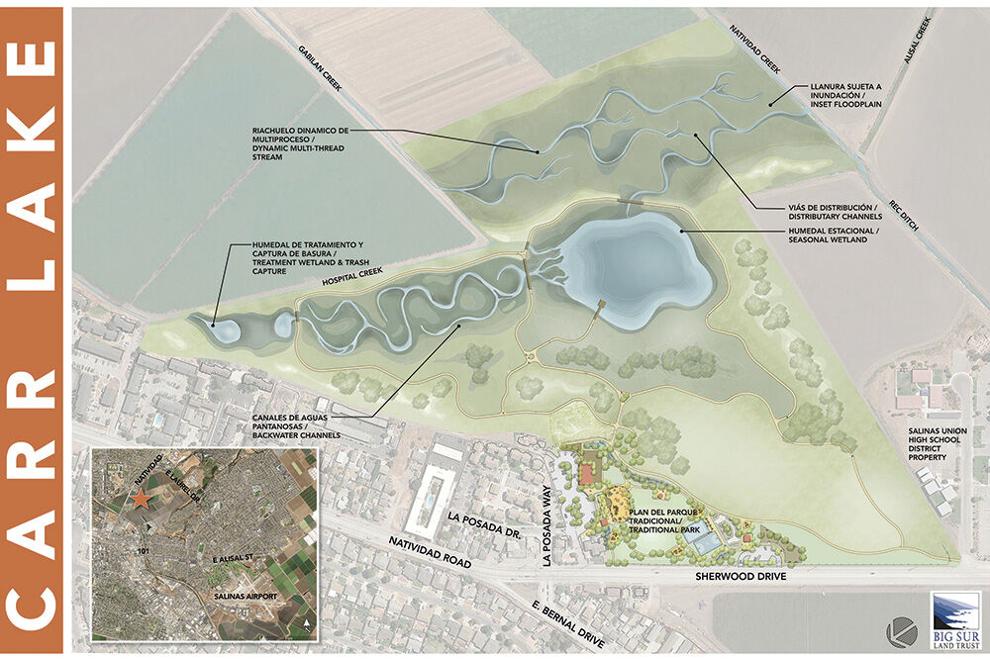 THE BIG SUR LAND TRUST'S PROPOSAL to restore 67 acres of the property to a natural floodplain and wetland with accompanying trails, as well as the six-acre neighborhood park with a host of amenities, finally came before Salinas City Council Sept. 14, 2021.
It was an emotional meeting, and a number of eloquent speakers – Saunders included – articulated the importance and potential impact of the project for a city starved for open space, and that is home to many low-income residents, particularly youth, who don't have the means to travel elsewhere for recreation.
For urban communities with more than 2,500 residents per square mile – Salinas has more than 7,000 – the city, according to its Parks, Recreation & Library Master Plan, ranks in the lower quartile nationally with only 1.52 acres of neighborhood and community parks per 1,000 residents. The city's standard, however, is only 1.5 acres of such parks per 1,000 residents, a number it's currently meeting. But to maintain that level by 2035, a city planning document states, the city needs to add 144.9 additional acres of neighborhood and community park space. The Big Sur Land Trust's Carr Lake project would provide more than half of that.
Among the residents who spoke on Sept. 14 were four women who required someone to translate their comments from Spanish to English.
They all asked the council to approve the project, and their comments fell along the same lines. The first one said, "We need this open space for our families. It's very important to have a place where we can walk, run, exercise and above all, to have a place where we can de-stress."
Another woman said, through a translator, "We need open spaces. Open spaces for our young people to engage in wholesome activities, safe activities. Engage in activities to help them to de-stress."
Not a single person at the meeting spoke in opposition to the project – a rarity when it comes to land-use issues – and every member of the City Council sung its praises.
When it came time for a vote, the council unanimously approved the project, and the rotunda in the council chambers erupted in applause.
WHILE THE CARR LAKE PROJECT is approved, much work remains to be done.
This calendar year, the Big Sur Land Trust expects to complete final design plans for the neighborhood park, which it will put out to bid next year. Saunders says it's expected to open in October 2024, if all goes as planned.
The neighborhood park is mostly funded, she says, though the land trust is still seeking funding to carry out the restoration of the other 67 acres. As far as public works projects go, the cost projection she gives for the project in total – $23 million-$25 million – seems like a hurdle that can be cleared, not that it will be easy to do so.
It's also worth noting the Big Sur Land Trust – which was founded in 1978 by a group of families that lived in Big Sur – didn't end up working in Salinas by accident. It's at least partially a result, Saunders says, of an introspective look the nonprofit conducted from 2006 to 2007, which ultimately led it to broaden its mission statement and try to expand its impact regionally.
"All people, no matter who they are, where they live, what their economic situation is," Saunders says, "deserve access to parks and open space and wildlands."
And the hope, Saunders says, is to acquire the entire 480 acres of the Carr Lake property so that it can undergo a similar transformation. But the Hibino and Higashi families, she says, aren't yet interested in selling – perhaps they'll never be.
Maybe the Ikedas set a precedent the other two families might want to follow. In a statement issued when the 2017 sale of the Ikeda property was consummated, Don Ikeda said that is was "bittersweet" to sell land that four generations of the Ikeda family have been farming. But he added, "We wish Big Sur Land Trust success in transforming the agricultural fields into public space for Salinas' future generations."
While the future of the remaining 407 acres remains unknown, "first thing's first," Saunders says, referring to the project already in the works.
Final design plans for the restoration of the remaining 67 acres will also be completed next year, but it will still need permits from state and federal agencies, as well as funding, Saunders says.
But it's finally within sight.
Adriana Melgoza is director of organizing and education for the Salinas-based nonprofit Center for Community Advocacy, which has been an active partner in the project. "We as a community are very excited to have this park," she says. "We believe this is going to bring a lot of unity in every area of Salinas. We call it the heart of Salinas."
Melgoza adds that the pandemic, when people were forced to stay in their homes – many without yards – highlighted the need for open spaces in Salinas, and says that people regularly walked on the Carr Lake property, even though it was just ag fields.
"Most of our community members aren't able to travel to our community parks, like Toro Park, and they're not able to travel to the Peninsula," she says. "This is the closest thing we have to having open space."
Ultimately, Saunders says, the vision is for the city of Salinas to take over managing the property, though the land trust will remain involved in habitat restoration and vegetation management – its specialty. In the long run, it will require a team effort.
"We really hope the community will continue to work with us and support this project in all kinds of ways, and embrace this new park," Saunders says. "That sense of community ownership will be really important to its long term success."
If Melgoza is any indication – or for that matter, any number of the speakers at the Salinas City Council meeting last year, or the more than 1,000 signatories CCA gathered for that meeting in support of the project – it seems the community is ready to take on that challenge.
And in doing so, Carr Lake can finally become the nucleus that it could be.
"It's connecting to all parts [of the city]," Melgoza says. "To me, it brings true community. That helps us understand each other, build a better community, and work toward a better Salinas."