Remember back to the early days of the pandemic, before the scale of the public health crisis – and the ensuing economic crisis – was made clear. Monterey County's first shelter-in-place restrictions were enacted in March, when there was just one local confirmed case of the Covid-19 virus and no deaths.
Now there have been 30,110 confirmed cases (and counting), and 216 people are dead.
If the health emergency was slower to manifest, the economic devastation was swift. In April, the first full month of shelter-in-place, more than one-fifth of Monterey County's workforce, 41,800 people, were unemployed. That was a record since such recordkeeping began in 1990.
But those were days for optimism, that with shelter-in-place restrictions, we could slow the spread of the virus, and also minimize the economic hurt. In remarks at the Monterey Bay Economic Partnership's economic summit on May 1, economist and founder of Beacon Economics Chris Thornberg spoke about graphing the steep decline and what the subsequent growth might look like.
"The question is: How long will the pain last? Where does this thing go?" Thornberg said. "The real debate is between the V crowd and the U crowd."
His prediction was the optimistic one, that the recession would look like a deep V – a steep decline followed by a steep incline.
The steep decline was graphed almost immediately. But the recovery on the other end is still being charted.
Unemployment in Monterey County had been creeping back down, to 7.7 percent in November. But with a new lockdown that took effect in December, that number is likely to rise again.
"If I had a crystal ball, I would think this year is going to be a year of slow recovery," says Charles Chrietzberg, CEO of Monterey County Bank. "2021 is going to be a bad year starting out.
"In 2022, we might have a robust economy, with a lot of pent-up demand to travel," he says. "The matter is getting there, hanging on until we get to that point."
Not everyone will hang on. Chrietzberg estimates a dozen bank clients – mostly restaurants – have closed their businesses permanently. One restaurant customer hired back the chef as the lone employee, but he's losing $10,000 a month to stay open for takeout. Still, if the restaurateur can't keep the chef, reopening later will be that much more difficult.
One irony for Monterey County Bank is customers who are hurting and are seeking bank loans need to prove they have not been negatively impacted by the pandemic in order to qualify. "It's a Catch-22," Chrietzberg says. "To make somebody a loan, we have to document they weren't negatively impacted by Covid. The reason they need to borrow money is because they were negatively impacted by Covid."
Instead, bankers end up directing applicants to government programs.
There is no official count of how many businesses in Monterey County have closed or even downsized due to the pandemic, but in the early months of the shutdown, staff at the Monterey County Workforce Development Board placed phone calls to 1,000 businesses, and roughly 10 percent of proprietors said they were shuttering for good.
Meanwhile, the number of people seeking job retraining services through the WDB was down by 90 percent in 2020. "The whole system in California has been turned upside down," Executive Director Chris Donnelly says.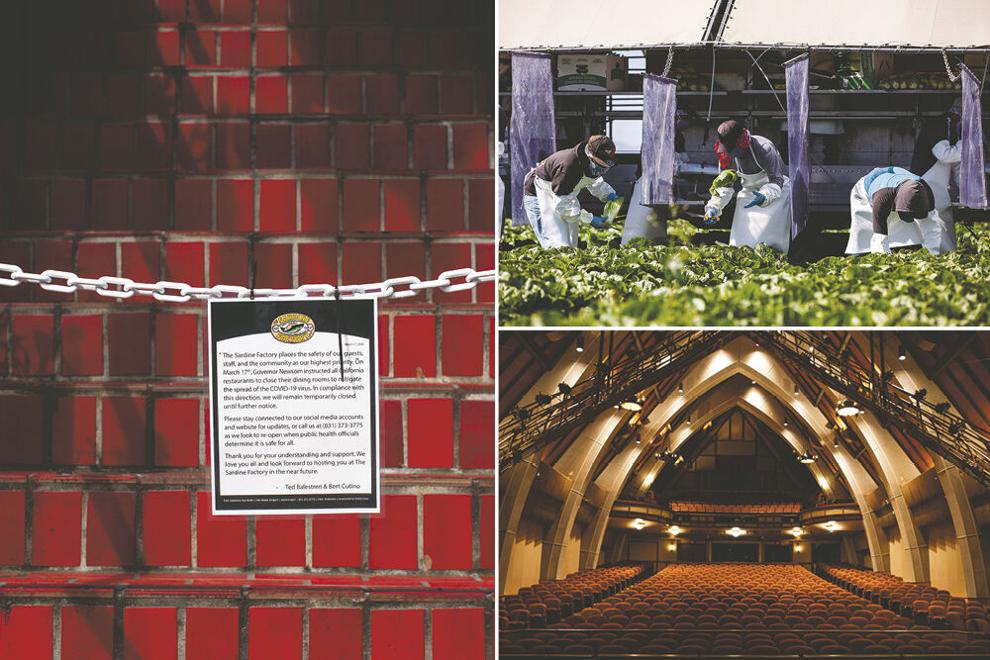 Some industries, like real estate and construction, have done well. But Monterey County's two biggest industries – agriculture and hospitality – have been devastated.
Data compiled by the Workforce Development Board shows hotels and foodservice – Monterey County's "most vulnerable sectors" – employed 25-percent fewer people in September of 2020 than a year prior. Even for hotels that have been open, occupancy is down; the region's occupancy rate for 2019 was 48.2 percent, compared to 74.3 percent in 2019.
That matters deeply to cities that rely on hotel tax revenue to fund staff and city services. And it also matters to overall travel-related spending. The Monterey Convention and Visitors Bureau calculates that in 2020, spending was down by more than $1.8 billion, or a 56-percent loss compared to figures from 2019 when visitors spent $3.2 billion.
"I don't think it's too much to say the scale of loss, in terms of dollars for business and the negative ripple effect for employment, is cataclysmic," Bureau President/CEO Rob O'Keefe says. "The recovery is going to be measured in years. There is lots of bleak, but there is a comeback on the way. We just have a ways to go before we get there."
The other question about the potential for a U-shaped (or V-shaped) recovery is which new jobs get plotted on that graph. There have been 26,900 jobs lost in Monterey County, and 13,100 jobs added, from February through September of 2020. But Donnelly says those additions skew away from small, local businesses. "There's a large demand for people to work. Fast food places like McDonald's and grocery stores are where a lot of the hiring is taking place," he says. "Large businesses have enough money in reserves. Here, it's mostly small mom-and-pops that are closing."
Dan Baldwin, president/CEO of the Community Foundation for Monterey County, has noted the widening disparity, especially as the stock market soars. "[The pandemic] has brazenly exposed what we've always known," he says. "The people we think of as being economically vulnerable truly are, and the people that we think of as being economically advantaged really are.
"There is a big part in the middle, and that is small business owners. We are going to see a lot of restaurants close, a lot of small businesses close, commercial landlords that are going to have tenants who can't pay."
Besides business closures, there are other economic impacts. At the Monterey County Department of Social Services, Director Lori Medina says it's difficult to use any form of benefits applications as a proxy for poverty, as certain programs remain in emergency mode – in some cases, for example, social services officials have stopped dis-enrolling people based on the usual time lines. But when it comes to nutrition assistance in particular – things like CalFresh (food stamps) or food pantry access, "there is definitely an increase in those requests," Medina says.
There are also impacts that are harder to measure, including how individuals change their personal finance habits now and into the future, and whether they stay in the region long-term.
In March, bartender Kelly Kuhn was laid off from Alvarado Street Brewery; even when they staffed back up for outdoor seating, they did not bring back 100 percent of the workforce and she remained unemployed. While Kuhn was paid an extra $600 weekly with her unemployment benefits and her student loans were deferred thanks to the CARES Act, she was able to stay on track with her financial goals. "I was getting pretty close to what I would've made normally," she says. "I could still continue to plug away at some of my financial goals and retirement savings, which I am woefully behind on at 37."
Now, without the extra $600 bump, she's no longer putting money into savings or retirement or paying down debt, and deferrals on student loans are set to run out in a month unless the government takes action for another extension. (The new stimulus allows for $300 extra per week in unemployment benefits.)
Meanwhile, she's been looking for work – but not as a bartender.
"I'm not young in the industry anymore, and I'm getting to a point where I would like benefits, and that's not something most places offer, even if you're full-time," she says. She's been applying to work elsewhere in the foodservice sector, angling for a job with a distributor perhaps, and says she might leave the area for a job and for a lower cost of living.
"I don't know if we're going to come roaring back in hospitality," she says. "It's hard to say."