From the top of Bixby Mountain, nearly 3,000 feet tall, the landscape of Big Sur unfolds like corduroy. Deep redwood-lined canyons are carved into the earth in every direction, and to the west is the expanse of the Pacific Ocean.
This peak was named for Charles Bixby, who arrived here in 1875. And according to a real estate listing a few years ago, this place was "originally settled" by Bixby. In the timeline of that story of this land, it was Bixby – who developed a successful mill and a landing to ship lumber at the mouth of the canyon below – who got here first. A Swedish man named Axel Adler bought the land known as Rancho Aguila starting in 1950, and it became known as Adler Ranch.
But there is an entirely different timeline if you use a different starting point. It wasn't Western settlers who settled this mountaintop first. It was Indigenous people, thousands of years prior. By the time Charles Bixby was born in 1836, Spanish missionaries had systematically destroyed Indigenous communities. A generation later, in 1902, anthropologist Alfred Kroeber visited Central California. "The Costanoan group," Kroeber wrote in 1925, referring to Indigenous communities using the Spanish term, "is extinct so far as all practical purposes are concerned."
But the people who lived here more than 8,000 years ago are not extinct. And today, they call this land their own.
Before it was Adler Ranch and before it was Rancho Aguila, this place was called Sargenta-Ruc, a Rumsen word for the district here. Today, for the first time, the Esselen Tribe owns this land in Sargenta-Ruc – the land where their creation myth begins.
But unlike that story, which features a coyote, hummingbird, eagle, tick and sand flea, this land – and the property deed – is not a myth. And this place represents a return of land to a landless people who were once proclaimed extinct.
"Every time I come up here, it's still: Am I dreaming, or is this real?" says Tom Little Bear Nason, chair of the Esselen Tribe.
Vice chair Cari Herthel says: "It's not just a story, it's not just a myth. It's very real for us."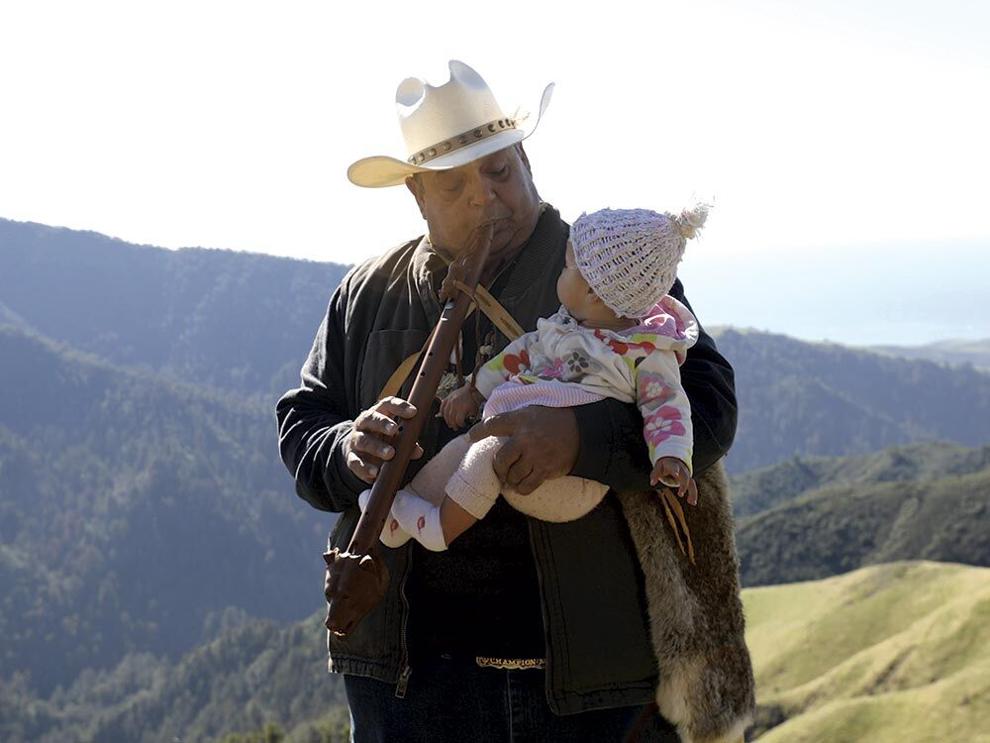 THE REALITY OF THE ESSELEN TRIBE OWNING THIS LAND WAS A DREAM STARTING SOME 30 YEARS AGO, Nason says. He grew up in Tassajara, and he got to know Adler by riding horses and Jeeps on the property. Adler fell in love with Big Sur and lived a rustic life on the property – his house never had plumbing. He hiked the property and picked up hitchhikers to share Big Sur with them. He loved dancing and used to host big parties. At one point, Nason says, Adler spoke about giving the land to the Esselen Tribe, but there was no organized entity – no federally recognized tribe, no nonprofit or corporation – that was prepared to receive it.
In 1965, Adler deeded the property one-fifth each to his five children, but he continued to spend extended periods on Adler Ranch. He died on June 20, 2004, and his ashes were scattered on the land he loved.
After he died, a tax saga to sort out those one-fifth shares ensued and his family listed the property for sale. At one point, they were seeking $15 million for 1,119 acres. "I have never seen a better opportunity to own a national treasure," the Sotheby's listing agent wrote. "The property includes meadows cascading over a thousand feet into a huge canyon with the power of the Grand Canyon and stunning mountain peaks jetting skyward with Pico Blanco commanding the southern view and a bowl of jagged mountains at the headwaters to the east."
Multiple offers fell through over the years. At some point, shortly after he joined the staff of the Western Rivers Conservancy in 2015, California Program Director Peter Colby heard about the Adler Ranch. With a mile of the north fork of the Little Sur River – prime steelhead habitat – flowing through it, it was in alignment with the Portland-based nonprofit's motto: "Sometimes to save a river, you have to buy it."
Western Rivers does just that – buy rivers – then give them to someone else. In the case of Adler Ranch, the entity that Colby had in mind to give it to was the U.S. Forest Service.
"We were under contract," Colby says. "Then we learned that local homeowners were vituperatively opposed to the Forest Service acquiring this particular property."
That opposition came from organized groups like the Community Association of Big Sur and Fire Safe Council For Monterey County, and from dozens of residents. They were concerned about a few things public ownership by the Forest Service might mean: more traffic on Palo Colorado Road, more visitors potentially starting campfires and trespassing, and whether the Forest Service would maintain a critical 1.6-mile fire break on the property, protecting the Palo Colorado community. In 2017, dozens of people – including Palo Colorado homeowners who'd lost everything in the Soberanes Fire – signed a petition asking U.S. Rep. Jimmy Panetta and then-senators Kamala Harris and Dianne Feinstein to oppose the deal.
"The USFS does not have the means to maintain the land they are already responsible for in Big Sur," one Pfeiffer Ridge resident wrote. "Acquiring more private property like this and turning it over to the USFS does not help the land or the people. The money should be used to support the land they already own."
For a while, Colby thought the tide might turn. He reached out to community members and attended a meeting of the Big Sur Multi-Agency Advisory Council. "I was roundly pilloried," he says.
But when he sensed that the local congressman (Panetta) would not support acquisition by a federal agency (the Forest Service), he thought it was over. The Western Rivers Conservancy terminated the contract and walked away.
Colby had met Nason, one of few supporters, at a meeting. Months passed before Colby called to suggest they meet. In June of 2018, California voters approved Prop. 68, a $4.1 billion bond for parks, environment and water projects. A portion of funding, $30 million, was earmarked for Native American groups – and Colby saw a new path forward. If Western Rivers Conservancy could support the Esselen Tribe and help secure Prop. 68 funds and provide real estate expertise to make the deal go through, maybe the tribe – not the Forest Service – could ultimately own the property.
The Esselen Tribe incorporated as a 501(c)(3) for the purpose of holding title to the land. The California Department of Natural Resources granted $4.52 million to the nonprofit. The Adler family agreed to sell the property to the tribe for $4.3 million, and they closed in July of 2020.
And for one year, nobody from the Esselen Tribe visited the place. Instead, they let it rest and prayed for the land.
THE APPROACH TO THE LAND IS ROUGH. First, it requires getting past the locked gate on Palo Colorado Road in Big Sur, which has been closed to public traffic for over five years due to slides. The pavement, what's left of it, ends at Bottcher's Gap, about eight miles up from Highway 1. To get to the land, a final half-mile requires an ATV or a four-wheel drive truck to get up the steep grade. It's advisable to carry a chainsaw – there might be fallen limbs on the road, and with a dropoff, there's no alternate route.
It's a picture-perfect day a little over a year after the tribe bought the property, with a brilliant blue sky and the ocean shimmering in the distance. Nason is leading the first tour for tribal members, who are here from as near as down the road and as far as Idaho. As if on a cue, a condor glides by below the group as they arrive in a caravan of trucks and ATVs on a ridge that offers the first breathtaking views.
"Welcome to your land," Nason tells the group of about a dozen Esselen Tribe members.
"It feels pretty incredible," Herthel says. "To be here is so rich, to be able to stand in remembrance. It's hard to put it into words. It's the capacity to demonstrate the resilience of our ancestry; that resiliency is ever present.
"I represent the women and children and wounds of the past. After missionization and colonization, that we are standing here is sacred. This is a sacred moment."
Herthel whispers to a 6-month-old baby girl named Kit Coyote Condon, the youngest known Esselen descendant at the moment: "Look at that sacred mountain. That's your mountain."
Pico Blanco, called Pixchi, juts upward, a triangular white peak. From this angle, looking south, it resembles a turtle – its shell is the peak, and you can see its little legs and head and tail. This is Turtle Island, the place where the creation myth is set; the world was flooded except for that peak when people were made.
Looking west offers a clear view of the notch in Ventana Double Cone – what the Esselen call the window, a gateway for souls to move to the spirit world.
"This is the center of our tribal Esselen universe," Nason says.
Stephen Arévalo, 35, has spent the past 15 years tapping into his Indigenous heritage. "It ties into everything," he says. "Being here is powerful – next-level supernatural." He says he's dreamed of this place before, this particular overlook on Mescal Ridge, without having ever seen it before.
Unlike Arévalo, Kit Coyote will grow up her entire life knowing her Indigenous story, and having land to call her own.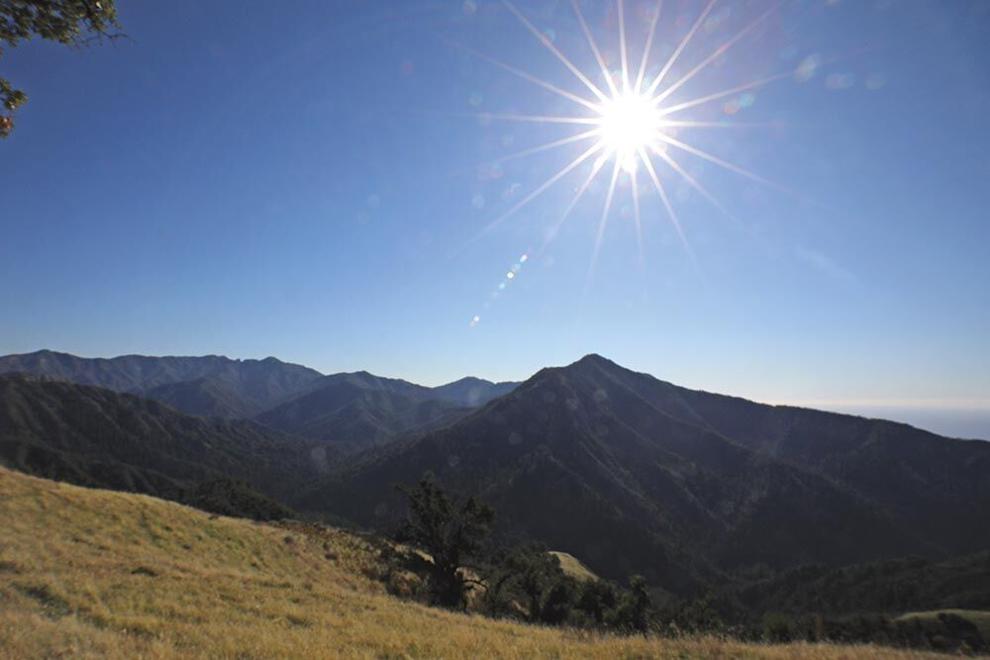 NASON PLAYS A CEREMONIAL FLUTE WITH A BEAR CARVED INTO IT, made for him in 1992 by fellow tribal members. That year he traveled to Washington, D.C. and played it inside the U.S. Capitol. The Esselen Tribe, that same year, filed a letter of intent with the U.S. Bureau of Indian Affairs seeking federal tribal recognition. So did the Ohlone/Costanoan-Esselen Nation (OCEN).
Federal recognition for tribes comes with certain benefits that only tribal entities are entitled to receive. The determination by the Office of Federal Acknowledgement is based on genealogical and cultural analysis – essentially, their bureaucratic determination of whether a tribe is for real.
But it's largely due to the federal government that tribal histories are not intact.
In 1927, L. A. Dorrington, Superintendent of the Sacramento Indian Agency, sent a letter to the U.S. Commissioner of Indian Affairs detailing how many Indigenous people lived in each California county, "in the matter of purchasing land for homeless California Indians."
In Monterey County, Dorrington wrote, the Indigenous population was just 79, and they "do not require land for home site."
In a 2010 dissertation titled "Recognizing Indians: Place, Identity, History and the Federal Acknowledgement of the Ohlone/Costanoan-Esselen Nation," Philip Laverty looked at the chicken-and-egg problem of federal recognition and landlessness. By treating the tribe as non-existent – federally unrecognized – it's harder for them to attain land. If only they had land, they might be recognizable to the U.S. Bureau of Indian Affairs.
"The federal government's failure to act has only abetted the theft of Esselen lands, making it more difficult for the Esselen to persist as a tribal community," Laverty wrote. "Furthering their official erasure was the consensus in anthropology concerning their extinction."
The erasure continued until as recently as 1953, when several Esselen families living on Dutra Street in downtown Monterey were forced out. They'd been there since the mid-1800s, and the city of Monterey used eminent domain to make way for the police and fire stations, Laverty reported.
In 1994, the Monterey County Board of Supervisors passed a resolution supporting federal recognition. Laverty helped OCEN gather reams of documents to persuade the Bureau of Indian Affairs they were in fact a tribe. But the BIA was unpersuaded of the tribe's continuity, and with a technical disagreement, the pending application was taken off the books – something Laverty says just perpetuates the erasure. "There is this basic irony that the government is asking for evidence of the very thing it tried to destroy."
THE ESSELEN TRIBE, LED BY NASON AND HERTHEL, IS NO LONGER INTERESTED IN SEEKING FEDERAL RECOGNITION. Their end game was land, and they've gotten that. But another Esselen nonprofit, OCEN is still very much interested in federal recognition, and also in acquiring land.
OCEN, currently chaired by Louise Miranda Ramirez, has been in on-and-off-again talks about Fort Ord land since the Army base there closed in 1994. To do that, they had to team up with a federally recognized tribe, so they formed the Esselen-Hoopa Redevelopment Authority with the intent to receive 40 to 45 acres of Fort Ord lands from Monterey County. After that deal fell apart, they hoped to receive 12 acres from Seaside – a deal that again unraveled.
The latest iteration of Ramirez's Fort Ord vision included a gathering place, a cultural center, a roundhouse, a sweat lodge and a hotel for revenue. "OCEN does not have money to pay for the land," Ramirez wrote in a 2013 letter to the Monterey County Board of Supervisors. She wanted the government to give land back to Indigenous people, who had previously been forced out.
The proposal fell apart, in part because of public concern that the tribe would eventually build a casino. That is similarly a chicken-and-egg issue: If the tribe is not federally recognized, it cannot build a casino. If it were to become recognized as a sovereign nation, it could – even though Ramirez repeatedly assured the public that was never the intent. Her vision was, and is, for a spiritual center and gathering place.
"Our plans are education and culture and bringing that to the people," she says. "We have to know who we are and we have to be able to exist, and a casino is not going to do that."
Most recently, she looked into whether the tribe could obtain a former NOAA building in Pacific Grove that the federal government auctioned off to the highest bidder – again, driven by dollars, not justice. Ramirez wants a place to bury her ancestors, and she wants a place that is easier for tribal members to get to than remote Adler Ranch. And she feels betrayed by groups that helped advance the Adler acquisition, worried it puts OCEN even further behind in line to get land.
Nason and Ramirez are distantly related, both Esselen. Herthel, now vice chair of the Esselen Tribe, is a former chair of OCEN. Their groups are pursuing different paths toward the same goal: getting land back.
"I look at it as Republicans and Democrats. It's deeper than that, but it's easy for people to understand," Herthel says of the two groups. "It's very political, and it's political because that's what we do when we have to go through the process of systems and agencies and grants – you have to create these political bodies.
"At the end of the day, we're all on this planet Earth, we're all relatives, it's just we've got different opinions."
THERE HAVE ALWAYS BEEN DIFFERENT TRIBES WITH DIFFERENT OPINIONS. Ideas about which Indigenous group was where are generally based on a specific moment in time – when Europeans who came in contact with Indigenous people recorded what they saw at that moment in history.
The word "Ohlone" refers to multiple tribes in Central and Northern California, a broad and non-specific term applying to the region from San Francisco to Big Sur. "Costanoan" overlaps but is usually avoided by Indigenous people today, since it is a colonial Spanish word.
Spanish colonization of California – and construction of its first mission – began in 1769. The first written reference to the Esselen is in records from Mission San Carlos in Carmel, according to a history by anthropologists Gary Breschini and Trudy Haversat. On May 9, 1775, Father Junipero Serra himself rode up the Carmel River Valley and baptized Pachepas, the chief of a village called Xasáuan. Serra renamed Pachepas Miguel Gregorio. Xasáuan became called Cachagua.
The Spanish renamed places and people wherever they went, obscuring the history of Indigenous people before them. Then came anthropologists – mostly white – looking to simplify a complex history, or government officials looking to gather a census on the total number of Indigenous people.
But there was overlap and movement of tribes, both before the Spanish arrived and after. Sargenta-Ruc was Esselen, then Rumsen, as the Esselen moved south. Esselen people migrated as other Ohlone tribes moved into their territory, pushing them deeper into the Santa Lucia Mountains. Then came missionaries, and they moved into more remote places. As Gov. Filipe de Neve wrote in 1782, Spanish patrols were going badly, sometimes resulting in deaths, as they went into "the mountains where the natives took refuge."
Today, all are welcome to visit the Adler Ranch property and do rituals there. In fact, that is spelled out in the deed, calling it "a location for the Esselen Tribe of Monterey County and other Native American people to undertake cultural and ceremonial activities."
The deed also forbids development with a few exceptions – a visitor center and a residence for a caretaker, each no more than 3,000 square feet and no taller than one story.
The Esselen Tribe wants to host more visitors and events. To that end, they have put in a bid for the 368-acre Boy Scout camp next door to Alder Ranch, for sale for $1.8 million. Tribal leaders hope to use the camp facilities for events like workshops on traditional food and medicine gathering, sharing song and dance, rites of passage and land stewardship training.
"Program participants will connect with nature while learning how the Esselen people have lived in harmony with the Earth for thousands of years," according to the tribe's bid. (Of course, that includes fire management – the very reason neighbors originally opposed the sale of Adler Ranch to the U.S. Forest Service.)
In their application to acquire the scout camp, the Esselen Tribe wrote: "Having been displaced from our ancestral homelands for generations, our tribe has recently embarked upon a journey to re-acquire lands originally inhabited by our ancestors."
Nason met with the Boy Scouts on June 30 about their proposal and is waiting to hear back. Whether or not the tribe gets that property, they plan to open the land to the public for limited tours by appointment this year.
IN THE FIRST YEAR OF OWNERSHIP, the Esselen Tribe only allowed biologists onto their 1,119 acres for the purposes of conducting a baseline environmental assessment. Next, an archaeological assessment and an ethnographic history are coming. The tribe is trying to get to know this land that has been given back – "rematriated" is the term often used, feminized for Mother Earth.
The Tribe's story is just one example in the growing Land Back movement that calls to return stolen land to Indigenous people across the globe, whether or not they are officially recognized by government entities. In 2020, the California State Lands Commission gave 40 acres of land in Inyo County to the Lone Pine Paiute-Shoshone people. In 2019, the city of Eureka returned more than 200 acres of land on Duluwat Island to the Wiyot Tribe, who endured a massacre. In 2022, Save the Redwoods League gave 523 acres in Mendocino County to the Intertribal Sinkyone Wilderness Council, a group of 10 tribes.
"Land Back is happening," Nason says, "and not just here."