MEMBERS OF THE PACIFIC GROVE CITY COUNCIL LOOKED WEARY at the end of the evening on Feb. 21, after listening to a host of angry people argue over short-term rentals. On one side were residents who wanted the city to tightly limit the number of rentals – some called for an outright ban – on the other were short-term rental owners angry the council was considering limiting the number of existing rental licenses beyond the 250 cap by using a lottery system.
"This has been a long and tortuous path," said Councilmember Bill Peake to the full council chambers, referring to the what had been a year-long process of revamping the city's short-term rental ordinance through multiple public hearings. "There's no solution here that's going to make everybody happy – or even a vast majority of people happy."
Peake, now a candidate for mayor in the Nov. 6 election, was right. Both sides in the argument are unhappy, and it's led to a turning point for the small town of 15,000 residents.
With the lure of about $1.4 million a year in revenue – at a time the city is facing looming infrastructure and pension costs – the council struggled over the year to find a happy medium by limiting the number of short-term rentals in residential neighborhoods and increasing enforcement. A council majority passed a new ordinance on Feb. 21, including the lottery to reduce numbers of the rentals on over-dense blocks.
But along the way some residents got fed up and decided to take the decision-making power into their own hands. As the council neared its vote, a group calling itself Pacific Grove Neighbors United began gathering signatures on a petition in January to place Measure M on the November ballot – they easily collected more than 1,600 signatures by April. If passed, Measure M will limit short-term rentals to coastal and commercial areas of P.G., slashing the maximum number of licenses down to around 85, at an estimated loss of $1.4 million a year to the city.
To Measure M supporters, short-term rentals have reduced the number of available long-term rentals, pushing out working people, hurt occupancy of local hotels and inns, and endangered residential character.
"Does transient lodging belong in residential zones? That's the fundamental question," PGNU organizer Luke Coletti asks.
"Measure M makes promises it can't deliver," Cynthia Garfield counters. (Garfield is a P.G. City Council member, speaking not on behalf of the council, but for herself.) "It won't reduce rental prices; it won't increase hotel occupancy; it won't take us back in time."
LONG AND TORTUOUS IS A GOOD DESCRIPTION OF A STRUGGLE that the city has contended with since Airbnb and other rental platforms exploded not long after the city passed an ordinance in 2010 allowing residents to rent out their homes legally during events like the AT&T Pro-Am and Car Week, in exchange for approximately $200,000 in transient-occupancy taxes and fees to the city. (Prior to that, short-term rentals were banned under a 1993 ordinance.)
"At that time, the thinking of council was that this is going on anyway, let's regulate it and collect the transient occupancy taxes," Robert Huitt told the Weekly last year. "What was in our minds was something low-scale."
But an economic force of a much higher scale was being unleashed by Airbnb, which launched in 2008. By 2011, Airbnb announced its millionth night booked; just a year later it booked its 5 millionth night.
As Airbnb and other vacation rental platforms grew, so did the number of short-term rental licenses in Pacific Grove, along with illegal rentals. The Weekly reported in 2016 that the number of licenses grew from 173 in 2014 to 215, bringing in around $700,000 to the city annually. As of May, the city reported it has 256 licenses, bringing in $1.2 million last year.
Also growing was the discomfort among some P.G. residents, especially those living on blocks that grew dense with short-term rentals. After hearing numerous complaints, the council enacted a temporary moratorium on licenses in August 2015. In March 2016 the council established a cap of 250 licenses, and agreed to review the ordinance in 2017. The "tortuous" path of review and revising the ordinance – including many long public hearings with angry voices on all sides – started in May 2017, and ended Feb. 21, 2018 with the council's decision to use a lottery to reduce the number of licenses on overdense blocks.
In the lead-up to February's vote, Coletti says he approached city officials with an offer: Take short-term rentals out of the most residential of P.G.'s zones, R-1 and R-2, and residents would not move ahead with a measure. Officials declined.
After the vote, a group of short-term rental owners tried to block the lottery with a lawsuit, but lost. A judge ruled the lottery could go ahead, but the lawsuit challenging the council's decision remains ongoing. The lottery was held on May 22, resulting in a reduction of 51 licenses by next year.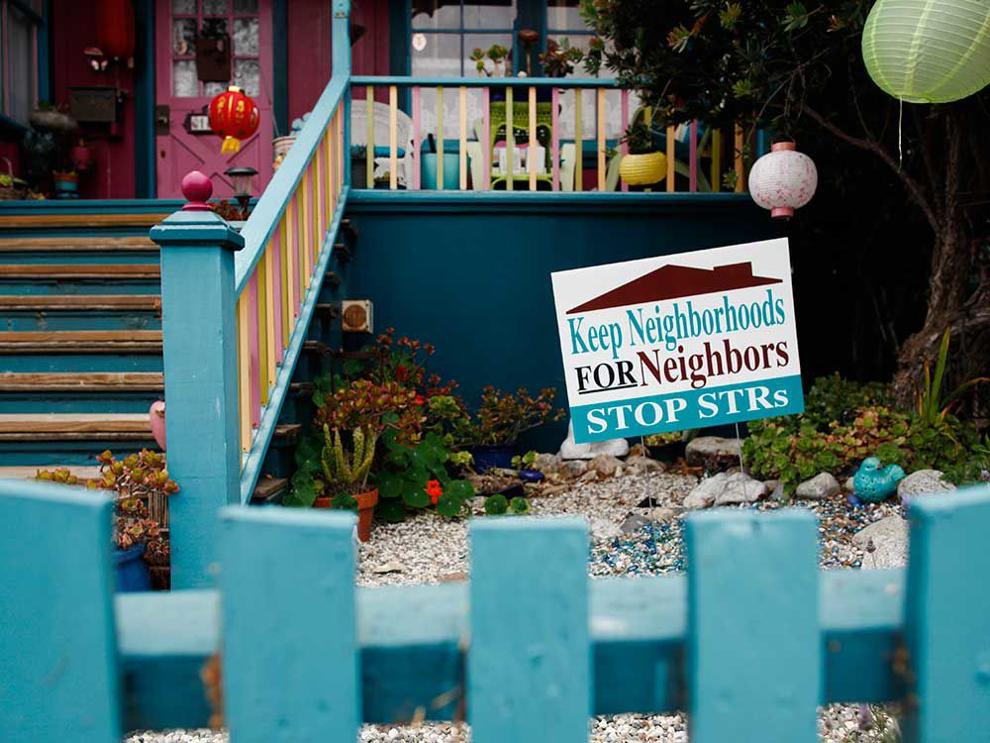 THE "CITY OF HOMES," AS P.G.'S CHARTER STATES, is made up of about 8,300 housing units, according to numbers reported by the U.S. Census. Estimates from 2016 show that 52 percent of those units, or 3,566, are long-term rentals. Eighteen percent are second homes that sit empty most of the time, nearly 1,500 homes. Legal short-term rentals, with 256 licenses, account for just 3.1 percent of P.G.'s housing stock. (Next year's reduction will bring them down to 2.5 percent.)
Even if they are a small percentage of the total housing stock, there is anecdotal evidence of long-term renters being booted out of homes to make way for short-term rentals. Measure M supporters point to a recent academic study that contends the rentals do increase rents, as well as housing prices.
That study, "The Sharing Economy and Housing Affordability: Evidence from Airbnb," by professors from UC Los Angeles, University of Southern California and a researcher from the National Bureau of Economics, created a formula and using Airbnb data from the U.S. found that a 10-percent increase in Airbnb listings leads to a 0.42-percent increase in rents and a 0.76-increase in home prices.
They also concluded that the effect is greater in zip codes with a greater number of renters, because absentee landlords will gravitate toward shifting from long-term to short-term renters. The researchers recommended that municipalities limit that shift, but continue to support home sharing. (Measure M would allow for home sharing anywhere, meaning a homeowner-occupied home can rent out a spare room on a short-term basis. A permit from the city and one-time permit fee is required.)
The study – and several others – in part helped the board of land-use nonprofit LandWatch to vote in recent weeks to support home sharing and endorse Measure M. LandWatch also supports local governments requiring the rentals to register as businesses and taxing them, as well as recommending stiff fines to discourage violations.
Measure M supporters also contend that short-term rentals have eaten into the occupancy of hotel and inns, which is why the Pacific Grove Chamber of Commerce, led by President Moe Ammar, has come out swinging in support of the measure, and the hotel industry has donated heavily to the cause. As of Sept. 27, the latest campaign finance reporting deadline, the Yes on M camp spent $31,000, compared to $1,200 for the No on M side. Other No on M advertising has not been reported, which opponents say is because individuals have made small uncoordinated expenditures.
(Ammar and the chamber are also opposing Measure U, a 2-percent increase in the hotel tax from 10 percent to 12 percent, also on the Nov. 6 ballot.)
But opponents argue that the hotels and inns are full at the same time as short-term rentals during large events, and that the different types of lodging appeals to different travelers. When people are looking online, "they've already made their decision about where to stay," Garfield says.
The Monterey Bay Central Labor Council is endorsing No on M, on the basis that the rentals provide additional hospitality jobs for low – to mid-wage hospitality workers. "Houses do not magically clean themselves and grass does not magically get cut without the local labor force," Cesar Lara, executive director of the Labor Council, said in a statement announcing the endorsement.
There are those campaigning against the measure who predict economic calamity if M passes: Kampe on Sept. 25 told the Monterey County Democratic Central Committee – which endorsed the measure – that it would "bankrupt" the city. (The city's unfunded CalPERS liability this year is projected to be $2.2 million.)
Many proponents support the passage of Measure U, the transient-occupancy tax which would generate an estimated $1.13 million per year. The city's analysis shows that if both measures pass, it would be a wash.
AT A FORUM ON THE TOPIC OF SHORT-TERM RENTALS held by LandWatch on Sept. 24, LandWatch Executive Director Michael DeLapa shared some general observations with the crowd of 50 or so people. There's a disagreement between those for and against the rentals when it comes to magnitude of impact and the tradeoffs involved – and, how an individual experiences or perceives those impacts guides their decisions.
In Pacific Grove, how voters cast their ballots will most likely depend on exactly those perceived impacts.
With 62 percent of residents in a city-sponsored study in April saying the city has done a poor to fair job of managing short-term rentals, that perception could very well guide their decision in the voting booth.
Thom Akeman, one of the original proponents of Measure M, says the character of his block has been fundamentally altered. "I am opposed to short-term rentals mostly because I live around a bunch of them," he says. "There are five of them right now within 150 feet of our front door."