FISHERMAN'S WHARF IS BUSTLING WITH VISITORS YEAR ROUND. They begin showing up at 6am to board fishing charter boats, followed by the next wave of people embarking on whale watching tours, then breakfast diners followed throughout the day by window shoppers, sightseers and more diners who stream through until the wharf closes at midnight.
It's made the 175-year-old wharf the number-one attraction on the Monterey Peninsula with an estimated 3.9 million visitors, more than double the number of visitors to the Monterey Bay Aquarium which averages 1.8 million annually.
Then came Covid-19.
The day after Monterey County Health Officer Edward Moreno announced the county's first shelter-in-place order on March 17, wharf businesses shut their doors and boats remained docked. The flow of visitors came to a stop.
"Initially you could shoot a cannon down the wharf," says Mary Alice Cerrito Fettis, president of the Fisherman's Wharf Association and a daughter of the wharf. Her family has owned and operated businesses on the wharf since the 1920s. "For everyone, it was a shock. It was basically a ghost town."
Covid-19 dealt a rapid and massive blow to Monterey County's tourism industry. In March, Monterey County Convention and Visitors Bureau estimated the county could lose between $400 and $500 million revenue in the first 90 days.
The banquets and conference business stopped first, several days before Monterey County's order, after Gov. Gavin Newsom announced a ban on large gatherings. Then all of it shut down – hotels, restaurants, retail.
While some sectors of the tourist industry will take a while to come back, experts say regions like Monterey County will be some of the first to rebound, more so than destinations like San Francisco and Disneyland. The county has a couple of aces up its sleeve: it's natural beauty and its abundance of open space.
"What we will see is a gravitation to the outdoors, to nature, to travel in connection to uncrowded places," says Costas Christ, founder and CEO of Beyond Green Travel. "Outside of urban areas we will see an increase in (visiting) natural areas. That's an opportunity, but it's also a concern."
Christ believes that on a global scale, the pandemic has created a "transformative opportunity to reset the tourism industry" in a way that is more responsible and sustainable for people and the environment. It's unclear whether the local tourism industry is seizing that opportunity, except perhaps in Big Sur, where efforts have been underway since last year to create a model visitation plan.
In the past few months local leaders have planned for how to reopen in a safe manner, but what to do about the crowds bringing traffic, litter and destruction of the environment – and how to tame the spectre of overtourism – appears to be unfinished business.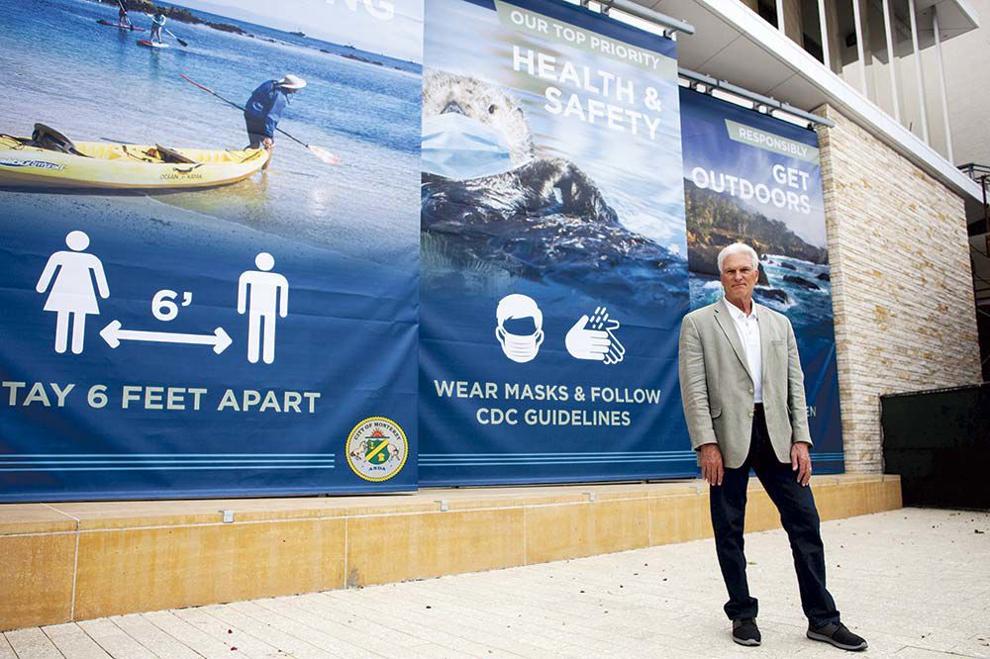 IF EVER THERE WAS A REAL-WORLD ECONOMICS EXPERIMENT TO PROVE TOURISM'S WORTH TO MONTEREY COUNTY, IT WAS THE COVID-19 PANDEMIC. The industry that brought in an estimated $3.2 billion in traveler spending in 2019, according to the Monterey County Convention and Visitors Bureau, came to a screeching halt, closing the spigot to hotels, hospitality workers and cities dependent on sales tax and transient occupancy tax revenues.
Tourism is the number-one industry on the Monterey Peninsula and number two overall in the county, second only to agriculture. Keeping the flow of food from the Salad Bowl of the World was deemed essential, leisure travel to the Language Capital of the World – just one of Monterey's nicknames – and region was not. So while ag workers mostly kept their jobs, an estimated 25,000 hospitality workers were furloughed or laid off almost overnight.
The impact on city budgets was immediate, as the loss of hotel taxes (called transient occupancy taxes, or TOT) as well as lost sales taxes in tourist districts forced leaders to look at budget cuts and layoffs.
Monterey was especially hard hit by the loss of TOT. The city relies on TOT for a bigger share of its revenue than other tourism destinations like Santa Barbara, which gets roughly 12 percent of its revenue from TOT, about average for California cities. In Monterey, it's 28 percent. A large part of that stems from conferences that met regularly pre-pandemic in the Monterey Conference Center and nearby hotels. Large gatherings ended even before shelter-in-place orders began, and they're the furthest from returning.
Facing an immediate loss of $10 million in revenue just from March to June – with an unknown amount for the period of Memorial Day to Labor Day, peak tourism season – the Monterey City Council reluctantly accepted City Manager Hans Uslar's recommendation to lay off 82 employees. The layoffs took effect on June 2, just as the economy began reopening. (The number of layoffs was reduced to 74 by that date.)
But by then, dire predictions of doom for the local economy had already begun to change. Visitors from other parts of California flowed to the Monterey Peninsula and Big Sur over Memorial Day weekend, despite leisure travel still being prohibited at that time. Every weekend since, business has picked up. And on June 5, Newsom gave the tourism industry some good news that was backed up by Monterey County Health Officer Edward Moreno: Hotels were on the list of businesses allowed to reopen to tourists on June 12.
The biggest reason those visitors were coming to Monterey County: its natural beauty. Like Christ's prediction, MCCVB's President and CEO Rob O'Keefe says that after months of being cooped up, people are seeking nature. "If there's one thing Americans need right now, it's reinvigoration," O'Keefe says.
O'KEEFE HAS FOUND HIMSELF IN AN ODD POSITION THE PAST FEW MONTHS. He's the head of a 501(c)(6) nonprofit company, the Convention and Visitors Bureau, with a goal to invite people in from around the world. Lately, he's directed what's left of his staff – he laid off 20 full-time employees, reducing the staff to nine during the shutdown – to tell people not to come to Monterey County.
"We're aggressively encouraging people to stay home," O'Keefe told the Weekly on May 29. "When people call, because they still do, asking questions, the first thing we say is, the county is in a shelter-in-place position and leisure travel is not allowed." The bureau instead directs callers to links online about the beauty and attractions of the county.
That was only a few weeks ago, when it looked like the state could still be months away from allowing leisure travel. Even then, the thinking was that Gov. Newsom would tell Californians to enjoy travel closer to home. O'Keefe was preparing to promote "staycations" to residents, offering deals to locals in hopes they would treat themselves to overnight stays in hotels. (Deals for locals at Big Sur River Inn, and Rosedale and Centrella inns in Pacific Grove were announced June 12.)
Next, O'Keefe was expecting that "drive tourism" – the industry term for travel by vehicle, rather than plane – would come back first. Reports of people streaming in from the Central Valley, the Bay Area and Los Angeles for weeks now bears that out. Pent-up demand proved much stronger than any plan for locals-only travel first.
The industry standard for drive tourism is that most people won't drive more than three hours for a vacation, but O'Keefe says that's changing. "Now we're seeing reports that people are willing to drive four to seven hours because they prefer to drive than to fly," he says. The bureau's primary focus in marketing the county for overnight travel – and overnight travel is its focus, not day trips, O'Keefe points out – will include Los Angeles and Orange County, instead of just the San Francisco Bay Area and other points within a certain radius. "We anticipate people who want that quintessential California experience will drive farther than normal," he says.
Short flights will come back gradually, O'Keefe expects, which for Monterey County means visitors flying from Phoenix, Seattle, Dallas and Denver. International travel is the last thing expected to return. In the U.S., it's expected that 2020 will see a loss of more than 40 million international travelers. For now, the MCCVB is working to maintain the relationships it has built with partners in other countries for when it's time to market overseas once again.
"We're taking it step by step at each point," O'Keefe says.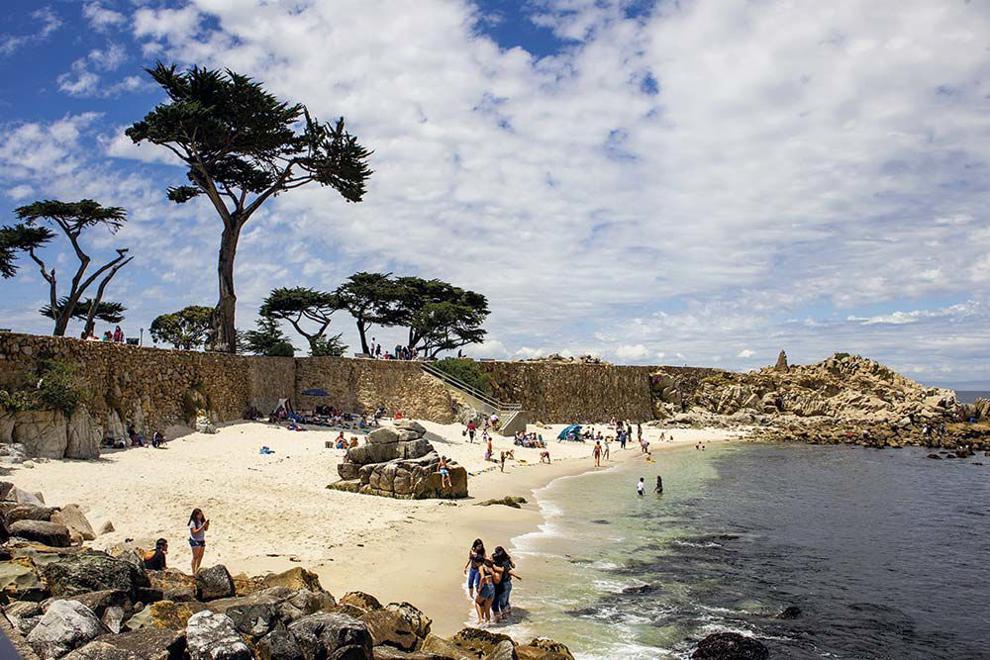 WHILE THE VIRUS MIGHT HAVE PUT A PAUSE ON TOURISTS, it sent local tourism industry leaders into overdrive as they scrambled to come up with safety and health measures. Now that the statewide ban on leisure travel has been lifted, those measures are changing the visitor experience. Until there's a vaccine, face coverings and six-foot distancing will probably remain in effect. Hotel rooms will look different, with no binders, decorative pillows or coffee makers, in order to reduce the number of surfaces where the virus could hide.
The local tourism industry took a multi-pronged approach to focus on economic recovery. The MCCVB created a marketing task force. The Monterey County Hospitality Association focused on how businesses could integrate government requirements. The Monterey Peninsula Chamber of Commerce looked at how businesses could get government loans and other relief funds.
Janine Chicourrat, a member of MCHA and general manager of the Portola Hotel and Spa in Monterey, took a lead role in creating new health and safety protocols for hotels in hopes that lodging properties would be able to open up as soon as it was deemed possible. Her advisory sent a list of protocols developed with input from a local epidemiologist to county officials in early May. "It was really showing them we're even more concerned about our employees and guests," she says.
She did the work despite the fact that she recognized her hotel would probably be one of the last to open. "I'm kind of in the worst seat of anyone in destinations, unfortunately," she says.
That's because as a hotel that depends on conferences to fill its ballroom and the adjacent Monterey Conference Center, the Portola Hotel may be left waiting for the go-ahead for large gatherings to resume. Chicourrat says they'll open with a skeleton crew, "once we see enough action in the market for rooms only.
"Towns like Carmel and Pacific Grove are going to do better than larger properties," she adds.
Guests are going to experience a new world when they check in moving forward. It starts with things like temperature checks for employees, as well as more hand washing and sanitizing. At the Portola, they are rewriting housekeepers' job descriptions for how to clean rooms. New standards include quarantining a room for 24 hours between guests and sealing bedding in single-use plastic bags for transport to the laundry.
An irony in the hospitality story is that single-use plastic is allowing the industry to resume operations during a pandemic. It was not that long ago that the Portola was touting its pioneering efforts as a sustainable destination to rid itself of plastics. It's true across the Peninsula, in which cities just last year were passing ordinances banning single-use plastics.
Visit Carmel and the inns there have also been working up intricate plans for how they will keep rooms and common areas clean, not only to protect employees, guests and the community, but also to give travelers comfort about coming to visit, says Visit Carmel Executive Director Amy Herzog. They created the "Carmel Innkeepers Clean & Safe Commitment Pledge," signed by innkeepers to show travelers their commitment. They also developed decals to remind both employees and guests of guidelines.
HOTELS ARE NOT THE ONLY PLACES THAT ARE IMPLEMENTING NEW PROTOCOLS IN ORDER TO OPEN. The Monterey Bay Aquarium's plans to reopen include timed tickets that only allow in 250 guests per hour, all staff and visitors wearing masks and social distancing. Visitors will use a one-way path and some high-touch areas will be closed, including Splash Zone (except penguins), Soaring with Seabirds, Mission to the Deep and the auditorium. Narrated feed times will also be suspended. As of the Weekly's deadline, no definite reopening date had been set. (The first open days will be for members only.)
Inside the Monterey Conference Center, General Manager Doug Phillips has been using the downtime to create protocols for meetings and conferences. Phillips brought together contractors including catering, audio visual and decorators. They've been discussing how to make meetings in the time of Covid work.
"We made kind of a living laboratory," Phillips says. They created potential socially distanced setups for banquets, trade shows and meetings in different rooms. The building is open to the public for anyone to come see the configurations.
Currently no groups are booked until September. Phillips says each month that's passed since the pandemic began another wave of postponements and cancellations of meetings has materialized, pushing back by another month when business will resume. He's crossing his fingers in June that September bookings will hold. They haven't booked any new business for 2021, but they have booked ahead into 2022-24.
"The conference industry is not dead by a long shot, it will be back," Phillips says. Like others, he says Monterey will do better than other conference locations because of open space. "The meetings industry will come back strong for Monterey, but it will take a while. It might take until we get a vaccine."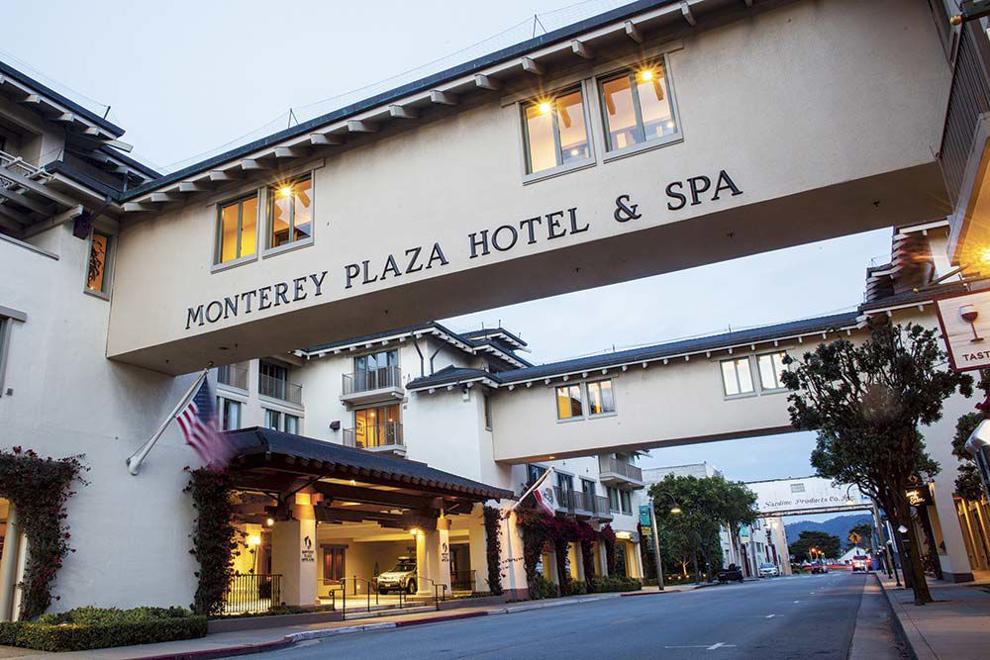 BESIDES PROTOCOLS THAT HOTELS, ATTRACTIONS AND OTHER TOURIST-SERVING BUSINESSES ARE UNDERTAKING to slow the spread of Covid-19, leaders in the tourism industry say there will be expectations of the visitors themselves.
The MCCVB is working on messaging so that visitors know what is expected in terms of wearing masks, keeping their distance from others and putting ubiquitous to-go containers in the right places. O'Keefe suggests maybe adopting a new mantra: "No shirt, no shoes, no masks, no service." In Carmel, innkeepers created a tool kit that includes a letter that is being sent ahead to all visitors reminding them they need to wear face coverings and remain socially distant at all times.
Part of the plan at the Portola is to communicate to guests ahead of time what will be expected of them, including wearing masks in public areas of the hotel.
"We need to stress the safety aspect for both our guests and our employees," Chicourrat says. "It's our number-one priority. I don't think that will go away in the short term. It's such a crazy disease with how it spikes, the last thing we want to do is have a spike in our community."
VISIT CALIFORNIA DESCRIBES THE MOST ICONIC SYMBOL OF MONTEREY COUNTY THIS WAY ON ITS WEBSITE: "seen-it-in-a-million-car-commercials Bixby Bridge." It could also be called "seen-it-in-a-million-Instagram-posts." Or at least more than 100,000, the number of #bixbybridge posts on the app.
The over exposure has led to a burst of visitors in recent years, giving the community a collective headache. Besides the traffic and safety problems around too many vehicles at the bridge and popular stops like Julia Pfeiffer Burns State Park, there are other problems like lack of restrooms, leading to human waste along the highway and illegal campfires.
Butch Kronlund, executive director of the Community Association of Big Sur, says that before the pandemic, Big Sur was generating between $5 million and $7 million in TOT for the county, and MCCVB and Visit California were using images of the area to bring in visitors from around the world, resulting in "astronomical" numbers of tourists. He estimates Big Sur only received about $1 million back from that money to pay for services needed by residents.
"What we're saying is, let's invest some of that money back into it so we're not barbecuing the goose that lays the golden egg," Kronlund says.
In late 2018 the community created the "Big Sur Pledge," asking visitors to join residents in caring for the area. They staged an "educational demonstration" at Bixby Bridge, holding up signs for the thousands of people flocking to visit at Christmastime. Then last year, CABS and a legion of stakeholders – including county, state and federal interests along with nonprofit preservation groups, business owners and others – came together to craft a new plan for tourism.
The Monterey County Board of Supervisors allocated $150,000 for the effort. Combined with funds from CABS plus donations, they hired Beyond Green Travel's Costas Christ at a cost of $178,000 to lead the way. A draft plan was created after hours of meetings, discussion groups and research over nearly 10 months. The document, called the Big Sur Sustainable Tourism Destination Stewardship Plan, is expected to be shared with stakeholders by the end of June for review. A final report could be due by the end of July.
Christ has consulted for many countries with desirable natural wonders for tourism, including Bhutan, Iceland and Peru. His company's goal is to create solutions that balance public access, environmental protection, business strategies and quality of life for residents.
Kronlund says the irony of working on a Big Sur tourism plan when tourism was shut down due to the pandemic was not lost on the community.
But irony aside – and county and state shelter-at-home orders aside – tourists kept coming. "Over Memorial Day weekend," Kronlund says, "numbers were half of what they are normally, but still that's a lot of people. And it's concerning to those of us down the coast."
Like the Peninsula, Big Sur residents noted many tourists weren't wearing face coverings or adhering to social distancing, a cause of concern for a region that has yet to experience a single confirmed case of Covid-19.
In the 10 months he's been working locally, Christ has seen movement and thinks if everyone gives just a little, Big Sur has the opportunity to create a plan that will serve as a model for other regions. "My experience of doing this around the world is that if stakeholders are, 'It's my way or the highway,' then there's no way to move forward," Christ says. "But if they can compromise, that's where you really see capacity to change. That's what I see in Big Sur."
In the meantime, crowds are coming back, even in the middle of the pandemic. Kronlund says, "I'm a believer we are going to get back to a normality, and probably quicker than all of us are ready for."
THE EFFORTS TO REOPEN AND GET REVENUE FLOWING AGAIN do not seem to have left any space for discussion of long-term answers about Monterey County's challenges when it comes to the conflict between the influx of tourists and the locals' discomfort with problems that come along with it. O'Keefe repeats a line that's been used by those in the local tourism industry for a few years now, that some problems are real and some are perceptions of problems.
He says the MCCVB will pick up where it left off focusing "not on more visitation but quality visitation… people who will do more, stay more and spend more. Our own numbers show it was working." Specifically, he says their research shows that from 2014 to 2018, overall visitor volume increased by 7 percent while visitor spending increased by 15 percent.
"What's going to change now? First of all, we're going to continue with that approach of quality over quantity. Second of all, we all have a new reason to focus on responsible and respectful travel," says O'Keefe, alluding to its campaign over the last few years of Sustainable Moments, educating travelers about respecting the county's natural environment and its residents.
Industry insiders say it's crucial for local governments to work with them to keep Monterey County in competition with other markets and to develop future solutions to challenges. They say now is not the time for government to withdraw financial support from marketing efforts or to increase hotel taxes to try and make up for lost revenue.
That would be the worst thing to do, Chicourrat says. It is, however, exactly what Monterey is considering. City Manager Hans Uslar will suggest City Council put a 2-percent TOT increase on the November ballot.
How that gets sorted out is part of the political process. It's apparent that no matter what, the tourists are coming back and coming back strong.
"The big picture is that tourism has been on a steady growth curve for the past 75 years," Christ says, taking a global view. "Through wars, political instability, public health emergencies, tourism attacks and natural disasters – across that arc, tourism has always come back and continued to grow."
In 1950, there were 25 million tourists worldwide. Last year there were 1.4 billion. Even with the Covid-19 pandemic, predictions are that tourism is expected to hit 2 billion travelers by 2030.
"Before too long our visitation is coming back, and it's really important we reinvest in managing it properly for the future," Kronlund says. He was speaking about Big Sur, but he could have been speaking for all of Monterey County.
"If we don't do it now, we're missing a moment in time," he says. "This pandemic is an inflection moment in all of our lives."