There are 35,144 museums in the United States.
This finding was announced by Susan H. Hildreth, director of the federal Institute of Museum and Library Services, at a 2014 conference of the American Alliance of Museums. These include art museums, nature centers, children's museums, aquariums, historical societies, botanical gardens and others. Hildreth referred to museums as anchor institutions that support democracy; stewards of our collective cultural heritage; agents of educational, economic and social growth.
They can reflect different parts of our society. The Metropolitan Museum of Art in New York City is one of the most popular museums in the world, having logged a record 7.3 million visitors in 2018. The Oklahoma City National Memorial & Museum commemorates the victims, survivors and rescuers of the 1995 Oklahoma City bombing.
They can be profound, but they can also be whimsical. In Somerville, Massachusetts, there's the Museum of Bad Art; while in Middleton, Wisconsin, the National Mustard Museum is home to "the world's largest collection of mustards and mustard memorabilia."
The concept of art museums began centuries ago as private collections of the wealthy and elite classes. In the 17th century those collections were made available for the public to view. It was an innovation that has endured, with the broad support of governments and the public, through the ages, across continents, all the way to Monterey.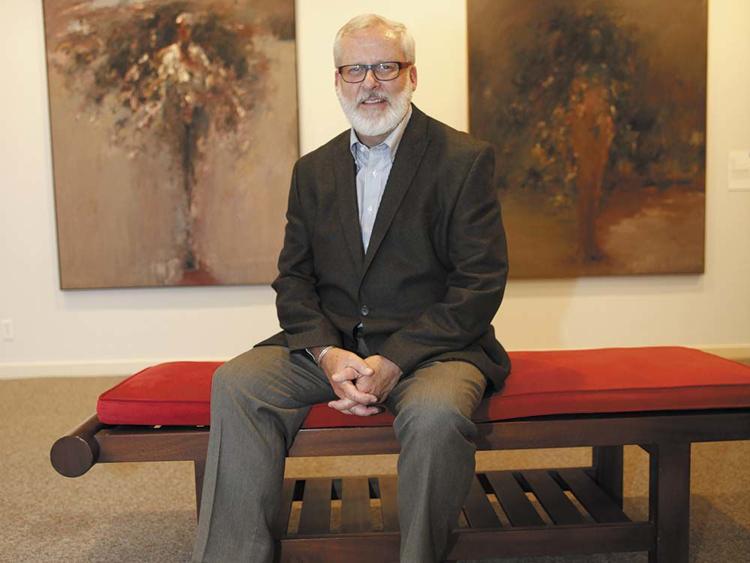 THE MONTEREY MUSEUM OF ART, CONSIDERED A SMALL MUSEUM by national standards, is the only accredited art museum between Santa Barbara and the Bay Area. Its stated mission is to "expand a passion for the visual arts and inspire appreciation of California art – past, present and future."
"Absolutely [everything we do] relates to [California] imagery, the scenery, the work life, the politics, the culture – everything about the region – is really a part of what we present here," says Executive Director Stuart Chase.
The museum turns 60 this year.
In 1959, a group of artists at the Carmel Art Institute launched the museum as a chapter of the American Federation of Art. In 1975, Virginia Tompkins, the president of what was then called the Monterey Peninsula Museum of Art, fought the Monterey City Council against moving the main museum from its Pacific Street location – a former mortuary and courthouse – to 100 acres off of Highway 68, in order to preserve its accessibility to all. That doesn't necessarily mean that everyone comes.
On July 10, about 80 museum members gathered on the lower level of the modern Dart Wing of La Mirada – the museum's second space, on Via Mirada, a four-minute drive away from the main Pacific Street location – in a white room with a high ceiling and pastel walls sparsely hung with large black and white photographic prints. They were there for the museum's annual membership meeting, followed by an indoor/outdoor barbecue off one of La Mirada's courtyards. In his address to the members, Chase remained positive about the current state of the museum, but said there were "issues of concern."
"People, quite frankly, do not know we even exist. I find this every day."
"People, quite frankly, do not know we even exist. I find this every day." He paused to acknowledge the audience shaking their heads. "We're working very hard to correct that."
Toward the end of his remarks was another less positive point. The museum has a gap in the budget. He didn't give numbers, but the IRS-required 990 forms for nonprofits reveal that in 2017-18, the shortfall was just under $150,000, the seventh deficit since 2009. To accomplish everything the board and staff want in the coming years, Chase said the museum would need $250,000 to $300,000 more income each year, on top of its current $2.1 million operating budget.
Despite assurances during the meeting that membership and visitors are up, the museum's own annual reports and 990 forms show otherwise. According to recent annual reports, some tiers of big donations are down, event revenue and support is down, attendance is down 17.5 percent between June 2012 and June 2018. (The museum was closed for two months in early 2018 for renovations.) Chase contends that the 2018-19 year report will be better, but the annual audit has not yet been completed.
Since his arrival in 2017, Chase has brought in exhibits and ideas to the small museum that members find exciting. But such changes, like more frequent exhibit rotations, cost money. Chase says that he's performing as the defacto chief curator (the museum has been without a dedicated curator since February 2015, sometimes using contract curators for specific shows) and has brought in a director of external relations to court big donors. The start of his tenure was marked with high staff turnover in the first year. And the museum is facing serious facility issues, with two aging buildings that were built for other uses and, according to a 2015 consultant's report, don't meet modern museum standards for exhibiting and storing art.
Chase himself alluded to the questions every museum must answer: Who does an art museum serve? How does a museum remain relevant? And will his ideas win the support they need?
STUART CHASE HAS BEEN THE EXECUTIVE DIRECTOR OF THE MONTEREY MUSEUM OF ART for more than two years now. In 1984, he was hired at the Raynham Hall Museum in Oyster Bay, New York, the historic townhouse of one of George Washington's intelligence operatives, where he was the director for 13 years. He's worked at museums in Pittsfield, Massachusetts; Corning, New York; Midland, Texas; Williamstown, Massachusetts. He started at HistoryMiami as executive director in March of 2013, became president and CEO in March 2015, and in October 2016 announced he would be stepping down. He left in March 2017.
When MMA's previous executive director, Charlotte Eyerman, left in August 2016, then-outgoing board president Ronda Eubanks and president-elect Kim Negri stepped in to co-manage the museum for nine months while search firm Koya Leadership Partners sought the next leader.
Chase started the job on April 24, 2017. (His salary in 2017-18 was about $146,000, according to the form 990s.)
They love the historic California art… and I don't want this to come out the wrong way, but they're kind of tired of it.
"My first year here I spent a lot of time out in the community, meeting and greeting people, and listening to what they thought about the museum," Chase says. "They love the historic California art… and I don't want this to come out the wrong way, but they're kind of tired of it. They've seen it and they're curious and want to see something new."
His first big signature event came in January 2018, when Chase and then-board president Lila Staples Thorsen launched the Year of the Woman initiative, in which most 2018 exhibitions and programming were reserved for women. It featured an exhibition of early 20th-century painter E. Charlton Fortune who concealed her first name (Euphemia) to garner the same consideration as men.
At the launch, Thorsen told the crowd, "Stuart has ridden into town, and man, it's just gonna really change around here."
Outwardly, the museum seemed to be doing well, with major renovations completed, art shows hung, a new newsletter launched, lectures, a new gallery space, schoolkid visits, and lunches with community members. Chase specifically points to efforts to reach out to the community such as the upcoming Ferment Event on Sept. 21, featuring art, beer, wine, cider, music and zines. Others include Free Family Fun Days, a Sustainable Design Series and First Fridays, when it's free to visit and guests can interact directly with artists. And the recent Wouldn't You Know: The First Decade 1959-1969, a 60th-anniversary exhibit of art from the museum's collection.
There have been less obvious changes too. The museum invested $175,000 in early 2018, in new flooring, paint, windows and reconfiguring some exhibit spaces, including two new gallery spaces near the museum's entrance that Chase says gives contemporary California artists more opportunities to show their work in four-week exhibitions. La Mirada had been closed to daily visitors starting in 2016, and Chase repurposed it into an education center and artist-in-residence program.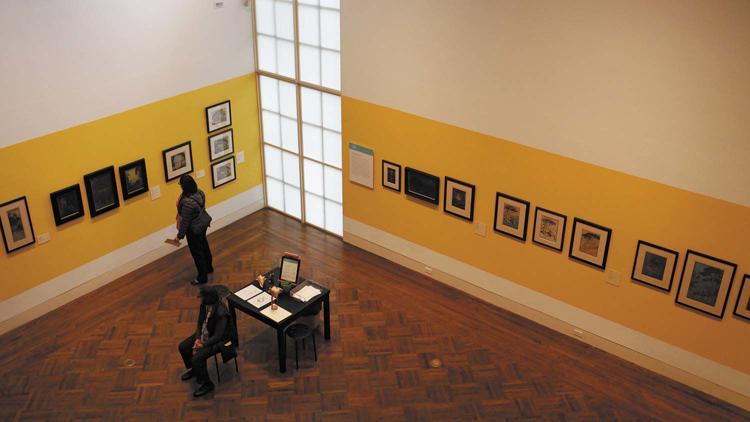 IN 1983, THE DONATION OF AN ELEGANT HISTORIC ADOBE like La Mirada increased the value of the museum's assets, but it also brought challenges. The home was built in the early 1800s overlooking a one-time saltwater lagoon that today is Lake El Estero. With a red tile roof and custom decorative ceramic tiles added in the 1920s from Spain, France and Portugal surrounding the exterior doors and windows, a beautiful rose garden and a view of the lake, it's been the site of many a picturesque wedding and party. A gallery wing was added in 1993, designed by acclaimed architect Charles W. Moore. The current assessed value of the property is $5.4 million, according to the Monterey County Assessor's Office.
One challenge is that like the Pacific Street location, La Mirada was not originally built for use as a museum. Trying to operate as a museum space was complicated and costly. Another challenge was that the two separate sites created confusion. People sometimes showed up at one building for an event, only to find out they were in the wrong location.
In August and September 2015, museum consultant M. Goodwin Museum Planning, Inc. presented a report to former executive director Eyerman and the MMA board, which had sought the consultants' advice. The museum was praised for its mission and its "ever-increasing efforts" to pursue community involvement; "dynamic programming"; "improving financial outlook"; "hard-working and capable staff."
The weaknesses and threats noted in the report focused mostly on MMA's two aging facilities, which presented "major on-going drain on the museum's finances and personnel," requiring an "ever-increasing need" for maintenance, the report said. Consultants also cited a "lack of recurring revenue-production resources, due to inadequate facilities."
The report stated, "If a successful resolution to the MMA's current two-site configuration is not found, the museum's visitation will diminish. The two sites actually compete with each other for visitors."
As a result, the consultants determined, the museum underperforms compared to its peers in terms of visitors per square foot. "If the museum wishes to attract more visitors, and more diverse audiences, it must create a single, high visibility site with easy street access and adequate parking."
In recent years there was some move toward possibly selling La Mirada, but sources say once word got out among members with sentimental feelings about the location, the plan was dropped. A conservative estimate for repairs to both La Mirada and Pacific was over $1 million, according to the consultant's report. Besides structural and internal needs, the consultants noted poor sight lines in the galleries and inadequate art storage.
Constructing a new building to museum standards would not be easy. If the museum could find a spot to build, the total project cost estimates ranged from a conservative $36 million for a 48,000-square-foot building, all the way up to $60 million for a 57,000-square-foot building. (MMA's gross square footage between the two sites today is 64,872.)
A facilities committee is now working on a long-range plan, but museum officials are reticent to share any details. Chase hints that a space not much larger than what he estimates to be Pacific's 18,000 square feet of public space could take the museum into the future.
"We are nowhere near ready to announce anything, but please understand that behind the scenes there's a lot of work going on," Chase says. "It's something we're tackling but we're trying to be really thoughtful and economical.
"Overbuilding is a huge mistake," he adds, calling the 2015 plan an old model for museum buildings. "No matter how much planning you do and how much the consultants tell you [that] you'll be able to reach your goals and get the capacity, it never works."
After talking to museum supporters, he's convinced that a big building isn't what they want.
"They don't want a gargantuan building that's 100,000 square feet," Chase says. "The word is they want an appropriate size, that's environmentally correct, that fits our community and that services, showcases and preserves the collection."
WHEN LILA THORSEN TOLD A MUSEUM CROWD that things were going to "really change around here" after Chase took the helm, it was prophetic. Change became a constant over the next two years, with numerous changes in shows and programming additions. But it also brought internal changes, including a significant amount of staff turnover.
Within a few months of Chase arriving, employees were appealing to the board of directors over what they described as a hostile work environment created by Chase, according to eight former employees in multiple interviews with the Weekly.
According to interviews and copies of emails provided by some past employees, former board president Negri engaged an attorney who investigated, while Chase was put on probation and told not to interact with employees one-on-one behind closed doors. Employees thought a resolution to their grievances was forthcoming. And it was. But it was not the one they were hoping for.
Three days after Negri announced the terms of probation, on Nov. 6, 2017, she resigned, citing personal reasons, and Thorsen took over as board president. Thorsen ended Chase's probation and in an email to staff told them he had full operational authority of MMA once again. (Negri declined to be interviewed.)
Thorsen wrote in an email to staff on Nov. 16, 2017: "Stuart's relations with the outside community have been exemplary and we look forward to supporting him in achieving his visions and goals for making the museum an exciting community space and powerful voice for the arts."
Employees were stunned. They leaked information to media outlets, complaining about Chase's leadership, and claiming some were experiencing anxiety, fear and stress. Yet all refused to be named on the record, citing fears that it could damage their career in museums or with other future job prospects.
"There's not many museums [here]," one former staffer said. "Unless you leave the area, there's not a lot of options."
Former employees complained about instances where they witnessed Chase tap a female staffer on the head with a rolled up paper and call her "honey." Former staff have described angry outbursts, screaming, door-slamming, demeaning comments.
"There was never a staff meeting where he wasn't tearing somebody down," one staffer reports.
When presented recently with a list of complaints by staff who previously worked under him, Chase denies them all – the specific incidents and the general harmful workplace treatment.
"We don't discuss personnel issues, [but] I have nothing that I can relate to that would exemplify any of that," Chase says. "I don't. I really don't."
Allyson Hitte, whom Chase hired one year ago as communications and marketing coordinator, offers this defense: "I was not there at the time, but I can't even imagine. Stuart is the most even-tempered person… It's a great place to work."
In 2018, the Weekly asked both Chase and Thorsen about the complaints. Thorsen called the complaints "superficial," and portrayed the employees who spoke out as disgruntled with changes Chase was bringing. "It became a non-issue," she told the Weekly last year. "Let's just move forward. This is silly."
"Everyone's welcome to their own interpretation of every scenario."
Chase then added: "Everyone's welcome to their own interpretation of every scenario."
There is no written report of the investigation findings, but instead an oral report only.
"The investigating attorney had a phone call with the board members," Thorsen said. "She shared it that way and we all decided, with her consent, that it probably was best not to have it in writing."
BY CONTRAST, CHASE'S PUBLIC RECEPTION has been characterized by appreciation and praise. In an unsolicited email to the Weekly last year, one local art administrator and educator described Chase as "forward-thinking" and "wise," and said that museum staff she had talked to reported they were happy and hopeful.
"Under the fine leadership of Director Stuart Chase, the museum has enjoyed a fresh, expansive revitalization. This forward-thinking leader is creating a lively, inspiring art destination," that email reads.
That supporter, like many of the former aggrieved staff members, also asked to remain anonymous, citing fears about being too opinionated or political in a small local arts community.
One artist, who is also a member of the museum, wrote to say, "He has brought fresh, exciting artistic and organizational leadership to the museum, starting with extensive openness and outreach to our local arts community."
Even a former staff member who voiced complaints about Chase, saying that he "manages on whim and favoritism" which left colleagues "demoralized and unmotivated," allows that "he's a brilliant visionary with great contacts" and that "he's quite charming."
For his 2018 Year of the Woman campaign, Chase devoted nearly the entire year to women artists in exhibitions, studio visits and speaking engagements. He brought in Gail Enns to curate the contemporary, feminist group show The New Domestics: Finding Beauty in the Mundane. He's a proponent of mixing mediums, and charged manager of collections and exhibitions John Rexine with doing that for Yosemite View: From Adams to Opie, which brought out photos, drawings and paintings from the collection that tied in with the big David Hockney's Yosemiteshow. He wants to mine the museum's own collection more thoroughly.
"The big painting downstairs by Harry Fonseca – it's never been shown," Chase says of the Native American artist. "And we acquired it in 1989."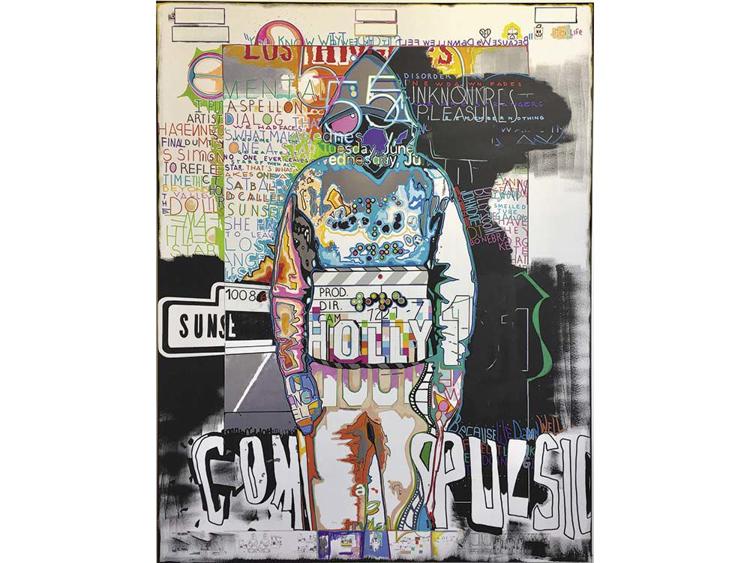 Through Oct. 27, they're showing a solo show by New York-based, Pacific Grove-raised Michael Bevilacqua, who mixes up graffiti paint, signage, collage and references to bands like Radiohead and The Exploited.
Bevilacqua's art is showing concurrently with that of Paz de la Calzada, the museum's current artist-in-residence, who has hand cut Astroturf into Monterey's iconic cypress trees and pasted them onto the walls. Penelope Gottlieb, from Santa Barbara, has taken 19th-century drawings of birds by John James Audubon and painted in her own invasive species attacking them. Victor Landweber has a series of photographs of artists who have referenced or been influenced by other artists, in a sort of daisy chain timeline of modern art.
This is all contemporary work that reflects on California in some way, and shares another thematic throughline: They all use the contemporary mode of appropriation.
"We're very careful to present new things, ideas, concepts, but it's sort of in baby steps,"
"We're very careful to present new things, ideas, concepts, but it's sort of in baby steps," Chase says. "I'm making my colleagues a little crazy because we really revved up the rotation of our collections and exhibitions. But truthfully, they're more excited about it. We love art."
Both Chase and Shannon Damnavits, the new director of external relations, tout the increased engagement and proximity that artists are having with the public, something they say doesn't happen at bigger museums.
Neo-classical painter David Ligare recalls a time when the MMA board was "hugely knowledgeable" about art and "argued about wonderful things [like] the quality of the artwork being presented." And he says that in its earlier years, the museum's demographic skewed younger. But he likes what Chase has done so far. He calls the recent David Hockney's Yosemiteshow of prints from iPad sketches "brilliant."
Of the recent E. Charlton Fortune show, Ligare says, "If you look at some of the paint handling, expression of the strokes, some of it is as good as William de Kooning. She was radical in her time."
He says contemporary art is popular with young people – who flock to the MOMA and the Whitney in New York, Tate Modern in London – but that headliner names, like Andy Warhol, are expensive and hard to get.
"That's one of the problems of operating a small museum like this. It's a really tricky path for Stuart because you want to be doing things that make the museum connected to the wider world, and at the same time celebrate local people, which he's doing too."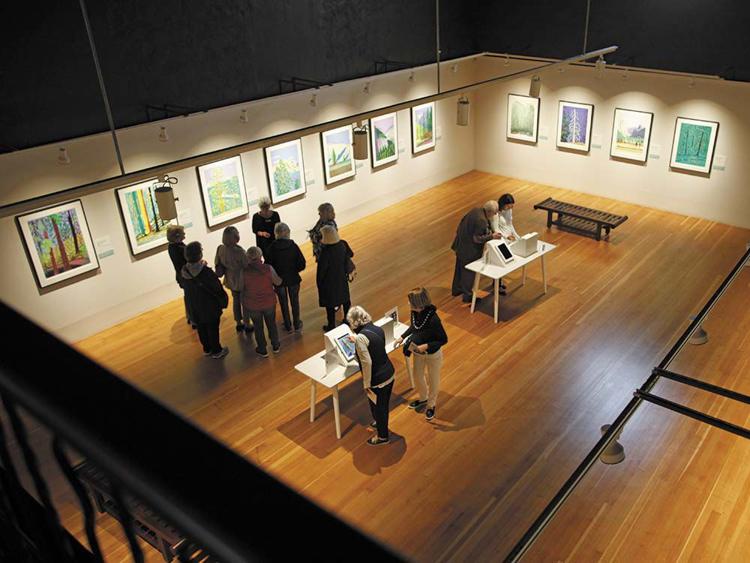 CHASE AND THORSEN (who termed out as board president in July) have downplayed the early exodus of staff and the complaints they lodged against him. One former staffer who left because of stress calls the alleged turbulence "a blip on the museum's history." Any difficulties haven't seemed to slow the amount of activity Chase and his new staff have generated on the public-facing part of the museum. He says he likes to change exhibitions often to create more incentive for people to return, to generate a "coolness factor."
Chase's reasoning for all the activity – the $175,000 Pacific Street renovations, the artist residencies, the focus on school visits (and free buses paid for through grants to facilitate them), the increased number of shows, the Ferment Event parties with live music and beer, reinvigorated First Fridays, rescheduling family events, renting art exhibits – is to create a buzz that will inspire donors to give more.
"You have to make sure your product is great," he says. "Donors want to give to a winner. They don't want to give to a loser. We have to put our very best foot forward with what we can afford."