TWO DAYS AFTER THE STATE ORDERED MONTEREY COUNTY TO SHUT INDOOR DINING for what at first was going to be a three-week period beginning July 7, Pacific Grove Chamber of Commerce President Moe Ammar reached out to his membership. The Covid-19 data then showed at least 85 percent of the county's 2,300-plus cases were in Salinas and South County zip codes. In an email obtained by the Weekly, Ammar lamented that Pacific Grove, where less than five cases had been confirmed, was part of the shutdown.
"On Tuesday, the county closed dine-in at 55 foodservice establishments in P.G., breakfast at seven B&Bs, & the P.G. Museum, etc. This impacts the livelihoods of hundreds of local people," Ammar wrote. "The business community in your town is extremely frustrated with such orders from the county especially when there is no scientific proof that dine-in in P.G. is the root of the county's increase in Covid cases.
"The area Chambers of Commerce are on a campaign to stop such orders in the future."
Despite the popular refrain at the beginning of the pandemic "We're all in this together," business and civic leaders engaged in protracted lobbying of county officials from spring through the summer to split the Peninsula from the Salinas Valley in the reporting of Covid-19 data. They hoped they could show low numbers and be allowed to reopen businesses and schools, even if cases remained higher in some areas.
The answer that eventually came down from the California Department of Public Health (CDPH) was a firm no. Counties would remain together, hard stop.
By September there was more news from CDPH: with the new Health Equity Metric formula, there's no more reopening until case rates and test positivity rates come down everywhere in the county – from the toniest neighborhoods in Carmel, where the number of Covid cases is low, to the poorest areas of South County, where rates continue to soar.
Translation: Monterey County, you really are all in this together. Until every resident has access to resources to remain healthy and stop the spread of Covid, businesses and schools will remain shut.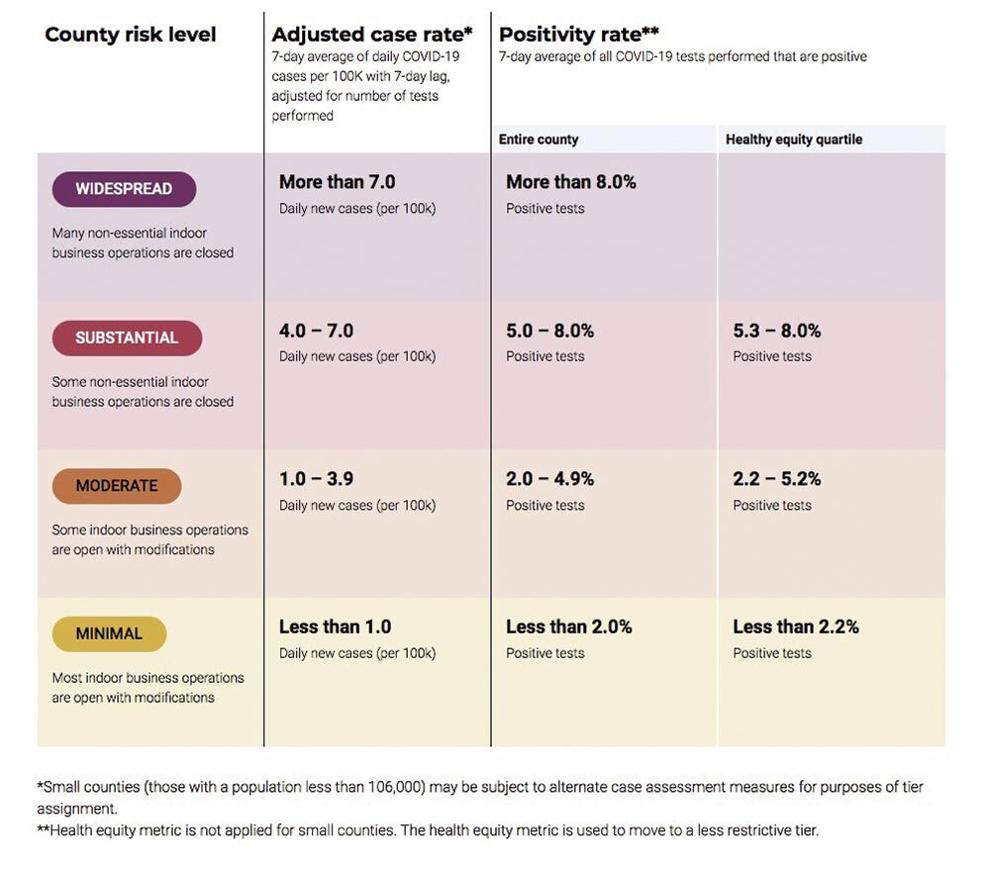 IT'S A TALL ORDER. The myriad reasons that Covid-19 has infected the Latino community in the Salinas Valley at a higher rate than other communities are complicated, and bringing numbers down means confronting racial and deeply entrenched economic inequities. Monterey County Supervisor Jane Parker lays out a few factors: overcrowded housing; jobs that can't be done from home; higher rates of chronic health issues like diabetes and hypertension. For undocumented workers, add lack of access to unemployment benefits.
"What really gets me about this situation is that we're dealing with community disparities that have been put in place by decades of discrimination and neglect," Parker says. "Just because we now notice them and are inconvenienced by them doesn't mean they will disappear quickly. These are man-made problems and we all need to invest in strategies that really work to protect our essential workers, who are disproportionately low-income people of color."
A new initiative is about to launch to attack not just the short-term challenge of Covid-19, but the root causes of the disparities. On Friday, Nov. 20, Monterey County leaders will convene on Zoom, facilitated by Dan Baldwin, president and CEO of the Community Foundation for Monterey County. He plans an aggressive 10 weeks of work to come up with action plans. It's not the only group working on the issue – one, the Monterey County Coalition of Agriculture (MC-COA), with 128 repesentatives from ag, health care and community leaders, has been meeting since April.
"The state has made it clear it's not going to make accommodations for Monterey County to be separate, so our recourse now is to bring down the infection rate," Baldwin says. "Because of the diverse nature of our economy – coastal and inland, hospitality and agriculture – we have to work together. The state is defining it by county, so we have to solve it as a county."
ONE OF THE REASONS that the county must remain together has to do with the virus itself, says Monterey County Health Department Director Elsa Jimenez. "First and foremost we need to recognize that Covid is everywhere. Residents don't tend to stay put," she says. Any time there is more movement of people – workers to jobs, attending a gathering or just going to the store – it's an opportunity for the virus to spread.
"Many residents, due to the nature of their occupations, were never able to shelter in place," Jimenez says. "Many individuals in our county don't have the opportunity to work from home – essential workers, farmworkers, retail clerks – and they tend to be people of color."
The other reason the county must remain together is the state's Health Equity Metric, a requirement that counties address disproportionate impacts before they can reopen.
To guide reopening in a safe manner, the state developed its Blueprint for a Safer Economy, which it unveiled in August. It's a color-coded, four-tier system, with the Purple Tier as the most restrictive, and each successive level – red, orange and yellow – allowing for more sectors to open with fewer modifications. Moving into each tier is based on a county's Covid-19 data, including the number of cases, test positivity rate and hospitalizations.
Since Aug. 28, when the tiers were first announced by Gov. Gavin Newsom, Monterey County has stayed in the Purple Tier, which means the virus is "widespread." In numbers, that's anything more than 7 cases per 100,000 residents, and a test positivity rate of more than 8 percent. On Nov. 4, the county made a pitch for moving into the Red Tier, but was denied six days later. Within that period, from application to denial, the county's case rate increased from 7 to 10 per 100,000.
The California Department of Public Health added another layer to the system in September. The Health Equity Metric is a formula for looking at the health of people living in the most disadvantaged communities. Counties were now mandated to focus resources on controlling the spread of Covid-19 in those neighborhoods in order to move into less restrictive tiers.
Jimenez sees the Health Equity Metric as a way to address the virus' disproportionate impact on the Latino community. In Monterey County, 91 percent of confirmed Covid-19 patients whose ethnicity is documented are Latino, although Latinos make up only 60 percent of the county's population.
"It's a call to action to pay attention to that data and do something about it," Jimenez says.
Data has helped county officials from early on in planning things like where to locate Covid-19 testing sites. CARES Act funds have gone to messaging in Spanish and English, with up to $409,000 allocated for outreach in print and social media, TV and radio.
"We're zeroing in even more into communities," Jimenez says of attempts to reach the census tracts where Covid is hitting the hardest. "You can make decisions about testing and find people with Covid and wrap services around them."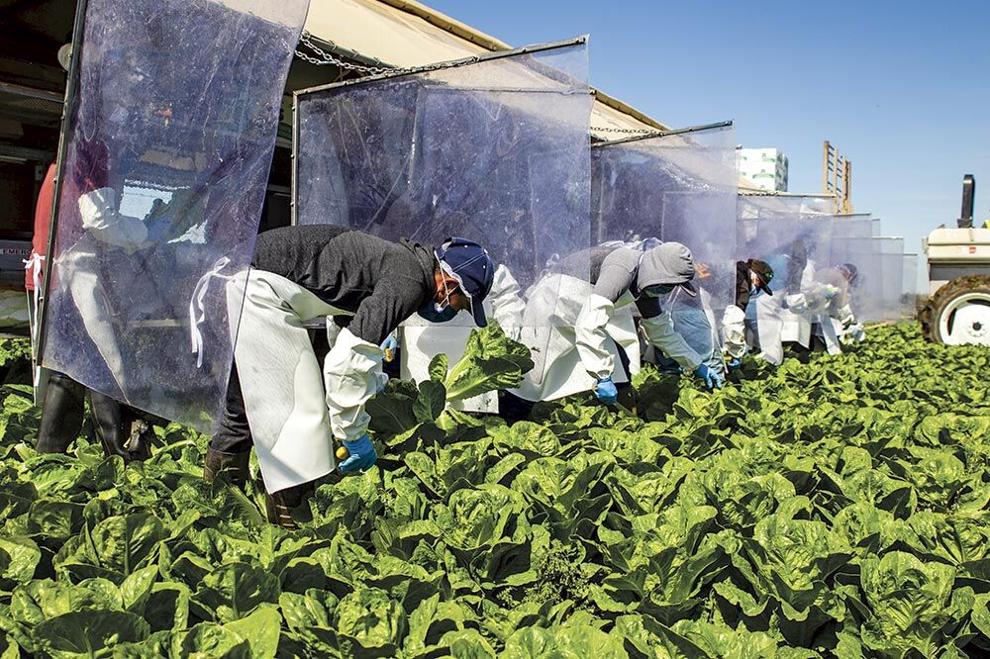 WHEN THE PANDEMIC STRUCK, it was hard for anyone to know what to do in the face of a whole new kind of uncertainty. Community organizer Maria Elena Manzo did what she knew how to do best: She organized. Manzo works for COPA, Communities Organized for Relational Power in Action. She and her COPA colleagues began early in the pandemic meeting twice a week via Zoom to figure out how they would help mostly Latino workers in the hospitality and agriculture sectors get through the crisis.
They created virtual hour-long sessions to educate people on the virus, how shelter-in-place worked and where to get food, financial and medical assistance. From the start, the organizers believed giving people space to share their stories was critical, Manzo says. The large Zoom meetings are split into small groups where participants talk about their experiences with Covid and SIP. Outside of the virtual sessions, organizers like Manzo call people to ask them how they are doing.
Through COPA's connections, mainly through the group Mujeres en Acción, Manzo and others have made more than 1,600 phone calls since March. They listen to the stories people tell and write them down.
"There were all these stories of how people didn't know where to go to get tested, or once they got tested they didn't know what to do or where they could go," Manzo says. "The list goes on and on."
One woman told Manzo she thought she was doing the responsible thing by quarantining for two weeks after being exposed to her brother who was infected, although she received no wage replacement for two weeks of missed work. Another woman gave rides to coworkers who were positive for Covid, but she didn't know until after she tested positive herself – something especially concerning because she has a husband at home with a heart problem.
COPA volunteer Adriana Molina lost her 65-year-old father to Covid-19 in September. The family believes he contracted the virus at work in the fields.
"Sometimes we asked him to stay home, but he says, 'I'm fine. I need to work for my rent,'" Molina recalls him saying before his illness.
Her father, who had diabetes as a pre-existing condition, was admitted to the hospital on Aug. 22. The family saw him once through a window, once on Facetime and got a call on Sept. 12 when he died.
Meanwhile, Molina's entire family was frightened for their mother and brother, who lived in the same apartment with their father. The brother tested positive, the mother tested negative. But the family worried if their mother got sick she would end up in the hospital. Molina reluctantly stayed away from her mom because she didn't want to bring it home to her family.
"During this time, it was very hard because I couldn't help my mom because my brother was positive too," Molina says. "I needed help, but nobody called to ask if I needed help or if there was someplace for my brother or my mom [to go]."
The gap in information about how to receive wage replacement and other benefits, or about temporary housing for people who are unable to quarantine or isolate, has been a real issue, Manzo says. She's spoken to numerous people who weren't aware of their rights as employees or what services they qualify for. She's also spoken to those who say they were never contacted by the county as part of the contact tracing process.
(Jimenez says it's possible that people aren't aware the calls are a part of the contact tracing process; tracers may not identify themselves that way, because those who are wary of government might hang up on them.)
"We hear stories that nobody is contacting them," Manzo says. "Where's the gap, where is the broken chain?"
OVER EIGHT MONTHS, Manzo made a list of things she thinks would slow the spread, including better communication from employers about potential exposure and wage replacement for those who miss work. "We should make sure they have an incentive to really stay home," she says. "We're asking them to do a public service but then we abandon them."
COPA organizers contacted the County Board of Supervisors and the Health Department over the summer, "so they can see where the gaps are," Manzo says. "If we're not in all this together and we do not have all the parts of the puzzle there's no way we can solve this."
Since then, they've met with Health Officer Edward Moreno and Epidemiologist Kristy Michie strategizing how COPA and the Health Department could work together. From there, a wider group with other county representatives and representatives from agriculture and hospitality was formed that they call "Breaking the Chain of Infection."
Because of the state's Health Equity Metric, identifying gaps matters to everyone in Monterey County who wants to reopen. As COPA organizers have been working, so have leaders in the Monterey Peninsula's hospitality sector, whose fate is now tied to controlling the virus in farmworker communities in the Salinas Valley.
THE MONTEREY BAY AQUARIUM sits on the edge between land and sea, its windows facing westward across the bay. The world-renowned institution with a mission to inspire ocean conservation spends much of its educational efforts teaching about the interdependence of the ocean and humans. Now, Executive Director Julie Packard and her team, including Public Affairs Director Barbara Meister, are looking eastward, at the interdependence between the Monterey Peninsula hospitality community and Salinas Valley agriculture.
"So much of the messaging we've put out is about our interdependence [with the ocean] and maintaining all parts of the ecosystem. We have a human ecosystem in our county and all parts are essential for the county to thrive in a time of crisis," Packard says. "Right now it's important to engage all the sectors and all the players."
The Aquarium is facing a $55 million deficit this year due to being closed to visitors since March. It costs about $1 million a month to keep the animals fed and the Aquarium's seawater system working (see story, p. 16).
"The best path to get people back to work is to get our county healthy," Packard says. "After many months of uncertainty, it's not a matter of getting businesses open, it's getting our community back on its feet."
As a board member of the David and Lucile Packard Foundation, Packard also has been part of funding widespread testing efforts and vaccine development. She was also introduced to efforts in Fresno County to address disparities.
Packard hopes that in the coming weeks, the new coalition underway will bring positive results that include accelerating the amount of education, as well as testing. "We need to step up the pace through a broader coalition of players to work on all the essential pieces of the solution," she says.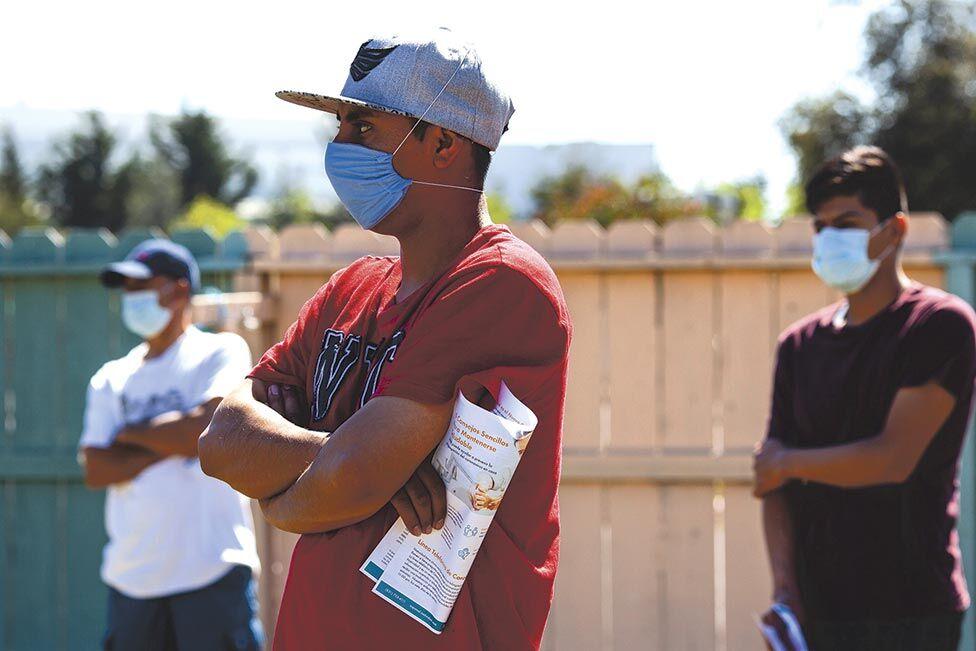 FRESNO COUNTY IS A CASE STUDY of a nearby agricultural community where nonprofit, faith-based and philanthropic groups already embedded in communities serve as trusted messengers on Covid-19.
Elliott Balch is chief operating officer of the Central Valley Community Foundation, based in Fresno and serving six counties. He says it was evident to community groups back in March that the populations they serve – the Central Valley is home to immigrants from Mexico, Central America and Asia, as well as a large Black population – were hardest hit by Covid-19.
"There was a theme of equity that emerged fairly early on," Balch says.
The Covid Equity Project was created with two teams, one to serve Fresno County's immigrants, another to serve Black residents. Those teams organized testing, contact tracing and culturally relevant outreach. Money came from CARES Act funding, as well as grantmaking by the foundation.
In the Latino community, groups utilize promotores, trusted members of the community. Manzo believes promotores could be a critical link in the chain to bring information directly to the Latino community of Monterey County, as well as conduct contract tracing for the county. "It's not just speaking Spanish, it's understanding their struggles," she says.
Another significant development in Fresno County was the creation of the Healthy Harvest Project, which is the Central Valley's version of the state's Housing for the Harvest program, based on a program originated by the Grower-Shipper Association in Monterey County. The GSA worked with ag companies starting in April to use motels as temporary housing for workers who needed to quarantine or isolate. The workers are provided with meals and other services, including health checks by Salinas Valley Memorial Healthcare System.
"We took that concept and we ran it a little bit different here," Balch says. They put $300,000 toward a Spanish-language ad campaign. A call center was created for information about the housing program and Covid-19. Recently, the center has been receiving about 250 calls per week.
People who choose to use the temporary housing are provided transportation, three meals a day, medical help and case management, provided by the county. For those who decide they want to quarantine or isolate at home, members of the Covid Equity Project educate them on how to do so safely. They're also provided with information on how to apply for wage replacement and other benefits.
Jimenez says Monterey County is looking at Fresno and plans to acquire its curriculum and use it as a template.
Monterey County officials are also looking at another way to replace wages through a stipend program. Under the program, farmworkers who lose two weeks of wages could apply for a stipend and collect an amount determined by a formula. It's similar to a program Riverside County rolled out in September, where workers can receive $2,000 for two weeks of missed work.
AS AN INFLUX OF TOURISTS kept overwhelming Monterey County's beaches through the summer, city and county officials had to balance the needs of residents fearful that tourists were bringing Covid with hospitality businesses clamoring to open.
One path they chose was to shut down the beaches over holiday weekends. After haphazard closures earlier in the pandemic, as Labor Day approached a coordinated effort was launched. The closures were announced in advance, in hopes that tourists would stay away, thwarting a potential spike in Covid-19.
The move didn't add up to Portola Hotel and Spa General Manager Janine Chicourrat, who also serves as the president of the Monterey County Hospitality Association. After watching the county's data and the impact of Covid-19 on her industry, Chicourrat was feeling a growing disconnect between the valley's Covid numbers and the coast's. Shutting down beaches didn't seem like the solution.
Getting the county's Covid numbers down is critical to a conference-based hotel like the Portola. When shelter-in-place went into effect, the hotel immediately laid off 300 employees. It will not reopen until conferences resume, and that probably won't be until the county enters the Yellow Tier.
Chicourrat did her own study of the challenges and, working with Meister from the Aquarium, began reaching out to county officials and community groups like COPA. They also reached out to Baldwin, whom they recruited to lead the new coalition.
Before agreeing to lead the effort, he says he made clear to county officials that no topic would be off-limits.
That includes a massive issue that the county has been chasing for years: housing. Overcrowding is recognized by the local medical community and government officials as one of the leading causes of Covid-19 spread.
Ultimately, Manzo and Baldwin say, it takes a willingness to listen and trust, like what the promotores do.
Baldwin is optimistic that Monterey County has the community groups equipped to be part of both short-term and long-term solutions, although they may need more resources. The group's job will be to figure out what those resources are and how to deliver them. But first, all voices at the table must be heard: "There has to be a real sensitivity and we have to really listen."