MEMORIAL DAY WEEKEND OF 2019 MARKED NOT JUST A MUSIC FESTIVAL FOR CALIFORNIA ROOTS, BUT A TENTH-ANNIVERSARY CELEBRATION OF THE WILDLY SUCCESSFUL EVENT AS A BUSINESS. The festival at the Monterey County Fair and Event Center had come to draw some 12,000 visitors and gross $3.4 million in ticket sales, and merch sales had become a successful ancillary business. Musically, the weekend included well-established acts like Atmosphere, Rebelution, Ben Harper and Soja, as well as rising star power in Tash Sultana, Ballyhoo! and Xiuhtezcatl.
The 11th Cali Roots was scheduled for Memorial Day weekend of 2020, with a lineup including many of the same well-loved bands, plus icons like Sublime, Sean Paul and Ice Cube. As the Covid-19 pandemic spread throughout the U.S. in the spring, Cali Roots organizers were quick to assess that gatherings might still be a no-go by late May. One day after Monterey County's shelter-in-place order took effect, on March 19, they rescheduled the May festival to October – "same beautiful venue, same magical vibes, just in the autumn, when the weather is sweeter." They promised to "feature the biggest names in reggae, hip-hop, and roots music."
Then, on July 9, with no end in sight to restrictions on large gatherings, they announced plans to hold off until May 2021, with the lineup remaining "99-percent intact."
In the months and weeks since Cali Roots first rescheduled, the California Department of Public Health has issued new guidelines for a variety of industries to allow the economy to reopen in stages. (They've also walked some of those reopenings back in Monterey County and elsewhere response to an increase in Covid-19 cases.) Modified religious services and outdoor dining are in, indoor dining was in then it was out again, and indoor hair-cutting made a partial return with modifications effective Aug. 31. But social gatherings, whether they're music festivals or wedding receptions, remain prohibited in Monterey County, with no end date. "[Gatherings] pose an especially high danger of transmission and spread of Covid-19," according to the state reopening guidelines.
That means questions not only about the return of Cali Roots in 2021, but also questions for bands, for theater, for the symphony and for chamber music – performing arts experiences that bring audience members together with artists. Artists and promoters are waiting for guidance on when it might be safe to get back together and what it will look like, and meanwhile they are experimenting with how to survive from a business standpoint, including lobbying Congress for relief. Despite their designation as "nonessential," artists and audiences see it differently, as they innovate ways to share creativity.
"We were the first ones to shut down, and we're going to be the last ones back," says Dan Sheehan, the festival producer behind Cali Roots. "We're planning for 2021, and moving forward. At the same time, my confidence level of 2021 happening is 50/50."
Though Cali Roots offered streaming over the May weekend when the festival was supposed to happen in person, he says fans are experiencing screen fatigue. "People are like, 'I don't want to watch a screen, it's not the same experience,'" he says. "There's something about being at a live event. There's more than music, there's the energy of the band and the audience. There are so many things that go into the physical experience of a show."
WHEN SIP BEGAN, THE MONTEREY JAZZ FESTIVAL WAS JUST TWO WEEKS AWAY FROM HOSTING ITS ANNUAL YOUTH FESTIVAL. They quickly decided to go virtual rather than to cancel, a template they'll use for this year's 63rd annual jazz festival, scheduled for Sept. 25-27. The nonprofit will release two hours of content each day, pulling from their archive as well as new material, streaming from 5-7pm.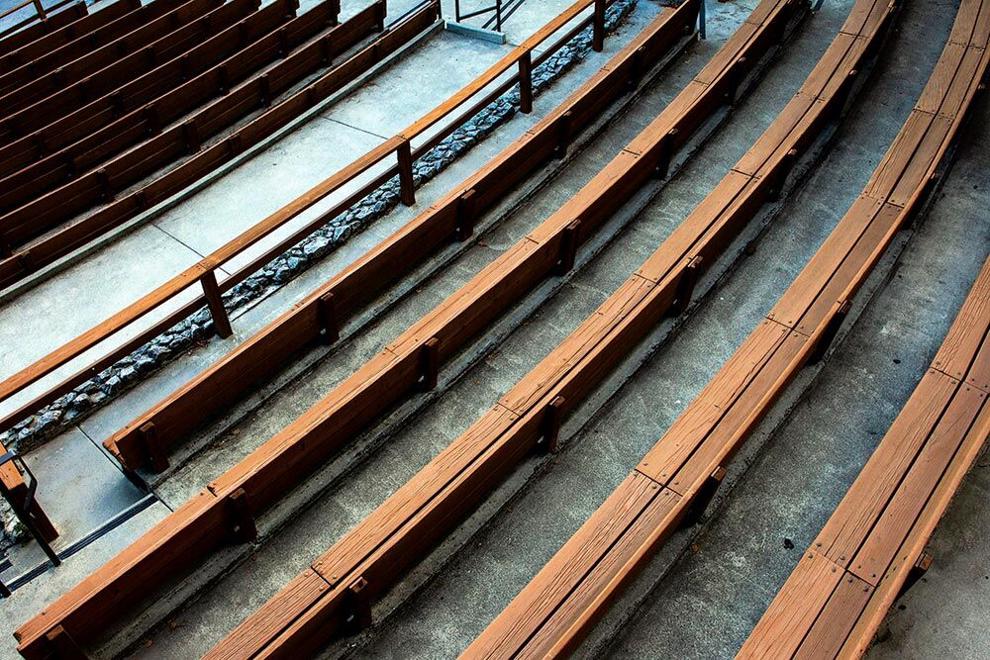 There will be music, but not every musician can record in their home, or get together with their band, so MJF is branching out when it comes to content. Vocalist Lila Downs, who blends everything from rock to reggae into Mexican folk music, was scheduled to make her MJF debut this fall; she's in quarantine in Oaxaca, and offered up a Oaxacan cooking demonstration instead of music that will be featured. Jazz drummer Terri Lyne Carrington has recorded an interview with activist and scholar Angela Davis. Clint Eastwood, a longtime MJF fan, will talk about the 50th anniversary of Play Misty For Me.
It will be free to watch, but the nonprofit festival is relying on donations from fans. One-third of those contributions will each be donated to the NAACP and Thurgood Marshall College Fund, and the remaining third will go to paying the roughly 500 artists who had been booked to play the three-day festival, and whose gigs for the foreseeable future have all been canceled.
One thing we know for certain is we're going to have to adapt. There will be a new normal after this.
It's an innovative lineup, but artists and organizers know it won't be the same. "So much of what this event is is a family reunion, it's a communion," says Elizabeth Welden-Smith, deputy director of MJF. "It's definitely more than just the music. There's a magic that happens when we come together."
THE MONTEREY SYMPHONY IS ALSO VENTURING INTO THE REALM OF VIRTUAL AND, MORE RECENTLY, MICRO-MUSICAL EVENTS after canceling their entire 2020-21 season. On Aug. 28, they began a new "balcony sessions" program, featuring principal bass trombone player Will Baker as a soloist, performing from the balcony of the symphony's Carmel office building. He played a slow jazz ballad by George Roberts – aka "Mr. Bass Trombone" – who helped elevate the trombone as an instrument that could play solo parts.
The symphony partnered with the adjacent Manzoni tasting room, which provided 10 courtyard seats to sponsors. Besides paying the musicians (and hosting them in a Carmel hotel as a getaway during the pandemic) for each balcony session, they're hiring an audiovisual crew to record the mini-concerts and share them digitally. Passersby can also hear these pop-up performances.
The series will feature soloists for Covid safety (or duets, in the case of spouse musicians who live in the same household), but also for thematic reasons. "It's emblematic of the time we're living in, a single, solitary person alone, practicing their craft," symphony Executive Director Nicola Reilly says. They've commissioned composer John Wineglass to write a song called "Alone" that will premier in January at Sunset Center as a solo violin concert – but with no tickets for sale.
Some artists who can't travel will record two – to three-minute "musical postcards" from home to be released digitally, sometimes branching out from classical repertoire or their classical instruments. (The first postcard features a symphony flutist who also plays guitar, and recorded both parts.)
Reilly sees something lost without the ability of an orchestra 85 musicians strong to gather on stage, but she also sees this as an opportunity for the symphony to expand its reach, meeting listeners where they're at.
"There's nothing like being in a concert hall and listening to a huge live orchestra and having a wall of sound just wash over you," she says. "A computer just can't replicate that experience. It's not the same as turning to someone and saying, 'Wow that was amazing.' We know one of the things that makes someone's classical music listening experience better is the social element of that, and that's all gone away. But I also hope that some things change when we come back – I hope there is a more egalitarian way for people to hear more music."
For pianist Michael Martinez, who made a living gigging in the background at places like the Monterey Peninsula Country Club and Community Hospital of the Monterey Peninsula, the digital revolution has changed (and saved) his business. He's been offering twice-weekly livestreams, which have been well received by fans, but his bigger opportunity is in supporting other artists with technology, he says. He's planning to release a tutorial on how to set up a livestream (and offer the advice for a fee), and he's kept up some income managing the livestream for the Center for Spiritual Awakening, where he used to be the music director.
"Some musicians are really good with technology, and some of them have no idea how this works," Martinez says. "I want to fill that gap."
WHEN AND HOW LIVE PERFORMANCES CAN COME BACK REMAINS AN OPEN QUESTION. As businesses have been allowed to reopen, the California Department of Public Health has released industry-specific guidelines. There are no such guidelines yet for the performing arts, but artists are already beginning to think about how the future might look and how not all mediums pose the same Covid-19 risk.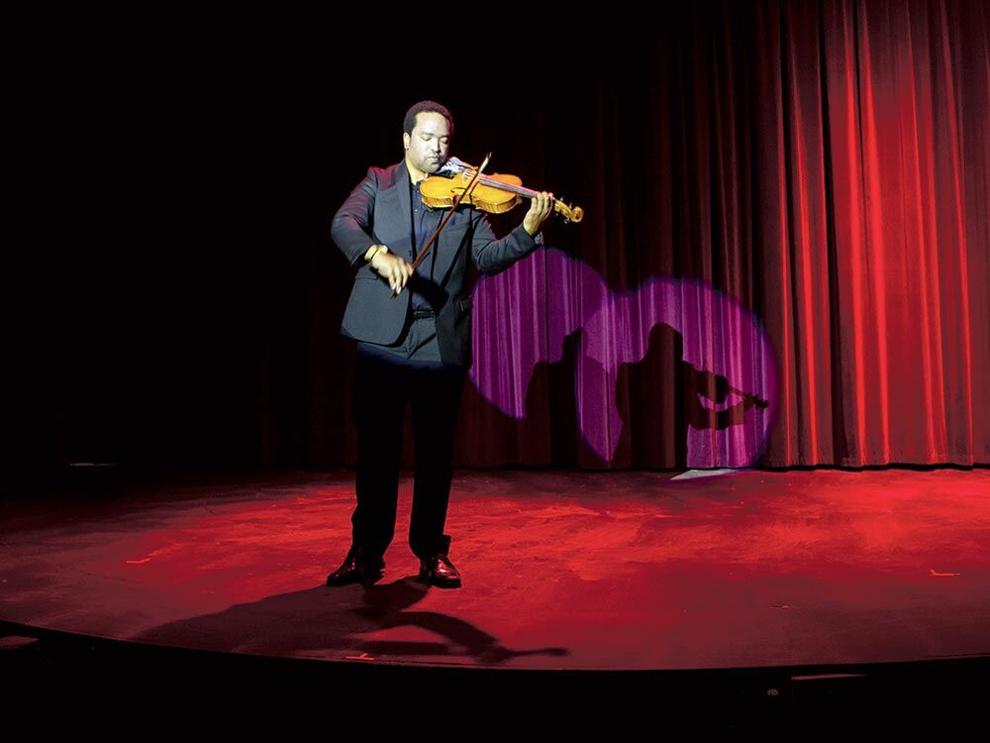 Actors project their voices and spit as they enunciate their t's and p's, they pass around props, they embrace and kiss on stage, they gather in small spaces backstage, where crews help them change and apply makeup. Brass players need to empty spit valves on their instruments. Reed players moisten their reeds with saliva.
Strings might be OK if players were seated further apart than normal, and perhaps woodwind players could wear a face shield with a small hole for their instrument – but there's no way to play trumpet with a face mask.
Monterey Jazz Festival typically sends musicians into schools starting in the fall. But there's no telling whether schools will be back in session this semester, and if they are, some instruments will be safer than others: "We can do violins, but we can't do saxophones," Welden-Smith says. "We are waiting to find out what we can and can't do. One thing we know for certain is we're going to have to adapt. There will be a new normal after this."
Festivals of the future might look different, though it's too early to know exactly how. At Cali Roots, Sheehan is contemplating a smaller festival – it's a model with higher-priced tickets, meaning they'd have to sell fewer to make the finances work, and also allow for social distancing. "You can't social-distance at a 10,000-person-capacity festival," he says.
He contemplates a smaller festival that's socially distanced and wonders what the vibe will be, when people are used to dancing and drinking together, and the energy of a crowd. "That's a fear we all have," he says. "If they are going to take the fun out of music festivals, why would someone go?"
At Pacific Repertory Theatre in Carmel, CEO and founder Stephen Moorer doesn't see a way for live theater to return until there's a vaccine for Covid-19. That's partly due to the loss of artistic quality, and partly due to finances.
"A vaccine is really what the performing arts need and require for so many reasons," he says. "Until there's a vaccine, producers are going to be forced to socially distance their audiences. They're talking about 25 percent – that would be 75 out of a 300-seat auditorium. Seventy-five seats does not pay for theater. Sure you can socially distance your audiences, but unless you're just doing a one-man show with no royalties and no orchestra, you just can't pay for it.
"The other reason we are desperately reliant on a vaccine is that social distancing doesn't work on the stage. No one wants to see Shakespeare with people wearing masks – their expressions are gone. What are actors without their expressions?"
PACREP'S BUSINESS MODEL RELIES ON A MIX OF BIG, GLITZY MUSICALS AND SMALLER, MORE HIGH-BROW PLAYS. "It takes a Beauty and the Beast to pay for Julius Caesar," Moorer says. "While those kinds of shows are fun, you can't do a season of them and expect thousands of people to come out. That's just not the model."
Beyond the mix of productions, there's a financial balancing act that relies on donations for about 40 percent of revenue. (Ticket sales generate the other 60 percent. Moorer says a theater company like this is successful if they exceed 50 percent of revenue coming from tickets, putting PacRep in a healthy financial position.)
PacRep received $162,000 in federal Paycheck Protection Program funds, which enabled the nonprofit to pay the actors, directors and choreographers they'd intended to pay through June. They did their annual gala fundraiser virtually, and it was a fundraising success, putting them on track for the year despite the absence of shows. They're lucky in that they had planned to do a major remodel, and are moving up the construction schedule since the Golden Bough Theatre would have to be closed for about eight months anyway. By the time they are ready to reopen in 2021, Moorer says, hopefully there will be a vaccine.
The pandemic shutdown has meant unprecedented losses for many sectors, but unlike some that continue operating even limitedly, performing arts have been halted entirely. "Unquestionably, the performing arts industry is going to be one of the hardest hit," Welden-Smith says.
The nonprofit Monterey Jazz Festival's annual operating budget is roughly $4.5 million, and 80 percent of their annual revenue comes from ticket sales. To weather the pandemic, they laid off five people, 50 percent of their staff, once they realized this year's festival would not happen.
At the for-profit California Roots Presents, there were pay cuts and layoffs. They received PPP funds and have a goal of capitalizing on their brand, selling more merchandise and launching a fully fledged clothing company. "We're going that route to try to keep this business afloat," Sheehan says.
With no way to know what the future holds, performing arts organizations are turning to Congress for help. "Unlike the cruise industry, or the airline industry, we didn't have lobbyists working for the music industry," Sheehan says. "Now, there are people fighting for the music industry."
Cali Roots joined the National Independent Venue Association, a trade association that didn't exist until April, and now represents 2,400 venues. The group is lobbying Congress to pass the Save Our Stages Act, which would establish a $10 billion grant (not loan) program for live venue operators. The bill has bipartisan support – it was introduced in the Senate by John Cornyn, R-Texas, and Amy Klobuchar, D-Minnesota – but then stalled and Congress recessed.
"We're not asking for a bailout," says Rev. Moose, NIVA cofounder and executive director. "We're asking for the government to do right by an entire sector that is shut down for the greater good of their communities," noting that the priority remains keeping people safe from Covid-19 – while continuing to pay mortgages and utility bills to keep venues standing.
"Our members told us months ago that if the shutdown lasted six months or longer and there wasn't federal relief to hold them over, 90 percent of them would fold permanently," NIVA President Dayna Frank said in a statement. "With no revenue and immense overhead, it's already happening."
VENUES LIKE SUNSET CENTER IN CARMEL AND GOLDEN STATE THEATRE IN MONTEREY HAVE GONE MOSTLY DARK. They've been able to rent out space for church services, which are permitted during SIP, but otherwise events are off.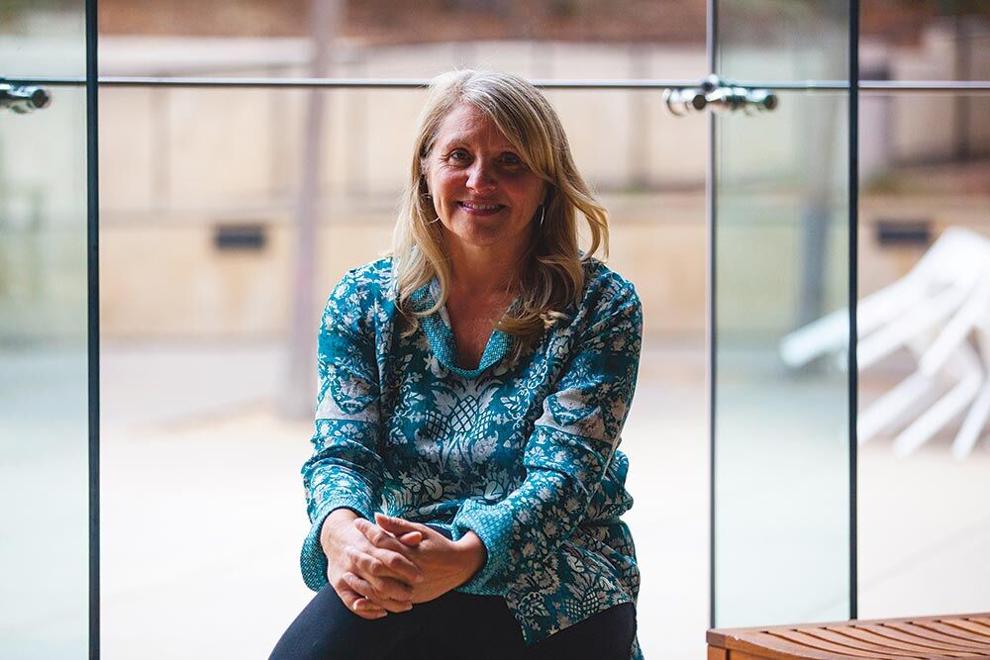 Thanks to a PPP loan, Golden State has kept all seven staffers on payroll, even though those people have no work to do. Owner Lori Lochtefeld got a break on the mortgage, so expenses are down. And the theater includes several tenants, so there is a revenue stream besides ticket sales, though Lochtefeld is giving those tenants a break on rent for as long as she doesn't have to pay her mortgage.
Since she bought the theater in 2014, ticket sales have been steady, regularly selling 600 to 800 in the 1,003-seat theater; 90 percent of shows, which include comedy, music and other performances, are profitable. Lochtefeld is confident patrons will return with even more vigor after the pandemic is over.
"When restaurants opened up again, you couldn't even get a seat," she says. "People want to get back to being joyful. They want to go back to having fun and camaraderie in their lives. One thing entertainment does is it unites people; age, race, politics – there's none of that when you listen to music or laugh at comedy."
Sunset Cultural Center also received a PPP loan of $225,000. It was enough to keep staff on through the fiscal year (which ended on June 30) to help wind everything down, but the nonprofit has since laid off 10 people.
For two weekends in June, Sunset Center hosted eight drive-in movies in their parking lot and sold out every one – but by the time they accounted for expenses of technical equipment, the series just barely broke even.
Sunset Center decided early on not to offer virtual shows; in a survey conducted in May, patrons said they'd rather wait for the real thing. Executive Director Christine Sandin sums up the replies this way: "When the day comes that you can reopen, we're going to come back to the live experience, and we're going to come back with a vengeance. Don't ask us to buy a ticket to a virtual experience, but here's a donation."
There's a magic that happens when we come together.
Sunset Center's annual budget is about $3 million, and they earn 30 percent of annual revenue from ticket sales, suddenly eliminated. Another 15 percent comes from renting out the venue – also eliminated. The 20 percent from tenant leases to office spaces and other users is still coming in, and fundraising has not dropped off.
Sandin is also looking at where they can cut expenses; normally the PG&E bill averages $10,000 per month, but that's likely to stay lower with no shows. The center is still getting a subsidy from the city of Carmel, and Sandin's conservative budget for this fiscal year includes zero revenue from events. "We could do literally not one event for a year and we'd be OK in this structure," she says. "If we can do events, it's a bonus."
For Paper Wing Theatre in Monterey, a fortuitous move to a new venue in Cannery Row coincided with the pandemic. It was part of a vision by founder Koly McBride to run a dinner theater, and the new digs include a kitchen. Because outdoor dining is allowed, they can serve food – with short, outdoor, socially distanced performances on the side.
"Had Covid never happened, it was going to be dinner theater without much of a fourth wall so actors could wander and interact with patrons," McBride says. "We're not much of a fourth wall company anyway, and we wanted to invite patrons to watch the show immersively."
That's still the ultimate goal, she says, but the reality of Covid now means short, family-friendly performances taking place outdoors, with a meal included in the ticket price.
They launched on Aug. 15-16 with a 25-minute performance of The Aristocats, selling out the 20 tickets per show. Seating is limited to four people per table (all from the same social pod), with five tables total. Patrons have to wear masks while not eating.
The Aristocats will resume on Sept. 12-13, with two shows per day, and the same number of tables. Actors are masked as well.
"People," McBride says, "are social creatures and we have the intrinsic need to be connected and feel connected to something.
"Theater does that for us."
ON A RECENT WEDNESDAY EVENING, ERIN CAREY IS GRACEFULLY TWIRLING THROUGH THE AIR ON A MOUNTAINTOP at Glen Deven Ranch in Big Sur, above the sun setting on the horizon. She's improvising an aerial dance to the layered sounds of violins – soloist Edwin Huizinga, who's recorded himself using a looper – when the music goes silent, and for a moment the only sound is Carey's aerial rig spinning in the wind.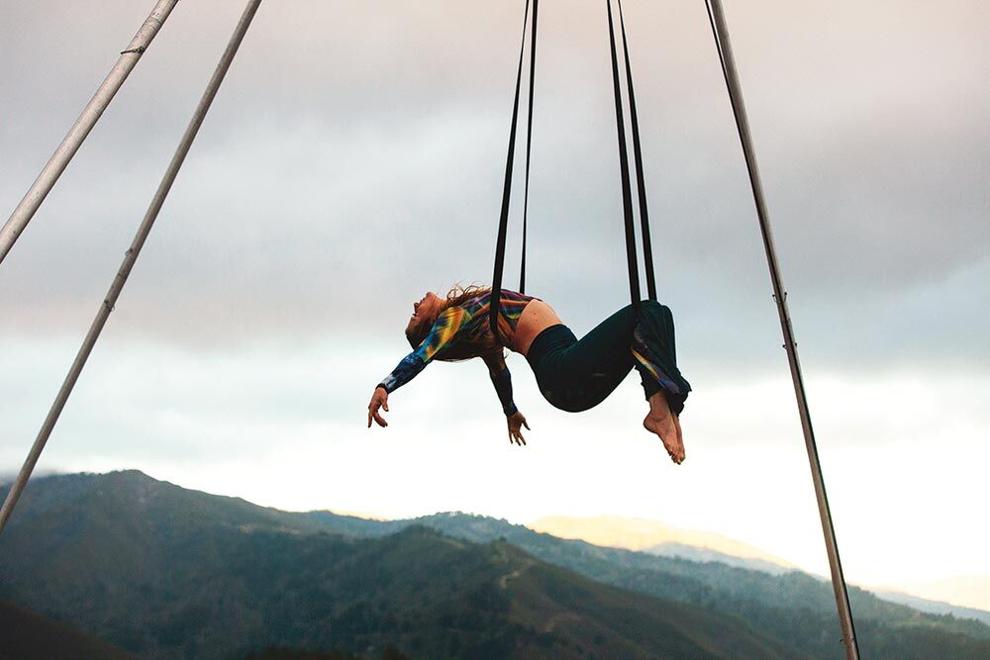 Then poet Casey Cushing begins reciting: "Fix the clasps and closures / mend the seams / cut loose the lingering thread," she reads. "Be a mender who hears the call of a suffering world."
They are Poetry in Motion, a new group that formed out of the stillness of the pandemic. Carey normally makes her living teaching and touring as an aerialist and circus artist, but all of that was off starting in March. "I watched my whole life get canceled. That was unsettling, but it also opened up space for other things, and for me to realize focus on what is important," she says.
She and Huizinga had explored a collaboration before, but were always too busy to make it happen because of competing touring schedules. With Carey quarantining at home in Palo Colorado and Huizinga in the Santa Cruz Mountains, she invited him to stay in her guest house and make performing art together, curated for the Big Sur landscape. Despite losing their incomes, they each invested in new gear; he spent $1,500 on looping equipment, she spent about $1,000 on new straps for her rig.
"I wanted something that really just featured my body dancing in the air, instead of the shape or character of the apparatus," Carey says. "For me it's really about exploring this chaotic time that we're in and the groundlessness we're on and finding stillness within the spinning – and just trusting the process."
They see potential for a whole new art form post-pandemic, something they could take on tour throughout beautiful places in the world, tailoring productions to each setting.
One piece is titled "Wondrous," another "Essential" – a nod to the designation of arts as nonessential during shelter-in-place. "My whole life is deemed nonessential at this point," Carey says. "It's a weird feeling to not feel essential in the world."
They've done a few performances for small, socially distanced audiences at private homes, and Huizinga has performed on violin in a few other backyard settings. "Those have literally brought meaning to my pursuit of my art form," he says. He tried a couple of livestreams in March, but with no audience feedback it just didn't work. (He has found teaching violin to be effective via Zoom, and a new source of income for him during SIP.)
The intimate audience experience is a change from being on a brightly lit stage, something Carey describes as "potent" for both the performers and the audience members.
"Every person, you can look into the whites of their eyes and feel and see their reactivity," she says. "For all of us, there's more of a hunger for it."
THE ANCIENT GREEK PHILOSOPHER PLATO WROTE ABOUT HOW LIVE THEATER COULD POSE A DANGER TO SOCIETY – they were imitations of the truth, and could rouse emotions in audience members that might transform them into a mob.
Plato got at least something right – that watching live performance is a powerful thing. Moorer has watched some streamed performances that Andrew Lloyd Webber put on stage in London, with no audience. But instead of feeling uplifted, he says, "it just made me sad." He likens it to watching pro athletes compete without the thrill of their fans. But with art, he sees something deeper, something that defines us.
"The socially distanced cast with masks weren't a group, there was no communal experience. That feeling that you're feeling an emotion together – that's what theater is, it's a shared experience, a shared story, a shared memory. When that is lacking, it's not the same," he says. "As Hamlet says, theater holds a mirror up to nature. Without that ability, how is humankind going to survive? How is humankind going to learn and make themselves better?"