IT'S A BLUSTERY FALL DAY IN SOLEDAD, DUST CLOUDS BLOWING EVERYWHERE ACROSS THE SALINAS VALLEY, including around the Camphora Apartments off of Highway 101 between the Gabilan Mountains to the east and the Santa Lucia Mountains to the west. The 5-year-old complex of two-story buildings is in an isolated location surrounded by agricultural fields and a rundown, decades-old farmworker labor camp next door.
Camphora used to look as dilapidated as the neighboring labor camp. For decades it was a collection of cinder-block buildings built in the early 1960s to house hundreds of guest workers temporarily in the U.S. under the Bracero Program, an agreement between the U.S. and Mexico signed in 1942 to initially bring in men to work in the fields during World War II. The program ended in 1964, and the labor camp became privately owned, a cheap place where farmworkers and families lived in overcrowded conditions.
Nonprofit Eden Housing bought the 4.6-acre parcel containing 44 units despite not being near any of the usual amenities like bus routes, stores and schools. "This was an unusual project," says Jane Barr, Eden Housing's director of real estate development, as she leads visitors on a tour. "We don't aim to do something in the middle of nowhere."
So why do it? To rescue 44 units of year-round farmworker housing that would otherwise potentially be lost.
Saving just 44 units demonstrates how precious that housing is in Monterey County, where agriculture reigns as the number-one industry. Two years after the $21 million Camphora project was built, a pivotal Farmworker Housing Study and Action Plan for Salinas Valley and Pajaro Valley estimated that in 2016 there were 91,400 farmworkers between the two valleys, the majority in Monterey County, and about 20 percent of whom are migrant workers and do not live here year-round.
The number was larger than any other source had estimated in the past, but it was not a surprise to the region's agricultural community. "It was more in line with what folks were experiencing," says Rafael Hernandez, housing program associate for the Monterey Bay Economic Partnership.
For the 80 percent who live locally year-round, some 73,120 workers, researchers only identified just over 1,000 subsidized housing units specifically for farmworkers.
The study's conclusion was dramatic: An additional 45,600 units of farmworker housing were needed for year-round farmworkers and their families to end "stunningly high rates" of overcrowding. While the study acknowledged the need for migrant worker housing, it concluded there was "an overwhelming need for permanent year-round family housing."
With 45,600 units unattainable in the near future, researchers identified how many units would be needed to keep up with the rate that farmworkers were able to access subsidized housing at a price they could afford. That translated to about 5,300 units. "We need to maintain this access rate to subsidized housing, to stop the bleeding in a sense, to keep things from getting worse," Hernandez says.
In the three-and-a-half years since the study was released, the two valleys have produced just over 100 units specifically for farmworkers, with roughly 300 known units approved and yet to be developed.
One 46-unit project in Watsonville attracted 2,500 applications – typical of demand, Hernandez says.
There are an additional 370 affordable units in the pipeline that farmworkers could apply for, along with others in search of subsidized housing.
It's a paltry number compared to what's needed, but the 2018 study planted seeds that are sprouting, albeit slowly. The study, coupled with the 2018 election to the California Legislature of a native son who grew up in agricultural housing, Assemblymember Robert Rivas, D-Hollister, is shining a light on the region's unique needs, long misunderstood by Sacramento. Could a harvest be in Monterey County's future?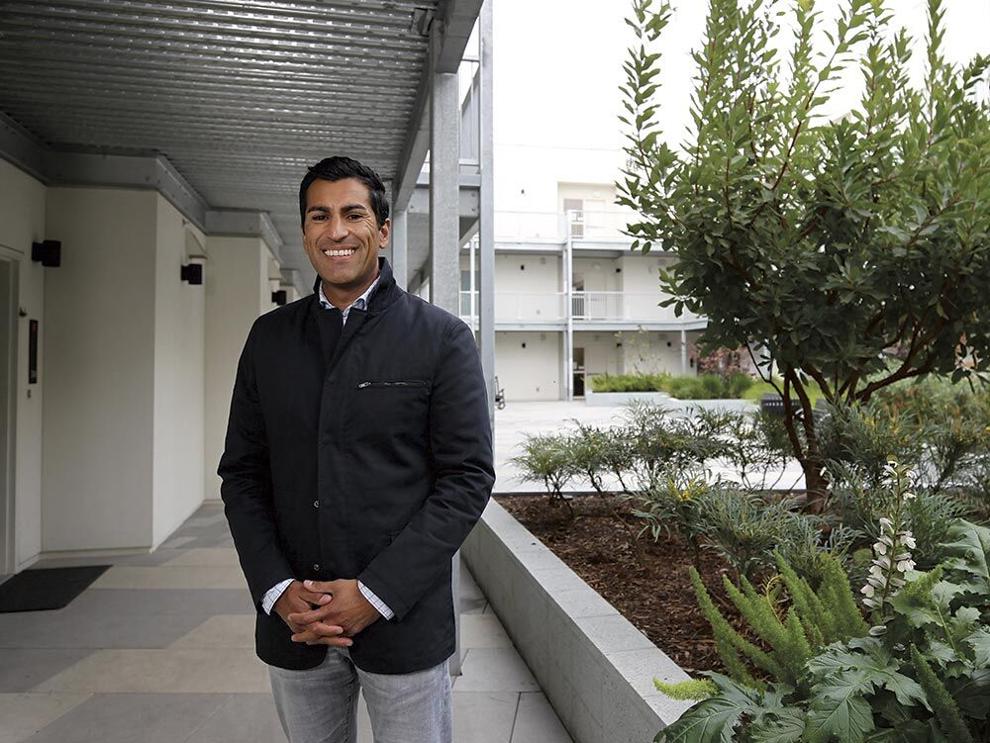 IT'S IMPOSSIBLE TO HAVE A CONVERSATION WITH ANYONE IN THE WORLD OF FARMWORKER HOUSING WITHOUT MENTION OF THAT 2018 STUDY BY THE CALIFORNIA INSTITUTE OF RURAL STUDIES. The 500-page report proved to be a momentous event in the region's history. It took the anecdotal evidence that everyone knew to be true and for the first time attached hard data. "It answered very specific questions for our region," says Hernandez, who serves as coordinator of the study's oversight committee. "There were gaps in other studies from other areas and they didn't match the experience we were living through."
Researchers looked at data from between 2005 and 2016 and found that agricultural employment grew by approximately 24 percent. With not enough housing for anyone, let alone farmworkers, it was inevitable the situation around homes for farmworkers, both migrant and permanent residents, would reach crisis proportions.
The city of Salinas was especially feeling the squeeze of too many people packed into too few spaces. In five years the city saw a 41-percent increase in the number of agricultural workers living inside city limits. Under the leadership of the late mayor Joe Gunter, the city took the lead in an effort to find data, working with Monterey County, nonprofit housing developers, MBEP and others. In 2016 they commissioned a study with the California Institute of Rural Studies, with Salinas financing about two-thirds of the $300,000 needed, using grants from federal and state agencies, as well as the Association of Monterey Bay Area Governments.
Researchers compiled data from a variety of established sources, like the U.S. Census, but also employed surveyors to ask questions of 420 farmworkers about where they work and live, as well as employers and other stakeholders.
Some of the findings: An estimated 55 percent of farmworkers live in overcrowded conditions and 22 percent in extremely overcrowded conditions. Most households included non-family members, usually other farmworkers. The average "people per dwelling" was calculated at 7.0. Besides multiple people sharing bedrooms, living rooms, garages and other spaces, there were on average more than five people per bathroom. No wonder: Researchers identified 26 year-round housing complexes in Monterey and Santa Cruz counties with 1,077 units restricted to farmworkers as occupants. Of those, 19 complexes were in Monterey County with 873 units – far short of demand (see box, p. 18.)
Researchers developed a farmworker housing demand model to calculate the total number of affordable farmworker housing units needed for all types of housing, with a goal of reducing the people per dwelling number from 7.0 to an average of 3.23 in Monterey County and 2.60 in Santa Cruz County. Using those targets, they calculated an additional 45,600 units of farmworker housing were needed, above and beyond the minuscule 1,077 available. "I know [the numbers] sound large, but they match experiences," Hernandez says.
From the study, an action plan was created with four main areas: 1. Find suitable sites to build; 2. Determine the types of housing needed; 3. Figure out the regulatory reform required at the local and state level to stimulate housing production; 4) Secure financing.
Hernandez subdivided the large oversight committee into subcommittees to tackle each area. "That's where the work gets done," he says. The larger committee meets once a quarter, tracking projects, legislation, funding sources and more.
IN JANUARY 2018, FORMER SAN BENITO COUNTY SUPERVISOR ROBERT RIVAS LAUNCHED HIS CAMPAIGN FOR ASSEMBLY DISTRICT 30. When he announced his candidacy, he laid out a platform of road and traffic improvements, education and environmental protection. After he won in November that year, he quickly turned his attention to an issue he knows intimately and, within a few months, introduced Assembly Bill 1783, the Farmworker Housing Act of 2019. It was primarily aimed at streamlining the approval process for employer-sponsored housing on private land.
"I can speak about the importance of farmworker housing from firsthand experience, because you see my grandfather was a farmworker at Almaden Vineyards in Paicines, California," he testified to his new colleagues when introducing the bill.
Rivas spent the first 10 years of his life with his grandparents and his mother, along with up to five other family members in a two-room, one-bath unit of farmworker housing provided by his grandfather's employer next door to the vineyard. The two-room home was "very, very basic, but it was decent," he said, adding that "it gave our family the opportunity for a better life… to get out of the fields and into the classroom."
AB 1783 passed both houses and was signed into law by Gov. Gavin Newsom in October 2019. While it's unclear if many employers have taken advantage of the law, what soon became clear then was that Rivas' star was rising. Rivas was appointed chair of the Assembly Agriculture Committee while still in his first term and elected vice-chair of the Latino Legislative Caucus in the fall of 2020.
That a son of Mexican immigrant farmworkers from this region is now leading the Assembly's Agriculture Committee is no small thing. In arguing for the need to pass his bill, he shared data from the farmworker housing study with his colleagues, and he has continued to lobby for the specific needs of the region.
"The first thing I observed in 2019 when I started representing this district in the state Assembly was that it's certainly a state with no shortage of crises and certainly at the top of the list is housing and homelessness," Rivas says. "All of the conversations around housing, around the housing crisis and how it is impacting California residents, [yet] the rural perspective, what we're experiencing here, critical overcrowded housing of our most vulnerable and essential workers was not being discussed."
Rivas is now making sure the region's housing needs are a part of the discussion. Earlier in October he invited a group of legislators on a listening tour, part of which included stops to highlight Monterey County's workforce housing needs, including for farmworkers.
Even without the pandemic, Rivas says substandard housing takes a toll on the health of workers. "Covid-19 has forced us to look at what conditions and circumstances they face every single day to produce the food that we all eat," he says – food that farmworker families sometimes can't even afford. "They're trapped in a cycle of poverty. They suffer from higher rates of illness. They work harder and die younger."
Certainly more needs to be done for the children of farmworkers, who live in substandard housing, often with strangers, he says. He remembers growing up in a crowded space with his own family members, and says that made it harder to do homework and stay focused in school.
"As the fifth-largest economy in the world, here in California we can do better, we must do better," he says. "We owe it to the essential workforce to do just that."
LOS ABUELITOS SENIOR APARTMENTS, a 25-unit low-income complex on East Market Street that was built by nonprofit CHISPA (Community Housing Improvement Systems and Planning Association, Inc.) in 2006 was one of the stops on the lawmakers' October listening tour. Although small, it is a prime example of an infill project using high standards and creating community for its residents, and one that can be replicated with the right policies and incentives in place, Hernandez says.
"A big thing that is not understood in Sacramento is that a lot of the housing legislation is informed by the big urban areas, or very, very rural, very, very small areas, and neither of those really fit our region," he says. Stopping at Los Abuelitos on the listening tour, Hernandez hoped to capture "Sacramento's eyes" and have legislators experience a lightbulb moment.
Los Abuelitos ("The Grandparents") is home to Rogelio Tapia, 71, who's lived there for 11 years, along with other senior farmworkers, most of whom, like Tapia, are retired. Tapia doesn't want to be retired, but a stroke years ago weakened his right side so he had to stop picking his favorite fruit, fresas (strawberries).
Sitting in the community room of the complex where he enjoys Zumba classes twice a week, Tapia says through an interpreter that he came to the U.S. in 1970 at 22 years old, picking strawberries each harvest then returning to Michoacán, Mexico, where he and his wife Marta started a family that grew to seven children. During the season he lived in a trailer outside of Salinas with his cousin and his family, a wife and four children.
In 1997, Tapia was able to bring his entire family to Salinas through a family amnesty act passed by Congress. He rented a three-bedroom house on Market Street, and both he and Marta worked in the strawberry fields to support the family.
He always worked in strawberries. Why strawberries? Tapia flashes a wide smile, revealing several top silver teeth. He loves to eat fresas, he says, and he made decent money.
As much as he misses his work, he says he is enjoying his life at Los Abuelitos. He was the grillmaster at the residents' barbecue in mid-October and he works in the vegetable garden with other residents. A highlight of his day is at 7pm when he gathers with his neighbors by the mailboxes to sit, chat, drink coffee and eat pan, Mexican breads. He enjoys his life at Los Abuelitos, he says; his children are grown and his wife, who has Alzheimer's, is cared for by a daughter elsewhere. He'd been struggling with the stairs to his old three-story apartment, when a family member got him on the waiting list for Los Abuelitos.
"It's very quiet and peaceful," he says, and adds that he feels safe here.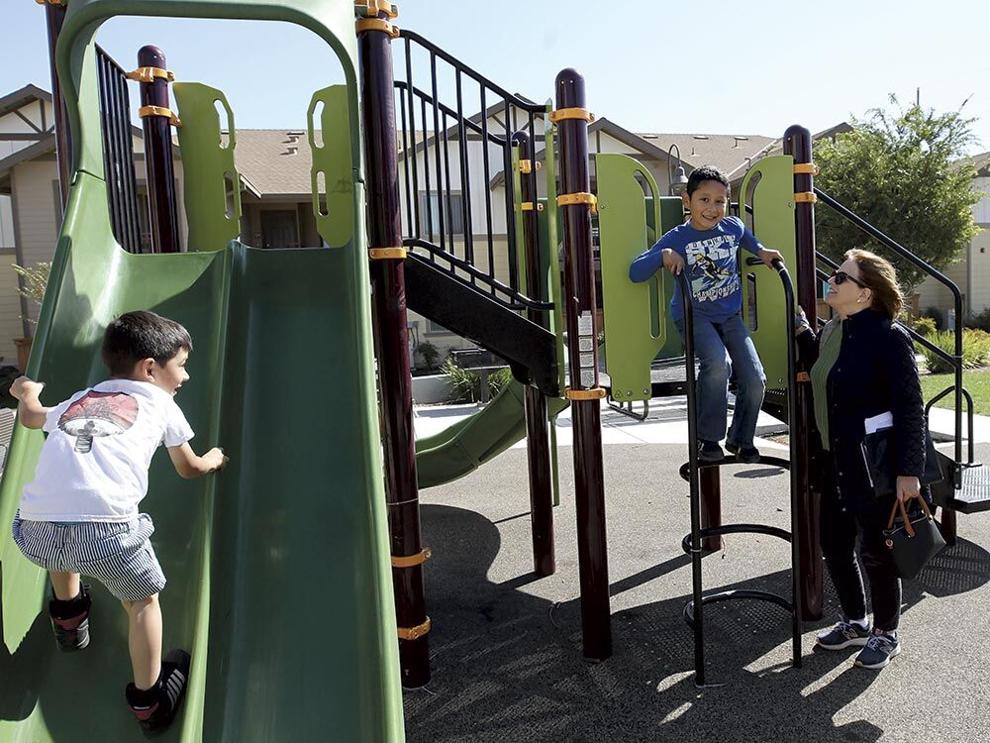 LOS ABUELITOS IS THE TYPE OF HOUSING THAT FOSTERS INCREASED HEALTH OUTCOMES for vulnerable residents living in uncrowded homes with supportive services available. While Los Abuelitos offers a safe haven for those in their sunset years, Rivas, Barr, Hernandez and others are also focused on housing for families with young children, like Eden Housing's Camphora Apartments in Soledad.
Hernandez points to the high percentage of farmworker schoolchildren who are classified as homeless under the federal McKinney-Vento Act of 1987. The act broadens the definition of homeless to children who "lack a fixed, regular, and adequate nighttime residence." That includes sharing spaces with others due to economic hardship, living in motels, hotels, trailer parks, shelters, vehicles or any substandard housing. (According to the Monterey County Office of Education, out of 78,000 students enrolled last school year, 10,300, or 13 percent, qualified as homeless, with most of those "doubled-up" with other families.)
On that blustery day at Camphora children were playing on both playgrounds, the tot lot and the big climbing structure for older kids. It was Indigenous Peoples' Day, so it was a day off from school. For the families that land inside one of the subsidized units it means a safer and more stable life resulting in improved health and education outcomes for children and better health for their parents and grandparents. That stability results in a positive ripple effect into the region. "Everybody benefits – not just the families, the whole community," Barr says.
HERNANDEZ LISTS FOUR BARRIERS TO AFFORDABLE HOUSING, "the usual suspects," he calls them: 1. Land; 2. Financing; 3. Policies; 4. Political will. If you have the first three, but not the fourth, he says, "it won't matter."
Some of those barriers are starting to crumble in the face of tremendous need. In Newsom's 2021-22 budget, he set aside $100 million for the Joe Serna Jr. Farmworker Housing Grant, which is specifically for the financing of new construction, rehabilitation of existing facilities and acquisition of owner-occupied and rental units for ag workers, with the priority being lower-income households. Hernandez believes the money will help several local projects waiting for financing to be built. "This will tip the scale and take them over the line," he says.
The Joe Serna Jr. funds (named for the late Sacramento mayor and civil rights activist who grew up in farmworker housing) have already made possible existing developments and those that are in the pipeline, including Greenfeld Commons, a 222-unit development under construction in Greenfield, with about half of the units designated for farmworkers.
The grants are competitive, open to municipalities and nonprofit developers. The most recent round of funding applications opened in August and closes on Nov. 18.
---
What about housing for seasonal farmworkers?
Pam Marino
OVER THE PAST FEW YEARS, MONTEREY COUNTY HAS SEEN SEVERAL LARGE HOUSING DEVELOPMENTS BUILT BY EMPLOYERS FOR SEASONAL FARMWORKERS, many of whom are in the U.S. on H-2A visas. These temporary agricultural visas require that employers provide transportation to and from the U.S., and also that they provide housing; while sometimes that's a motel, there's been a trend toward building dormitory-style housing for a seasonal workforce of mostly men from Mexico who are working for a brief time during peak harvest.
In this crop of seasonal worker housing, one of the first to be successfully constructed was by Tanimura & Antle in Spreckels. In 2015, the company plowed $100,000 worth of produce back into the ground due to a lack of workers. That same year, they proposed the 100-unit project for up to 800 workers. The county Board of Supervisors approved the project over the protests of neighbors who raised NIMBY concerns. No major problems arose, and the project has been hailed by many as a success.
It was originally planned as mainly H-2A housing, but has been mostly used by domestic workers who follow the crops seasonally between Salinas Valley and Arizona.
The T&A project was built by Mike Avila of Avila Construction, and since then Avila has gone on to build other similar projects on behalf of growers: Casa Boronda (at Highway 183 and Highway 101), for 600 workers in 75 units; Harvest Moon on North Davis Road just outside of Salinas, for 1,200 workers in 150 units; and Walnut & Third Housing, 30 units in Greenfield with 75 additional units coming.
While these projects provide needed safe, uncrowded housing, it's not enough, says Rafael Hernandez, housing program associate for Monterey Bay Economic Partnership. It's common for people to see these large projects being constructed and think the farmworker housing problem is being solved when it's not. "It's a lot of beds but that does not touch the families that need housing," he says.