IF IT WEREN'T FOR A GROUP OF BOOKWORMS BACK IN 1849, THE MONTEREY PUBLIC LIBRARY WOULDN'T EXIST. Luckily for residents today, that original group of five trustees helped sell shares for $32 each to residents, raising a total of $1,500. It was enough to buy the library's first collection of books and establish California's first public library, housed in El Curatel, a Mexican government building.
There is no requirement that states that every city should have a library. It just happened that residents thought there ought to be a place for people to gather, exchange ideas, learn and, of course, read. It was an idea hatched out of like-mindedness and shared values of what Monterey could be as a city.
So it ran, as an ad hoc city service, until 1906 when it became an official city department. "It's one of our few community lots accessible to everyone. It's not only for teachers and educators but for everyone in our community. I think that says a lot about our identity as a city," says current Monterey Public Library Director Inga Waite.
Whether it's a young student learning the alphabet, architects researching for a historic renovation, or a place to discuss a new book, the library is a place and source for every Monterey resident. Usually, it comes at no cost to the patron.
Like city-owned museums, social services, recreation programs and centers, city parks and summer camps – all aspects that increase the quality of life for people – libraries are examples of free or low-cost programs nested within city departments that do a lot with a little. In many ways, these services are the most public-facing and human way city governments interact with their residents on a daily basis.
It's more immediate to pick a few books from the library than to request stormwater or underground sewer repairs. It's infinitely more enjoyable to walk in a park for free or attend a yoga class at a recreation center for a small fee than it is to pay a parking ticket at city hall or apply for a building permit.
Though they are city-funded, through good times and bad, many of these services often come with not-so-secret hidden expenses because they're not revenue generators. Libraries often rely on nonprofit fundraising to build new facilities or restock their bookshelves. If social services aren't built into a city's public safety plan, they're often outsourced to existing nonprofits, not with continual funding but through periodic grants or contract work. Then there is the reliance on volunteers, who give their time, when personnel costs are too high.
During times of abundance, it's easy to take these services and amenities for granted. The Monterey Sports Center is where you can access a multi-lane pool. Seaside's pocket parks are where kids can blow off some steam or you can find a nice place to walk the dog. But they're not required of a city, and during lean times, these are often the first services to be cut or defunded. It's a tough balance to strike. Especially during a pandemic, when Zoom meetings have increased public participation in budgetary proceedings and amid national calls to defund the police, more people are paying close attention and following the money. And they are questioning what is or is not essential.
THE POPULARITY OF THE MONTEREY PUBLIC LIBRARY WAS IN PLAIN SIGHT BEFORE THE PANDEMIC. A steady stream of students filed into the Pacific Street building after the bells had signaled the end of the school day at Monterey High and Colton Middle schools. By the time they had arrived, senior-aged visitors already had their noses in newspapers, magazines and books, reading to themselves in armchairs that sporadically lined the quieter back half of the building.
"Libraries play a really important role in the community. It's a kind of refuge for people. People who need a place to study and are always welcome. It's one of the few places where people of all socioeconomic backgrounds can interact," Waite says.
By 2019, the Monterey Public Library had over 800 visitors daily, and consistently surpassed state averages for library services provided – and it's a long list. There were simple and obvious things borrowing physical books, audiobooks and music, but libraries also provide internet-connected computers and laptops. Then there are other services like a summer reading program to help young kids retain their early reading skills, book discussions, and maintaining a unique local history archive they call the California History Room.
On March 13, 2020, that all came to a grinding halt. By an emergency order, all nonessential activities closed. By the time they resumed operations at a bare minimum, Waite says they cut their roughly 21-person staff by 80 percent and kept a skeleton crew of just four people. They currently have 7.5 full-time equivalent employees, 1.5 of whose positions are funded through donations.
They adapted services by creating a mail-in borrowing system in June, eventually adding a curbside pickup service. They transferred many of their in-person workshops, classes and discussions online. They rolled out a series of Zoom 101 workshops, realizing the technology was an increasingly ubiquitous part of remote work, online schooling and long-distance socializing. Many of their archives, research materials and services were also already accessible online.
But by the end of 2020, Monterey Public Library didn't have enough money to restock its shelves. "We have to make sure we're not just stocking new books, but movies, audiobooks and all that," Waite says. "Parents ask for new books for their kids, and we like to have some blockbuster movie titles too." At its very core, Waite explains libraries aren't just a place to store books and gather, it's where people can access information for free. But free libraries don't generate money.
"We're not a subscription service, or a cookie-cutter Barnes and Nobles situation," she says. "It's really a statewide principle, this idea of universal borrowing. A public library does not charge because there is a firm belief that all people, no matter their socioeconomic background, have equal access to the same level of information. If we charge, we lose some of our community."
In 2019, the Monterey Public Library received $3.2 million from the city and had 21 employees. Enough to run programs, do research and serve their 800-plus daily visitors. The pandemic left them with four employees and just over $1 million. Waites hope by 2022, they can bump up that number to $1.8 million, but it may be several years before they receive their former level of funding. They have enough money for now to fund one staff member to work the library's bookmobile starting in July, at a reduced capacity. The popular program that increases outreach in underserved neighborhoods and preschools will have five stops instead of eight, and one staff working 30 hours. The budget will be $106,000 instead of its pre-pandemic $124,000.
For now, Waite and her team are looking at the very real situation of hedging their bets that the economic situation will recover quickly enough as they staff up for reopening in-person sometime in July. So they're looking to residents.
Monterey Public Library Friends and Foundation, the nonprofit that supports the library, set up an Amazon Wishlist back in November, where supporters could directly buy new materials to refresh the library's shelves. As for manpower, the library is circulating a call for volunteers and funding positions through donations. "Philanthropy was always at our roots," Waite says. "As terrible as things have been, there are silver linings: The community has really rallied around our library."
Still, going forward, goodwill and charity aren't a guarantee. But neither are city budgets.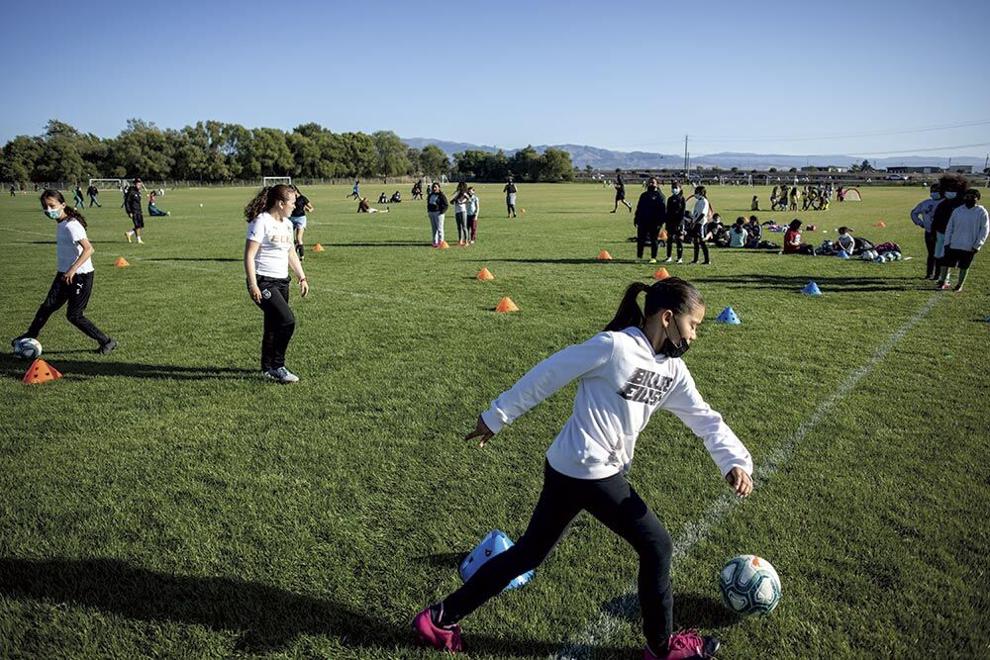 THERE IS MORE THAN ONE WAY TO BALANCE A CITY BUDGET. First comes the subtraction: Personnel is costly. Local governments face this daily, and Salinas City Council members brushed up against it in May 2021 when they approved a 2.25-percent salary increase for the city's police officers. Amid nationwide Black Lives Matter protests and calls to divert city funding away from police departments and into social services, the optics were bad for activists. But the city's hands were tied by labor contract rules.
Then comes the addition: A question of what residents and visitors use and want. Sparked by the aforementioned BLM movement, Seaside residents and other activists wanted an alternative to calling the police for nonviolent emergency situations. The solution they landed upon was hiring city-employed social workers.
In August of 2020, the city of Seaside committed $500,000 to increase social services, including $180,000 to create one full-time and two part-time social services positions under the purview of the Parks and Recreation Commission, thereby expanding the role of Parks and Rec in the city. The rest went to local nonprofits like the Village Project and Sun Street Centers as grants.
At the outset of the pandemic, Seaside braced for the worst-case budget scenario with reduced revenues. "What actually happened was we had a projected surplus of $6.7 million. That's good news," City Manager Craig Malin says. Though they preemptively cut positions and asked retained employees to take a pay cut, they're now on a hiring spree. They're hiring a community service officer (an unarmed liaison between the police department and the wider community); a Spanish-speaking communication and public engagement position; three engineers; and more.
After addition and subtraction comes solving for x: variables that are harder to predict. Monterey is highly dependent on hotel taxes, was hit hard by the pandemic shutdown, and is looking at roughly $30 million in revenue losses over last year, more than one-third down from pre-pandemic times. City Manager Hans Uslar notes it's not just hotel taxes, but sales taxes that slowed down too. "Shopping behaviors from online sales have taken their toll. Whether it's buying toys for pets on Chewy.com or your furniture at Wayfair, there's nothing you can't get online," he says. "We're collecting only a fraction from our brick-and-mortar stores."
In a good year, Monterey has enough tax revenue to support its non-revenue-generating services like the Monterey Sports Center and the library. But those days are gone for now, and meanwhile the cost of maintaining and staffing the Sports Center has risen. "We should have charged 25-percent higher, over time, a long time ago," Uslar says.
Monterey has found some innovative (and no-cost) ways to address calls for changes to policing. Starting in 2017, they began mobilizing already-existing social services in what became called the Multidisciplinary Outreach Team, or MDOT. The program allows nonprofits like Interim and social workers from Community Hospital of the Monterey Peninsula to have a desk and ride along with beat officers to take on police calls to respond to the city's growing homeless population.
Seaside heard similar requests from the community, and found the money to make an effort to respond. "The city council never retreated from the challenge. [Residents] asked for change and this is how we address a community need," Malin says. "Our response was to engage."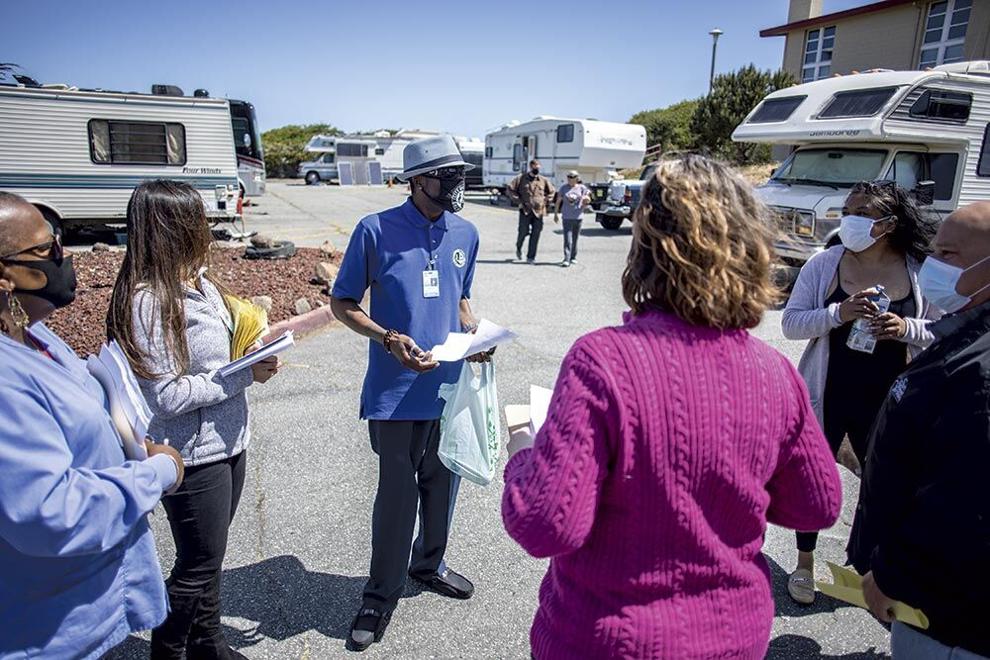 BEGINNING LATE LAST SUMMER, local organizers like Agents of Change, Community Before Cops, Baktun12 and others, began circulating a "People's Budget." The branding is not a new concept. Cities like Los Angeles and New York have a version and so do progressive Democrats in the House of Representatives. The local People's Budget was spearheaded by MILPA (Motivating Individual Leadership for Public Advancement), a community organization that helps build leadership and sharpen advocacy skills.
The People's Budget advocates for cities to cap spending on police at 30-percent max and invest in long-term solutions that improve the health, safety and happiness of residents. Give kids something to do and fix our parks and build our recreation programs. Fully fund libraries. Invest in housing people so they have a safe place to live. Prioritize projects that uplift communities, like Salinas' Alisal Vibrancy Plan.
Cesar Lara, director of policy and programs at MILPA, says to get a sense of the mission of the People's Budget, one only needs to look a few years back, when MILPA, LULAC, Building Healthy Communities and other members of the public flooded the audience chambers of public meetings to tell local leaders to rethink public safety, prioritize quality-of-life issues, and focus on prevention and aid. That's a messier way of saying "Defund the Police," but for leaders that bristle at the thought of doing so, it's a more specific response to how city funds have historically been allocated.
"Giving police departments the majority of the budget is a very status quo way of thinking about our budget," Lara says. "Our belief is public safety is more than just police, even though the narrative is us against police.
"It's those quality-of-life issues we want to see reflected in public financial decisions."
Hebbron Heights Family Center in East Salinas, for example, is a 7,300-square-foot recreation center with nested services. It has ESL classes, karate classes, and other youth programs. It's the headquarters of a Girl Scout troop. But due to deferred maintenance and mold it's become uninhabitable and has been shut down to patrons.
This could all have been avoided, Lara says, if the city had funded recreation centers more consistently over the years. "It is really falling apart so the city is closed it down because of maintenance issues," he says. And city officials will need to go hat-in-hand seeking dollars to reopen it, asking for state funds and grants. (Assemblymember Robert Rivas, D-Hollister, has requested an $8.1 million state budget allocation for repairs.)
Supporters of the People's Budget are organizing around their priorities right now, in the thick of budget season h June, with budgets approved before the new fiscal year begins on July 1. They've organized Chalk and Runs, where supporters integrate budget meeting information with chalk art at public parks and on sidewalks. They've gathered in vigils and protests outside of city halls. They've circulated email templates and phone prompts to be read out during the public comment portions of council meetings. They've held budget literacy and general budget workshops all with the hopes of shifting the allocation of funds away from police departments and into more social, educational and housing programs.
MILPA's Program Leadership Assistant Airam Coronado points out there are barriers to full participation in budget processes. Things like lack of childcare can make it hard to attend evening meetings. Even in this era of virtual meetings, there is lack of internet access. There's a lack of live Spanish translation services in some jurisdictions, and for languages other than Spanish.
"From my perspective, if you're going to make decisions you have to start engaging. The more people who are civically engaged, the more electees really understand who they represent," Coronado says. "The more people start controlling the narrative of the budget, the more our cities will fund programs that we really want."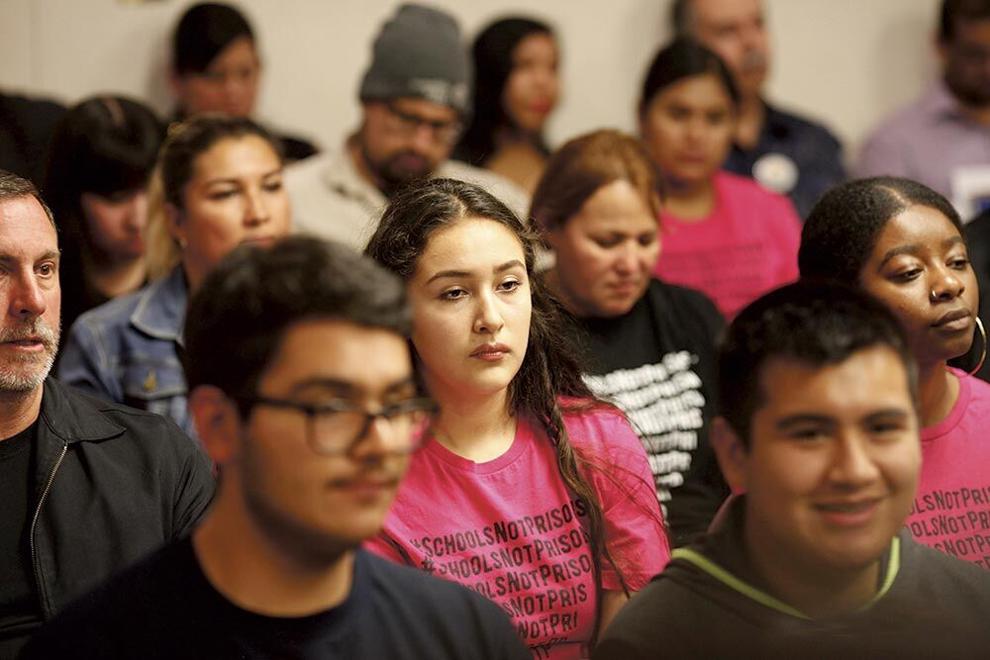 IF HISTORY DOESN'T REPEAT ITSELF, THEN IT SURE DOES RHYME. The 2008 recession had a profound effect on the economy from which many local cities were just beginning to recover before the pandemic struck. Though the recessions of 2020 and 2008 were caused by different forces, it's not hard for longtime residents to imagine a life without the amenities and public services that enhance quality of life because they lived through it in 2008.
Monterey-Salinas Transit cut back its routes in 2008. In Seaside, a successful youth diversion program that helped at-risk students steer clear of juvenile hall and into the rooms of family counseling and community-volunteering efforts ran out of funding in 2008. Though funds slowly trickled back in as the economy recovered, it was only in 2014, thanks to a grant awarded to the Seaside Police Department, that they received over $1 million to expand the program and hire a full-time recreational services director from 2015-2017.
Sometimes the history lessons go back further. In 2005 during a budget crisis, the city of Salinas almost closed down its entire library system. Residents, business owners, children and others organized under one banner – Rally Salinas – to raise enough money to keep the library system open for 33 hours per week, for a year. When elections came later that year, residents voted yes on a sales tax to extend the funding for 10 years. Come 2016, it was extended again by voters through Measure E.
The return of Monterey's bookmobile is also a story of creative thinking under a budget crisis. Its origins can be found in a budgetary compromise between book-loving library patrons and the city council, when the city was forced to close down the Monterey Public Library's Laine Street location. It has seen four iterations since the first bookmobile launched in 1954.
Though the administrators and electeds who hold the purse strings need to keep the sewers running, parking tickets collected and debt obligations under control, the pandemic forced decision-makers and residents to look at the inequities in their own backyards. Both have found that the "extra stuff" – the parks, the recreation centers, the libraries, bulked-up social services and their shelters – are places and services their cities can't do without.
Uslar says even faced with difficult decisions in difficult times, places like the beloved Monterey Sports Center are integral to residents' happiness and health. "There's a reason people in Monterey don't just work out on their Nordic Tracks and Pelotons at home," he says. "They want to go take a yoga class. They want to swim in the pool and use the Recreation Trail. They want to live and enjoy their city."
---
BE CITY MANAGER FOR A DAY
Being constructive, and specific, make your recommendations to your city council.
Where can your city save money?
What should be funded more with those savings?
Email your responses to: