ADRIANA SAMSON, U.S. Army veteran
Watching the chaotic scramble out of Afghanistan on television, U.S. Army veteran Adriana Samson, 30, keeps asking herself, "What was it all for?" She has a quick answer.
"I don't know. I don't know if anybody does," says Samson, who spent four years deployed as a communications specialist with the Army on an airbase in Bagram, Afghanistan. "If we're leaving it just as we found it, or worse, then what was the point? I want it to be over with."
The base where Samson served is now occupied by the Taliban, something she says is difficult to process.
"We have to apologize to the people of Afghanistan for giving them a false sense of hope and then abandoning them," says the Texas native turned Marina resident. "That's one of the things I feel most guilty about. A lot of them built hope and their lives around the possibility of us bringing the American Dream to them. Now, they're back under Taliban rule."
Although she was only 11 years old, the Sept.11 terrorist attacks inspired Samson to serve. That sense of patriotism sustained through middle and high school, through her decision to join the Army in 2010 and never wavered during her deployment. However, since returning home in 2014, Samson continues to witness the toll deployment has levied on her fellow veterans. She has grown disillusioned with the military and the United States' decision to invade Afghanistan.
Samson says hearing officials tally the U.S. military death toll to now 2,461 is heartbreaking. Heartbreaking because more lives have been senselessly lost, and heartbreaking, she says, because she knows the death toll is much higher.
"We're losing the battle at home, too," Samson says. "I've lost so many people. It's mostly suicide and I know it was because of their deployment.
"Instead of continuing to argue about 'Well, let's do this,' or, 'We should have done that," let's focus on healing our veterans. Even if the war is over, we're more than likely going to have a lot more casualties to come here pretty soon." [CN]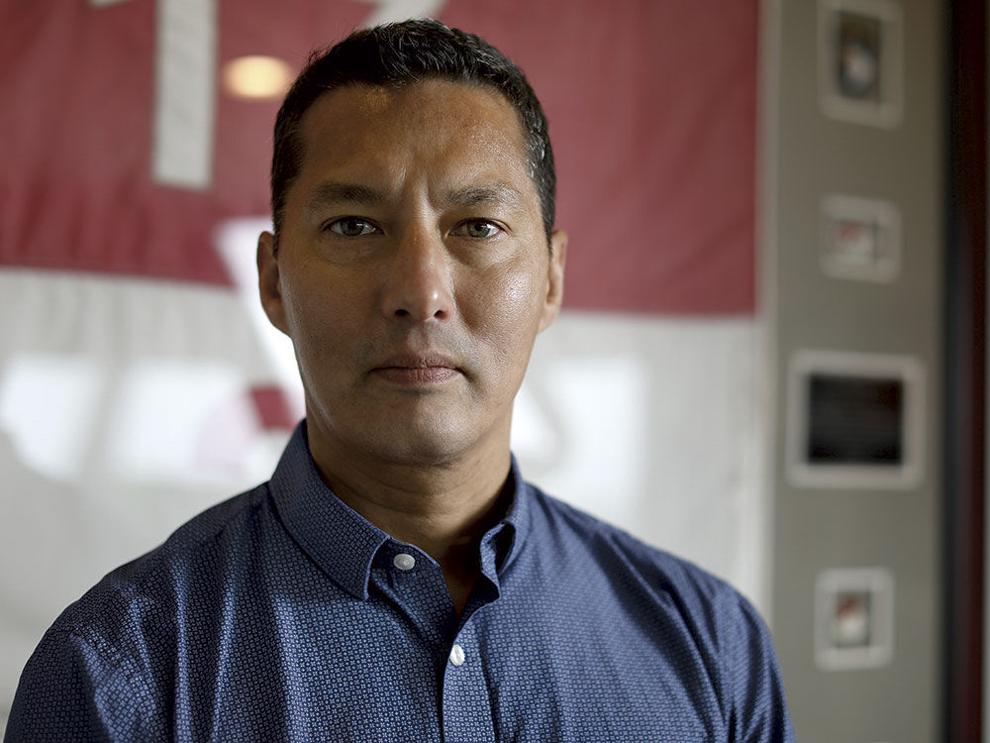 JACK MURPHY, U.S. Army veteran, and JENNIFER BLEIKER-MURPHY, spouse
Retired Army Lt. Col. Jack Murphy landed in Afghanistan early in the war in 2002. He describes those days fighting out of both Kandahar and Bagram airports like something out of the cantina scene in Star Wars: A wide array of characters from different nations, wearing different uniforms and speaking different languages, "with no idea who has what laser gun," he says. "It was a really surreal and unique experience."
It was also a harrowing one. In one example, he describes the former Soviet Union base at Bagram airport at that time, in 2002, as a larger perimeter full of smaller perimeters made of mud walls. ("To call Bagram a base was a hell of a stretch," he says.) U.S. military forces and the Afghan National Army – "It was just people that were armed" – would secure each perimeter, right across the street from each other. "And when it came time to man the wall, you're pointing weapons at each other. It was just bizarre," Murphy says.
He returned to the U.S. and went from being a single man to married, to Jennifer Bleiker-Murphy, who was a firefighter at the time. He earned his master's degree from the U.S. Naval War College in 2008. That same year Bleiker-Murphy was expecting their first child when Murphy was sent back to Afghanistan to work in operations out of Jalalabad near the Pakistan border. Their daughter was born while he was away. They later welcomed their son together on the Fort Irwin Army base in San Bernardino County.
Now an analyst for the Monterey County Military and Veterans Affairs Office, Murphy says he's glad the decision was made to withdraw from Afghanistan. "Twenty years is an awfully long time," he says. "I have a son and a daughter that I wouldn't want to see them going back to daddy's stomping grounds, no.
"Despite what many veterans may be feeling and certainly what's being portrayed in the media, I think overall we did good things there. Twenty years, I get it, that's a long time – but that's a generation of women who were able to access health care and education when they otherwise wouldn't, that's 20 years of journalism, that's 20 years of medical and economic advancements. They had a solid 20 years of progress, so for those that are frustrated, let's have a little bit of perspective.
"Maybe 20 years was too long. Or maybe 20 years wasn't long enough, especially considering what's happening there today."
As an Army spouse, Bleiker-Murphy says she learned that servicemembers and families suspend openly criticizing decisions made about the war. Instead, they provide a dedication to the overall effort. "The spouses are there to support that effort and there is an appreciation that this is not easy, it's not black and white, people are sacrificing here and in Afghanistan," she says. "There's tremendous hardship and suffering, and there is a lot of uncertainty. Finger-pointing isn't going to solve much."
Murphy adds that winning was never a given. "From a servicemember standpoint, despite your best planning and training, you recognize that sometimes the enemy is just going to have a good day and things happen," he says. "War by nature is very dirty, it's not antiseptic. You might win that fight, you might seize that hill – but you may also realize some casualties or fatalities and you just have to look beyond that.
"It's tragic, it's heartbreaking, but we accept that's part of our service to the nation, that's part of our job, that's part of our commitment." [PM]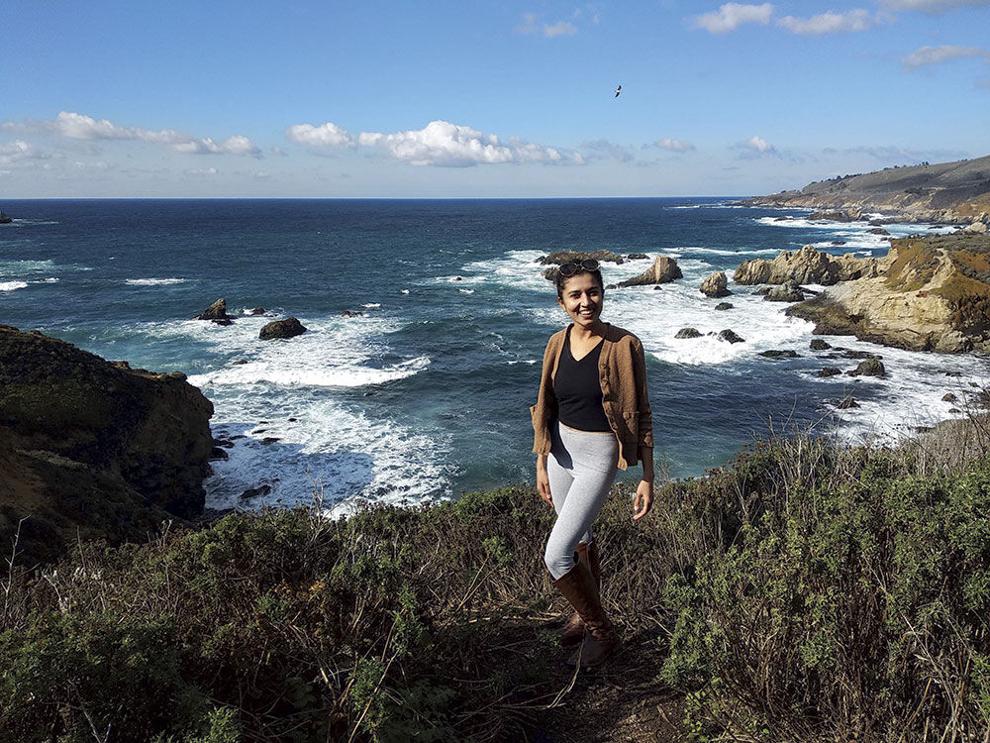 GHARSANAY IBNUL AMEEN AMIN, Afghan activist
Gharsanay Ibnul Ameen Amin is a 22-year-old Pashtun woman from a relatively conservative Nangarhar province, where she attended high school. Coming from a liberal family committed to educating all the children – three boys and three girls – she attended the American University of Afghanistan to study law. Kabul was a culture shock.
In school, Amin participated in every debate competition, including international contests, where she got a chance not only to be vocal, but to meet people from all around the world. Those contacts helped her later to build the Young Women and Men Leadership Conferences, with the mission to empower Afghan high schoolers by global leadership training.
From 2019 to 2021, Amin studied in Monterey for her master's at the Middlebury Institute of International Studies. "It was one of the most transformative experiences of my life," she says. "I met the most incredible people."
Currently located in Canada, Amin, like other Afghans abroad, is observing what is going on in Afghanistan and hoping for the best. She doesn't remember the Taliban rule in Afghanistan. She recognizes the American University of Afghanistan for the value it brings to her home country, especially to girls.
"It's important for the world to know that the new generation is very different," she says. "They are equipped with critical thinking and they are questioning religious, social and cultural norms around them. They are redefining the reality of this country."
Amin calls the current situation in her country unpredictable and chaotic, but refrains from criticizing the U.S. government for withdrawing troops.
"Too many people are commenting without data," she says. "We need better intelligence. That being said, there are things that could have been done to mitigate current atrocities and risks."
Nonetheless, Amin is grateful the U.S. is helping people who helped the U.S. government in the last two decades and continues to evacuate them. She is also optimistic when it comes to the future. "I don't want to sound naive because my family was directly impacted by the current chaos," she says. "But I'm hopeful."
The source of this optimism is her own network of friends and colleagues, many of them young Afghans on various scholarships, advocating for and representing young Afghans around the world.
Not that she's planning to go back to Afghanistan anytime soon, she says during a Zoom call with the Weekly, her nails polished pink.
"There are things that I value and given the situation with the Taliban, I'm not sure if I would be able to make a contribution. I'm very vocal and I have my own opinions."
When done with school, Amin is planning to pursue a career in intelligence and international security; she is also interested in financial crime and terrorist financing.
"In our house, it's my mom who is often the decision-maker," she says. When talking about leadership training she has been providing to girls in Afghanistan, she says: "Leadership is a very powerful word. When a father lets his daughter take part in a leadership training, he is deciding to go against powerful cultural taboos." [AP]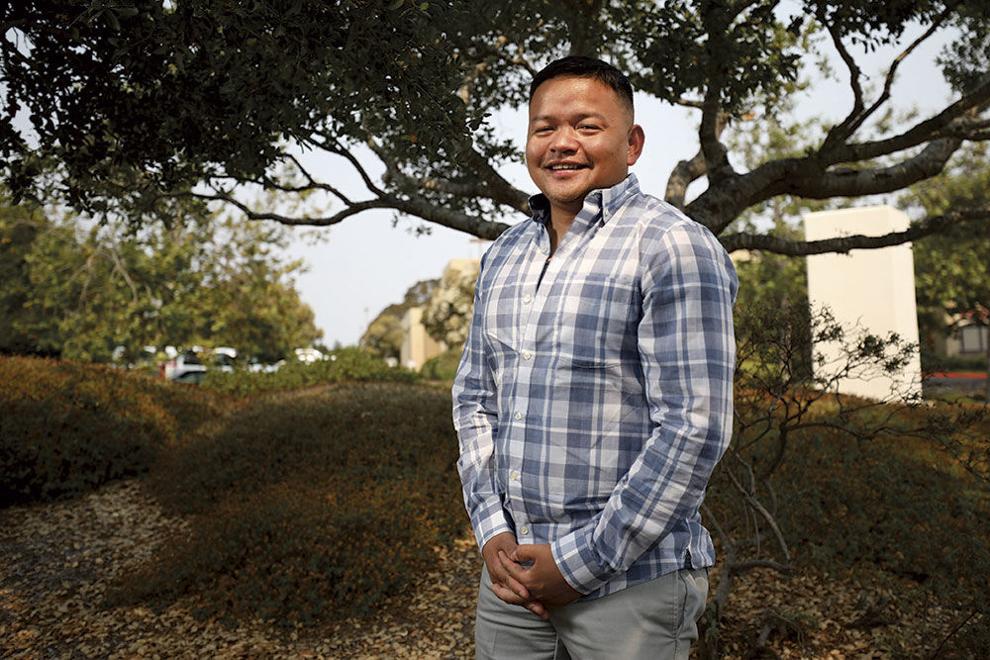 JOEL PABLO, U.S. Marine Corps veteran
Joel Pablo grew up in Salinas, in a family with a long history of military service, so it was always in the back of his mind as a career path. But it was the 9/11 attacks that cemented his vision to serve. "I'm not all for war, but if we have to go out there to protect American interests – and also protect those whose lives are under repressive regimes – I'm all for it," Pablo says. "It really helped me say, 'I need to enlist. I need to serve my country.'"
In 2006, after two years at Hartnell College and at age 20, he enlisted in the U.S. Marine Corps. He was stationed at Camp Pendleton in Southern California, where as an administrative specialist, he processed infantrymen leaving for and returning from Iraq and Afghanistan. His colleagues, he says, were motivated by a similar sense of purpose that drove him: "They knew they were going out there for a reason – to protect American interests, and also to protect the lives of those who have been oppressed by terrorists."
Not that that made it easier when people didn't come home.
Like his close friend and colleague, Corp. Nichols – they knew each other in the Marine Corps by their last names only – who volunteered to go abroad to Afghanistan, believing it was part of his duty. Nichols would report back by email about efforts like teaching riflery skills or distributing food. He did not enjoy the fighting missions he sometimes had to go on, and before one into a particularly dangerous area, he wrote to say he understood the risks. He was one of five on a team of 15 who did not return.
"He had just a lively personality, he got along well with everybody," Pablo says.
Reflecting on Nichols and others in the context of the end of the war and the fragility of the Afghan government, Pablo feels betrayed. "To see it fall apart is very disheartening," he says. "It just really hurt me a lot. I have plenty of friends who passed away, and it just hurts.
What would winning look like? "A successful outcome would've been communities building up to a point where they can live comfortably without fear from an oppressive regime; without fear from terrorist groups; and be able to live freely, just like all of us here in America." [SR]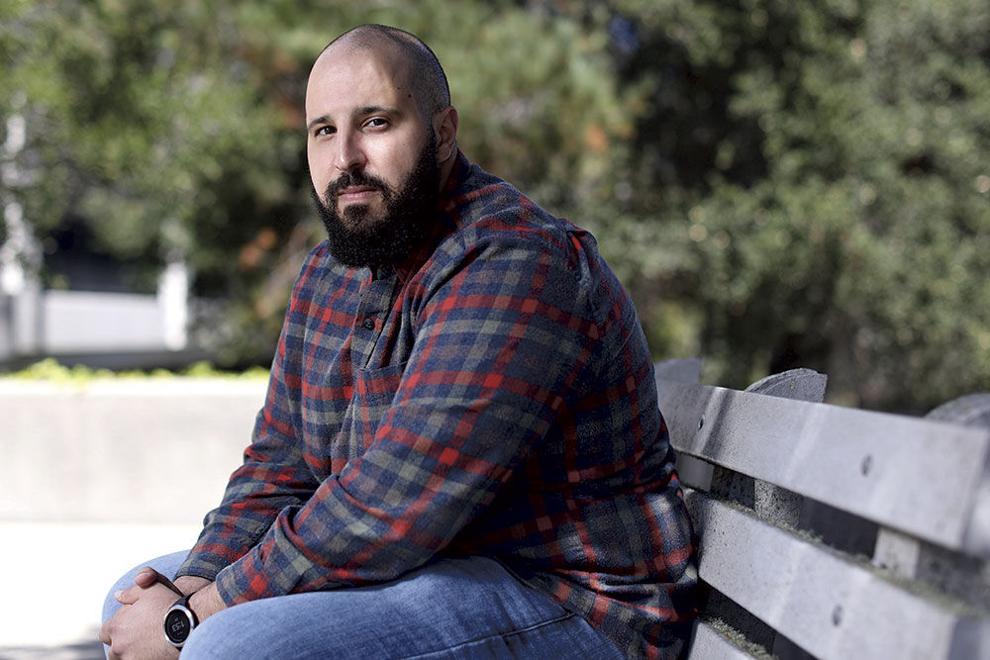 ADAM ERRAHEBI, U.S. Air Force veteran
Adam Errahebi, who worked a security detail for five-and-a-half months in Afghanistan in 2013, has been experiencing conflicting feelings watching events unfold amid the U.S. withdrawal. "When we were first pulling out it was mixed feelings, a sense of relief that nobody has to experience those things over there – but also a little bit of sadness," he says.
"I feel bad for the people we worked with, the interpreters. I'm not sure if they made it to the United States or not, the people we trained and worked with," he says. "It's like a gut punch. I feel for the people we worked with over there, they're very beautiful people."
Errahebi, whose family came to the U.S. from Algeria, joined the Air Force out of high school in 2010 as a way to pay for college later on. He trained to be in the security forces, and was first sent to Kunsan Air Base in South Korea. After coming back to the U.S. to work at Vandenberg Air Force Base in California, he was deployed to Kuwait and then to Afghanistan.
While at the Bagram Air Base he made friends with Afghan soldiers and interpreters who worked alongside U.S. servicemembers conducting security checks for 12-hour shifts. "We would talk about soccer, sports, just random things with other people, especially the interpreters," he recalls.
For Errahebi, who now works for the Monterey County Department of Military and Veterans Affairs, his times in Afghanistan, Korea and Kuwait interacting with people of different cultures was enriching. "It's one of the best experiences I had in my life," he says. [PM]
CATHERINE CROCKETT, peace activist
Catherine Crockett moved to Monterey County from Texas in 1998, and in the subsequent years, after two Forever Wars (Afghanistan and Iraq) were launched during the George W. Bush administration, she started attending events at the Monterey Peace and Justice Center in Seaside. "I was always kind of progressive and anti-war," she says.
While Crockett never served in the military, she came from a military family: Her father served, as did her three brothers, who fought in Vietnam. One of her brothers, she says, was forever changed by the war after being stationed in the demilitarized zone separating North and South Vietnam, where she says he manned a "huge" canon.
"He was not a violent person, and I think it did a lot of damage to him," she says.
As she became more engaged in MPJC, she joined its board in 2012, and in 2015, became its president.
Six years later, the war in Afghanistan is ending – with the collapse of a free society and takeover by the Taliban. "I just feel that there could have been some preconditions, some solid negotiations that would have made it more possible for a peaceful transition, if that's even possible," Crockett says.
But her main point of criticism is the war itself.
"There's so much profiteering. It was a huge success for defense contractors," she says. "I think the over $2 trillion that flowed into Afghanistan did nothing but make it a more corrupt landscape. I don't think that made us any safer. When we pulled out, there was no sense of the Afghan army taking over. They were not invested in it. This was all for our benefit." [DS]
JIMMY PANETTA, U.S. Navy veteran and U.S. Congressman
We had to know that the end of a multi-faceted, nearly-20-year war would be messy. We had to understand that, when President Biden stuck with the decision to withdraw American forces from Afghanistan, there would be consequences. Given that, "what you would hope was that there were contingency plans, no matter what happened," says U.S. Rep. Jimmy Panetta, D-Carmel Valley. And yet – "it didn't look like anybody prepared for what had happened."
Panetta, who served as a Navy intelligence officer in Afghanistan from 2007-2008, understands and supports the withdrawal. What he questions, like many others, is the way it all went down. "These are questions that need to be asked, and I think that deserve an answer," he says. From his seat in Congress, Panetta says he plans to ask those questions and demand answers.
Answers notwithstanding, what's done is done. Our focus now, Panetta says, must be on fulfilling promises made both to American citizens on the ground in Afghanistan, and to Afghan partners. "Right now the priority is making sure that we leave no one behind. And I don't just mean Americans, that's obvious. I mean the men and women who received special immigrant visas that worked with the United States, that we entrusted our lives to when we were serving there. I hope people in the United States realize that the people who are coming here under the [special immigrant visa] program were people that we trusted our lives with, therefore we should trust them and welcome them here into our country." (The Biden administration reports they were able to evacuate 70,000 people between Aug. 14 and 24.)
When it comes to an assessment of our success in Afghanistan, what "winning" a war like that would even look like, Panetta is reluctant to answer.
"One cannot answer [that] in a simple interview," he says. He points to both strategic and tactical wins along the way, and says the underlying counterterrorism mission did succeed. Still, "obviously nation building is something the United States has a hard time with," he says. The impacts of American presence over the past 20 years, and the attendant education for women, technological advances and more, may not show up immediately. "We have to hope that the seeds of those rights, that I believe were allowed to be planted and were actually planted by our presence, take hold no matter who is in charge." [TCL]