While "tribalism" is the word of the day in hyper-partisan Washington, D.C., dozens of local candidates and ballot measures transcend party. These candidates, and authors of measures, are your neighbors. The votes you cast in local (nonpartisan) races stand to make a profound and immediate effect on your neighborhood: Will City Hall be a welcoming and transparent place, and will the leadership prioritize spending to fix potholes?
When candidates join the Weekly editorial board for endorsement interviews, Publisher Erik Cushman gives a greeting that goes something like this: We believe the intentions of people running for these volunteer positions are good, and that they genuinely want to make their community a better place. While we don't always agree with their ideas on how to do that, we admire their intentions. Our picks on who we think will lead Monterey County in a better direction are below.
We interviewed 43 candidates and representatives of pro and con arguments for ballot measures, for a total of about 200 people-hours' worth of work in recent weeks. In some races, we asked questions of another two dozen candidates by email. Even still, this list is not comprehensive: There are other measures, school district and council races, among others, not included here. (You can read our continued coverage of some of those – including our endorsements for candidates at the state and federal level, which were published before the June primary – at mcweekly.com/elections2018. We'll run our picks in those races in print again in our Oct. 18 issue.)
When voters have choices, they can hold their leaders accountable. In the 2016 presidential election, Monterey County's voter turnout was 73.8 percent, better than the U.S. average of 55.7 percent. This is an engaged community, and better for it.
---
Monterey Peninsula
Yes | Measure J
Measure J is a crafty way to enable the public takeover of the California American Water system. The measure is simple and concise, and reads that the water management district shall take over the water company, if feasible.
It authorizes the Monterey Peninsula Water Management District to conduct the study, but it does not define "feasible" – that will be left to the MPWMD board and, almost inevitably, the courts.
Cal Am is vilified in many circles in the community. Water rates in its service area are, according to nonprofit Food & Water Watch, the most expensive in the nation. Customers complain that the more they conserve water, the more their rates go up. Cal Am's attempts at finding a solution to the state water board's cease-and-desist order have so far yielded only failed projects and lawsuits, with the costs borne by ratepayers – all the while they are collecting up to a 9-percent profit on whatever they spend. And this election season, the company's massive campaign to combat Measure J has overwhelmed voters with both sheer volume and misleading claims.
Cal Am deserves credit for the good work it does. They deliver safe and reliable water on demand to over 100,000 customers. The company has been insufficiently recognized for dismantling the San Clemente Dam; for the pipeline project undertaken over the last two years; and for their unending pursuit of new water supply. They are a union shop, they have progressive personnel policies and are good corporate citizens.
Then again, that's kinda what they are paid to do. Profit-focused ownership of life's most precious resources seems like an idea worth reconsidering.
Let's conduct the study and find out more. If Cal Am is willing to spend millions of dollars to defeat Measure J, they must think the water system is a good long-term investment. That seems to be persuasive enough.
Editor's note: The Measure J endorsement has been updated to reflect the following correction. Cal Am is not guaranteed a 9-percent profit, but is approved to collect up to that much profit. 
George Riley and Alvin Edwards | Monterey Peninsula Water Management District
The future of the Monterey Peninsula Water Management District is hard to predict right now, given that the outcome of Measure J could transform it into a large water utility. The right leadership for this next chapter is crucial to instilling public trust. In District 1, Brenda Lewis is retiring, and former Seaside City Councilmember (and former MPWMD board member) Alvin Edwards is the best choice to replace her. He is a clear-headed – and passionate – voice in the fray when it comes to public water these days. He is insistent on the urgent need to get a water supply online, and he wants it be owned by the public. He also has more working knowledge of local government than his opponent, Dean Provence.
In District 2, Andy Clarke is up for re-election, and faces a challenge from Public Water Now co-founder and Measure J proponent George Riley. While Clarke has done a fine job as chair of MPWMD, he's neutral on Measure J, while Riley is a passionate public water advocate who has done his homework on local water issues, and then some. We'd hope that if he is elected and Measure J passes, he'd recuse himself when it comes to voting on it; given that he's a primary architect of J, it seems that would be a conflict of interest.
There will be another new face on the MPWMD board with longtime board member Bob Brower retiring due to health reasons, midway through his current term; the board is expected to appoint his replacement on Nov. 19.
Matt Zefferman, Jan Shriner and Bill Lee | Marina Coast Water District
There's one important outcome that needs to happen from this election: Incumbent Howard Gustafson must go. Gustafson is a major distraction to the district and an embarrassment to our entire community. His tweets and public demeanor leave us dumbfounded, cringing. He'sdoing a good job convincing the community that he's racist, misogynist, against education, against millennials, against diversity. An example, from a recent tweet: "You scumbag little queers, go somewhere else, most people in USA DO NOT ACCEPT WHAT YOU DO."
Meanwhile, MCWD has an important mission and needs smart leadership to serve its 33,000 customers for water and sewer services in the Marina and Fort Ord area, including part of Seaside. This $40 million public agency is often under the radar, but it plays an important role to both provide clean water and manage wastewater. MCWD greenlighted a study this year to investigate desalination, an expansion of Pure Water Monterey, stormwater capture and conservation. While MCWD hoped that its days at being in the center of controversy were over, Gustafson is doing his best to bring the wrong kind of attention to MCWD.
There are five candidates, including three incumbents and a former water board member, seeking three seats. We think Jan Shriner and Bill Lee deserve to stay, and we're especially enthusiastic about Matt Zefferman, an engineer with a strong interest in preserving reasonable water rates and, most importantly for an agency that's long alienated itself from prospective partners, building constructive relationships.
Natalia Molina and Yuri Anderson | Monterey Peninsula College Board of Trustees
A changing of the guard is long overdue for MPC, which faces challenges on multiple fronts. Superintendent Walt Tribley has announced his intent to leave, so a search is on for his replacement. Faced with potentially losing accreditation, administrators scrambled to improve processes (and did, getting MPC removed from probation). Changing state funding formulas have altered the way MPC makes money from extracurricular students (like seniors enrolled for enrichments) versus for-credit students. And the faculty union, without a contract for five-plus years, has been locked in a lengthy and bitter battle with the administration.
Charles Brown is not seeking re-election, and two candidates, Natalia Molina and Felix Bachofner, are running to replace him in Area 1. Molina says she wants to bring both a broad problem-solving approach to MPC, and also address details, like more thorough contract vetting and taping meetings to promote transparency. She also might be the first Latina to serve on the board in MPC's history.
In Area 2, incumbent Margaret-Anne Coppernoll faces challenger Yuri Anderson. Coppernoll's mindset is that everything is going along just fine. While there are certainly things to be proud of at MPC, that's out of step with reality for many faculty members and students. Anderson, her challenger, makes a big focus on transparency and inviting the public into the governance process. She wants to put the challenges behind MPC quickly and move on to the nuts and bolts, like making the Marina campus into the thriving satellite it deserves to be.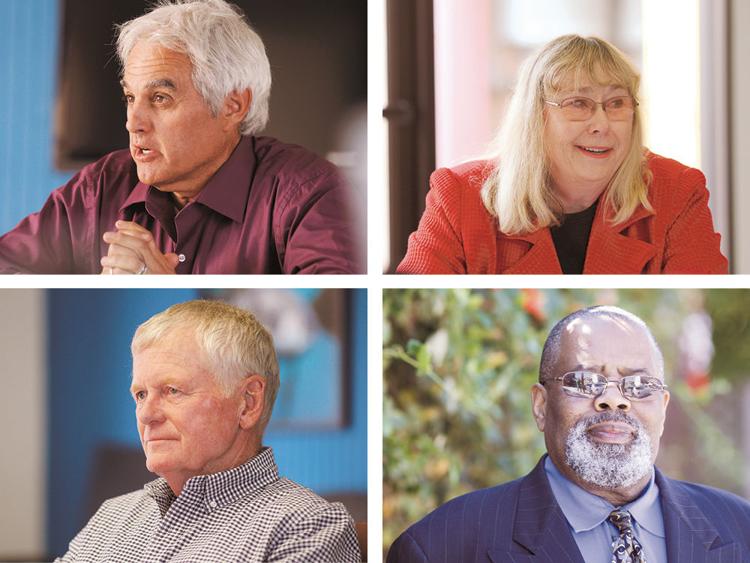 Salinas
Joe Gunter | Mayor
Challenger Amit Pandya, a small business operator, is right to ding the city for struggling to come up with a long-term plan to address homelessness. Yet he has toned down his criticism since he ran two years ago for this position, and admits the city has made strides in certain areas, such as public safety and a thriving city center.
Much of this has come under Mayor Joe Gunter's leadership. Gunter, a retired cop, has focused on liveability, through park improvements and recreational opportunities. Next on his agenda is a new police station closer to the city center, improvements to infrastructure, a youth center and affordable housing. A project in Chinatown already added 130 units. Gunter also touts a new manufacturing operation at the airport that may create 300 jobs.
Gunter deservedly lost the trust of many residents when he refused to support Salinas becoming a sanctuary city; it was out of step with what constituents wanted and what is morally right. He's a reliably short-sighted vote on land-use, favoring sprawl over infill, and we encourage him to adopt city-centered growth as a top priority for the city. But he's proven himself to be a smart and budget-conscious leader. He wants to expand the city's reliance on solar power, noting it could save the city $400,000 each year – savings critical to a tight budget. Gunter's effectiveness gives us reason to believe he will keep up the momentum.
Andrew Sandoval, Steve McShane and Tony Barrera | City Council
In North Salinas' District 5, Councilmember Kimbley Craig is not seeking re-election. You might expect two political newcomers, Andrew Sandoval and Christie Cromeenes, to stumble. But both are well-prepared, and this district will be well served by either one of them. Cromeenes moved to Salinas at age 21 and has been involved in the community ever since. Currently she is the executive director of the Central Coast Builders Association, as well as a volunteer with the Salinas Valley Chamber of Commerce and Salinas Business Development Task Force. Sandoval is a lifelong resident and the owner of Bella's Bridal; he's been a small business owner for a decade.
Both see the North Salinas neighborhoods as somewhat overlooked. Sandoval, who made a name for himself as a watchdog parent at Oasis Charter Public School, where his doggedness has led to a regime change there and increased oversight by the Alisal Union School District, wants to focus on bolstering the climate for small businesses, recreational opportunities and affordable housing. He lists a recently enacted oversized vehicle parking ban, one that includes a ban on RV parking on city streets, impacting the homeless as one of his biggest frustrations. Cromeenes identifies bringing in H&M to the mall as something she would like to see more of, as well as parking woes and public safety. "The neighborhoods need to be taken care of," she says. We're going with Sandoval because his relentlessness in the Oasis matter has shown he can get things done for the betterment of his community.
We endorse two incumbents, Steve McShane and Tony Barrera, to retain their seats in District 2 and District 3, but we endorse McShane with serious reservations and a simple plea: Do better. McShane is a champion of holding community meetings and inviting public input, but then he routinely overlooks that community input. At a meeting about the aforementioned oversized vehicle parking ban, he heard from numerous people who live in their RVs about what the ban might to do worsen their lives – then voted for it anyway. He thinks Oldtown looks just fine, photographic evidence of trash and human waste in doorways, parking lots, streets and alleys to the contrary. During a recent council meeting at which the city was presented with the realities that its California Public Employees Retirement (CalPERS) obligation would rise to $14 million over the next seven years, McShane not once, but twice, asked a CalPERS representative if the fund invested in controversial assets like "abortion clinics." Either he was being genuinely clueless or he was looking to score points with conservative and religious backers.
We are grateful someone stepped up to run against him, and challenger Nona Childress, a food safety biologist, clearly has enthusiasm for the community. Our hope is that she makes it onto a few influential public boards, like the Planning Commission, for example, and spends more time learning how the city functions so she can be better prepared to run against McShane in the next election.
Veteran councilman Barrera faces Anthony Lane in this election, and it appears Lane is running sheerly out of anger. The managing partner of the Fox Theater faced a months-long shutdown, forced by the city, over his long-standing refusal to bring the building fully into code. Lane says his protracted fight with the city proves he can also fight on behalf of the city; we also like that he believes in infill development, and suggests building up (apartment buildings and condos) would be better than building out (urban sprawl). While Barrera voted for the city's ugly RV ban, and recently held a ham-handed community meeting over the proposed location of a permanent homeless shelter (he says the city hadn't done enough outreach; we respectfully and wholly disagree) he has good vision and presence for his district; they know him there because he is there.
Seaside
Kayla Jones | Mayor
Seaside is tired of being the poor step-sibling to Monterey. Its population is larger yet city revenues are one-third ($32 million versus $152 million). Revenue from property taxes are 15 percent of its neighbor, and hotel taxes only 12 percent. And, finally, for the first time since Fort Ord's closure, the city is showing great signs of smart growth – city staff, led by City Manager Craig Malin, deserve much credit for that. The West Broadway redevelopment is complete, and a new brewpub, a cafe/recording studio, two new cannabis dispensaries and new restaurant are set to open. The city residents were openly invited for input on the pending Campus Town project near CSUMB – a fine example of the way government ought to involve citizens in its planning. It's the New Seaside.
The last election changed the balance of power on City Council to help defeat Monterey Downs, the proposed (sprawling) horse track/housing development on Fort Ord. That project was all wrong. With Mayor Ralph Rubio and incumbent Councilmember Dennis Alexander retiring, a new mayor and council will either keep Seaside on a good track, or swing it to the bad old days when developers had their way (Seaside Highlands was an embarrassing giveaway; City Center should have required mixed-use).
This election has become a decision about who has better judgment, and who you trust to lead.
When Ian Oglesby was on City Council – before he lost two years ago to Kayla Jones, now halfway through her first term – he was a defiant, uncompromising vote for Downs. While Oglesby now says he was wrong, that he's all for city-centered growth with policy points that closely resemble Jones', we're unconvinced. His pro-Downs position cost the city $300,000 in legal settlements, still far more than the $80,000 net the city received from developer Monterey Downs, LLC, leaving the city on the hook for $220,000. Plus, we're concerned about recent statement he's made questioning the city manager's leadership.
Meanwhile, Jones has her own decision-making and bad judgment to defend. She has become the target of criticism for travel and family care expenses – and meanwhile is months late on filing proper financial disclosure forms for her campaign, for which the city clerk plans to fine her $3,000 and counting, and the Fair Political Practices Commission is considering an investigation. Besides late fees, what the forms show is that Jones has many small backers, while Oglesby is supported financially by the business community and primarily several PACs.
Though Jones' family care expenses may seem excessive, we like that a young mom (she's 25) advocated for a policy that gives her a chance to serve along people who are retired. She's generally been a smart voice and vote for the city. But there's no excuse for excessive spending of taxpayer dollars, or late and incomplete campaign finance filings.
From our examination, her travel expenses are disconcerting. She's attended at least five conferences this year, and possibly overextended her stay at the California Women Lead meeting in Disneyland by one night. She attended a grant-writing seminar in Hawaii on the city's dime. The city is conducting an audit into travel expenses, and Jones has said she'll pay back whatever she is advised to pay back. But she should be cognizant of pinching the public's pennies.
Political newcomer Lisa Anne Sawhney has some good ideas, but she's too much of an unknown and too new to the city to earn our endorsement. We'd encourage her to earn her stripes in some other position.
Jones is in a safe seat, with two years left on her council term, meaning she's still in office even if she loses the mayor's race. Her judgment has cost the city several thousand, but not $220,000 like Monterey Downs. Her votes and vision are otherwise solid. Let's give her a chance to learn from her errors and mature, and bring her youthful perspective to the growing city.
Editor's note: The Kayla Jones for Mayor endorsement has been updated to reflect the following clarification. The city clerk has not issued a citation, but plans to a issue a citation for late fees. In addition, the amount the city clerk believes she may fine Jones—about $3,000—is in dispute. 
In addition, it incorrectly stated the city Seaside ended its involvement in Monterey Downs with $500,000 in costs. It is actually $220,000; the number was reduced from our earlier reports after settlement amounts were negotiated with Keep Fort Ord Wild and LandWatch Monterey County. In addition, the developer, Monterey Downs LLC, reached a settlement with the city and paid $200,000.
Jon Wizard and Jason Campbell | City Council
There are five candidates for two seats, and we believe Campbell and Wizard are both outstanding candidates, the best to lead the city. Both are smart, well-prepared, on the right side of a number of issues: strong advocates for affordable housing and city-centered growth, for improved local transportation, bike paths and parks, for Measure J's feasibility study. Campbell is the sole incumbent in this race and helped defeat Monterey Downs; he has demonstrated his clear understanding of how to balance the city's growth with its social justice and environmental protection concerns. Wizard is thoughtful and well-studied with an encyclopedic knowledge of how the city works. He's ambitious and ready, perhaps a future local government all-pro. The community will benefit from his service.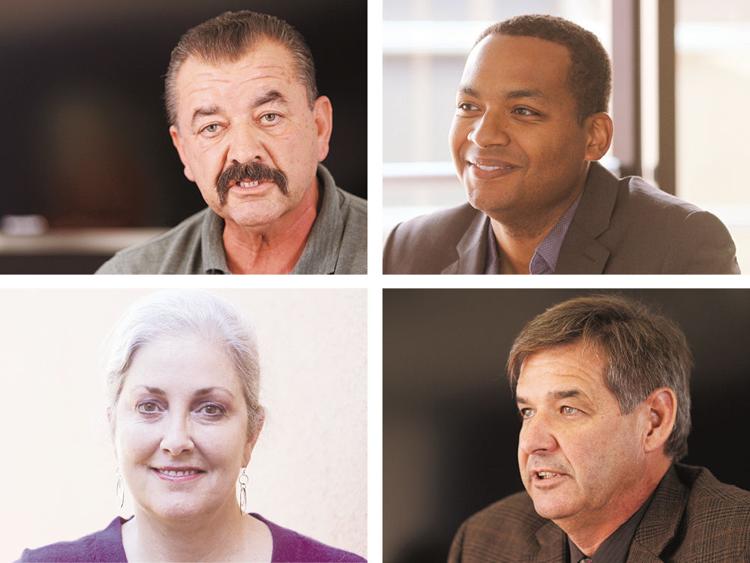 Monterey
Clyde Roberson | Mayor
Clyde Roberson's time in office – as mayor and previously as a member of Monterey City Council, amounting to 37 years in all – gives him a leg up on experience. Roberson is committed to increasing green energy and reducing the city's carbon footprint. He is open to creative private-public partnerships to help ease some of the city's CalPERS burden. He hopes to continue infrastructure repair projects. He wants to throw his weight behind protecting the Naval Postgraduate School and Defense Language Institute from the whims of Washington.
Roberson ran unopposed two years ago. It may have made him too comfortable. We think having Bill McCrone, a former planning commissioner and long-time thorn in the city's side when it comes to commercial property leases, in the race should force Roberson to revisit some tough issues. McCrone rightly focused on affordable housing, oversight of the conference center and wharf leases.
We've heard Roberson called "Mayor Fun Suck" as downtown Monterey grapples with whether it wants to embrace nightlife, and a vibrant downtown. We're not convinced McCrone, a perpetual bulldog when it comes to issues he's passionate about, would be any more fun.
Tyller Williamson | City Council
Monterey has a bustling tourism economy bringing in nearly $26 million a year in hotel taxes, and now features a shiny new conference center. Various tax measures are generating additional revenue for new projects like bike lanes on North Fremont. Alvarado Street is humming with energy. On the surface, all seems well, very well. Yet the conference center was 50-percent over-budget and over a year behind schedule, and just last month the city agreed to pay nearly $3 million to settle with the Portola Hotel & Spa next door due to mismanagement of the construction. The city paid $775,000 to settle a sexual harassment lawsuit by a former employee of the Harbormaster's Office, despite ample warning to fix the problem. Controversy lingers about whether the city effectively gave away wharf leases on coveted turf to private businesses. City officials have been slow to respond to a pressing need to adapt their noise ordinance to embrace a mixed-use downtown. Homelessness is a chronic and unresolved problem. The cherry on top: The former city manager was entangled in a sexual affair that embarrassed the city (and cost him his job).
Incumbents Ed Smith and Timothy Barrett are at opposite ends of the political spectrum, but seem mostly aligned in their positive analysis of how well it's going at City Hall. Neither seems overly concerned about the conference center construction debacle and pending litigation, which surprises us. While Smith is straightforward and very likable, we particularly disagree with his positions to extend the Fort Ord Reuse Authority (FORA) beyond its 2020 sunset and against Measure J. Barrett has strong opinions for improving affordable housing and public ownership of the water company, but has little to show in the past four years for making progress on those campaign promises. He was a late flip-flopper on wharf leases, which had many in the community questioning the strength of his backbone (and the possible influence of campaign contributions).
We found Tyller Williamson to be an inspiring, bright new voice for council. He's executive assistant to the Chief Information Officer at NPS, he's smart and has thoughtful positions on housing, water, and City Hall operations. He will help make City Council more diverse, and he's interested in creating regional partnerships with neighboring cities to get creative in tackling the trickiest issues.
Our editorial board strives to reach consensus in our endorsements, and in determining who we would recommend for the second open seat, we reached a deadlock. Newcomer Terrell Maddox is woefully unprepared. Between incumbents Smith and Barrett, we are divided.
About Williamson, we are in full support. He may be a longshot, but we recommend you vote for him – perhaps singularly – to ensure he gets a chance.
Yes | Measure S
Measure S would extend an existing 1-cent sales tax for another eight years for further infrastructure improvements like sidewalks, storm drains and streets. It's necessary to keep the city on the right track, and given that it's currently in effect, consumers won't even notice a difference.
Pacific Grove
No | Measure M
Yes | Measure U
The residents of Pacific Grove are a complicated bunch. Pretty much to the individual they love their town, but their vision of how that love should manifest itself varies widely. Passions rise quickly amidst the disagreements. It's a town where the neighbor's pet pig or inattention to butterfly habitat become the source of civic immolation. It's also a town where the residents expect first-class city services, but complain about paying public servants. Into that volatile mix Measure M seeks to limit short-term rentals, taking existing allowable licensed down from 250 to about 80.
Measure M is a citizen's initiative that would eliminate STRs in most of the residential areas of the city, which would put a $1.4 million hole in the city's revenues from the lost TOT from the affected rentals. Pacific Grove has done what no other municipality in the region did: implement a plan for short-term rentals that seeks to balance homeowners' rights, neighborhood desires and provide revenue to the city. The council approved regulations, realized they'd gone too big, and revised their ordinance through a deliberative process. That type of management and planning looks to us like an example of good governance and stands in stark contrast to other cities in the region, and Monterey County, which has repeatedly kicked the controversial STR can down the road. Airbnb is not going away. The average age of Airbnb's customer is 35. Technology's influence on all industries is testing established practices and norms; disruption is the new normal.
U.S. Census data shows that P.G. has about 8,000 housing units. Of those, 1,800 are unoccupied second homes, and the rest are split roughly equally between renters and owner-occupied houses. Measure M would release about 125 homes back into the market, some of them undoubtedly as long-term rentals, but there's no reason to expect them to be affordable. On the other hand, it is conclusive that the city will lose substantial – and much-needed – tax revenue.
In an election season where there is plenty of nuance and good rationale for opposing views, Measure U is perhaps the easiest endorsement. This is a vote to raise the transient-occupancy tax from 10 percent to 12 percent. It taxes visitors to P.G.'s inns, B&Bs and short-term rentals. In spite of opposition from the innkeepers, no one has presented any hard data that shows this incremental increase in TOT will negatively affect either occupancy or average room rate. Marina is seeking to raise its TOT to 14 percent, Palo Alto is at 15 percent and Monterey is at 10 percent, with an additional 2-percent for bump to pay off the conference center. Pacific Grove will not be an outlier at 12 percent, and the city can be better served with additional resources.
Rudy Fischer | Mayor
Rudy Fischer is kind of a classic technocrat, and that is one of the reasons we endorse him to be Pacific Grove's next mayor. Having served the last eight years on the City Council, Fischer has got a pretty solid grasp of the city's prospects and its limitations. He knows the details of the pension obligations that exist today, and the pending spike of an additional $2.6 million in the next three years. He chairs the board of directors of Monterey One Water and knows both water politics and policy, as well as the promise of regional solutions to the city's problems. He says folks should vote for him because he will be the city's "infrastructure mayor." Who touts that kind of slogan? It's not flashy. He wants to repair the Rec Trail and the park benches. His detailed knowledge of the city's budget, its general plan and its streets and sewers infuse a quiet confidence that he knows what he's talking about. Fischer is voting against Measure M and for Measure U which he thinks will allow P.G. to fund the maintenance and repair of the city's core.
The two other contenders, City Councilmember Bill Peake and political newcomer Dionne Ybarra, who founded nonprofit The Wahine Project, both have lots of enthusiasm but little by way of specific platforms for leadership. Ybarra is energetic particularly when it comes to greening P.G. and would bring much-needed diversity to the dais, and we wish she'd run for council first.
Jenny McAdams, Tama Olver and Steve Lilley | City Council
Seven candidates are vying for three seats on the Pacific Grove council.
Steve Lilley is a retired health care manager and current member of the planning commission. He's deliberative and knowledgeable of much of the city's policy minutiae including its revolving loan fund, CEQA waivers, Coastal Commission requirements, building code and the general plan. He says he's voting against Measure M and for Measure U. He suggests that the next council may need to reduce the number of short-term rentals, but that is a decision better left to the council than an initiative.
Tama Olver is a retired tech executive who has deep and broad ties throughout the local science and environmental communities. She volunteers with the aquarium, P.G. Museum of Natural History, Point Lobos and the Citizens Climate Lobby. Her approach to her duties as a council member seems similarly informed by research and rigor. "I'm a learner," she says. Olver says Measure M is the wrong solution to a real problem, she is in favor of Measure U and she points to the recent approval of Hotel Durrell as an example of the council's responsiveness to residents.
Jenny McAdams is not retired. She's not a P.G. homeowner. She's a forty-something working mother of two who grew up in Pacific Grove and whose husband works in the construction trades. She represents a very different demographic (and policy viewpoint) from the other candidates we are endorsing. McAdams has a history as a passionate and informed critic of the current council and city leadership. She is in support of Measure M and against Measure U. We disagree with those positions, but think that McAdams' transition from a thorny outsider to a consensus-building policy maker on the council will be good – both for her and for the city.
Editor's note: The Jenny McAdams for City Council endorsement has been updated to reflect the following clarification; McAdams is a renter in P.G., but does own a rental property in Seaside.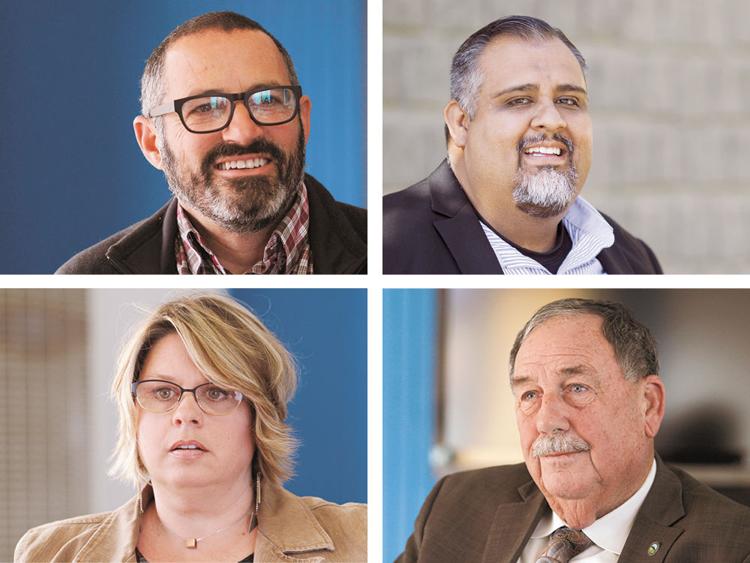 Carmel
Dave Potter | Mayor
It seems like every few years, Carmel residents are ready to march on City Hall with pitchforks. This time, Carmel leadership deserves the wrath.
Mayor Steve Dallas has risen quickly, winning in his run for City Council four years ago, then rocketing to the leadership role in 2016, after just half a term on council. And since then, he's stumbled along, and lost the public's trust.
He's formed a fiercely loyal political alliance with the city attorney, a loyalty that seems to take precedence over transparency or making decisions in the interest of the public. He bullies opponents over easily resolvable issues, even trivial things. He sees public safety as the very safe village's number-one issue, while his opponents clearly see the number-one issue is mending a lack of confidence in government.
Dallas also faced his own reckoning with the #MeToo movement this year, when a wine trade association rep who does business with the city reported sexualized comments the mayor had made to her. The report that supposedly exonerated Dallas has never been made public so we don't know what it says, but even the city's own legal counsel called his behavior "boorish." Given the dignified competition Dallas faces, there is no reason Carmel should endure another term with a boorish mayor in charge.
Gene Hughes, a mostly-retired nuclear safety engineer has the right ideas about the spirit of public service, but has a lot to learn about how local government operates; we think City Council would be the right place for him to start.
Dave Potter, a former county supervisor, has plenty of skeletons in his closet, some of which are already haunting him again this election cycle (he opposed a public water buyout four years ago, for instance, and opposes Measure J now, though he says if it passes he'll work to get the feasibility study done and move it forward). He supports an extension for FORA, and he has been cozier with developers than is clearly in the public interest. But we believe he'll right the ship in Carmel, and bring much-needed sunshine to City Hall. He wants to minimize and avoid litigation (a platform that Carmel needs) and wants to embrace progress, perhaps considering classy counter service restaurants. Potter isn't perfect, but he gets our vote.
Jeff Baron and Carrie Theis | City Council
Under Dallas' leadership, council has formed factions that make unanimity a thing of the past. Councilmember Carolyn Hardy is a reliable member of the pro-Dallas faction, and it's time for both of them to go. We've been disappointed to see Councilmember Carrie Theis swing that way too, but we find her to be more measured – and appropriately wrought over the tough issues – and hope that with a shift in the balance of power, she would again show thoughtful leadership. Theis, a hotelier, understands the needs and challenges of Carmel's hospitality industry.
Jeff Baron is bright and passionate and has been watching his city government unravel before his eyes. He wants to help council step away from the pettiness that now consumes it, and focus on bigger policy matters. He wants to see transparency in government, affordable housing and managing overtourism on the priority list. It's an important list, and Baron has not only the vision, but the temperament to handle the job.
Marina
Bruce Delgado | Mayor
Yes | Measures N, P and V
Mayor Bruce Delgado and challenger Bob Nolan agree on some of the big issues facing Marina. They both consider FORA detrimental and past its usefulness. They both view Cal Am's desalination plant as a threat to Marina's water supply. They both share a vision of improvement and economic development that includes housing and a college town atmosphere.
While we respect Nolan, a recently retired Marina police commander, Delgado's leadership through difficult times helped right the budget. He is an environmentalist who helped lead the effort to shut down the Cemex sand mine, something that benefits the entire Monterey Bay, and led the city to pass the first urban growth boundary in the region.
But Delgado is no tree-hugging idealist. He's welcomed relationships with developers, which is precisely what's alienated him from some long-time political allies, but we view his pragmatic approach as a model for smart growth.
One of his key platforms is rooted in pure practicality: A new fire engine crew, as response times in Marina lag below the state average. And this will cost money. Nolan is no fan of taxes; he supports Prop. 6, a repeal of the state gas tax, and opposes Marina Measures N and Measure V, expected to bring close to $2 million a year to city coffers to pay for improvements. Measure N would increase the sales tax from 1 percent to 1.5 percent for 15 years, and Measure P would increase the transient-occupancy tax from 12 to 14 percent.
Measure V would allow for Marina to get in on the economic activity of legal cannabis and collect a tax on sales. It's past time for Marina to join its neighbors and cash in on the state's newest industry.
Del Rey Oaks
Alison Kerr | Mayor
Del Rey Oaks has made a 180-degree turn for the better under Mayor Jerry Edelen's leadership, yet Edelen remains on the wrong side of a number of issues. Yes, he embraced cannabis and the city is cashing in handsomely, to the tune of $600,000 a year in tax revenue. Yes, he helped oust the former corrupt city manager (whose criminal case is pending) and police chief, and ushered in an outstanding and sensible new city manager, Dino Pick. But Edelen is a reliably pro-FORA vote on a board that desperately needs more reasonableness, and is pro-development no matter what the development is, including advocating for deals that landed the city in costly litigation. He has publicly denied that climate change is real, and Del Rey Oaks is one of only two cities in Monterey, Santa Cruz and San Benito counties that opted not to join Monterey Bay Community Power.
Challenger Alison Kerr wants to see dense, mixed-use development on DRO's portion of the former Fort Ord, not a sprawling luxury resort. She wants to see a more regional approach to housing, which DRO is far too small to fix on its own. She wants the city to join Monterey Bay Community Power – one of the chief issues that got her thinking about running for public office. Edelen is likable, but not as likable as Kerr's policy positions.