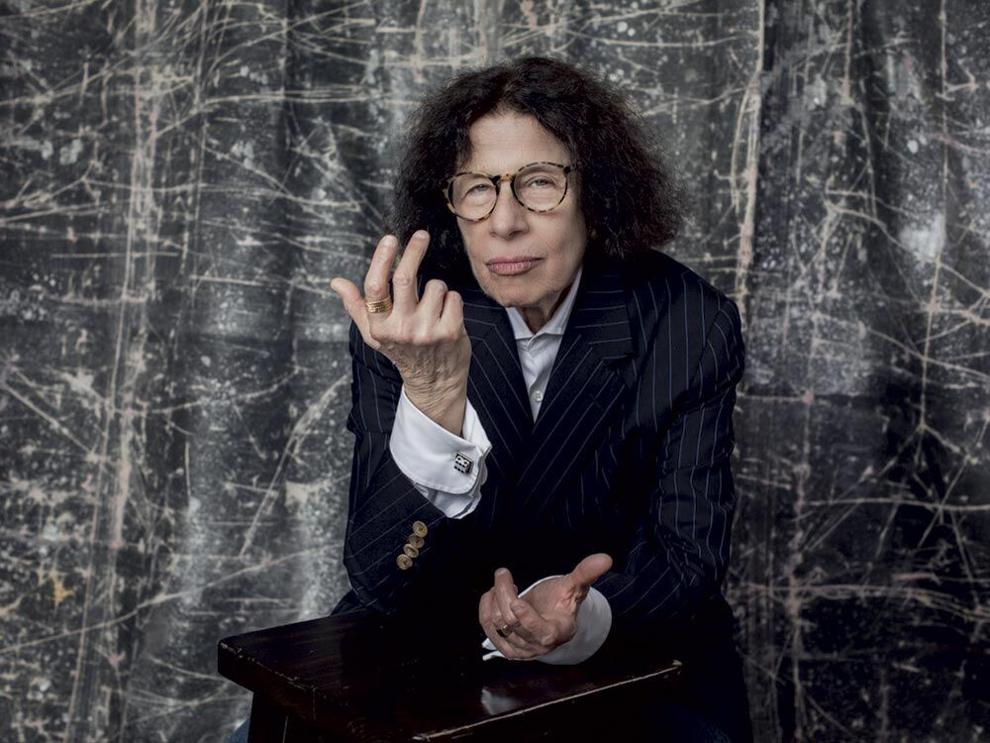 The "night mayor" of New York City is coming to Carmel to tell us what's wrong with the world.
Her spiel has been to speak her mind, delighting the public with her outrage at New York City tourists (too many), dogs in restaurants (how dare you) and the current state of politics (too much). "I speak my mind and many things bother me," Fran Lebowitz says. "And I don't care if people don't agree with me."
A normal day? "Who has had a normal day since Covid?" Lebowitz asks, speaking to this reporter in California while sitting in her New York City apartment, looking at the resurgence of the pandemic outside her window. "I guess I'm doing what other people are doing," she says when asked what she is up to, meaning: nothing.
Her evening plans just got nullified. She was about to go see a play – it was canceled. Holidays with a good friend, whose family she has been visiting for years – canceled. She could go hang out with director Martin Scorsese, who called and invited her, but their thing is a New Year's Eve together – another fun tradition that now stands under a question mark.
"It feels like the original Covid days," Lebowitz says on Dec. 21, not sure what she is doing tomorrow night, or if she is actually coming to California to perform in Carmel, as scheduled.
She insists that she is coming, flight delays and the surging omicron variant aside. The Evening with Fran Lebowitz at Sunset Center on Wednesday, Jan. 19 is on (at least as of this writing), being the first of over 10 performances that will take Lebowitz across the country, amplifying the snowballing Fran Lebowitz renaissance. That renaissance is partially provoked by a seven-episode-long 2021 Netflix documentary directed by her friend, Scorsese, and titled Pretend It's a City – an exploration of New York City streets as seen by one of the city's most iconic humorists, writers and conversationalists.
"I have no power but I'm filled with opinions,'' she explains. "I always have something to say."
The miniseries is presented as a dialogue between Lebowitz and Scorsese – her talking, him mostly giggling uncontrollably in a response. Sometimes they sit together, sometimes the camera follows Lebowitz walking through the miniature panorama of NYC at the Queens Museum, all buildings constructed from painted paper, wood and plastic. The series is adorned with images of the city, new and archival shots and old TV interviews illustrating its cultural history since the '70s. Lebowitz provides commentary to everything, and episodes bear titles like "Metropolitan Transit," "Department of Sports & Health" and "Library Services," the ranging topics aiding Lebowitz's hilarious, shifty stream of consciousness. The Evening with Fran Lebowitz will be just that, a mix of stand-up and social commentary.
If everything goes as planned, The Fran Lebowitz 2022 tour will find its end in May in Montreal – that is, if the world will indeed find a way to deal with the new variant. That's why on Wednesday, Jan. 19, The Evening with Fran Lebowitz is all about being on her own, reading, talking on the phone and hoping for the best.
Her recent second-wind fame is bringing her a lot of fun. These days you can buy Lebowitz's acerbic remarks on T-shirts and mugs. They are being broadcast via streaming services and in countless podcast interviews she gave in 2021. She's a frequent guest on Real Time with Bill Maher. She has been proclaimed a New York institution, a public intellectual, a queen of snap judgment.
"I don't have Wi-Fi," says Lebowitz, famous for her insistence to stay offline. She can't type either, instead always writing longhand, with a ballpoint pen. "So I haven't seen the documentary, but I heard it's huge. Gigantic. I'm told I can be watched in 190 countries. Some of them, I can't even name."
The global attention comes from focusing on her home. "Some people are Civil War buffs," Lebowitz says. "I guess I'm a New York buff."
AS A TEEN, LEBOWITZ LEFT NEW JERSEY BECAUSE SHE DIDN'T WANT TO PLAY CELLO OR STOP BEING FUNNY BECAUSE "BOYS DON'T LIKE FUNNY GIRLS," as her mother warned her. Her mother was wrong, by the way, which didn't help Fran – she is gay. She dropped out of Morristown High School in her senior year and moved to New York to become a writer. She certainly succeeded, even if she doesn't write much anymore. In her bibliography, one can find two collections of humoristic essays (Metropolitan Life, 1978 and Social Studies, 1981), followed by The Fran Lebowitz Reader published in the '90s and a children's book titled Mr. Chas and Lisa Sue Meet the Pandas.
"Life there was not suitable for me," she says of Morristown. "Now, you can be gay anywhere, but then New York City was the place to go, with a nice density of angry homosexuals. And it's so fun here. I can't imagine living anywhere else. Can you imagine me living anywhere else?"
People can't. She says young people stop her these days, sometimes to thank her for her years of fighting on behalf gay marriage (again, she didn't).
In the 1970s, she used to walk around the city barefoot, doing odd jobs, such as driving a taxi, until she was hired as a columnist by Andy Warhol in 1971 for his Interview magazine.
She "used to be a writer," she says, not shying away from talking about her years-long writer's block. With time, she found herself talking – sarcastically – more and writing less, often saying her writing is so painfully slow that she could write using her blood without actually hurting herself much.
In the meantime, she did television appearances and speaking engagements, from Late Night with David Letterman to a recurring role as Judge Janice Goldberg on the television drama Law & Order from 2001 to 2007 (makes sense, she is so judgmental, she says).
Her habits from the '70s became her trademark as she has proudly resisted technology and innovation, keeping her old car from high school, smoking cigarettes and ignoring Twitter and Instagram.
Before the 2021 Netflix series, she and Scorsese produced another documentary film, Public Speaking, which had a limited release in 2010 and gathered tons of praise from the critics. In it, she simply gives her take on modern life and its annoyances. Her refusal to get modernized recently resulted with right-wing magazine National Review calling her "the American conservative" and "delightfully reactionary." According to the piece, "Her sensibilities are very much of another time as well. She plainly has no interest in the modern practice of identity politics." (It's only once in the documentary that she talks about being gay.)
At the same time, Lebowitz's politics and feminism has been celebrated by the left-wing media and audiences. She didn't believe Donald Trump would win in 2016 (it's a rare sensation for her, she says – being wrong). With President Joe Biden, she still cannot forgive him for Anita Hill, even though she thought he was a better choice for Democrats than Bernie Sanders, who "shouts" too much.
Lebowitz was a known Andrew Cuomo-hater before hating the New York governor for being a bully and alleged serial sexual harasser became popular, and is overjoyed to see producer Harvey Weinstein in jail for sexual misconduct. Overall, the success of gay marriage (but why would they want to get married?, she wonders) and #MeToo are the two greatest and most pleasant surprises of her lifetime. With all that, don't let her even start on Senator Joe Manchin.
"This is absurd," Lebowitz says about the current stalemate in the Democratic Party, where one Democratic senator is keeping the whole party hostage trying to save the coal industry back home. "What is it? A democracy of one? One person decides humanity's future. West Virginia? That state is the size of my living room."
Even with all her biting, often exaggerated remarks and large audience, Lebowitz says she feels powerless. When asked how to save the world, or at least how to save New York City – a question she is often asked as "night mayor" and a New York expert – she doesn't hide her annoyance.
Why do we ask her? No one listens to her. She is not a big politician and she is not a big company and those are the people who shape our world.
"Ask Jeff Bezos and Elon Musk," she says in a gloomy tone that doesn't bode well for the world. She doesn't like this "privatization" of NASA or government functions in general. "People cause things to be wrong."
But then, Lebowitz felt the world was ending in 2000 (the Bush v. Gore presidential election recount scandal) and she had to remind herself and us that there are places in the world with actual war and hunger.
"You have no say in when and where you are born," she says when reflecting on her past. "Maybe that sounds un-American, but all of it is just luck."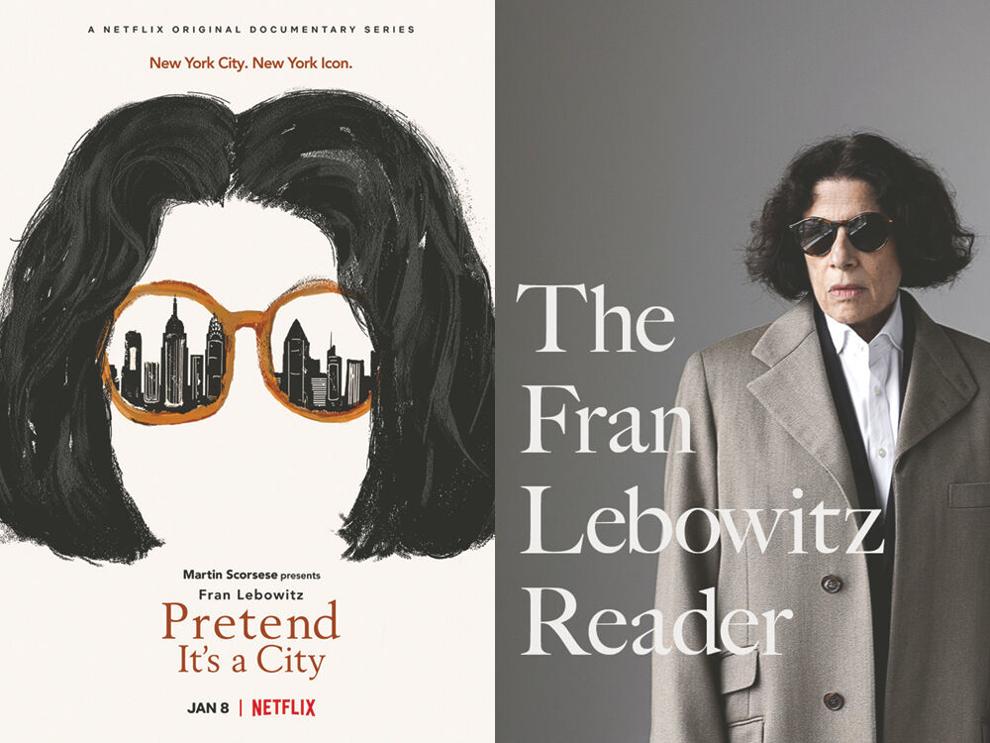 FROM HER NEW YORK APARTMENT, LEBOWITZ FINALLY ASKS, "WHAT'S THE WEATHER IN CALIFORNIA RIGHT NOW? ENDLESS SUNSHINE?" As a creature of the night, Lebowitz has mixed feelings about excessive sun, even if the often foggy conditions on the Monterey Peninsula will go just fine with her usual outfit.
Looking the same for decades, Lebowitz always looks good. Often compared to another New York icon, writer Dorothy Parker, her uniform consists of a crisp white button-down shirt, a blazer or a jacket, Levi's, boots and an obligatory pair of shades. Comfortably dressed, she can walk around NYC complaining about the city for hours, which doesn't mean people from outside of New York City are advised to do so in her presence. Because NYC is never boring, even if "Times Square is the worst neighborhood in the world," people asking directions are impossible and those who think "they live in a world of one" and always stare at their phone are even worse.
"It seems to me that I'm the only person in the whole city looking where she's going," Lebowitz says.
Despite not having a cell phone, Lebowitz is convinced she would be a perfect New York mayor, the "night mayor," she says, who takes over after the shift of the "day mayor" is done, keeping office hours from 4pm on. "A lot of things happen late at night," she argues.
What changes would be implemented by Mayor Lebowitz? The subway system would be rebuilt from scratch, residents would be obligated to watch where they are going and both tourists and dogs should be removed from the city. "My favorite animal is steak," Lebowitz famously said.
Also, Times Square should be returned to New Yorkers because they pay for it. "Why did we give it over to these hordes of morons?" Lebowitz asked in another interview.
Other than that, New York doesn't have to be saved and people who are trying to save New York should "just stop," Lebowitz says.
Always practical, Lebowitz doesn't care about sentimentalities. She turned 71 in late October and had a small birthday party, her apartment floating in flowers "as if someone died," she says. If she has a favorite holiday, it's Thanksgiving – no presents, no religion. Lebowitz decided she was an atheist when she was 7, finding the whole ordeal of religion illogical.
"I'm just not spiritual," she says, which doesn't mean she is insensitive or doesn't have empathy. "Einstein believed in God so that's good enough for me. Our modern way is to judge that, but I think this is just a different dimension."
As an example of this she mentions her dear friend Toni Morrison, the acclaimed novelist awarded the Nobel Prize in Literature in 1993 and the author of one of the most important American novels tackling racism, Beloved (1987). Morrison, who died in 2019, was not only religious, but also intelligent and wise – a rare combination, Lebowitz says. She knows many intelligent people, she adds, but knew only one wise person (Morrison) and doesn't even aspire to be one herself. When her mother asked her as a child to be "a bigger person," she would insist she simply can't, because she is the smaller person.
CALLING HERSELF A SMALLER PERSON AND ADMITTING SHE IS PAINFULLY JUDGMENTAL is part of Lebowitz's trick to assure she will be able to continue to say outrageous things. She is aware of her privilege, too, admitting that if she was Black, with her attitude she would long ago have ended up in jail. "I yell at cops all the time when I walk in New York City," she says. She knows her Black friends, no matter how rich and intelligent they are, don't have the same luxury.
"Racism is a fantasy of superiority," she says, suggesting social order by shoe size as an equally ridiculous way to sort people into groups.
Lebowitz lives by herself so technically everything is allowed, but she is very formal in her living habits. Landline is the only way to reach her (she likes it this way) and she picks up only after you start leaving the message (her old-fashioned screening method). Lebowitz eats only at a table, even if it's just an apple. She dreads visiting the kitchen unless to make coffee, which she does daily and confidently – a cornerstone of her morning. "It's the world's best," Lebowitz says as if things were that simple. She's bad at cooking and relationships, and good at coffee and conversation: "I think I can safely say that I'm the Albert Einstein of coffee."
She reads nonfiction in the morning and fiction at night when she is more alert. Her home library consists of over 10,000 books and she claims a book is the closest thing there is to a human being. "Contrary to what others think, it's not a puppy," she says. Lebowitz likes to yell at books when they are poorly written and yes, there are too many writers in the world these days (she herself likes to sing, but does she bother other people with her lack of talent in this area?).
Writers aside, Lebowitz has a fondness for painters and musicians. And good cooks. "Musicians and cooks are responsible for the most pleasure in life," she says. "Music is really the only drug that doesn't kill you."
Always interested in drawing and painting, Lebowitz sometimes imagined that it would be a fun thing to be a famous painter. Such as American painter Alice Neel, whose "female gaze" art is on display this year at The Met on Fifth Avenue and Lebowitz mentions her during an interview, expressing her awe for her talent.
According to Lebowitz, "talent is the only thing that is randomly distributed. You cannot buy it, learn or inherit it; it's not genetic."
The same thing goes with the sense of humor: "You acquire a sense of humor the way you acquire height," Lebowitz says.
That's good and bad news at the same time. Lebowitz thinks too many people try to be artists and writers these days without real talent. When reading, Lebowitz sees everything, judges each sentence and sometimes wants to just throw a book (she won't do it – they are like humans, remember).
On the other hand, if you are talented and funny and dreaming of "making it" in New York, you still can do it. No money? Not a problem, Lebowitz says. No young artist coming to New York has a dollar to their name.
"No one can afford to live in New York City, but we have 8 million people doing it, so you will be fine," Lebowitz says. Who knows – maybe, like Lebowitz, you will even become one of its distinctive personalities.
AN EVENING WITH FRAN LEBOWITZ happens at 8pm Wednesday, Jan. 19. Sunset Center, San Carlos Street between 8th and 9th, Carmel. $49-$121. Face masks must be worn at all times while indoors at the Sunset Center. All audience members must present proof of vaccination against Covid-19 or a negative Covid test result, taken within 72 hours of the performance date. 620-2048, sunsetcenter.org