In 2011, Sarah-Mae Nelson resolved to stop purchasing "stupid plastic." That meant eliminating all the plastic things we barely use before throwing them away, like product packaging and disposable cutlery. For each stupid plastic thing she couldn't avoid, like straws she forgot to tell waiters not to put in her drink or the clear address windows in her DMV renewal envelopes, she would atone by cleaning litter off the beach for 15 minutes.
Four years later, Nelson still lives virtually plastic-free. She won't buy fruit with shiny stickers or cheese wrapped in deli bags; she even tries to avoid clothing made of plastic fibers.
It would be tempting to write her off as an extremist if Nelson weren't so influential. As Monterey Bay Aquarium's conservation interpreter, she crafts the environmental messaging that reaches up to 2 million visitors a year. And she's convinced reducing the stream of disposable plastic is critical to ocean health.
Plastic now permeates every marine layer, from the surface to the sea floor. Much of that litter is classified as "microplastic," measuring 5 millimeters long or smaller. Some of the sources are obvious, like litter that blows or flows to the sea, and container ships spilling plastic cargo. Over years, the forces of ocean currents and sun turn that plastic into particles smaller than plankton.
Another major source of microplastic pollution is synthetic fabric like polyester and fleece. Plastic microfibers break loose in the laundry, slip through municipal wastewater treatment filters and discharge into the sea.
Even your facial scrub and toothpaste could be culprits. Many exfoliating cosmetic products contain plastic microbeads (often listed among the ingredients as polyethylene or polypropylene) too small for wastewater systems to catch.
"There are microplastics; there are nanoplastics," Nelson told me last fall. "Our oceans have become a plastic soup."
Marine creatures from plankton to tuna eat that soup. You may have seen photos of albatross or turtle stomachs packed with plastic litter, but the impact is not limited to animals' guts. Emerging research suggests the toxic chemicals these microplastics absorb get into animals' tissues, too – and some of that might come back to us as seafood.
Even if she never touched another plastic product again, Nelson couldn't truly live plastic-free. None of us could. It's everywhere.
~ ~ ~
The LUSH Cosmetics store in Carmel-by-the-Sea smells like a garden fairy's birthday party. Bins along one wall overflow with baseball-sized "bath bombs" in varieties like Space Girl and Honey Bee. Wooden counters are populated with high-end body butters, soaps and scrubs that promise ethical sourcing, minimal packaging and no animal testing.
Store manager Virginia DiMambro mixes a cookie-dough-looking product called Angels on Bare Skin with a dab of water in her palm, showing me how the ground almonds work to gently exfoliate. Other products contain sea salt and sand, which also serve to slough off dead skin cells. LUSH uses these natural ingredients instead of plastic microbeads, a common ingredient in many personal-care products and an emerging problem in ocean pollution.
LUSH partnered with 5 Gyres Institute, a conservation nonprofit targeting plastic pollution, on a "Ban the Bead" campaign that ran in over 200 stores from May to June. Their goal: to support state and federal bans on the use of microplastics in certain products.
5 Gyres is cosponsoring a proposed state bill, AB 888, that would prohibit microplastics in non-prescription, rinse-off personal care products sold in California by 2020. The bill, authored by Assemblyman Richard Bloom, D-Santa Monica, passed though the Assembly and is now in the Senate, with a floor vote expected this week.
Monterey Bay Aquarium is lobbying for AB 888 and similar bills at the federal level. Letise LaFeir, the Aquarium's California ocean policy manager, says the issue seems to resonate with the public because disposable plastic is, for almost everyone, a part of everyday life.
"Plastics is a gateway opportunity for people [to get involved in ocean conservation]," she says. "Now there's some political traction, and we can help move that ball from a state and federal perspective."
The past year has seen a wave of legislative action. Seven states – Colorado, Illinois, Indiana, Maine, Maryland, New Jersey and Wisconsin – have already passed microbead bans, according to LaFeir. Similar bills have been introduced in a number of other states, including Michigan, New York, Ohio, Oregon and Washington.
On a federal level, proposed microbead bans are working their way through both the House and the Senate. These bills, according to LaFeir, would amend the U.S. Federal Drug and Cosmetic Act to ban synthetic plastic in cosmetics.
Not all manufacturers have opposed the bans. The Personal Cosmetic Products Council calls plastic microbeads "safe and effective," but still supported Illinois' SB 2727, the nation's first state ban on the ingredient. Companies including Johnson & Johnson, Proctor & Gamble, Colgate-Palmolive, L'Oreal and The Body Shop have announced voluntary phase-outs of microbeads.
But there's a catch: Due to industry lobbying, LaFeir says, many of the state bans apply only to non-biodegradable plastic microbeads. That's not a very well-defined standard. Manufacturers might be able to come up with petroleum-based plastics that degrade in high-pressure, high-heat labs, she says, but that doesn't necessarily mean they'll break down in the ocean.
Ideally, she says, manufacturers would replace plastic microbeads with natural alternatives. But many companies are unwilling to do that, she adds, because lab-made synthetics are more consistent – both in terms of a steady supply, and standardized sizes and textures – than natural alternatives. AB 888 could eliminate that loophole, because an existing state law sets a high standard for biodegradability. "That fight is happening in California and not other states," LaFeir says. "What happens in California can dictate quite a bit."
Johnson & Johnson spokeswoman Carol Goodrich says her company has reformulated some products to replace microbeads with jojoba wax. But Johnson & Johnson, like Proctor & Gamble, opposes AB 888. "We believe the current bill in California is overly restrictive, inhibits innovation and does not allow for current and future advancements in biodegradable exfoliate alternatives," she states.
Meanwhile, plastic particles continue to gush from the wastewater treatment plant in Marina into Monterey Bay. Upwelling brings those particles to the surface of the ocean, where fish consume them. Fishermen catch some of those fish and offload them at Monterey's commercial wharf, near the spot where LaFeir and I are having breakfast.
The sheer smallness of microplastic makes the problem more formidable than chunky litter along the shoreline. "You can clean those big things off the beach, but they break down in the water and are no longer recoverable," LaFeir says. "Now science is realizing we're eating it. It's literally coming back up the food chain."
~ ~ ~
With a dozen-plus marine science institutions spanning Pacific Grove to Moss Landing, and most of the Monterey County shoreline fronting the federally protected Monterey Bay National Marine Sanctuary, there's an especially strong political current in favor of reducing plastic litter here.
Almost every local coastal jurisdiction has already banned two of the most ubiquitous forms of what Nelson would consider stupid plastic: expanded polystyrene (aka styrofoam) take-out containers and single-use plastic retail bags.
A statewide ban on plastic bags, SB 270, would have gone into effect in July. But the plastics industry managed to stall its implementation by placing a referendum aiming to invalidate the law on the November 2016 ballot.
Mark Daniels, chairman of plastic-bag manufacturing group the American Progressive Bag Alliance, told me last year that thin plastic retail bags are already highly reused and are environmentally competitive with their alternatives. He argued a shift to reusable plastic bags just exports more jobs to China.
SB 270 will require retailers to charge shoppers who don't have their own bags $0.10 for each paper bag, a detail he characterized as a money grab.
"SB 270 is a tremendous transfer of wealth from the public to the pocketbooks of the grocers," he said.
But beach cleanup data show that where bag and foam bans are in place, they're working to reduce plastic litter.
Save Our Shores (SOS), a Santa Cruz-based nonprofit, supported the federal designation of the Monterey Bay National Marine Sanctuary in 1992 as a wayto fight offshore oil drilling. Now SOS is fighting oil-based pollution in the form of plastic litter.
For nearly five years, SOS has led a coalition of Monterey Bay environmental groups pushing the city-by-city bans on plastic foam and plastic bags. (Today, every jurisdiction bordering the Monterey Bay coastline – except tiny Sand City, with its 300-odd residents and two big-box shopping centers – has banned both materials.) SOS also organizes regular beach cleanups.
According to SOS stats: In 2008, before significant local bans were in effect, volunteers picked up an average of 65 plastic bags and 13 plastic foam pieces per beach cleanup. In 2014, with a majority of Monterey Bay cities enforcing bans on the two materials, they averaged 14 bags and six pieces of foam per cleanup.
Plastic straws could be next. SOS has launched The Last Plastic Straw campaign to target the common petroleum-based tube, but instead of pushing for local bans, they're angling to convince bar and restaurant owners to provide straws only at customers' request.
Stupid plastic, however, comes in even smaller packages.
~ ~ ~
Marcus Eriksen, research director of The 5 Gyres Institute, is trying to get his arms around just how widely plastic trash is spread throughout the world's oceans, and just how toxic it is.
In a collaboration with Chelsea Rochman, lead author of a 2014 study published in Science of the Total Environment (see sidebar, p. 28), he collected plastics in the South Atlantic to analyze the mixture of toxins associated with the debris, like the flame retardants known as PBDEs, the pesticide DDT and the industrial chemical PCBs.
They also collected lanternfish – an admittedly small sample size of less than 100 – and tested for the presence of those chemicals in their flesh.
"As we saw more flame retardants in plastic, we saw more flame retardants in fish tissues," Eriksen says. "What we are seeing is the absorption of toxicants from plastics in the organisms that eat the plastics."
We consume these chemicals by eating the animals that ate them. And sometimes we ingest them directly. One example is bisphenol-A (BPA), which mimics the effects of estrogen. Now it's used in polycarbonate plastics, the linings of tin cans and the coating of store receipts.
Another common toxin: phthalates, used as plastic softeners. The rubber duckies babies gnaw on in the bath are composed of as much as 50-percent phthalates, he says: "If you chew on a rubber ducky, that's like a phthalate popsicle."
Other hazardous chemicals like PVC and styrene are added to plastic for color, texture or other properties. Some of these toxins are more volatile than others, meaning they're more prone to leaching out. What happens to these plastics when they reach the ocean, Eriksen says, is still largely a mystery.
To some extent, cooler ocean temperatures can keep them from breaking apart as quickly as they would on land. On the other hand, he says, plastics in the ocean tend to act as "sponges and magnets," attracting and absorbing other toxins floating out there.
"You get this hyper-concentration of toxicants on and in plastics," he says. "Plastic in the ocean should be labeled as a hazardous substance."
Sun and waves break plastic litter into smaller and smaller pieces, creating a "smog" of microplastic particles less than 5 millimeters in diameter. Microplastics also flow into the sea with human wastewater, as synthetic microfibers break loose in the laundry and cosmetic microbeads rinse down the sink.
"We now find microplastics in every beach worldwide, on the seafloor, in ice cores, in hundreds of species," Eriksen says. "Microplastic is everywhere. It's not just in fish. It's in zooplankton, shellfish, plants. What happens to us, being part of that ecosystem?"
Charles Moore has been asking that same question. As founder and research director of Algalita Marine Research and Education, a nonprofit fighting marine plastic pollution, Moore has made more than a dozen scientific expeditions to the North Pacific Gyre, captaining the research vessel Alguita.
On his first voyage to the gyre, in 1999, his team's water samples turned up 6 parts plastic, by weight, to every 1 part plankton. Now, he says, that ratio is 100-to-1 and increasing exponentially.
"The available food supply is becoming plasticized," he says. "This cloud of plastic – this amazing quantity of plastic nanoparticles penetrating every part of our environment – is getting into our food chain."
The next scientific step, he says, is to study the plastic-to-tissue ratio in people.
"We've been looking at what's in the environment as if we're separated from it," he says. "If it's breaking down into this smog and getting into everything, it's getting into us. How much is getting into us, and how toxic it is, that's going to be the study for future science."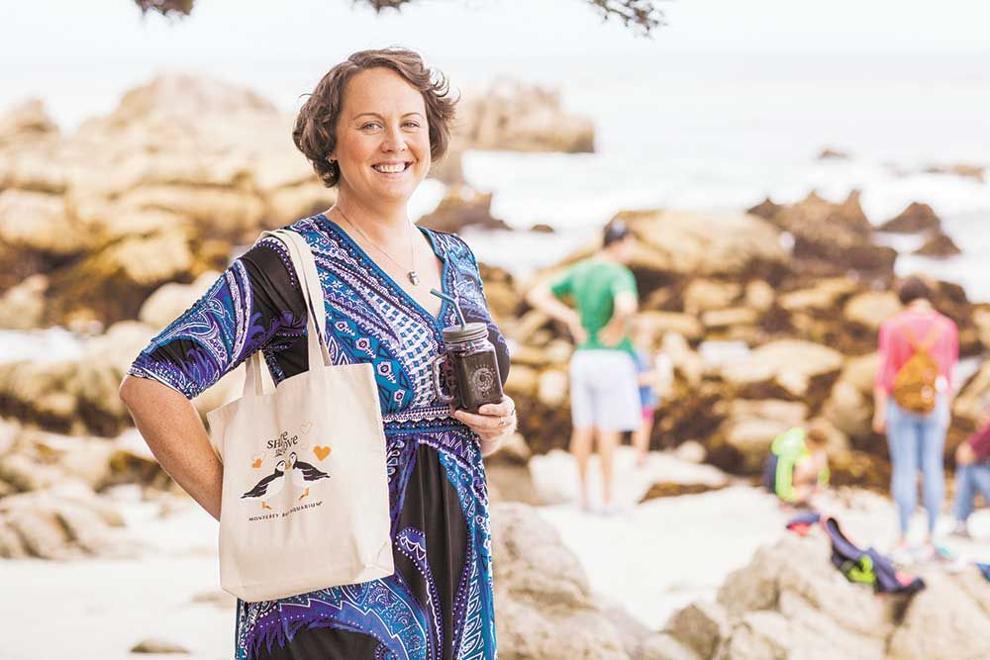 ~ ~ ~
Katie Steigman held an empty 1-liter water bottle in one hand, a surfboard tucked under the other arm, and hiked down the rocky coastline into the Santa Cruz surf. She paddled out, filled the bottle with seawater and paddled back to shore without even getting her hair wet.
"I just sampled Santa Cruz, California," she tells the camera in a video posted to YouTube. "Let's hope there's not a lot of microplastics."
Steigman is a volunteer for the 4-year-old nonprofit Adventurers and Scientists for Conservation, which was founded by National Geographic Emerging Explorer Gregg Treinish. ASC is working to compile the world's biggest data set on microplastics by tapping "adventure-scientists" including divers, sailors, surfers and hikers to collect water samples worldwide.
They send the samples to ASC Partner Scientist Abby Barrows, who puts them through a fine filter, then looks through a microscope and hand-counts all the plastic bits measuring from 0.05 millimeter (invisible to the human eye) to 5 millimeters (about the size of lettering on a credit card) at their longest.
Barrows says she's found microplastics in 94 percent of the 827 water samples submitted so far, including from Maine, Alaska, Argentina, Thailand and Antarctica.
This summer, adventure-scientists sent in water from Monterey Bay – and microplastics showed up in 10 of 11 samples.
That doesn't mean local waters are brimming with microplastics. Rather, they're present in flecks. On average, Barrows only found one piece of microplastic per liter in four Monterey County samples – one taken off the coast of Zmudowski State Beach in Moss Landing, two off Fort Ord Dunes State Park in Marina and one off Pebble Beach.
None of those microplastic pieces were beads. They were all fibrous, meaning they looked more like tiny hairs than spheres. In fact, more than 92 percent of the microplastics Barrows found in ASC's global water samples are fibrous. That could suggest microbeads from personal care products are only minor culprits, while synthetic clothing and broken-down litter are more significant sources – though ASC staff say it's too early to know for sure.
Regardless, the emerging research on microplastics suggests we need to reframe our thinking about ocean plastic pollution. The North Pacific Gyre, one of five known ocean vortexes, has been referred to in media reports as the "Great Pacific Garbage Patch," often described as a plastic island twice the size of Texas. But Save Our Shores Program Director Rachel Kippen says that's really a mischaracterization.
"It is not an island or a patch of plastic that is all on the surface," she writes by email. "Rather, it is more like a soup. Plastic debris can be found floating at the surface, or [it] may have sunk to the bottom, and can be found at all different depths in between."
That's what makes plastic marine debris such a daunting problem. If it were simply an island of solid plastic, she says, people could conceivably clean it up. A promising low-tech design by Dutch 20-year-old Boyan Slat aims to do just that, using long floating booms to capture large plastic trash floating at the ocean's surface.
Nelson says that's worth doing, but it's not enough. "That doesn't address the microplastics, or anything below the surface," she says. "It's our actions on the land that are causing this. We have to stop it at its source."
We can't count on existing sewage systems to do that. The California Association of Sanitation Agencies (a lobbying group that counts Monterey Regional Water Pollution Control Agency among its members) sponsored AB 888, the state bill banning microbeads, because microscopic plastic particles are so hard to filter out in typical wastewater plants.
MRWPCA General Manager Paul Sciuto says our own regional wastewater treatment plant reduces, but doesn't eliminate, the load of plastic microbeads it discharges into Monterey Bay National Marine Sanctuary.
That reality turns the problem back to us, the consumers of the world. If we want to stop the buildup of microplastics (and the toxins that glom onto them) in our seafood, we need to slow the flow of plastic from land to ocean.
At a legislative level, that might mean banning the use of microbeads in toiletries and cosmetics through bills like AB 888. On a personal level, it could mean choosing cotton clothing over polyester. Then there are the basics, which any second-grader could recite: Reduce. Recycle. Reuse. Don't litter.
But we're still burning through disposable plastic. One recent study estimated coastal countries generated 275 million metric tons of plastic waste in 2010, and up to 5 percent of it ended up as litter in the sea.
Numbers like that suggest monthly beach cleanups and curbside blue bins aren't nearly enough to solve the problem. A more profound change would require more of us to become like Sarah-Mae Nelson, stocking our kitchens with reusable containers filled with food from the grocery bulk aisle. It would take a massive cultural habit-kick, a fundamental shift in manufacturing, a collective decision to use plastic only for the most durable and essential products, like computer parts and medical supplies.
To modify a popular saying – don't litter where you eat. It's time for humanity to stop being stupid about plastic.