Francesca "Linda" Jacobs sat on her living room sofa, her head resting on a cushion and her feet almost reaching the floor. The front door to her second-story apartment near Dennis the Menace Park was cracked open just wide enough to let Reynoldo, a little neighborhood cat, come and go as he pleased.
But his food wasn't replenished.
It was a Tuesday morning. Most every Tuesday morning, Linda would put a bag containing the past week's garbage out on the walkway and a neighbor's teenage son would carry it down to the dumpster. The stairs were hard for her ever since she fell in the dark carport, broke her leg and lay there for who knows how long until someone heard her calling for help.
She wasn't old at 58, but she was a little fragile. She threw the kid a few bucks every month to do the chore.
Times were hard and Linda hadn't felt well for awhile. Money was scarce and she didn't have medical insurance.
She could get short-tempered, terse; the few neighbors who concerned themselves with her at all, helping her out with errands and chores, thought of her as a little strange. Nice enough, but strange.
Above all, she was intensely private. Only the neighborhood cats were ever allowed in the apartment.
In the entire 12 years she lived there, her landlord never once stepped inside. If Linda needed a new part for a faucet, he left it at the door and she dealt with it on her own. The neighbor who helped her out never came in, either – their communications happened over the phone or on the walkway in front of the apartment.
But never, never inside.
AS POLICE AND CORONER'S INVESTIGATORS WOULD FIND OUT,
Linda had once been a real estate agent at the tony Alain Pinel Realtors, which specializes in upscale homes all over the county and multi-million-dollar homes in Carmel and Carmel Highlands.Bert Saunders, the Pinel broker who owns the Monterey apartment building and would become Linda's landlord, remembers her around the office as "friendly and nice" and "down to earth."
LINDA JACOBS WASN'T EXACTLY ALONE.
Saunders says she got sick sometime in 2002 – nobody was quite sure what the illness was – and stopped coming to work. But another friend said Linda had a bone-shattering accident about that time. She fell down some stairs at work and broke multiple bones, including her shoulder. Her right leg, in fact, was 2 inches shorter after that tumble.
The first accident left her in excruciating pain that never went away completely. The second fall didn't help.
Then came the day when the garbage bag she would have put out never appeared. The previous evening passed into the next day's early evening before the guy who lived one unit over noticed her door had been open for hours without any movement.
He called the Monterey Police Department and asked for someone to swing by and check on the fragile woman next door.
That's where the police found her, on the couch just a few feet from her front door, emaciated and appearing decades older than her actual age. It had been a week or more since she had been able to make it to the bathroom. The sparse living room was littered with fast-food drink cups – she loved fountain drinks from McDonald's, a treat she would ask the neighbor with the teen to bring her regularly – and she had been using the cups instead of the toilet.
It made for one hell of a smell and one hell of a mess.
She had been dead for hours. She might have died right after opening her front door for that last time. Police say it looks like she stumbled a few feet back, landed on the couch and just went.
There's nothing terribly strange about dying alone, nor about dying in such desperate circumstances. It's sad, but it happens.
But as police and coroner's investigators would find out, Linda Jacobs wasn't exactly alone.
In the dining nook of her kitchen, Linda kept a mummified corpse, wrapped in plastic, placed in a wooden crate that was wrapped in even more plastic, and then placed inside a cardboard box.
Almost nine months later, officials still haven't identified those remains. But in dark-humored law enforcement circles, it's referred to as the case of the mom-in-the-box.
• • •
You're looking at the date and thinking, it's that time of the year. Decorative gourd season, pumpkin-carving time. The cable networks will run the usual array of slasher flicks, everyone will eat too much sugar and stores will put all the leftover candy on sale the next day.
You're thinking this is a Halloween spook story.
The facts are laid out in Monterey County Coroner's report No. 20140110, and gathered through interviews with multiple law enforcement sources and the two women Linda Jacobs thought of as friends, her neighbor and a landlord from long ago.
Jacobs lived, she died, and she kept a corpse – for as long as two decades – in a box that ended up in her kitchen, where she could see it every day.
The first call came in to the Monterey Police Department about 5:40pm Feb. 4.
The caller asked police to perform a welfare check at 1113 4th St., Unit E, the apartment at the very end the second-story landing. The woman's door, the caller said, had been open for 24 hours, but he didn't hear anyone moving around.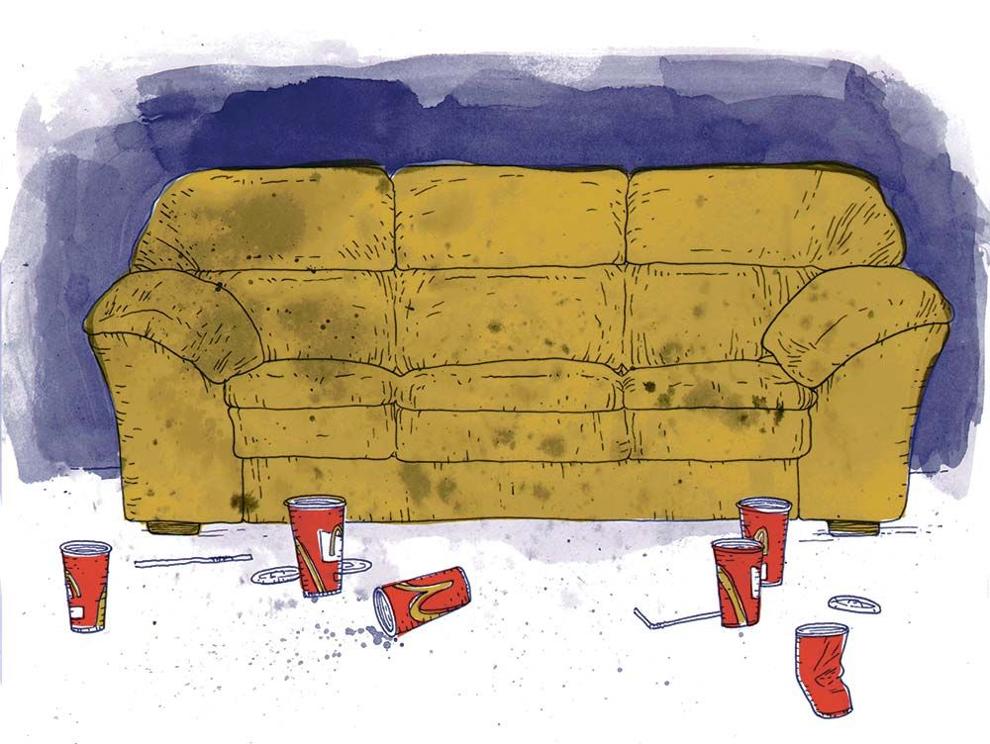 Officers Adam Costa and Aaron Gray got to the apartment and saw Jacobs through the crack in the door. She was clearly dead.
By 6:20pm, they had called the Monterey County Coroner's office, and Coroner's Det. Diana Schumacher had arrived.
That scene, as described in Schumacher's nuanced report, was strange, beyond the fact that an emaciated woman was lying dead on her stained couch, clad in a blue velour pantsuit and surrounded by all those repurposed cups.
Imagine a hoard – and thanks to reality TV, you most likely can: the towering stacks of newspapers and endless tchotchkes, piles of clothes and dishes and decaying food and garbage.
Now imagine the opposite.
Jacob's two-bedroom apartment was almost completely empty.
There was no food in the kitchen. There was nothing to prepare or serve it with even if there had been: no utensils, no pots and pans, no dishes.
There were no cans in the cabinets and nothing in the refrigerator or freezer.
A coffee maker and single cup sat on the Formica counter, but there was no water or ground coffee, and it looked like the coffee maker hadn't been used in a long time.
Aside from the couch, some clothing and purses in the bedroom closets, a bed, a handful of jewelry, a paper shredder, a disconnected telephone and that dusty cardboard box with the long-dead body in it, the place was devoid of the things that make up a life.
But as Costa searched the apartment, smalls clues revealed themselves.
For one, it looked like Linda had been preparing for her end. She had taken a few framed photographs depicting nature scenes off the walls and wrapped them in plastic. In one of the purses in a bedroom closet, there was a medical identification card in the name of Florence I. Jacobs.
According to Schumacher's report, there was also a handwritten poem titled Safely Home tucked in the purse.
It referred to the author, presumably Linda Jacobs, "being safely home in heaven."
In a lower kitchen cabinet, Schumacher found a folder containing a handwritten letter, in the same handwriting as the poem, titled "The Last Will and Testament of Francesca Linda Jacobs." It declared that all property should be left to her landlord, Bert Saunders.
She was months behind on her rent, Saunders says, and what she left him – little pieces of jewelry and the clothing – was just enough to cover it.
The second paragraph of the unsigned and undated document stated the remains of her mother, Florence Ida Jacobs, could be found in the cardboard box in her dining room.
Linda asked for her remains to be cremated and interred – along with those of her mother, in the box – in Niche G1320, in the Columbarium of Courage at Forest Lawn Cemetery in Glendale, north of Los Angeles.
• • •
When Det. Schumacher pushed the box away from the wall, it left a mark in the dirt on the floor. That cardboard box, 20 inches by 20 inches by 31 inches, was also coated in a layer of silt and looked like it hadn't been moved in some time.
It was also strangely heavy.
Here's where things get muddled, if only for a moment.
According to one law enforcement source, some on the scene thought when Linda stated her request for cremation, she meant herself. It made sense that the remains in the box had already been cremated, and that Linda had asked for her ashes to be put with those of her mother.
But as Schumacher writes in her report, she was immediately concerned.
"The hand written note declared Francesca and her mother were TO BE cremated," the report states. "It appeared the REMAINS of another person, possibly the decedent's mother, were somehow incased [sic] within the large cardboard box."
Costa got out his pocket knife, handed it to Schumacher, and she began opening one end of the box. She opened it just enough to see it contained another box.
That one was wrapped in a heavy duty garbage bag.
"As Officer Costa and I pushed against the box encased in plastic," Schumacher writes, "we noted it yielded somewhat easily; something hard appeared beneath it."
Schumacher guessed what they were looking at. The box was large enough to hold a body, and the woman who wrote the note told them it contained one.
Schumacher decided the box should be opened in a controlled environment with an autopsy team present. She had the box carried down the stairs and transported to the coroner's office.
Three days passed before the box was opened. And then the remains were taken to the forensic anthropology department at UC Santa Cruz in the hopes the scientists there could help identify the person who had been in that box all those years.
• • •
When death comes into life, sometimes people ask that the paper not publish their full names.
I agreed.
Teri is the neighbor who helped Linda out, bringing her the fountain sodas, running errands to the store and offering her dinner when she cooked a big batch of enchiladas or pasta.
"When I first moved in, she was already there. And she was nice, but she was very private. In 12 years, I never once stepped foot in her house," Teri says. "She didn't ask me things about myself or my past, and I didn't ask her about herself or her past. That's probably why we got along so well."
Teri also helped her care for Pest, as they called one of the neighborhood cats.
Pest wandered through the apartment complex. Linda would buy an enormous bag of cat food about once a month, and she fed Pest to the point of overfeeding him. He was fat and happy under her care.
He gave her life when she was already apparently seeking death. About 10 years ago, when Linda came out of CHOMP after that second accident, she was using pain pills heavily, Teri says.
"She started taking the pills, and she was not in a good space," Teri says. "One day that cat scratched on her door, she opened it, and she claims that cat saved her life, because she was ready to die on pain pills, locked up in that apartment."
Linda and Pest started taking short walks together, Linda using a metal walker also found in the apartment, with the cat gently at her side, following her up and down the short walkway.
In October last year, after 12 years of moving between Linda's and Teri's apartments, Pest got sick. Tests revealed his thyroid and liver were shot.
Teri says she works two jobs to keep a roof overhead, and made the tough decision to put Pest to sleep. Linda paid the vet's bill, about $750, one of many she had paid over the years, Teri says.
But Linda didn't want to be there for Pest's end.
"I said to her, 'Come with me to the vet and say goodbye,' and she said, 'No, I don't want to.'"
From there, she went downhill.
"She would say, 'I miss him so much,'" Teri recalls.
In December, Linda told Teri she planned to be gone for most of the month, and maybe even longer, so Teri shouldn't bother doing anything for her for Christmas. A little gift exchange had been a tradition.
And for about five weeks, Teri says, it seemed Linda was gone. There was no movement from the apartment and no lights were ever on.
"But now I don't know. I don't know if she was really gone in December. Now I'm finding out all sorts of things," Teri says.
"When I first moved in, she brought me a bag of jewelry, really nice jewelry, diamond earrings and gold, and she wanted me to help her sell it. She wanted me to help her put stuff on eBay," Teri says. "I thought she was some rich old lady because she would pay everything for the Pest. If I bought her things at the grocery store, she would always give me the money."
In the final weeks of Linda's life, when she would call and ask Teri to bring her a fountain drink, she would tell Teri to leave it at the door.
Linda made one of those calls on her last night alive. She left Teri a voicemail that Teri later played for the police.
I ask Teri about the body in the cardboard box, and the question startles her.
She works as a caretaker and saw the coroner's department carrying that box down the stairs. But she assumed it contained something too valuable – a box stuffed with cash, she thought – to leave behind, because coroner's employees aren't supposed to remove property from a death scene.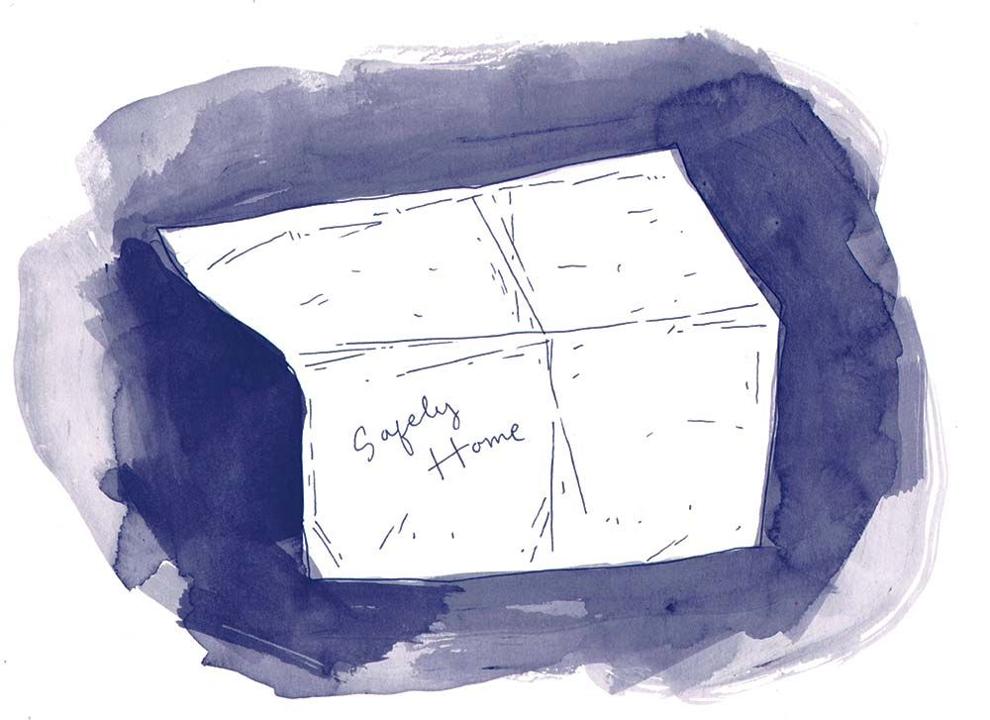 I tell her what was in the box and that officials think – but haven't yet determined – it may have been Linda's mother.
It's the first she's heard about it. After a few sputtered, adrenaline-driven questions – "Wait, what? What do you mean? A corpse?" – Teri is dead silent for about 30 seconds.
I think she may have hung up the phone.
"It explains a lot," she finally says. "She always seemed so lonely – of course that's going to make you act differently.
"But," she asks, "why didn't it smell?"
• • •
Nobody alive knows how the woman in the box died, and nobody alive knows exactly when she died. There's no obituary to be found, and no death certificate.
But there are little clues, found here and there.
"SHE DIDN'T ASK ME THINGS ABOUT MYSELF OR MY PAST ,
In 1986, Linda, her then-husband and her mother lived in a Monterey home they rented from longtime Carmel Valley resident Sylvette Baird. Baird is a tiny but fierce Swiss immigrant with bright blue eyes, a war bride whose husband ended a 35-year Army career at Fort Ord.
AND I DIDN'T ASK HER ABOUT HERSELF OR HER PAST."
Baird says Linda divorced her husband, a German instructor at the Defense Language Institute, in 1990, and had a bit of a breakdown then. She would watch from the window as her ex walked from DLI with his new love, past the house they used to share.
Linda moved with her mother to Phoenix in October of that year. When she moved back to Monterey a few years later she called Baird and told her that her mom had died. But, she said, Florence Ida had wanted Linda to go back to Monterey.
Linda sent Baird greeting cards, penned in elegant, old-fashioned script. She shows me a pile she kept, and says there are even more she couldn't find – Christmas cards and Mother's Day cards.
In one she wrote, "You've been like a mother to me, and I want you to know how thankful I am that I have you."
Florence had been a heavy smoker, Baird says, and they may have moved because the desert climate was kinder to her lungs. When Linda moved back to start working in residential real estate, she rented a room in a Marina home for some time. In 2002, she moved into Saunders' building in Monterey.
"When we would talk after that, and I would mention her mother, she would get very angry with me. She told me, 'Don't mention my mother, don't mention my mother,'" Baird says.
Linda would call her almost every night, and often even in the middle of the night, frantic over health and money problems. She would have panic attacks, and tell Baird she couldn't breathe. But Baird is 92 and in ill health. There wasn't a lot she could do for Linda other than talk her through it, but the middle-of-the – night phone calls became exhausting, and Baird asked her to only call during the day.
Baird says she sent her assistant with bags of groceries in January, and her assistant says when she went to the apartment, she left the food at the door. Baird also wrote Linda a $4,000 check to help her out – Linda had been receiving unemployment and disability checks for a while, but that money ran out.
After her time at Alain Pinel, it appears she never worked again. She wanted to, Baird says, and badly. But the economy tanked and she couldn't find a job.
Baird also says she called Adult Protective Services and asked them to check on Linda, who in her phone calls seemed to be growing increasingly desperate.
Baird says they told her they called Linda and offered advice, but Linda told them she was fine and didn't need help, Baird says. In the absence of evidence she was in suicidal distress, they said, there was nothing they could do.
Baird weeps as she tells the story, and she weeps again in a subsequent phone call. She blames herself, she says, for Linda's death.
She also wonders about the body in the cardboard box.
Linda, tiny in death, was also understated in life, standing 4 feet 8 inches and an always immaculately dressed size 1.
How could a woman that small, Baird asks, have boxed up a human corpse and then toted it across two states?
"She did not do that," Baird says defiantly. "She was not strong enough."
• • •
A coroner's investigation of a newly dead body is far different than one performed on a long-dead, unpreserved body. But while the cause of death on the body in the box might be impossible to ever determine, identifying who was in the box shouldn't be that hard, given there's a likely genetic match to the woman who stored that body all those years.
"You can take a 4 – to 5-inch section of femur or you can use teeth or rib bones to establish that relationship," Joseph Cohen, a board-certified forensic pathologist tells me.
The founder of Novato-based United Forensic Services, P.C., Cohen is a veteran forensic pathologist and sought-after court consultant. He's also the chief forensic pathologist for the Marin County Sheriff's Department and conducted the autopsy of Robin Williams.
"It should only take a couple of weeks," he says, to see if there's a DNA match between Linda and the decayed remains.
It's a fast conversation I have with him. He's en route to the first of several autopsies he's performing that day.
When police found Linda Jacobs' emaciated body, she was in what's called the fresh decomposition state – cold to the touch, or what's known as algor mortis – and also in rigor mortis, the stiff condition caused by chemical changes that occur after death.
By the time the remains of the woman in the box arrived in the labs of the UC Santa Cruz forensic anthropology team, the body had passed through the putrefaction state, marked by bloating and skin breaching.
The loss of fluids through those breaches brings thick odor. The body had passed through active decay, marked by more loss of fluids, and more intense odor and insect activity.
It had reached advanced decay, when the smell and bugs stop, and the body dries out.
As one person familiar with the case describes it: "It was kind of like beef jerky."
UC Santa Cruz denied a request for an interview with Dr. Allison Galloway, the university's provost and an eminent forensic anthropologist who consults with most of the coroners and medical examiners in Northern and Central California.
(Her assistant, though, recommends I get the 2003 book Stiff by Mary Roach. In it, Roach chronicles what happens to our bodies after we die.)
Monterey County Coroner's officials won't say much either. Schumacher, the coroner's investigator, says the remains of the woman in the box were returned to the coroner's office. They are being stored behind lock and key in an evidence room.
"It could be years before we identify the remains," Schumacher says.
That's how long it could take for DNA samples reportedly taken at UC Santa Cruz to make their way through the identification process, and be compared to samples taken from Linda Jacobs.
It could also take years because of a cold but practical truth: There's no rush.
It's not a whodunnit. There's no evidence that Linda Jacobs harmed her mother or did anything to cause her death.
There's also no evidence that she benefitted in any way from the death. She wasn't pretending her mother was alive to collect Social Security checks, Monterey Police Investigations Lt. Leslie Sonne says.
But then again, they can't yet confirm it's the remains of Florence Ida Jacobs in that box.
"It's on top of the list of unusual things I've seen," Sonne says over coffee at the Del Monte Center Starbucks. "In one sense, it's quite a tribute to her mother, if that is her mother, and her reason for doing it was genuine grief.
"On the other hand… " Sonne shrugs and lets the sentence trail off.
What's left unsaid says volumes.
According to the report from Monterey County pathologist Venus Azar, M.D., just as three days passed before investigators opened Linda's box, three days passed before she conducted Linda's autopsy.
Azar writes in her report there's not enough medical certainty to determine how Linda died.
She had superficial cut marks on her arms, eight on her left and at least 15 on her right, indicating she may have tried to harm herself. But they weren't deep and had scabbed over before she died. She also had the painkiller tramadol in her system, but it wasn't in an amount that could have caused her death.
With uncertainty as the backdrop, Azar writes her likely cause of death appears to be inanition.
One Monterey police officer tells me they had to look it up when they read the report, and so did I. The dictionary defines inanition as the quality or state of being empty, the absence or loss of social, moral or intellectual vitality or vigor.
The quality or state of being empty.
It's likely that Linda Jacobs starved and dehydrated herself to death, and she probably started the process in December, when she told her neighbor Teri that she was going away.
She weighed just 65 pounds when they found her.
Linda Jacobs got half of her final request. After the autopsy was completed, her remains were cremated. They are stored in a cardboard box at the coroner's office.
And there Linda's ashes will remain on a shelf until the body in the box is finally identified.
For the coroner's report on Linda Jacobs, please visit mcweekly.com/jacobsreport