A Family Affair, Part 1
It's a bright Monday morning in July as a convoy of four cars cruises along Aguajito Road in Monterey. They turn right onto Allan Drive and wend up the steep street to a parking lot, where they come to a stop next to each other.
The occupants get out their cars, huddle and walk as a group toward the Monterey County Superior Courthouse. Two men wear suits, while four older adults dress casually, almost hippie-like. Two children are dressed as if going to church, as are three adult women. All are white except for a young black man, arms and chest muscular underneath a black polo shirt.
One of the men wearing a suit is a lawyer. But the others are a family, three generations of them: Vanessa Diffenbaugh, 37, an arts teacher and writer; her husband Daniel "PK" Diffenbaugh, 38, the superintendent of Monterey Peninsula Unified School District; two pairs of their parents; their kids; their niece; and a personal assistant. The occasion that brings them all to the Monterey courthouse: Vanessa and PK's adoption of Donovan Ford, the muscular young man, who is 25.
This moment has been a long time coming.
Vanessa Diffenbaugh and her family moved to Monterey about a year ago. Before that they were living in Newport Beach in Southern California. Before that, Cambridge, Massachusetts, where PK was working on a doctorate in educational leadership at Harvard and Vanessa was about to become an author – and a famous one.
Her first book, 2011's The Language of Flowers, stayed 69 weeks on the New York Times' best-seller list and was translated into 42 languages.
The Boston Globe called it "unabashedly romantic" with an "emotional arc of almost unbearable poignance." It received positive reviews from The Chicago Tribune, NPR andSan Francisco Chronicle, and a thorny one from The New York Times. It's been a book club favorite, and instigated interviews and book tours.
Diffenbaugh she says that first book poured out of her in six months.
It's not exactly autobiographical, but its deeper themes – the pain and longing young people live through in foster care, and the treacherous trouble of repairing their lives after it – can be found in her own life.
It Started Early
Vanessa Diffenbaugh grew up in Chico, California. Her parents divorced when she was 2, and remarried others. She always remembers having four parents and two houses.
"I went back and forth between my families' houses every couple days, my whole life," she says. "I rode my bike when I was older. Clothes on one side of the handle bars, art supplies and school supplies on the other."
She kept a diary starting at age 6. Her biological kids, Graciela, 9, and Miles, 7, found it recently.
"There's this love saga about a boy who moved to Chicago without saying goodbye, and then moved back and it was weird," Diffenbaugh says with a laugh.
She remembers her writing teachers, acknowledging them in her first book for their contributions to her development as a writer. Her second grade teacher, for instance, gave her a special corner of the classroom where she could write. The Language of Flowers could be considered Vanessa's second book because it was from that corner she wrote her first.
"It was 35 pages, single-spaced, 11 chapters," she says. "Pretty serious book."
It was titled Timmy and Tommy's Big Adventure on the Island of Unknown. Its story was about twin 1-year-olds who escape a tormenting stepmother by sailing away to an island. Diffenbaugh admits that she probably lifted the plot from fairy tale tropes of the time. But it seems prescient for what she would encounter later, in real life.
As a teen, she won a scholarship to study art at Stanford – she was one of six art majors who graduated in 2000 from the university's art department. It was like a different planet for her. On her very first day of school her scholarship was cut by $5,000.
"My roommate said, 'Why don't you just go to the ATM?' It was beyond her reality to think that there might not be any money on the other side of that ATM."
She waited tables for income – five to six nights a week, often double shifts on Sundays – all four years. She also became involved in a nonprofit that taught kids art and technology in East Palo Alto, which at that time was being rocked by crack, crime and poverty – not too far and yet a world apart from Stanford. But it resonated with her.
"I loved these kids," she says. "There was one class I skipped a lot because I was so invested in them that Stanford stopped mattering."
There were two sisters in particular that Vanessa began mentoring. They had two other sisters and all four lived in East Palo Alto with their grandmother and their mother, who struggled with drug addiction. Vanessa picked up the two sisters after school on Fridays to spend weekends together.
When she met and started dating PK, also a Stanford student at the time, instead of going to bars like other people their age, they took the girls to museums, libraries, parks and on back-to-school shopping trips. They formed an ad hoc surrogate family.
But one day, when the couple returned the girls to their home, the mother was gone and the grandmother, who said she couldn't care for any of the kids anymore, had put their belongings on the porch.
The elderly woman was ill and died less than a year later.
"At 23 I had these four girls abandoned to my custody," Diffenbaugh says. "They were girls I loved, considered family. PK and I had roommates, commuted, had full-time jobs: We had to surrender them to the foster care system. And had to watch what they went through."
The girls were placed with a single mother who already had five foster kids, for a total of nine kids in one household (the legal limit at the time was six). Then the siblings were split up. The oldest, who had been de facto raising the younger ones, was sent along with the next oldest sister, to a Spanish-speaking family, though the two of them were African-American and didn't speak Spanish. The other two went to another foster home in Vallejo.
It took two months before Vanessa and PK were even allowed to see the sisters.
"It was so bad," she says. "I couldn't believe this was happening. These kids hadn't done anything wrong. They wanted to be in school and wanted to be loved. I couldn't believe there weren't riots in the streets."
That's the conviction that inspired both of them to vow, in their early 20s, to become foster parents as soon as they conceivably could.
They attempted to become foster parents in 2005, but it wasn't successful or long-lived. In 2007, that changed. They were married. They, along with Graciela, then 6 months old, were living in Sacramento where PK was a high school principal. He got a call that one of his students had run away from an abusive home, knocked on a fire station door, and was in a receiving home (a first step before entering the foster care system).
That was Tre'von. He was 14.
"Even if [kids like him] have absolutely no behavioral, social or psychological problems, they end up in group homes, which are the worst. Teenage boys are the hardest to place in foster care. And in many places there is a shortage of foster parents."
They went to court and got him placed in their custody on Valentine's Day 2007. In October of that year came 17-year-old Sharon, whose biological mom moved in with someone who had abused her. Sharon moved in with the Diffenbaughs the same week their son, Miles, was born. Vanessa describes her as "this amazing young woman we knew for four years."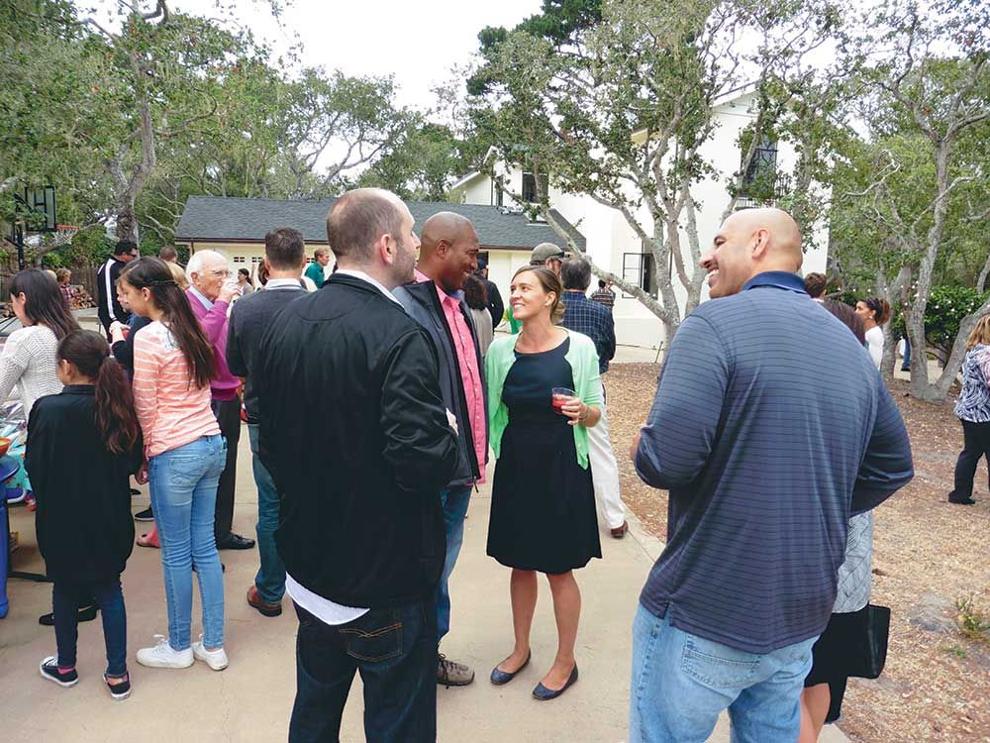 In 2011, then a 20-year-old junior at UC Riverside, Sharon was hit by a truck while walking by the side of a road, and died.
Donovan Ford had been a part of their family since he was 16 and a student at Sacramento High School, where PK was the principal. And he'd been coming to spend holidays with them each year since. He'd been in foster care since birth. He hadn't made a connection with his current foster family; it was just a place to live, but he didn't complain about it. When he was 18, the year in which he was emancipated from the foster care system, the Diffenbaughs took him in.
"When these kids age out, they could be kicked out of their foster home with a garbage bag full of their stuff," Diffenbaugh says. "That's the norm. If you have kids, most people know they're not ready [for the world] at 18."
There is now legislation, AB 12, the California Fostering Connections to Success Act, that extends foster care support for eligible young people until the age of 21.
As troubling as the lives of these kids can be in foster care, the sudden withdrawal of support when they age out can be crippling. They are more prone to drug abuse, suicide, unemployment, early pregnancy, prison. It's a long, tough sentence – one that frequently happens out of sight and out of mind.
Real and Fictional Worlds Collaborate
One summer, in 2008 or 2009, Vanessa read every book on the best-seller list. Afterwards, she thought to herself, I can do this.
"Not to sound arrogant," she says. "But a book people don't want to put down."
She says her first motivation in writing The Language of Flowers was to write a good story with conviction. She didn't want to preach or begin with a premise of social activism.
The story that emerged begins on the first day of the emancipation from foster care of 18-year-old Victoria Jones. Thirty-two foster homes have scarred and hardened her. But one woman, Elizabeth, a near surrogate mother figure, reaches her by passing on the language of flowers, their hidden or historical meanings. So even though Victoria finds herself rootless and homeless in San Francisco after leaving foster care, she has a gift that turns into salvation. She gets a job at a florist's shop. She learns to reach out and touch people by communicating through flowers. And in doing so, she too can be touched.
Human connection. That primal yearning.
Publishers engaged in a bidding frenzy for the book. (Ballantine Books, an imprint of Random House, would win with a "very generous" offer. She declines to say how much, but other publications have pegged it as six figures.) Audiences catapulted it into the upper sales charts of the book world. But it did something else, something more.
As Diffenbaugh says: "When you create a real world [readers] can live in, they want to know more about the issue because they felt it, lived in it."
Like she and PK did.
Capitalizing on the momentum, she took her earnings and put it behind the momentum of the growing awareness, and co-founded – along with longtime friend and Ogilvy senior strategist Isis Dallis Keigwin – the Camellia Network in 2011. (In the language of flowers, the Camellia flower denotes "my destiny is in your hands.") It's a social network and crowdfunding platform that connects "former foster youth to supporters, opportunities and resources from around the country."
These are young people trying to get jobs, go to school and figure out how to live meaningfully. The supporters of these young people can give them advice and kindness, and purchase essential items for them like laptops, towels, cooking utensils and proper attire for job interviews and the workplace. It currently has about 300 former foster youth in the network.
It's too small for Vanessa's liking. About 23,000 young people age out of foster care every year, she says.
But good news arrived recently. Camellia Network has joined forces with Youth Villages, a nationwide leader in the field of serving kids in foster care. Diffenbaugh has also joined Youth Villages' national board. This will allow the Camellia Network to scale up and really reach out under the new name LifeSet Network.
That reads like a happy beginning.
Diffenbaugh's second book, We Never Asked for Wings – officially released earlier this week, Aug. 18, and for which she's touring California, Italy and Norway – also covers the subject of turbulent and hard-earned families. But it wasn't conceived as easily as her debut novel.
Both books revolve around characters who are trying to restore broken or absent family bonds. In The Language of Flowers, the protagonist is Victoria, who came out of foster care and is trying to make it in the outside world alone and unprepared to trust and form relationships. In the second book, the protagonist is Letty, a single mother struggling to raise her kids in the Bay Area. In the opening scene of the book, she is abandoning them. (See excerpt, this page.)
Following up on such an auspicious debut, writing the second book was more daunting and arduous.
The first book not only flowed from her quickly, it sold quickly and in abundance (especially in Italy and Norway, where it topped the charts and remained a bestseller for a year). The second book was more a labor of love.
"Even when she had sold it, she had to go back and redo the whole book," PK says. "It was a roller coaster. She had to dig deep."
Shepherding this second book was a process she's likened to giving birth. That's at least partly because Vanessa says she loves being a mother more than anything else in the world, and that made it difficult to breathe life into a character like Letty who shirks motherhood. But then it clicked when she came to a realization: "It's not that she didn't want to be a mother. She hadn't been taught how."
Diffenbaugh thinks We Never Asked for Wings could resonate among Monterey County residents because of parallels in the book: economic disparity among bordering communities, immigration issues. (Letty and her family are Mexican-American.)
There was serendipity at work, too. She woke up in the middle of the night to write sentences. Like the prologue. She struggled mightily for that first sentence. Then one night she had a dream that somebody asked her what the first sentence was and she told them. She woke right up and wrote it down.
That sentence, the one that begins the story: "It wasn't too late to turn back."
Donovan Diffenbaugh Ford
Vanessa and PK have only gone forward: with their investment in ideals, their expansion of their family. They've fostered nine kids for varying periods of time. Donovan is their first adoption.
"I want to be the grandmother to his children," she says. "I want him to be able to visit me in the hospital."
Ford came to the adoption "ceremony" in Monterey from Colorado Springs, where he is training at the Olympic Training Facility as a weightlifter. He's been training in the sport for 10 years. Last Saturday he competed at the national championships in Dallas. In his 105-kilogram weight category he won first place in the 165-kilogram snatch lift, second in the 205 kilogram clean and jerk, and first place overall. That's three medals in a field of about 30 who really wanted those medals, too.
The Diffenbaugh family – Vanessa, PK, the kids, grandparents, and friends – watched him compete online.
"My mom said I looked really confident," he says. He's been calling Vanessa mom for about a year.
With that win, his first national title, he earns a berth in the IWF World Weightlifting Championship in Houston, in November, to qualify for a spot on the Olympic team. His journey is all the more amazing for the distance he's traveled.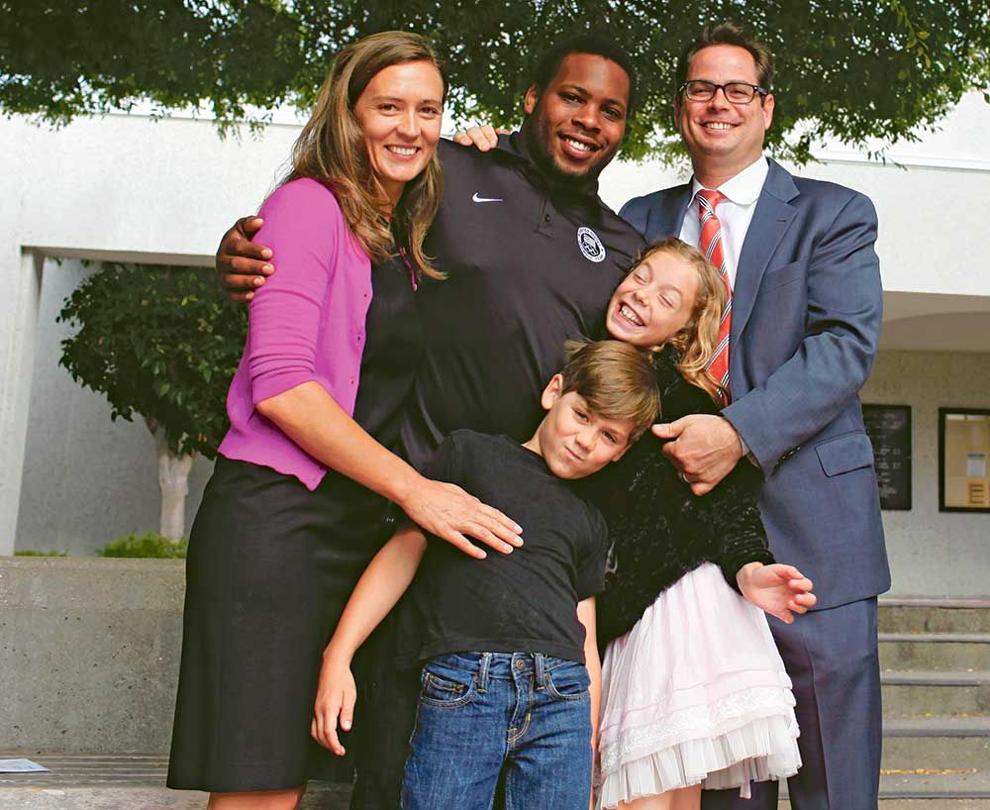 Donovan got out of the foster care system at age 18. He went into it when he was about 2 weeks old, along with his four brothers and one sister. He didn't realize, until he was 7, that the people he knew as their mom and dad were not his biological parents. His older brother, Kevin, tried to explain it to him.
"I was shocked," Ford says. "I didn't understand."
He wasn't given time to absorb it. The next thing that happened was that he and his siblings were split up – he calls it "ripped apart." He went on to live in about nine different foster homes.
"I firmly believe it molded me into the person I am today," he says. "I feel like I learned something from each place. No place was pleasant."
There was a family in Susanville he describes as OK, but he felt isolated because he was the only African-American in town. He says there were a lot of homes where mistreatment and abuse happened. And, maybe worse, a withholding of love. When he was invited, as a teen, to a weightlifting competition in Romania, he told his then-foster mom.
"She didn't care," he says. "Could not really care that [her] kid was leaving the country. It was a shock to me.
"I feel the foster care system is a joke," he continues. "I feel fortunate I made it out unscathed and pretty successful. I feel bad for the kids going through it now and don't have the resources I had."
He says he had people in his life who reached out, mentored him, embraced and pushed him. Like his high school football coach. And like the Diffenbaughs. He got to know them when he was a student at Sacramento High School, where PK was a principal. They reached out to him and invited him into their family. He spent holidays with them. Ford called PK "Mr. D" and the Diffenbaughs' two younger children followed suit, like siblings emulating their big brother.
"I spent one Christmas with my foster family, which wasn't great," Ford says. "My heart was with the Diffenbaughs. I didn't care if they got me something – I just wanted to be around them."
Ford viewed the adoption in Monterey as a formality. He already felt like family, already knew they would be together the rest of their lives. But it's dawning on him how it's changed things.
"When I get married and have kids, they'll have grandparents."
He got a new cell phone and was putting in his contacts.
"I never really had a mom and dad. I call the Diffenbaughs Mr. D and Ms. Vanessa. I was putting these [contacts] in my phone and I was starting to put 'Ms. Vanessa.' Then I thought, 'No, she's my mom.' So now when they call or text me, I see on my phone my mom's reaching out to me. Or my dad is."
The night before the adoption, Ford told the Diffenbaughs a story – about when he met his biological parents. He had prayed every night to meet them, ever since he was 7 and realized he had never known them. He was 17 when he finally did.
"I thought it was going to be like the movies – hugs and smiles," he says. "But it didn't feel right. My biological mom was crying. My dad was trying to pick up where they left off. I was kind of sick to my stomach. I wasn't connected to these people. There was no bond."
He says he felt like he had wasted a lot of prayer on something that wasn't meant to be. When he met the Diffenbaughs, he says it felt like family from day one.
"People say you can't choose your family, but you can. I got to choose a good one.
"I have a million stories about how messed up the [foster care] system is and how crazy it was, but I would never give up the many years in foster care to be born in my biological family. Because I would have never have met the Diffenbaughs, gotten involved in weightlifting, chased the Olympic dream. It was sometimes rough for me, but it made me who I am today. I'm grateful. I'm excited to see what the future holds for us."
A Family Affair, Part 2
On the third floor of Superior Court in Monterey, the Diffenbaughs and their lawyer wait for instruction in the empty courtroom of Judge Elisabeth K. Mineta.
Outside, in the hallway, criminal and family law attorney Kimberly Barnett sits awaiting the start of her own business elsewhere.
"Adoptions don't take long. This part, at least," she says. "Sometimes the judge takes pictures. It's like a birthday."
But she says she hasn't seen many adult adoptions at all.
Inside the courtroom, the family sits together, Ford in the middle. The family he has known since he was 16 literally surrounds him. The bailiff comes and invites them to walk through a door beside the bench.
They file through, walk down a hallway, and into Mineta's spacious office. She's dressed in a suit. No robe. She invites them to sit at a conference table.
"This is my favorite part of the week," she tells them.
Surveying each member, she chats amiably. She asks PK what he does, then Vanessa.
"I'm a writer," Vanessa says.
"Trashy novels?" the judge asks.
"Not really."
"Oh, that's my favorite kind. The fluffier the better."
The judge says she has a 21-year-old son, that she's been on the bench for five years, that much of a young person's quality of life depends on the quality of adults around them.
(The Diffenbaugh's other foster son, Tre'von, just graduated from NYU on a Gates Millennium and AnBryce Scholarship, where he studied genetics first, then theater with a minor in Hebrew so that he could read the original Bible.)
The judge writes on stapled forms as she talks. Then she stops writing and announces: "You are officially a family."
They looked surprised. That's it?
They hug and smile. Pictures are taken. Miles, the 7-year-old, says to all, "I didn't get to hear the sledgehammer bang."
Everyone laughs.
They file out of the office and down the hallway to the nondescript Family Court Services office, lined with file cabinets, abutted by cubicles, lit overhead by fluorescent lights.
More papers are filled out. On one of them, Donovan lists Diffenbaugh as his middle name.
Then they all walk down the steps of the courthouse and through the door to the outside, a family officially one member bigger, the proof of that union on a few sheets of paper Vanessa holds gingerly yet firmly in her hand.