Jeremy Turner | Working at the Wharf
It's 6am and still dark out. A bright light on the dock illuminates Jeremy Turner's face as he moves the chute that 11,000 pounds of fresh-caught squid is sliding down, from a full blue bin to an empty bin. As soon as the bright white cephalopods start hitting the bottom, another crew member, who's standing in the next bin over – this one is full of ice – starts shoveling ice on top of the squid. After a few loads, they'll switch jobs between controlling the chute and shoveling ice.
Turner just started his job as an ice shoveler for Southern Cal Seafood in April after his work as a carpenter in Southern California was brought to a halt due to shelter-in-place orders.
"I actually live all the way down in Oxnard," he says. "I'm up here every week and we go home on weekends. It's cool. We are on call. We come over here to unpack the boats, you know if there's a small load it'll be a quick day and if it's a big load or there's more boats coming, we'll stay out here longer. And then if there's a boat coming later, we'll usually go back to the house – they rent us a little Airbnb – and we'll come back whenever they need us. The job is really laid-back. They accommodate us really well here."
He got this job through a friend, and between the time his carpentry work stopped and he got hired on to shovel ice, he spent his month of unemployed time with his 2-year-old daughter.
"It was neat to be home for a little while and to have my daughter there," he says. "It sucks that I'm out here, away from home, but it's good to be back to work. I get too antsy, I've got to stay busy."
Jerry Morgan | Owner and operator of Sea Pearl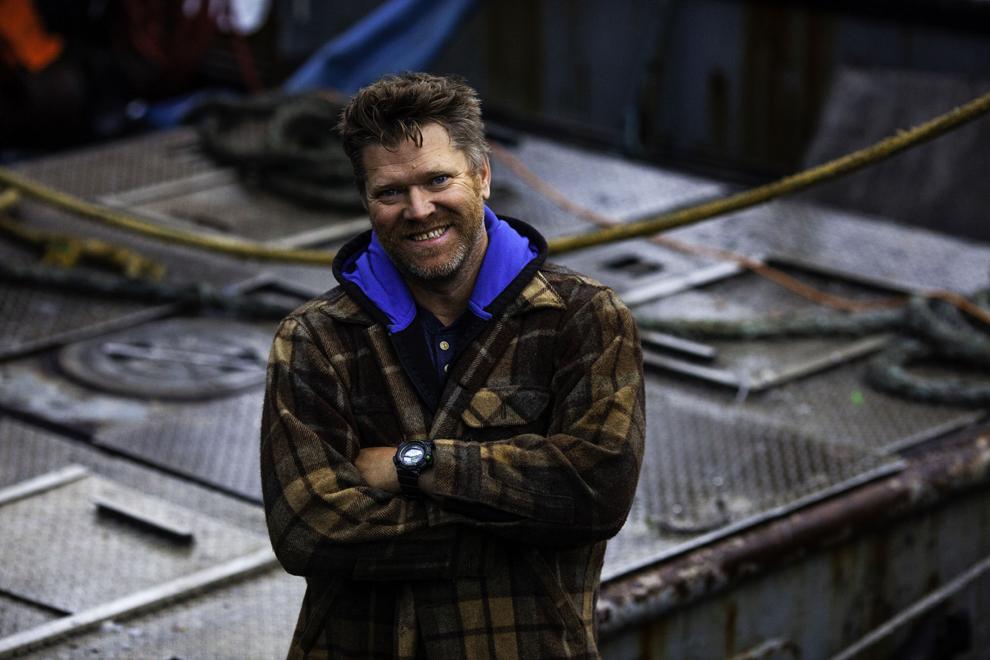 Jerry Morgan grew up fishing in Alaska with his father and his uncle. It's what he has done his entire life. In 2009 he moved away from the cold winters and started fishing out of Ventura on a lightboat. Eventually he made his way to Monterey Bay, and two years ago, he bought his own boat: Sea Pearl.
As food production, fishing is deemed an essential industry that can continue operating during the pandemic, but Covid-19 created a challenge because many experienced crew members are in the high-risk age category.
"I've had the same group of guys working for me for about four or five seasons," Morgan says. "I just keep taking the same guys with me; they're great. They're all in their mid-50s to even 65, and because of Covid-19 they said, 'Hey, I'm not gonna be able to go fishing with you.'
"I think that's a lot of the guys right now. Just being able to get crews – whether they get them here from other parts of the U.S. or just finding local workers – is really tough. I had to really dig deep to get guys."
Luckily, he found four solid crew members for this season. Last year was a bad squid season for Morgan, but this year has started off stronger and Morgan knew he needed a good crew to do well during peak.
"We start at about 6 in the morning. We go out and we search and we look for squid with our sonar fish finders and once we see them, we put the net around and bring them aboard. If we're not seeing them, we move to other areas. But sometimes it's only at night that the squid will work with us. So we're basically almost 24 hours a day right now, fishing day and night."
The Sawyers | Sheltering in place and working from home in Marina
Nathaniel and Rachael Sawyer are sheltering in place, but their busy lives haven't seemed to slow down. Rachael has been able to continue her job as a customer service representative for Central States Industrial from home, and Nathaniel continues with his activism and graduate school studies as a student at the Middlebury Institute of International Studies. When they're not working and studying, they go for runs, exercise and search out uncrowded trails for hiking. "And we talk to each other a lot," Nathaniel says. "That's about it. Me studying and her working. And we try to stay active in the community."
He's active in the Red Cross, the Monterey County branch of the NAACP (where he's political chair) the Democratic Club of the Monterey Peninsula (where he's vice president). He's just signed a resolution to send on to the national NAACP to advocate for inmates to have access to Zoom to connect with family members at little or no cost while visitation is restricted due to the pandemic.
"They have people who want to see them right now too," Sawyer says. "I can't just say I'm an activist and a humanitarian, I actually have to use what I learn at the Middlebury Institute to help my community. "
Besides fighting for others, he's lately been fighting for himself. One of his biggest stresses isn't sheltering in place or virtual schooling, it's a medical bill for $1,423 (that's after insurance) he received for his failed attempt to get tested for Covid-19 when he was sick in March; he'd decided to go in after calling Community Hospital of the Monterey Peninsula ahead, and with the understanding that testing for Covid-19 wouldn't result in any out-of-pocket costs. "I called and when they looked into the bills, they said it's because they charged me for a flu test. Back then, they said they had to do the flu test first but they denied me [Covid-19] testing because I didn't have enough symptoms. It's been stressful being a graduate student wanting to help my family in these tough financial times, then being hurt with another burden."
Bachmann-Berlin and Sotto Mayor families | Sheltering in place in Carmel Valley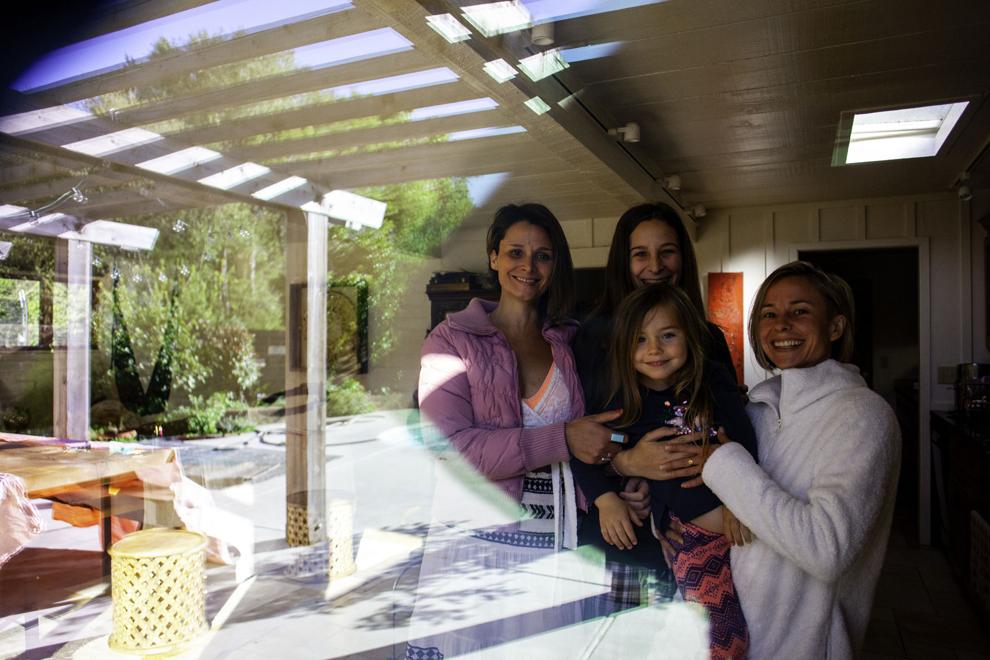 Impromptu dance parties and hiding in forts are regular occurrences at the Bachmann-Berlin, Sotto Mayor household. Last spring the families were brought under one roof by unusual circumstances. Kierstyn Bachmann-Berlin and her mother both had to move out of their homes and Maya Sotto Mayor's housing plans had fallen through, just before she was about to move back to Monterey County from Germany with her daughter after separating from her husband. Their non-traditional, multi-generational household has become their saving grace as the three women shelter in place and work from home with Kierstyn's 14-year-old daughter, Belle, and Sotto Mayor's 4-year-old daughter, Malu.
"We are all kind of new to this house and this life together," Bachmann-Berlin says, and when the pandemic arrived, they were just getting used to things. "It's been lovely, honestly. It's been a lot of joy and a lot of sorrow at different times. Living with Maya has been almost like having a partner. I think for both of us it's been just like a landing place and it's been a really supportive dynamic. I think about if any of the three of us were alone right now, we would all be screwed.
"We have little dance parties and we do little art projects and have forts and feed the chickens and it's been a relatively quick transition. I feel so bad for the people that don't have a support group. It just makes such a difference."
Sotto Mayor normally works from home, so having her daughter at home is the biggest change.
"Not having day care is honestly the hardest part. Kierstyn and Belle are my daycare," she says. Mostly, she's adapted by changing her schedule, trying to work while Malu is sleeping. "I'm working on time differences with my team, so I can catch them in their mid-morning and it works. Last night she woke up in the middle of my last 10pm call, but it's fine, everybody understands. I usually work from home so I have chicken noises in the background, but not a toddler crawling all over me."
Not long ago, Bachmann-Berlin – a self-employed architectural and interior designer – had the highest income in the household. Now she has zero, so the financial dynamics have shifted.
Sotto Mayor is optimistic about the takeaways of learning to rely on each other during the pandemic. "It makes you realize just so much how deeply we really need connection, how as humans that's really what it's all about," she says. "And with connection comes support and all those other beautiful things. I feel like there is something deeper happening here, and a recalibration of things."
Dani Foster | Sheltering in place in Monterey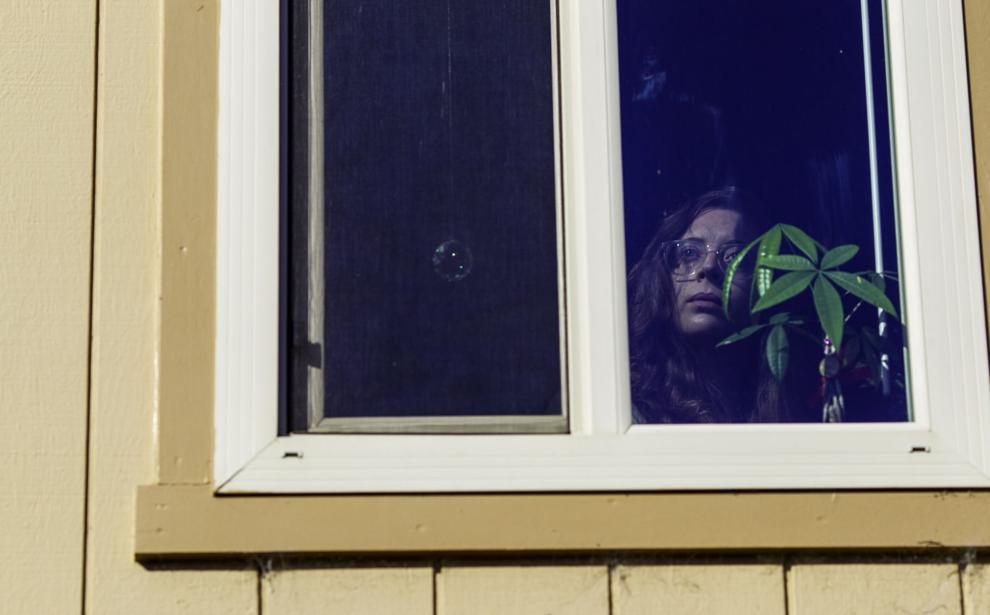 Like thousands of other Monterey County residents, Dani Foster is out of work. As a part-time administrative assistant and a part-time self-employed photographer, both of her jobs were deemed non-essential. Now, she is sheltering in place with her partner and trying to find ways to keep her creativity flowing.
"I have a lot of time to freak out and reflect and grapple with how different and weird everything is," she says. "Everyone I know is facing the same thing. The creative community is in a panic right now. I'm trying to find ways to stay creative because I'm afraid if I don't do that, I'm going to lose my mind."
Foster is using her skills and free time to support local businesses by photographing products that she brings home, things like coffee or pastries, spread out on her kitchen table.
"I style it and send them the photos. I want to be able to help local businesses," she says. "If they want it, they can use it. It's a win for everyone."
As other states begin to lift their shelter-in-place orders, Foster wonders how things will change for her photography business once Monterey County's restrictions lift. "I do in-home sessions and I'm wondering, is that going to change? Are people going to be comfortable?"