It's 1:26am, Monday, June 21. The temperature is about 59 degrees and the streets in the Laurel West area of South Salinas are mostly empty and quiet, save for one small, dark sedan of undetermined type – Ford Fiesta, maybe? – cruising the neighborhood and carrying a pair of men on a mission.
The sedan rounds a curve, pulls up parallel next to a 2007 Honda Accord parked on a residential street and a passenger jumps out from the front seat. He gracefully rolls under the Honda, shines a light on the undercarriage and three seconds later, he rolls back out and hops back in the sedan.
The sedan backs up and parks behind the Honda, the headlights flickering off when it gets into position.
This time the driver gets out of the sedan, followed by the passenger, who stands by and looks around as the driver jacks up the Honda and drops to the ground underneath it. After four or five seconds pass, the passenger walks over to join his companion under the car. It's hard to see what's going on – though one neighbor's driveway security camera provides a wide view of the street and the footage is pretty sharp, it's still the middle of the night – but there's an occasional beam of light seen under the Honda.
The driver pops out from under the Honda, the passenger pulls the jack, the car rocks back down to the ground and the men walk back to the sedan. But this time, in addition to the jack, the passenger is carrying something else. The jack and the newly acquired item are tossed in the back seat, the driver and passenger get back in the car and they drive off.
From the time they first case the Honda to the time they drive away, less than three minutes have elapsed.
And about 60 seconds after they drive off, homeowner Alan Liddle steps from his front door, barefoot and wearing the shorts and T-shirt he was sleeping in, hits the unlock button on the keyfob he's carrying and gets in the Honda.
It started, but it made an ungodly kathunk, kathunk when it did.
The sound of the power tool – likely a chainsaw – the men used to cut the catalytic converter out of his wife's Honda woke Liddle up. In different circumstances, he might have gone right back to sleep, but just a few days earlier, a mechanic friend told Liddle that his catalytic converter had been stolen out of his own car.
Liddle looked out from his bedroom window as the thieves who hit his wife's Honda drove away.
"It's never on the street. We never park the car on the street," says Liddle's wife, Maia Carroll. But that day, on the street it sat, because Liddle and Carroll had spent Sunday doing yard work and moving gardening tools and the lawn mower in and out of the garage.
"I'm madder because that car is an old friend. I know exactly what it's going to do, I know how long I have when it's on E to get to a gas station," she says. "We live in a modest neighborhood and most of us know each other. You don't think that would happen. Nobody thinks anyone would steal their old car."
To be precise, though, they didn't steal the old car – they just ruined it. In cutting out the catalytic converter, they also cut through some circuit boards, and with an estimated cost of replacement and repairs at $7,000, fixing a 14-year-old car doesn't make a lot of sense.
"Now I have to start all over again," Carroll says.
In that, she's not alone. Since last October, about 200 other Monterey County residents have gone to their vehicles, gotten in and tried to drive off, only to find those vehicles wouldn't start (or started with the kathunk kathunk) because their catalytic converters had been cut out.
Few arrests have been made because the crews doing the thieving are just too good at it. They travel in groups (usually of two or three), spend time scoping out the neighborhoods that offer ready access to the freeway and the types of cars they want to hit (Toyota Priuses and Honda Accords and certain Ford trucks offer easier access and, depending on the model year, more precious metals in the converter). One of the crew usually remains behind the wheel with the car running, the second stands lookout or assists with the jack and the third gets under the car and makes a few quick cuts with power tools that can be bought at any hardware store to get the converter out.
"They are professionals at it," says Salinas Police Officer Tyler Provost, who's been tracking catalytic converter thefts for the department. "It's extremely impressive how well they do it."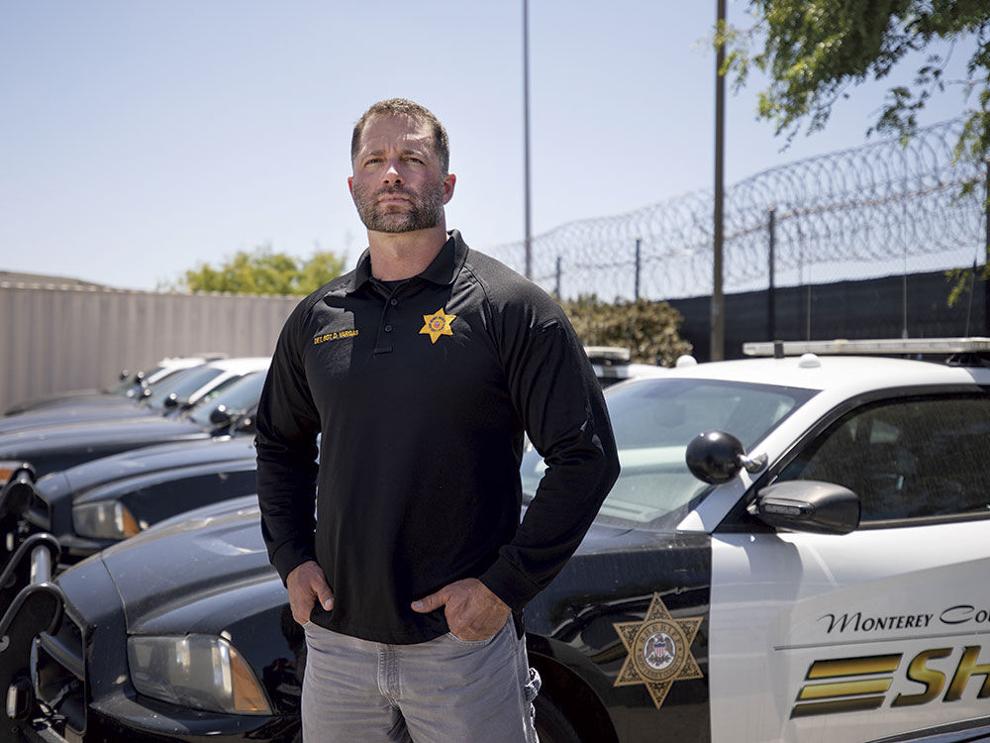 Like most sneaky stuff that has to be done with extreme speed and under cover of darkness, stealing catalytic converters can be a lucrative endeavor.
A catalytic converter looks like a small muffler and works, along with a car's exhaust system, to convert environmentally hazardous gasses like carbon monoxide and hydrocarbons emitted by an engine into less harmful emissions, like carbon dioxide and water vapor. That's accomplished, as the car-centric British website Autoexpress explains it, by means of a chemical reaction.
The inside of a catalytic converter resembles a honeycomb structure, and the interior, a coating that contains the catalyst is applied. The catalyst reacts with the exhaust gases and changes their chemical structure.
And in a catalytic converter, the catalysts used are platinum, palladium and rhodium.
Per the precious metals exchange website Monex.com, which facilitates investments in and trading of precious metals, on July 7, platinum was down by a few dollars and priced at $1,091 per ounce, while palladium was up $75 and priced at $2,862 per ounce. Rhodium, an extremely rare precious metal extracted from the already rare platinum, rose in value by 245 percent in 2020 and was priced at just over $19,000 an ounce.
According to the National Insurance Crime Bureau, an Illinois-based nonprofit that fights insurance fraud and insurance-based crimes, the number of catalytic converter thefts nationwide has risen as the price of those metals increased, and they skyrocketed during the pandemic. In 2018, the NICB tracked an average of 108 reported thefts per month, then an average of 282 per month in 2019 and an average of 1,203 per month in 2020, with California leading the pack in number of thefts, followed by Texas, Minnesota, North Carolina and Illinois.
Keep in mind the NICB's study, released in March, only covers thefts that resulted in an insurance claim. Coverage for this kind of theft is offered under an optional portion of most insurance policies and comes with a deductible, so the cost to repair might not exceed the deductible.
"It's an opportunistic crime," says David Glawe, NICB's president and CEO. "As the value of the precious metals contained within catalytic converters continues to increase, so do the number of thefts of these devices. There is a clear connection between times of crisis, limited resources and disruption of the supply chain that drives investors toward these precious metals."
Like the national trend, not every theft in Monterey County is reported, and it's likely the reported numbers are much higher. But most police agencies and the Monterey County Sheriff's Office have noted the same uptick locally that's happening across the country.
In Salinas, Provost says that between Jan. 1 and July 8 of this year, 64 cars had their converters ripped out. In the city of Monterey, Police Lt. Mike Bruno says 32 catalytic converter thefts have been reported since last October, and of those, 24 were from Priuses. In Seaside, Deputy Chief Nick Borges says they've had 18 reports of catalytic converter theft since Jan. 1, a number he describes as "significant in our history," and of those, 15 were from Priuses. In Pacific Grove, police have received 26 reports of catalytic converter theft so far in 2021.
"They're hitting areas with easy access," Bruno says, "mostly in the North Fremont area and the Beat 1 area, David and Prescott. We don't really have anything in the Spaghetti Bowl, where you can get lost easily. They're sticking to established routes."
At the Monterey County Sheriff's Office, Det. Sgt. Dave Vargas is the lead investigator for property crimes, and the office's supervisor on the regional MADCAT Task Force – the Multi-Agency Detail for Commercial Auto Theft. While he couldn't provide numbers for catalytic converter thefts in the unincorporated county, he says the sheriff's office has noted the spike and believes the numbers generally match what's being seen in the cities.
"What we're seeing with MADCAT, they pick a target, find vehicles of interest and they go on a shopping spree," Vargas says. "And they'll remove anywhere from a handful to a dozen or more in a specific area in one night."
Like Provost, Vargas notes they do it with speed.
"We've interviewed crooks who say it takes anywhere from 30 seconds to a minute, depending on the tools they have. We've seen everything from power tools and Sawzalls to hydraulic cutting mechanisms that are extremely quiet and make no noise," he says. "And to get it raised up high enough, they use a floor jack that you see in automotive shops. They got it down to a science – the car comes up six or eight inches, they make two cuts and that's it."
Once a catalytic converter is stolen, here's what happens next:
Since no legitimate scrap metal recycler will touch them without some proof of provenance, the converter is usually taken out of the area to be sold, using an underground broker to facilitate the transaction.
Converters generally contain about $400 worth of rhodium, and lesser values of platinum and palladium.
"They pay X dollars and the crook will consider it a fair deal. If a broker knows he or she can get $800 or $900 from a wholesale buyer – the underground scrap metal place – they will purchase it from the bad guy for $300 or $400," Vargas says. "The brokers put their names out there and it's no different than fencing stolen property. The broker is known to the criminal element that will purchase and resell it and they make their money on the back end."
Borges, the Seaside deputy chief, says it's notable what the police aren't seeing when it comes to stolen catalytic converters: They're not seeing the catalytic converters.
"There's been discussion about it and we're not finding any of these things. The turnaround from them being stolen to sold and melted down is fast, and it could be an outside entity coming to the area." ("Outside" meaning from Santa Cruz or the San Francisco Bay or East Bay areas.)
"When bikes are stolen, it's normal to find some of them," Borges says. "In this case, we're not coming across them. They're disappearing very quickly."
That's not to say no arrests are being made, though. On July 9, acting on a tip, Salinas Police hit an apartment on Madeira Avenue at 4am and arrested Sacramento residents Yee Lee and Leng Moua. They recovered four catalytic converters, a jack and tools; both have been charged with conspiracy to commit a crime, grand theft and damage to take a part of a vehicle.
What's bad for drivers and car owners has been an unfortunate boon to some local mechanics.
At Salinas' All American Muffler, owner Howard Cauntay says he's replaced eight or 10 catalytic converters in the past two months, all from cars or trucks (in addition to Priuses and Accords, thieves favor Ford E-series vans and F-series trucks) that had been targeted for theft. The cost of replacement goes beyond a new catalytic converter, and beyond his labor costs. In some cases, the thieves cause far more damage when they cut out the converter, meaning sensors and other parts have to be replaced.
But Cauntay, who's owned the shop for 23 years and worked there for even longer before buying the business, is also finding work in installing metal plates or cages to make it harder for the thieves to rip and run. Some auto manufacturers also are now making converter shields; Cauntay says he just finished installing one, and had a van coming in later in the day with an owner who wants him to build something to protect the vehicle's catalytic converter.
Tracy Brooks, owner of Hans Auto Repair in Seaside, says about two months ago, she had two people from the same neighborhood call her about getting their catalytic converters replaced after thieves hit the area. She's replaced two converters in recent months, but like Cauntay, she's found new business in installing the shields – some as a preventative measure at customer request, and others after a theft occurred.
The shields are usually flat stainless or aluminum, screwed on with special bolts that require a specific tool to install or remove.
"I had one customer with the catalytic converter stolen, I put on a shield and two days later they tried to take it again," Cauntay says. "I welded it back on. Now they're looking and if they see a shield, most times they don't want to take the time to take it off.
"The shield is the best way. Anything that will take them time to get it off," he says. "If they can't see it, they don't want it."
---
Outwit, Outfox
To reduce the chances of catalytic converter theft, the National insurance Crime Bureau recommends the following:
Install a catalytic converter anti-theft device. These are available from various manufacturers and can provide a level of security from theft.
Park fleet vehicles in an enclosed and secured area that is well lit, locked and alarmed.
Park personal vehicles in a garage when possible. If not possible and vehicles must be parked in a driveway, consider installing motion sensor security lights. While lights may not provide complete security, it may make some thieves think twice, making them leave the area and your vehicle untouched.
Call local law enforcement and your insurer should you become the victim of a catalytic converter theft.

---