THE GILROY GARLIC FESTIVAL, AND THE TOWN OF GILROY ITSELF, are for the most part uniquely multicultural.
Gilroy is the product of generations of settlement and in some cases dominance, from indigenous tribes to the Spanish, the English, Italians, Irish, Africans, Japanese and Chinese. It is a product of the often misguided work of soldiers and missionaries, and the backbreaking work of ranchers and field hands, butchers, miners, railroad, orchard and winery workers.
More recently came the influx of monied individuals, engineers, tech executives and other professionals.
It's the last town in Silicon Valley and the first town in the farmlands.
It's the site of multimillion-dollar mansions and 100-year-old migrant shacks, often still occupied.
Still, it's one of the most compassionate places I have ever lived.
There's even a place, the Compassion Center, for the homeless, the runaways and the chronically underemployed.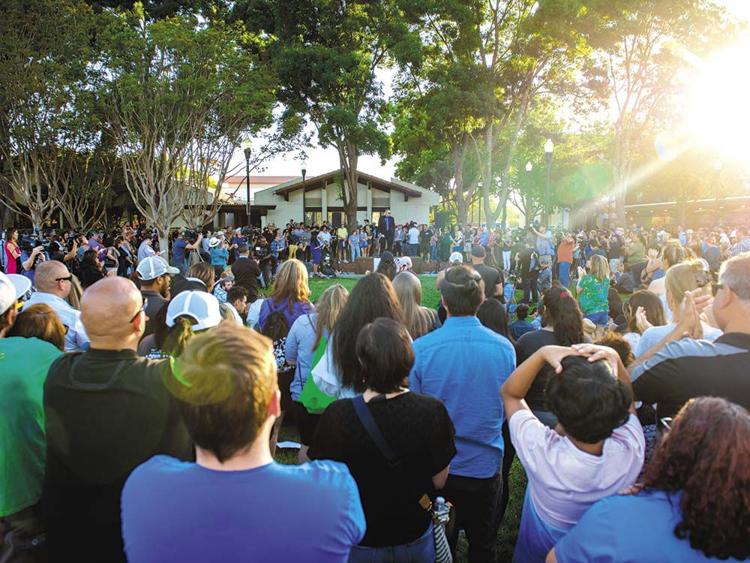 The existence of the Garlic Festival stems from and feeds this sense of compassion.
Nearly every worker is a volunteer, and most of the earnings go to charitable and community organizations. This focus breeds a sense of inclusion.
Of course, it doesn't hurt that on the surface, it's all about garlic. It's a little festival that pokes fun at itself, and this has somehow become an endearing formula for success. There's no room for pretense or snobbery. That's just not Gilroy.
The city puts on a fireworks display at the high school adjoining Christmas Hill Park, the site of the Garlic Festival. But locals put on their own show, all over town, until late at night.
"It's a war zone," we say with a smile. Because in the end, it's fun if nobody gets hurt.
Except for when they do. And then the whole town hurts.
Supremacist ideology welled up this weekend, embodied in a single young man who had just graduated from the high school next door.
And his victims did not, could not have deserved to be the targets of his rage.
I hid my daughter behind a hay bale as the shooting started. I watched dumbfounded as the entire audience there listening to the band, and entire tents of volunteers busily chowing on their first food of the day, suddenly emptied our way in fear.
A while later, police officers told us the venue was still active and we would need to leave out the far end of the park. It was a trek that took us – black, white, Asian, native, Latino, young, old – into the woods and along a levee, where we watched lifeflight helicopters and scores of incoming ambulances and police.
In the end, my daughter and I got a ride to our car from a compassionate construction worker and his kids.
I want to believe that in the end, we learned a little more about what went wrong and what went right.
As reported by various media outlets, the shooter may have espoused racist and misogynist ideology. The claim of racial superiority set forth by the far right reveals a complete collapse of moral integrity, and a willful ignorance of the ideals set forth in our Constitution and our Bill of Rights.
It is a cancer in our time and a threat to future generations.
Sadly though, we are all infected by this immoral corruption.
Whether we choose to believe such twisted ideas or not, we are nevertheless carriers.
It seems extremely difficult for white Americans to harbor no animosity toward people of different cultures or races, and even harder to avoid passing these prejudices on.