THE LIGHTNING STORM THAT SPARKED HUNDREDS OF FIRES ALL OVER CALIFORNIA GRACIOUSLY SPARED BIG SUR. But two days later, at about 8pm on Aug. 18, a call came in about a fire starting somewhere near John Little State Natural Reserve. Aware of the dry conditions and the presence of homes nearby, the volunteers of Big Sur Fire scrambled to respond.
One volunteer firefighter set out on Highway 1 in their personal pickup en route to meet their crew at a pullout near the fire. The firefighter was crossing the bridge over Lime Creek to look for a place to park when they saw a shirtless man standing on a berm beside the road. He was holding a large rock. He raised his arms and threw it, and the rock went hurtling through the air and hit the truck, hard. So hard it punctured the truck's side panel, leaving a gaping hole.
The startled firefighter managed to maintain control of the vehicle. They turned around and drove away. At the other end of the bridge, they reached a squad of rangers with California State Parks and reported what happened. It wasn't much of a chase; the rangers found the man right where he'd been before.
The firefighter was unavailable for an interview and, like many people interviewed for this story, asked not to be named due to safety concerns, but their experience is relayed through Marcus Foster, a captain with Big Sur Fire. "It sounds absurd that a firefighter reporting to duty would get hit by a rock," he says. The story, which is spawning an ecosystem of rumors and theories in Big Sur, only gets weirder and darker.
As the rangers detained him, the man began incriminating himself in connection with events beyond the rock-throwing. The rangers radioed the Monterey County Sheriff's Office, which sent detectives to make the arrest.
Ivan Geronimo Gomez of Fresno, 30, was booked into Monterey County Jail that night on five charges, according to the Sheriff's Office. Three of the charges had to do with the incident on the highway: throwing a substance at a vehicle with intent to do great bodily injury; exhibiting a non-firearm deadly weapon (presumably the rock); and battery. It wasn't his first arrest for throwing things at cars. He has a record from July 2018 for the same crime in Thousand Palms in Riverside County.
A fourth charge was for arson of forestland. Gomez may have started the Dolan Fire, which has grown to 20,000 acres and counting and destroyed several homes, but fire investigators have not yet determined that it was indeed arson that started the fire. The cause remains listed as "unknown."
For the fifth count, the detectives charged Gomez with illegally growing cannabis.
The most sensational thing, however, that Gomez said while being arrested has not translated into criminal charges, at least not yet. He talked about the homicide of five people up in the mountains of Big Sur at the origin of the fire.
"We haven't found any bodies yet," John Thornburg, a spokesperson for the Sheriff's Office says. "We don't know. We're still trying to figure it out. He could be making it up."
When presented with the arson charges in court, Gomez pleaded not guilty.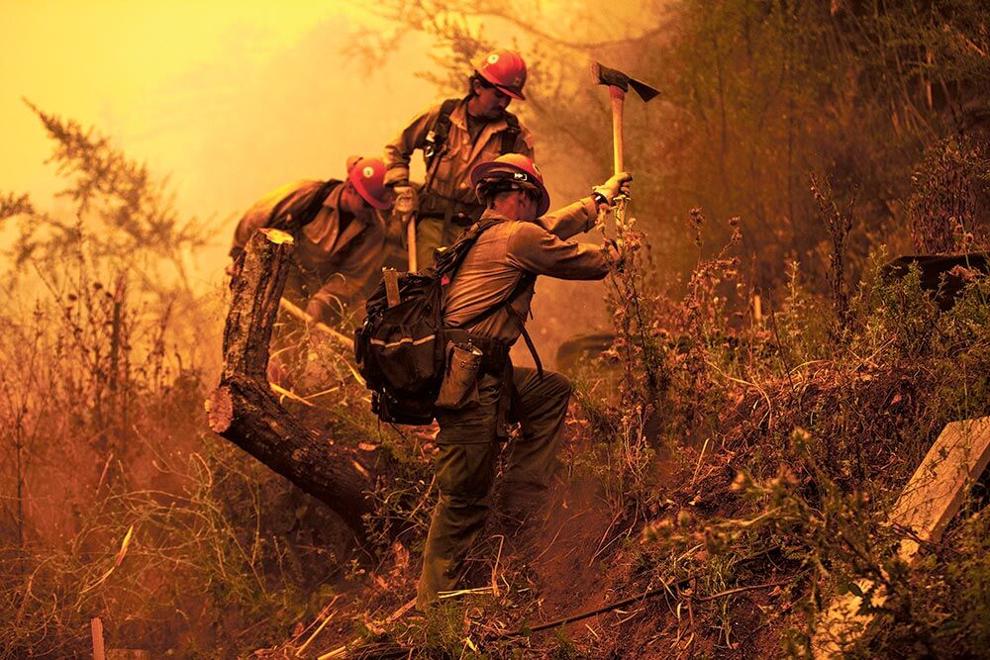 THE INVESTIGATION INTO GOMEZ HAS ONLY JUST BEGUN and whether he was involved in arson or in an illegal backcountry cannabis operation remains to be discovered. But his case comes after a series of incidents that have scandalized Big Sur and stoked suspicions that a criminal enterprise is operating in the vast wilderness of canyons and ridgetops.
Drug smuggling vessels, known as panga boats, have turned up along the shore. In October, a body was dumped near Big Sur businesses. Earlier this month, a woman claimed that while she was driving down Old Coast Road on tree trimming business, she was stopped by a booby trap – nails in a board laid across the dirt road – and said four armed men appeared and started yelling. She reported what happened and a SWAT team deployed to the area found not a trace of the armed men, but they did discover a cannabis grow.
"For years, weird things have been going on like with panga boats and that incident on Old Coast Road," says Butch Kronlund, executive director of the Community Association of Big Sur. "There's been this pattern of unexplained shit going on. It's very unsettling."
One veteran backcountry hiker previously described to the Weekly encountering at least three illegal cannabis grows in Big Sur, all of which the hiker reported to forest stewards or law enforcement. One was in Andrew Molera State Park. Another was near upper Tassajara Creek, where the hiker found rudimentary encampments with knives, lots of trash and lots of plastic piping, presumably for siphoning water from streams. To corroborate this account, the hiker provided satellite imagery that shows what appears to be the grow.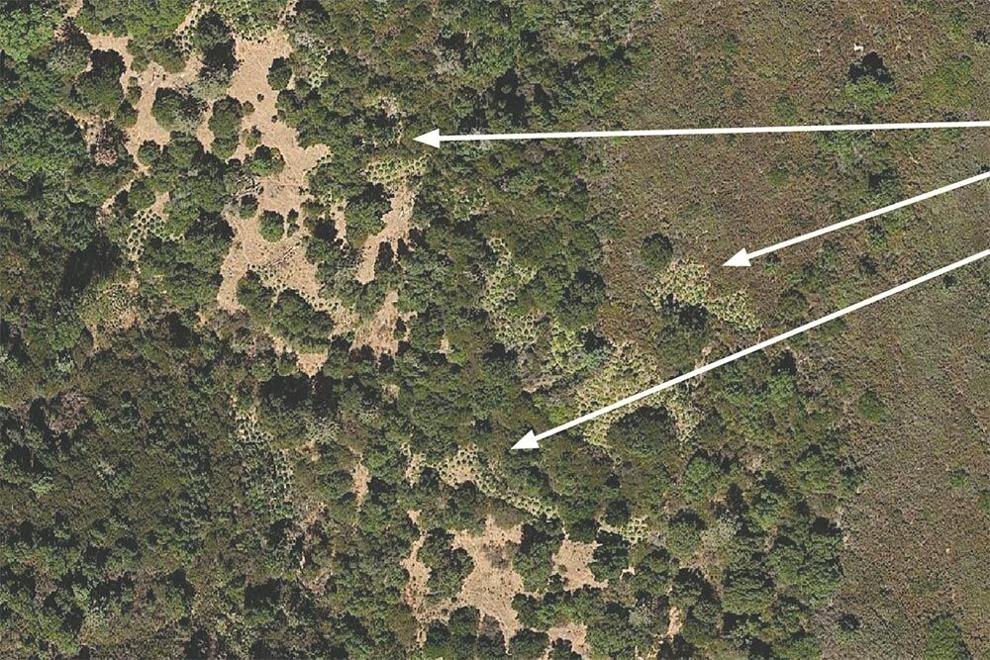 The hiker also describes finding cannabis growing in a pristine part of the Big Creek watershed, a few miles from Dolan Ridge Road. That location, it turns out, is about where the Dolan Fire started. Matching satellite photographs show manipulation of the forest.
Many reports of such sightings reach the ear of Mike Splain, executive director of the Ventana Wilderness Alliance, a nonprofit devoted to preserving Big Sur's public lands. "I have heard from hikers of the remnants of cartel-style grow operations," he says. He shares his information with the U.S. Forest Service's law enforcement branch.
"It makes for a dangerous situation for legitimate recreation," Splain says. "You can meet mean, vicious people. There's also a lot of wildlife damage. Quite often, they'll use very toxic pesticides and rodenticides. [The toxins] don't just kill the woodrats but they accumulate up through the food chain. Some of those rodenticides aren't even legal in the United States."
It has occurred to Splain and his VWA colleagues that these illegal grows could be the cause of a wildfire. "We've thought about that – the camps are really hokey, they're jerry-rigged with propane stoves."
The Forest Service receives these reports, but it's unclear whether they act on them. The agency did not respond to a request for information for this story. One hurdle might be that the cash-strapped Forest Service currently has no law enforcement officer assigned to the Monterey District of the Los Padres National Forest, a 326,683-acre region.
"Hopefully they are doing something," Splain says, "but we have seen no apparent action."