It was hateful rhetoric and violence that drew a diverse crowd of more than 100 to Colton Hall in Monterey on April 24. But this group's tone was one of positivity as they assembled to rally against increasingly visible anti-Asian racism.
Protesters held homemade signs with messages like "No Hate In The Golden State," and speakers included Angie Tran, a professor at CSU Monterey Bay who arrived in the U.S. as a refugee during the Vietnam War, and U.S. Rep. Jimmy Panetta, D-Carmel Valley.
Jason Agpaoa, a Filipino man from Salinas, led the group in a version of the unity clap called Isang Bagsak, Tagalog for One Down. It started with one clap, followed by two, followed by three, in a growing crescendo. It's based on a unity clap that was used by Filipino and Latino farmworkers in the 1960s, meant as a way to bring them together despite the language barrier. The version Agpaoa did was developed by Pin@y Educational Partnerships, a Filipino-American studies and teaching apprenticeship program serving San Francisco-area schools.
Agpaoa says the claps signify the past, present and future. And that theme of past and present is one that runs through many stories about anti-Asian racism.
Events of the past year range from incendiary statements to deadly violence, and they have happened far away and here at home. As the Covid-19 virus swept the world, former president Donald Trump took to calling it the "China virus." On July 4, 2020, former tech executive Michael Lofthouse was dining at Lucia, a high-end restaurant at Bernardus Lodge in Carmel Valley, and was captured on video ranting slurs at a group of diners at a table nearby. "Go back to whatever fucking Asian country you're from," he allegedly told them, according to a lawsuit that's since been filed against him.
Two elderly Asian women were stabbed in broad daylight on Market Street, one of the busiest streets in San Francisco. Eight people, including six Asian women, were killed during the shooting spree at three Atlanta massage parlors on March 16.
But while hate crimes and other forms of racism against Asian Americans and Pacific Islanders (or AAPI) have been on the rise in the U.S. in the past year, it is not new, says Alex S. Fabros Jr., a former professor of Asian American Studies at San Francisco State University.
Fabros grew up in Salinas in the 1950s and '60s. His family lived in East Alisal, an area where immigrants were segregated until 1965 when they were able to acquire property anywhere in Salinas; he and family moved across town, to near Hartnell College. "We faced a lot of discrimination initially. They didn't want a Filipino family or a non-white family living in their area," he says. He says the explicit harassment stopped once he started making friends, but he was never invited to his white friends' birthday parties. "I felt excluded," he says.
Fabros sees a connection between more subtle expressions of racism and hate crimes of the present.
According to a Pew Research survey conducted in April, 1 in 3 Asian Americans and Pacific Islanders report fearing threats or physical attacks. And the Center for the Study of Hate and Extremism CSU San Bernardino reports a 169-percent increase in anti-Asian hate crimes in the first quarter of 2021 compared to the same time period in 2020.
The Stop AAPI Hate Reporting Center received reports of 3,795 incidents of racism from March 19, 2020 to February 28, 2021. The national reporting center was launched by the Asian Pacific Planning and Policy Council, Chinese for Affirmative Action, and San Francisco State University's Asian American Studies Department as the Covid-19 pandemic spread, because it coincided with rising racism against Asian Americans.
Against that backdrop, Fabros, who now lives in Fresno and has a visual impairment, is afraid he might get attacked. "I'm going to be an easy target for somebody," he says. "I can't identify who my attacker is."
MAY IS ASIAN/PACIFIC AMERICAN HERITAGE MONTH, commemorating two important events: the arrival of the first Japanese immigrants to the U.S. on May 7, 1843 and the completion of the first transcontinental railroad – a construction project that relied on the labor of thousands of Chinese workers – on May 10, 1869.
The history of the AAPI community in Monterey County goes back to that time period, as well.
Large groups of immigrant agricultural workers came to Salinas Valley from the late 1800s into the first half the 20th century. One group came after another, replacing each other in the fields – Chinese workers in the 1870s, then Japanese workers in the 1890s, replacing the Chinese workforce. They were followed by Filipinos in the 1920s, and then came a largely Mexican workforce that started with the Bracero Program in the 1940s, and still dominates the region's largest industry's workforce today.
"Just as the 1900 Census shows the transition from Chinese farm labor to Japanese, so does the same Census show the transition from Chinese fishermen to Japanese," Sandy Lydon writes in The Japanese in the Monterey Bay Region: A Brief History. For a time, a small Japantown existed alongside Salinas' Chinatown. By 1910, of 185 salmon fishing boats in Monterey Bay, 145 of them were Japanese-owned, according to a historical exhibit of the Japanese American Citizens League.
But these Asian immigrant communities encountered explicit racism almost as soon as they arrived, sometimes even beforehand – these transitions happened because of a series of laws barring each immigrant group from entering the state or the country, including the U.S. Chinese Exclusion Act of 1882 and California's Exclusion Act in 1924, barring Japanese immigrants.
During World War II, some 3,500 Japanese and Japanese-American people in Monterey County were forcibly removed from their land and their homes to internment camps. Many families never returned.
It was not until 2018 – 76 years later – that the Monterey County Board of Supervisors issued a formal apology to members of the Japanese-American community, on the anniversary of the federal executive order on internment.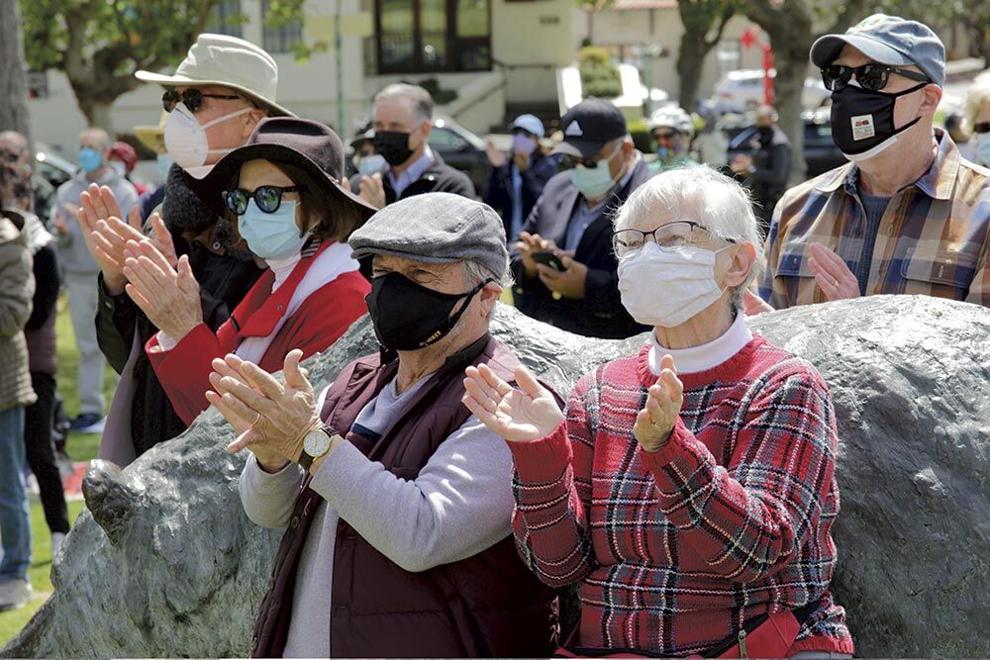 DIFFERENT GENERATIONS OF IMMIGRANT COMMUNITIES CARVED NICHES AS LEADERS IN MONTEREY COUNTY'S FOOD PRODUCTION, in both farming and fishing. Chinese immigrants developed the fishing industry on the Monterey Peninsula. Gerry Low-Sabado is descended from people who in 1853 established a fishing village at Point Alones, located next to where Hopkins Marine Station in Pacific Grove is today. At about 500 people, it was the largest Chinese community in the U.S. in its day.
Low-Sabado says neighbors envied the Chinese community because they were successful fishermen. To avoid confrontations, grandfather Jeung Chin Yit and others started fishing at 2am and opted to catch what were then junk fish – squid and abalone, species that weren't popular among other fishermen.
The village at Point Alones was consumed by flames on May 16, 1906 in a suspicious fire that destroyed most of the buildings. Just one year earlier, Pacific Grove held its first Feast of Lanterns pageant, with largely white residents wearing their interpretations of traditional Chinese garb and acting out a play that portrays people of ambiguous Asian descent in caricature; for decades, cast members wore yellowface. (The festival has been adapted, but still exists.)
Low-Sabado has for years been sharing her family's story, so that it's not lost. "Don't let people sweep our stories under the carpet," she says. Her efforts have included an annual Walk of Remembrance in Pacific Grove for the past 10 years, to a plaque marking the location of the village.
Agpaoa says he didn't learn about Asian American history in the region until he left Monterey County. He says it is important to talk about history and traditions, otherwise the younger generation won't continue them. "One of the biggest issues is we are recovering from historical amnesia," Agpaoa says. "Our life experiences have value."
There is another side to learning history that's not just celebration: It's crucial because it helps us understand the Anti-Asian hate we see happening today is not an isolated incident.
Being an ally, Fabros says, is about more than showing up to a rally and getting a picture taken: "What helps us is when people go back to their community and say this is wrong."
NIKKI MARANGONI-SIMONSEN IS A PACIFIC GROVE NATIVE and a law student at UC Hastings Law School in San Francisco. She spent over a year working on a research paper titled "A Forgotten History: How the Asian American Workforce Cultivated Monterey County's Agricultural Industry, Despite National Anti-Asian Rhetoric," as part of a class on Asian Americans and the law, and it was published in the Hastings Environmental Law Journal just as the country began to grapple intensely with anti-Asian hate. (An excerpt is reprinted starting on p. 20.)
Marangoni-Simonsen titled it "forgotten history" because, she says, "If you think about Monterey, you don't necessarily think about Asian Americans," and it seems their history and contributions to Monterey County remains unseen or suppressed.
When she started her research, Marangoni-Simonsen's knowledge about Monterey County's AAPI history was limited: It came from a school project she did in sixth grade, reading The Red Pony by John Steinbeck and going around the county to look at the places he wrote about. It also came from a Japanese American friend sharing the story of her family being detained at a temporary detention center during internment at the Salinas Sports Complex.
"I was astounded to learn that Salinas was one of the assembly centers for the internment of Japanese Americans," Marangoni-Simonsen says. To her, the complex had simply been a place she went to play softball.
Marangoni-Simonsen learned about the Alien Land Law – which meant that immigrants ineligible for citizenship couldn't buy nor own land – and that California was one of the first states to enact it.
She decided to focus her research on Monterey County; she wanted to know more about how the Alien Land Law had shaped her own home.
During her research, Marangoni-Simonsen was drawn to the idea that learning about our past helps inform our present – and our future – in her work. "It is super important to get this out there and to understand the historical background that has impacted Asian Americans to this day, because it isn't a new phenomenon," she says.
"It isn't new the fact that Asian Americans have been discriminated against, either outwardly or implicitly. Although [the Alien Land Law] has been struck down at this point, it still pervades in outdated leases and contracts.
"[History] provides context. The fact that we have all the recent Asian American hate crimes that have been happening demonstrates the outward racism that is happening, but with the context of the historical racism, his truly an issue that is not new and something that we need to actively combat."