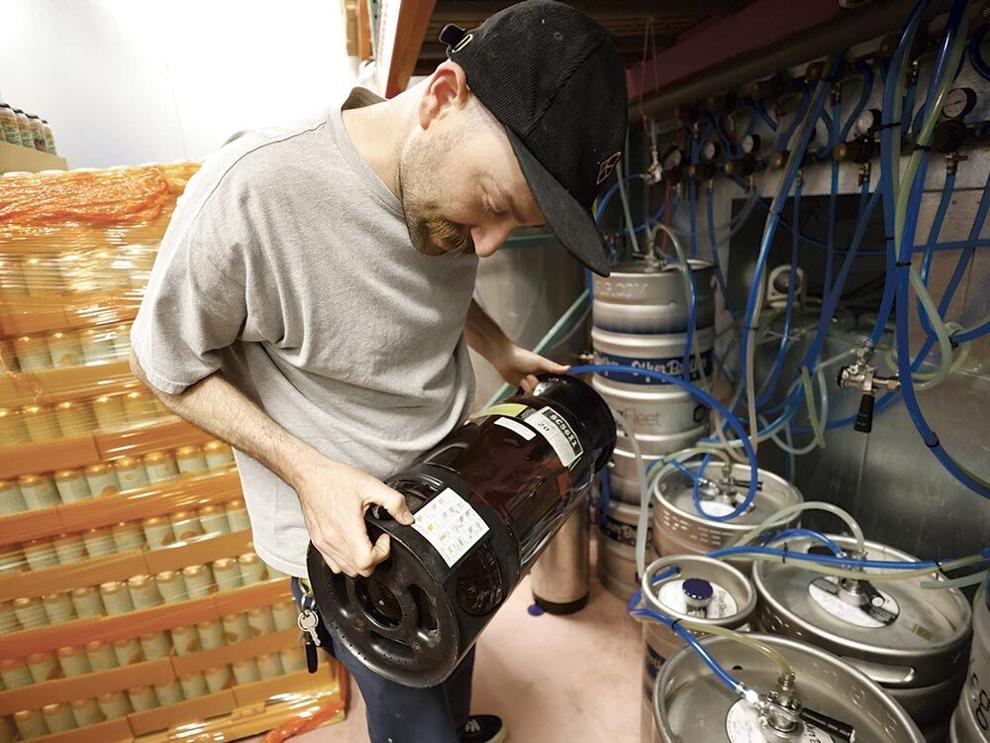 BRUCE LEE ONCE FAMOUSLY PHILOSOPHIZED WATER AS A FITTING MODEL FOR HAPPINESS AND SUCCESS. "You put water into a cup, it becomes the cup. You put water into a bottle, it becomes the bottle," Lee told journalist Pierre Berton in 1971. Sir Kenelm Digby, a 17th-century philosopher – and pirate – understood the similarly shapeless qualities of wine. When he first transferred the beverage from oak barrels into a glass bottle in the mid-1600s, wine became the glass bottle. It's unclear, however, whether he understood how difficult it would be over the next 400 years for quality wine to become anything else.
Wine today, in theory, still shares water's shapelessness. Put high-quality wine into a can, keg or in a bottle beneath a twist-off cap, and it becomes the can, keg or twist-off cap. However, bring that can, keg or twist-off cap to a dinner party and watch as quality wine and the dinner guest who brought it shape shift from generous to cheap.
This, of course, is not the wine's fault but the mind's fault. No alchemy occurs that cheapens the quality of wine in a keg or can. In reality, the corked bottle poses myriad challenges, from cost and environmental footprint to even wine preservation, but those challenges have largely proven no match for the mind's affinity for the bottle's romance.
Yet, a growing number of winemakers and sellers in the Monterey County area are attempting to break Digby's tyrannical glass chamber by using alternative containers that address many of the corked bottle's shortcomings.
The challenge for the industry has not been putting quality wine into a keg or can, but rather getting consumers to understand quality wine can come from a keg or can. What's required is an alchemy of perception.
DIGBY COULDN'T HAVE KNOWN THAT FOUR CENTURIES AFTER HIS GLASS BOTTLE INNOVATION, the world would be up against a climate crisis, a global supply chain gummed up by a pandemic and inflated fossil fuel prices, and tariff wars between world superpowers. Of course, glass bottles of wine aren't to blame for the world's ills, but they certainly don't help.
In the U.S., most glass wine bottles are imported from China, Europe or Latin America. Recent supply chain headaches and surging fuel costs have multiplied shipping prices – by up to a factor of eight, since the early days of the pandemic – for Ryan Stirm, head of Companion Wine, stationed on the Monterey-Santa Cruz County line in Aromas. Some winemakers have reported shipping expenses of 10 to 11 times higher than in the Before Times. That cost is, in part, reflected on the price tag at the wine shop.
Glass bottles also carry an environmental liability, though some of that blame can be laid on consumers. Despite their recyclability, the Environmental Protection Agency reported glass containers were recycled at a rate of only 31 percent in the U.S. in 2018, meaning a majority of glass bottles end up in landfills or scattered throughout our environment. A 2011 California Wine Institute study (the latest available) reported glass bottles contributed to 29 percent of the wine industry's carbon footprint – the largest single contributor – with transportation accounting for 13 percent. The weight of glass plays prominently into that calculation when shipped long distances. A petition circulated among wine writers in 2021 sought a commitment to include the bottle's weight in wine reviews as an indication of environmental impact. The petition garnered over 520 signatures.
Then, of course, popping a cork and allowing oxygen to infiltrate the fermented brew triggers a sort of ticking time bomb – the wine's flavor immediately begins to change but it usually takes about a week before the taste explodes into vinegar and bitterness. This creates a dilemma for restaurateurs who want to offer a high-quality wine list but must charge customers the price of the entire bottle. Jeff Birkimeier, co-owner of Amapola Kitchen & Wine Merchant in Salinas, says high-quality wines are not often served by the glass unless the restaurant can guarantee enough customers will buy enough glasses to empty the bottle within a couple days.
Ian Brand, the vintner of I. Brand Wines, and Miguel Lepe of Lepe Cellars, both located in Carmel Valley, have been putting some of their wine in kegs for at least six years. Pushed out with a mix of nitrogen and argon gas, the wine in the keg is protected from oxygen, allowing the taste to remain consistent for weeks.
Brand and Lepe say if the right wine is in the keg – light, fruit-forward, and young – then there is no difference in taste between a glass of wine poured from a bottle and one poured through a tap. If they're right, this means most winemakers are willing to suffer the environmental footprint, inflated costs and preservation challenges posed by the corked glass bottle for only an appearance of higher quality.
However, a 2017 study led by Professor Charles Spence of Oxford University's Crossmodal Research Laboratory, and financed by the Portuguese Cork Association, contends this may not be an appearance at all. Researchers gathered 140 taste testers to judge the exact same wine under varying conditions. Participants tasted and rated a glass of wine after listening to the sound of a cork popping, and then again after hearing the sound of a cap unscrewing. In a second round, they opened the different bottles themselves, then poured, sipped and rated.
Participants rated the corked wine as 15-percent better quality than that under a twist-off cap.
It seems that Digby's 17th-century innovation has trapped wine drinkers, and the wine industry, into a mass Pavlovian conditioning.
"Our senses are intrinsically linked – what we hear, see and feel has a huge effect on what we taste," said Spence. "The sight and sound of a cork being popped sets our expectations before the wine has even touched our lips."
This boost in quality may be a trick of the mind, but so is much of our perceived reality. For progressive winemakers like Brand and Lepe, overcoming the limitations of the corked glass bottle means centuries' worth of mental deconditioning for the masses – a trek of a gazillion steps they have been making, one glass at a time.
"If you are someone who wants to collect and age wines, you should buy a bottle," says Lepe, who sells his wine on tap at his Carmel tasting room and the Village Wine and Tap Room in Carmel Valley. "But if you just want to enjoy wine in the moment, and you still want high quality, then there is no reason you can't enjoy wine from a keg."
Lepe is also working on a steel growler program for his tasting room, similar to a brewery's, so customers can take home his kegged wine. But kegged wine's success in the wider market is a chicken-and-egg calculation, Brand says.
Enough high-traffic, wine-focused restaurants, and other venues such as sport arenas, need to have the wine tap infrastructure for vintners like Brand to want to set aside some wine for kegs during the bottling process. Yet, enough quality winemakers need to consistently produce enough kegged wine for venues to find it worthwhile to invest in the bulky wine tap infrastructure – distinct from beer taps – and put it on their menu.
Kegs have found their way into a few prominent local establishments. Cella in Monterey, Alvarado Street Brewery, the restaurants at Pebble Beach Resorts, Farmers Union Pour House in Salinas and Other Brother Brewing Co. in Seaside carry tapped wine. Evan Loewy, Other Brother's brand manager, notes that among the many advantages of kegged is an elimination of large shipments of glass bottles, which lightens the environmental footprint and shipping costs.
"With the right wine in the right environment, kegs are the best medium for wine," Brand says.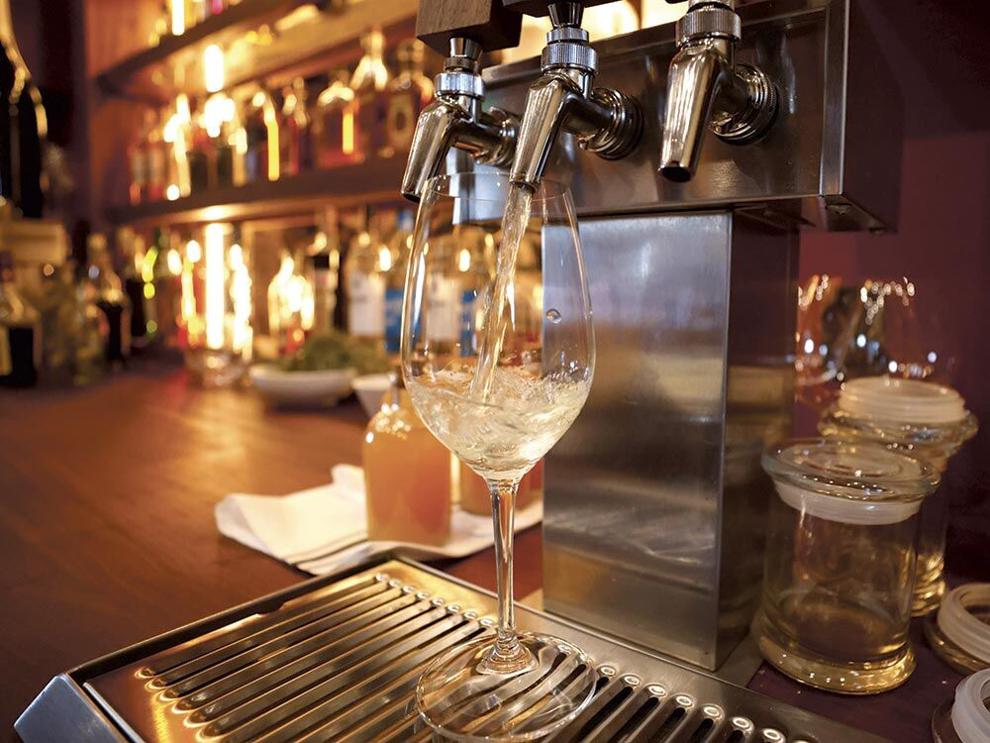 AMONG ITS 8 BILLION HUMAN GUESTS, the planet today only hosts 269 master sommeliers – wine experts of the highest order. Already an advanced sommelier, Birkimeier will test later this year to join those rarefied ranks.
Birkimeier admits his first impression of kegged wine, a decade ago, was lowbrow and required little thought. Today, he says most wine in kegs are "really compelling." Silence the pop of a cork and wine from a keg stands up to the palate of a master wine taster.
"There is absolutely no difference in taste between wine that is poured from a bottle and wine poured from a tap," Birkimeier contends.
In Aromas, Stirm is making a similar case for wine served in a can. The Cal Poly graduate started Companion Wines in 2016 and has been selling what he considers quality wine in aluminum cans across the U.S. The can, he says, fills a niche – a durable, mobile product that consumers can bring to the beach or throw in a cooler.
Stirm, who cans natural Rosé, Riesling and skin-contact Pinot Gris, says he's seen the can industry grow, especially amid the recent challenges for glass bottles. That proliferation has helped the can's public image.
"Today, people are less in the mindset of since it's in a can it's just a shitty product, because there are just so many new options available," Stirm says.
For U.S. winemakers, it helps that aluminum is light to ship and much of it is made domestically; the EPA also reports beer and soft drink cans are recycled at a rate of over 50 percent.
"I think canned wine will be here to stay, there are too many positives with it for it to not be here," Stirm says. "I think you will start to see a lot more high-end wine in cans."