OF THE THOUSANDS OF VEHICLES THAT WILL GRACE MONTEREY CAR WEEK, there are three that stand out for their shared relevance to this moment in automotive history: an 1898 Riker Stanhope, an iconic 1964 Volkswagen Microbus and a recently unveiled 1,900-horsepower hypercar called the Pininfarina Battista.
Each built in a different century and in a different country, these cars would seem to have nothing in common. The first resembles a horseless carriage, the next one is a teal and chrome balloon and the last looks like a batmobile with a cabin the shape of a teardrop. But then you pop open the hood and look at what's underneath.
They all run on electric engines.
"It's a polarizing topic for car enthusiasts," says Gordon McCall, one of the leading organizers of Car Week.
For many people, the presence of an internal combustion engine, which runs on gasoline, defines the automobile; driving means the excitement of ignition, the purr of pistons pumping power into a crankshaft. The market for electric cars, McCall points out, is slim. Only about 2 percent of all cars sold in 2018 were electric.
But this year, McCall and his team at The Quail, A Motorsports Gathering felt they had to respond to the industry's increasing focus on battery-powered cars and they made them one of the show's themes.
"Most manufacturers are leaning into electrification," he says, adding that the trend is only expected to increase as concerns over carbon emissions from exhausts get stronger. "But whether the consumer base wants it remains to be seen."
The uncertainty around the future of the cars echoes the late 19th century when the automotive industry was in its infancy. Back then, gasoline cars had yet to dominate the field. They were one option among two others: electric and steam. As author Dan Albert writes in his recent book, Are We There Yet: The American Automobile Past Present and Driveless, electric cars were seen as superior to gas-powered ones for years. They accelerated more quickly, handled better and won land races. In stop-and-go traffic already plaguing some Manhattan streets, gasoline engines would suddenly halt and have to be cranked to start again.
When Albert A. Pope, an industrialist who had helped turn bicycles into a mode of transportation for the masses, switched over to cars in 1896, he bet big on electric. "You can't get people to sit over an explosion," he said.
The term "climate change" had not yet been invented and the emissions from such explosions did not factor into the car debate. But it's worth noting the first prediction of the greenhouse gas effect came at this time. It was a theory published in 1896 by Swedish scientist Svante Arrhenius. He argued that as humans put more carbon dioxide in the atmosphere through combusting fossil fuels, the Earth would become warmer.
Somehow, an electric car from the early days of industrialization – when the road to the future was wide open – has survived until now with nearly no damage or alterations. And this 1898 original Riker Stanhope will be auctioned at the annual Pacific Grove auction on Thursday, Aug. 15.
"A pre-1900 car that runs and drives – that's a big deal," says John Kruse, a principal at Worldwide Auctioneers, which is selling the vehicle on behalf of an unidentified owner.
The man who designed the car, Andrew Riker, was the Elon Musk of his day, Kruse says, and his car was the original Tesla. What makes the comparison even more remarkable is that Riker was a contemporary of the pioneering scientist who inspired Musk – Nikola Tesla.
Tinkering in the basement of his home as a teenager, Riker built his first electric vehicle by designing a battery engine and welding it onto a Coventry bicycle. By 1889, when he was 21, Riker had moved to New York City and established the Riker Motor Vehicle Company. Like Tesla, Riker was more successful as an inventor than a businessman; coincidentally, the two men were issued patents for the electrical inventions on the same day.
But Riker sold just enough cars, trucks and trolleys to New York City patrons to stay solvent and master his craft. The open-air carriage-like car now being sold at auction was one of the finest electric vehicles he would build. At 1.5 kilowatts, the engine's output matches that of a modern-day, professional-grade blender. The car placed first in a race in Boston 1898 and won a gold medal at the 1900 Paris Exposition.
Then, there was the 1900 race on Long Island. The Riker won that one, too. But that's not what makes it special. The race's distance is. Fifty miles separated the starting point in Springfield from the finish line in Babylon. Many of today's battery-powered cars have a range that's not much longer.
In 1902, Riker sold his company to Pope, who later went bankrupt, and exited the electric car business. Gasoline was taking over, and Riker went on to excel in that area as well, serving as the first president of the Society of Automotive Engineers in 1905. His vice president? Henry Ford.
It is partly thanks to Ford that the Riker car has survived – it spent most of the 20th century in the car museum that Ford built in Dearborn, Michigan.
Kruse of Worldwide Auctioneers says the hope of the current owner is that a new caretaker will arrive to invest in the car's preservation. Inquiries are already coming in from around the world but Kruse declines to venture a guess about the price it might fetch at Car Week.
"I don't think any of us know what the car is worth," he says. "There is nothing you could really compare it to."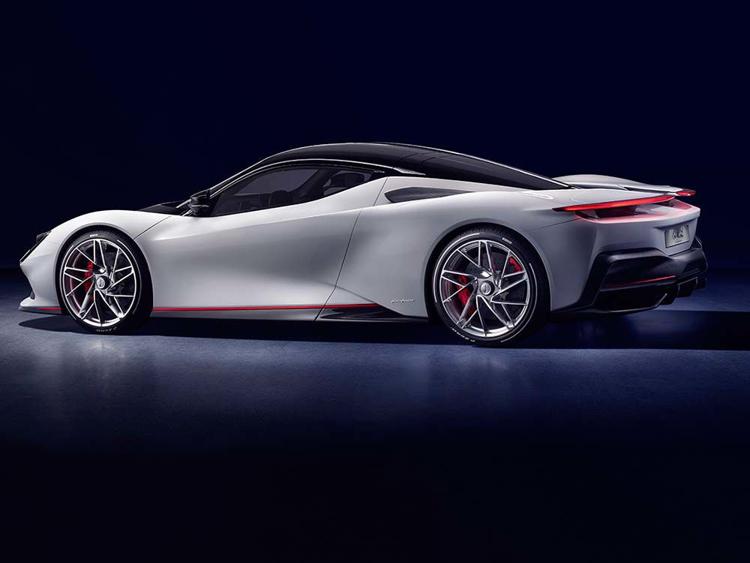 IN TERMS OF MARKET VALUE, THAT MAY VERY WELL BE TRUE. But Car Week features at least a couple of cars that represent the Riker spirit of ingenuity and experimentation with electric drivetrains.
At The Quail, there will be an entire class of homespun projects by independent enthusiasts who have converted gasoline cars into electric ones. The entrants include Richard Hilleman, who took a 2016 build from Radical Sportscars, one of the most common race cars in the world, and put a battery motor in it. In the fashion of 19th-century inventors who mastered several disciplines, Hilleman is also one of the giants of the video game world, having created Madden NFL and other titles, eventually becoming the Chief Creative Officer at Electronic Arts.
The conversion project that will likely appeal to the widest crowd – because it's just so delightfully improbable – is a 1964 Volkswagen Microbus designed by David Bernardo. He'll also be presenting a red 1965 VW Beetle that belongs to a client. Bernardo says that he loves the aesthetic of classics but hates the drag of old sputtering engines. Electric motors offer torque on demand, without the delay of fuel and air mixing, allowing these hulking machines to easily zip onto the freeway or up a hill.
Bernardo's company, Zelectric Motors, works on classic European cars, with an emphasis on German models. At a minimum cost of $60,000, only a select group will opt to upgrade their collectible with an electric engine. That suits the shop's capacity; Zelectric can't handle more than 10 projects a year, Bernardo says.
He has made the trip up to Car Week from San Diego, where the shop is based, for the past five years, but his creations did not quite fit into the existing classes.
"We kind of felt like outsiders," Bernardo says.
Outsiders no more. Bernardo represents exactly how The Quail hoped to do electric when it announced the class. The goal wasn't to showcase Chevy Bolts or Teslas, McCall says. "We wanted enthusiasts who are keen to create a hot rod version, for lack of a better term… that's tapping into a real passion for cars."
The term Bernardo uses for what he does? "Retro-futuristic experiential art on wheels."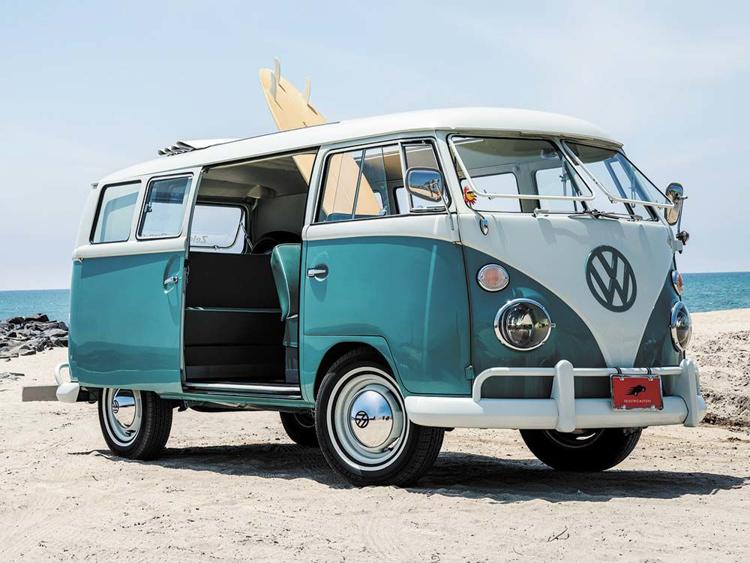 IF A CONVERTED VW BUS GESTURES AT THE DIY CREATIONS OF PIONEERS LIKE RIKER, there's also an electric Car Week debut that speaks to that early era's raw pursuit of speed – funded then as now by the megalomania of industrial titans. (More evidence that we have entered the Second Gilded Age?)
Behold the Battista, a $2.2-million hypercar from the house Automobili Pininfarina. Only 150 will be made. At 1,900 horsepower and a top speed of 250 miles per hour, the Battista is 950 times more powerful than the Riker. Also, it beats every Italian supercar in history.
Speaking of Italian cars, there's a reason that the Battista looks a lot like a Ferrari. The firm behind the car, Pininfarina, had spent the past 80-plus years as a hidden sidekick to Ferrari, as well as to firms like Rolls-Royce, Jaguar and Alfa Romeo. Pininfarina operated as a consultancy, designing cars for manufacturers who had run short on creative juice.
The name Battista is a reference to Battista "Pinin" Farina, the man who founded the company in 1930. Today there is a different last name of the firm's marquee: Mahindra. An Indian, family-led conglomerate, the Mahindra Group scooped up Pininfarina in 2015. It was the group's chairman, Anand Mahindra, who set the design firm on a new path.
He wanted to capitalize on the legacy brand and start competing with the exotic car makers who had always been clients.
These are just three of thousands of cars that will feature at the shows and auctions of Car Week. But they are three of the most important in telling the story of the automobile, past, passion and future.