IN THE HISTORY OF CAR WEEK, PEBBLE BEACH MAY BE ITS HALLOWED BIRTHPLACE, but neighboring Carmel has played an outsized role in the annual fete of automobiles, serving as a gracious host over many years to car shows, hotel guests, shoppers and restaurant patrons. Until the pandemic, it was home to the beloved Concours on the Avenue for 13 years, featuring classic cars on village streets, and was a much-anticipated feature of the Tour d'Elegance route for both participants and classic auto fans.
The tour route was adjusted last year, omitting the drive through the village before heading out to Highway 1, Carmel Valley and Big Sur. Concours on the Avenue is on a pause, after founder and chief coordinator Doug Freedman passed away in October, leaving his wife Genie to shoulder the planning of the free event that usually takes place on the streets of Carmel, utilizing over 300 volunteers to make it a success.
An Autoweek Magazine obituary about Freedman called Concours on the Avenue one of the "must-sees in a long week of must-sees" of Car Week. The Carmel City Council commemorated the Freedmans on Aug. 2, with Mayor Dave Potter calling the event a "crown jewel" of the week. "We miss the event. We miss Doug more," Potter said, adding that he hopes the event will return.
Yet even without those two events – reducing major events in the town to one – Carmel city officials and business leaders expect the town to be buzzing the entire length of Car Week. "While Carmel-by-the-Sea will not be the host location for Concours on the Avenue this year, it is still an ideal central hub for enjoying Car Week around the Monterey Peninsula," says Amy Herzog, executive director of Visit Carmel. She says the town's 40 inns, representing nearly 1,000 hotel rooms, are expected to be sold out, or nearly so.
City Administrator Chip Rerig says he expects that because Carmel is home base for so many visitors during the week, the town will still benefit economically despite the loss of two events. "I'm still very bullish on great visitors and having our restaurants filled and our hotels filled. I don't foresee us having a significant financial impact," he says.
One major event that takes the spotlight in downtown Carmel this year is the Prancing Ponies Women's Car Show, a relative newcomer to Car Week in Carmel, that launched in 2017. It was not necessarily welcomed warmly by all residents, some of whom complained to City Council that there were too many events contributing to the annual downtown congestion. But the show featuring sports cars all owned by women, organized by Prancing Ponies founder Chanterria McGilbra, was given a berth on a side street off of Ocean Avenue where the main events usually take place.
This year Prancing Ponies takes center stage from 11am-4pm, Thursday, Aug. 18, on Ocean Avenue near Devendorf Park. "I welcome all of these changes, because it allows women to have more of a platform of solidarity and celebration of who we are, especially during Car Week," McGilbra says. She created the Prancing Ponies Foundation in 2015 after she purchased her Ferrari and realized she could use her success and love of cars to mentor girls and young women. The annual show, free to spectators, raises money for the foundation through entrance fees.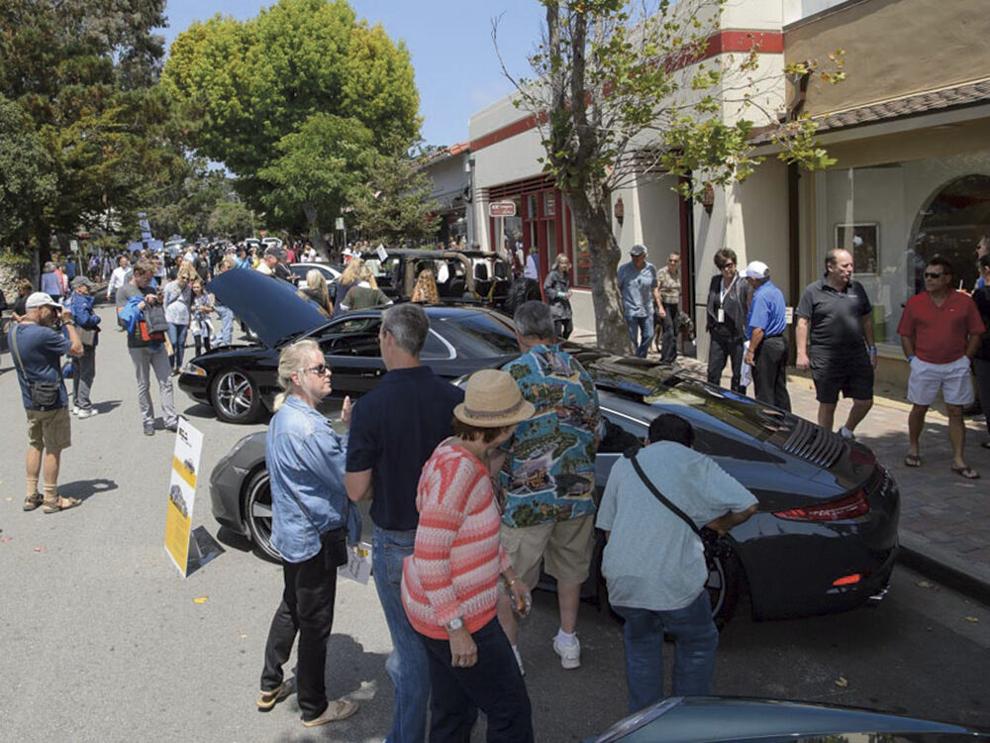 (McGilbra says she is the first African American woman to purchase a Ferrari in California. She had hoped to be the youngest, but Ferrari officials checked and said someone else beat her by six months. "That makes me the youngest Black woman, doesn't it?" she adds jokingly.)
This year will be the biggest Prancing Ponies show, McGilbra says, with over 70 cars, all with owners who identify as women, although they created an invitation-only category called "Men We Love," with around a dozen sports cars owned by men. Also new this year is a fashion show that will take place during the event featuring designs of Yema Khalif, a young designer originally from Kenya, who built a clothing brand around helping children in Africa.
McGilbra wasn't even aware of Car Week until she participated in an all-women's Ferrari car rally in 2016 and the women she met decided to go as a group to Car Week. "You've got to be kidding me, there's a whole community of people who come down to celebrate cars? I'm in," she remembers saying. She sees Carmel as a less intimidating location for women to be introduced to car shows. "It's a more intimate setting," she says. "It has the smaller, more community feel I was looking for, and the location – everyone knows it."
With more than 8,000 spectators expected to visit the Prancing Ponies Show, McGilbra says having the show in Carmel will bring customers to shops and restaurants to benefit the town. And although the other two largest events are not happening, there are smaller private events around town, including some at Sunset Center, and a new, small Acura Car Show at Devendorf Park that took place on Tuesday, Aug. 16.
Despite concerns by some residents over the annual takeover of downtown by Car Week visitors, Herzog says the week still remains an important source of economic support for the town. "It's helpful to remember that so many members of our own community rely on the visitation that takes place this week for a boost to their locally-owned small businesses as well as to support their employees," she says.