DETROIT AND PEBBLE BEACH ARE ABOUT AS OPPOSITE AS ANY TWO LOCATIONS CAN GET, and yet there is a tie that binds: the love of all things automobile. One is the birthplace of the American auto industry and the other the birthplace of what's become one of the most prestigious car events in the world.
The Concours d'Elegance and other Pebble Beach Car Week events that lead up to it have developed an image of, well, elegance. Well-heeled elites dressed in chic attire and stylish hats strolling among the very expensive and fancy classic cars parked on the golf greens, the coastline providing a dramatic backdrop.
This year, however, Motor City – also home to Motown, techno music, as well as a major contributor to jazz, rock, hip hop and punk music genres – is about to drop a new beat on Pebble. Cue the D.J. scratching a turntable needle across vinyl.
Coming to the lineup is Sketchbattle Pro, an automotive design sketching competition that will pit professional and student designers against one another for a $2,500 prize and entry to the Grand Slam Sketchbattle at the North American International Auto Show held in Detroit in June 2020. It's a move by the Concours organizers to "encourage and excite the next generation of enthusiasts – the designers and restorers who will be creating and caring for cars in the coming years," Senior Director Sean Jacobs says in a written statement.
Sketchbattle is the brainchild of Brook Banham, a transportation design consultant with his own agency, Middlecott Design, based in downtown Detroit. He created Middlecott Sketchbattle Championships as a business in 2012. He developed the idea as part of a graduate project while earning a master's of fine arts from College for Creative Studies, considered one of the best schools for transportation design in the country.
Noting the competitive nature of his fellow design students and of the auto industry itself, Banham asked, why not celebrate sketchers? Universities have sports teams – art schools could have their own competitors battling it out for number one in the design world.
Then Banham took other strands from his life to create Sketchbattle. His family moved from Texas to England as he was entering adolescence. He fell in love with the underground and techno scenes and dreamed of one day hosting his own rave parties. All the while he developed the skill of sketching cars born from the influence of his father, a Pontiac executive, and his mother, an artist.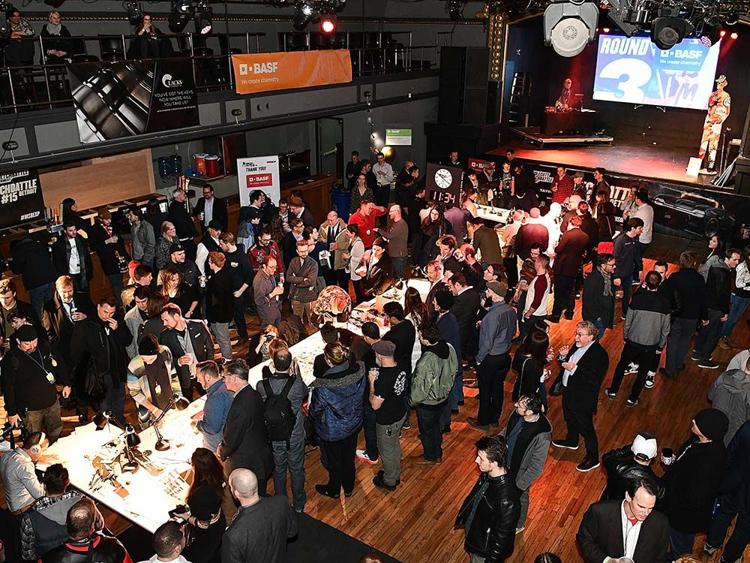 Banham hosted his first Sketchbattle during the Detroit Design Festival in downtown Detroit, later moving it to the Detroit Auto Show using underground locations like abandoned warehouses. It was a hit. Auto executives from all over the world came to watch the battle. Banham says it was a welcome reprieve from the traditional and "stiff" auto show.
"This is an opportunity for these executives to let their hair hang down, loosen up and go to one of these underground parties," Banham says. "It's completely different than the typical auto show parties."
The traditional parties are closed to the public, but Sketchbattles are wide open, attracting the local community including artists, break dancers, "hip people," Banham says.
The parties have expanded to other auto industry shows in Los Angeles, Las Vegas, San Francisco, Chicago and New York. With his business partner, Frank Schwartz, Banham and his team find mostly underground locations to replicate the feel of the Detroit competitions.
Sketchbattle Pro will decidedly not be held in an underground location in Pebble Beach. Banham's willing to sacrifice the underground venue this time around to promote the concept. "We'll still have all the ingredients," he says, including Santa Cruz-based D.J. Dancing Mandy, low lights, and more. They'll "balance the poshness of Pebble Beach with Detroit culture."
Students from art schools in San Francisco, Pasadena and Detroit will compete with design professionals. Competitors are provided details of the sketches a week in advance, giving them time to prepare their best ideas. There are two rounds, starting with eight to 10 competitors in round one. They get 30 minutes to sketch, followed by judging by automotive professionals that cuts the number in half for round two. At the end, a winner is declared.
Banham says one of the biggest merits of Sketchbattle is the exposure it gives designers and design students to industry executives. "People get hired," he says. "This is a conduit, especially for students to expose themselves straight off the back with the big dogs."
SKETCHBATTLE PRO, 5:30pm Friday, Aug. 16. The Forum venue at Spanish Bay, 2700 17 Mile Drive, Pebble Beach. Free; advance registration required. theconcoursstore.com