SYLVIA RODRIGUEZ LONG AGO LEARNED TO RECOGNIZE DIFFERENT PARTS OF THE HOSPITAL BY THEIR DISTINCT AROMAS. Twenty-six years ago, at age 29, she left her job at a packing shed for an opening as a housekeeper at Salinas Valley Memorial Hospital, and she hasn't looked back. "I just love what I do," she says.
It might gross some people out, but she isn't grossed out by the smells, the bodily fluids, anything. She's a fastidious cleaner (at home as well as work), and in the Before Times, on a standard shift, she would clean roughly 22 or 23 patient rooms.
When Covid-19 came, her supervisor gave her a choice: To stay on her floor, which was going to stop treating stroke patients for the time being and instead become a Covid unit, or move to another floor. Without hesitation, she chose to stay, despite protests from her children, 16 and 20, who worried about her getting sick.
"At first it was scary going in there. It was really, really scary. When we started, I remember my coworker was so scared," Rodriguez says. "We just looked at each other and I said, 'Don't worry, we're gonna be OK, you've got my back and I've got yours.'"
At first, she thought the pandemic would be short-lived. But it dragged on, and she watched patients die, sometimes multiple people in the same family. She coped, sometimes ducking into a quiet meditation room for a few moments, and she kept going.
Despite adapted cleaning protocols that slowed down her process – her first day, she only cleaned three rooms – she kept doing the work she loves.
There's a routine to it: Check the sharps box to see if it's full and needs to be removed; spray disinfectant on bathroom surfaces, and while it sits on those surfaces for a few minutes to activate, gather up the trash. Then wipe down the surfaces to disinfect, and mop the bathroom floor (with a separate mop) before moving onto the main patient room.
During the pandemic, she learned to enter and exit patient rooms through a low-pressure room, and how to don PPE, specifically powered-air purifying respirators, which force air through a filter (strapped on around the waist, like a fanny pack) and into a mask that is fitted around the wearer's neck. (Even under the respirator, Rodriguez continued to put on eye makeup daily, part of her routine. Shimmery eyeshadow and long, dark lashes that make her look ready for a night out on the town. "It's me," she explains.)
Especially throughout Covid, when visitors were forbidden, patients were lonely and isolated. They often asked Rodriguez to chat. One recently asked if she would pray with her.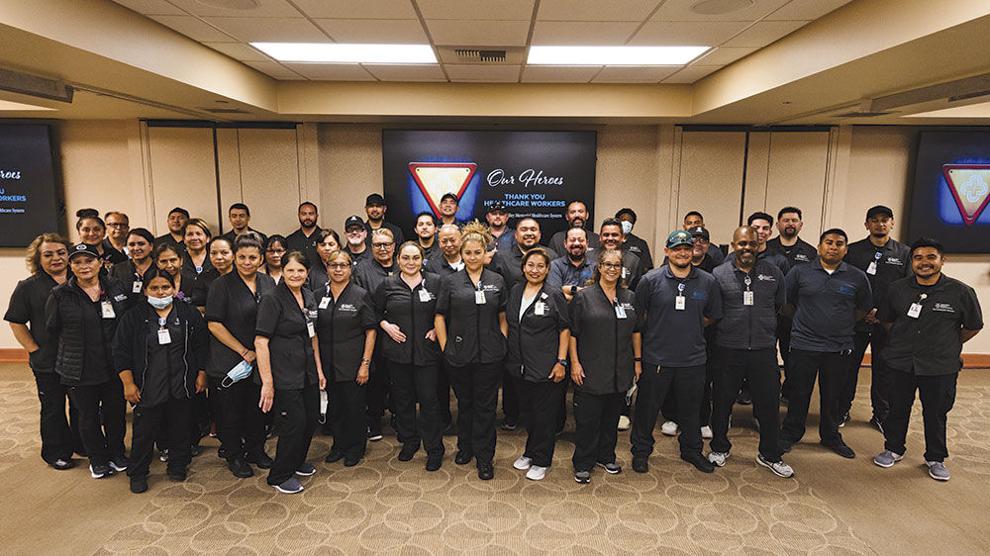 Raquel Ramos, a nurse who worked on the same shifts as Rodriguez, notes that keeping the hospital clean and safe is a key part of patient safety and recovery. "[Housekeepers] are an essential part of what we do, and help how fast we can get patients in and out," she says.
Ramos, along with the rest of the nursing team, were awarded prestigious DAISY badges, an international award in recognition of excellent nursing. Ramos gave hers – a small, circular charm with a white daisy on a green background – to Rodriguez, who now wears it from her name tag.
"She was definitely part of the team. She was in there with us, and in there with the patients," Ramos says.
The theme of teamwork comes up again and again talking about Memorial Hospital's housekeeping team (technically called the Environmental Health Services, 105 people strong and the largest department). Alongside doctors and nurses, they are part of keeping a safe environment for patients to heal, a key component of patient care.
Teresa Robinett, 27, also worked in the Covid unit – for the bulk of the two-and-a-half years she has been on the housekeeping team at Memorial. "It was life-changing for me," she says. "It gets you thinking, you're not promised tomorrow. [I realized] I could die tomorrow, I risk my life every single day.
"I did it not because I want the recognition – I might be just a housekeeper, but I do it because I want to see patients progress and go home to their families."
Rodriguez says the hardest part of her hospital housekeeping career isn't Covid, but early on, when she first encountered illness and death.
Still, getting through the pandemic presented its own challenges, and its own learning.
"We're never going to forget it," she says. "It changed my life, my perspective. You're here one day, and the next day – you just don't know. Now you realize every day you have to live each day like it was your last. The way I saw people dying, it really puts your life in perspective – when you see a coworker, or someone you don't know, just give a smile, be happy you're alive.
"I'm very proud," she adds. "I wouldn't change what I did."