Kristin Scheidt is standing in the middle of a 36,000-square-foot greenhouse filled from end to end with thousands of flats of succulent seedlings and plants in hues ranging from dusky gray to pink, purple, orange, red, yellow and several shades of green.
"It's like working in a rainbow," Scheidt says.
She has been working inside that rainbow as a grower and general manager of Succulent Gardens in Castroville for five years. It's currently riding a wave of success thanks to the booming popularity of the water-storing plants that were once relegated to a small corner of nurseries for a few interested gardeners.
At least two forces came together in recent years that sent succulents' stock soaring. One was California's prolonged drought that caused people to look for landscape plants that use less water. The other was the rise of social media, where visuals are everything. Succulents' sculptural qualities lend themselves well to photographs. They populate the feeds of hundreds of profiles on Instagram, Pinterest and elsewhere.
"We're struggling to keep up," Scheidt says of the demand. She estimates they carry 700-800 varieties of succulents with about 800,000 plants in cultivation at any given time. They also carry pots and wood planters, as well as offer design and installation of succulent walls and displays. Floral designers frequently visit, looking to add flower-like foliage to displays for weddings and special events.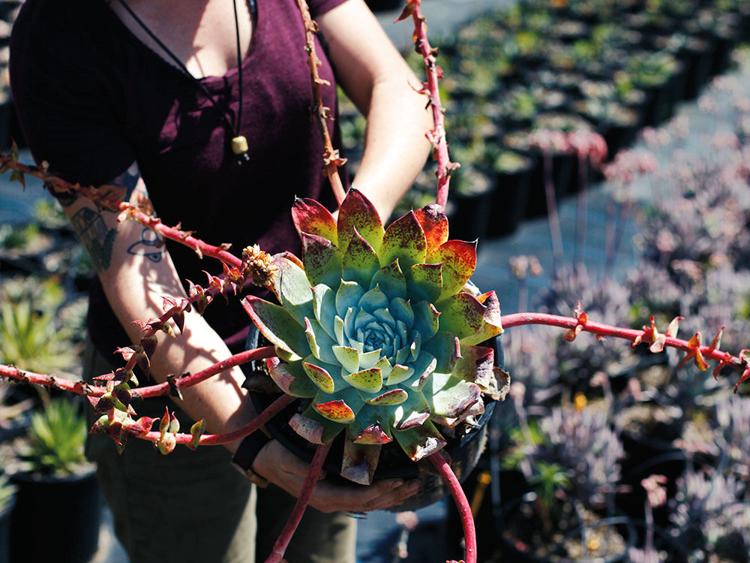 It's now routine that when a unique variety of succulent is featured on social media, the next day people ask for the exact variety. When a rare variety called String of Dolphins went viral recently based on a photo from Japan, Succulent Gardens staff had to explain to disappointed customers it wasn't currently for sale in U.S. nurseries. Customers are frequently bummed when they find out that photos from Instagram or Pinterest featuring neon-hued succulents are in fact heavily edited, displaying colors not found in nature.
The sudden surge of interest in any given item or location is often called the Instagram Effect, something Big Sur residents are well acquainted with. In addition to bringing droves of tourists to get selfies with Bixby Bridge, last year it resulted in a case of succulent poaching from Garrapata State Park. A couple from Palmdale was spotted removing hundreds of native Dudleya farinosas from a hillside to ship to China, where the variety is highly prized. California Department of Fish and Wildlife investigators later found 600 of the plants inside the couple's garage.
In January, Jose Luis Rivera, 64, and Guanrong Rivera, 49, pleaded no contest and were sentenced to jail time – 40 days for Jose and 179 for Guanrong, although they were eligible for an alternative program to stay out of jail – and probation. They also paid fines, restitution and were banned from visiting any state or national parks in California.
The plants were confiscated and sent to the UC Santa Cruz Arboretum, where Dudleya expert Steve McCabe helped the CDFW determine which plants were safe to return to the wild and which could possibly be contaminated. About 100 were returned to the park, but others had been mixed with soils and plants from other counties. The mixtures could be harboring fungus, diseases and insects that potentially could do great harm if reintroduced into nature, McCabe says.
His passion for succulents started at age 11, when his father gave him two cacti and a succulent for Christmas. He went to graduate school at San Francisco State in the 1980s to study plant identification and evolution and picked the California native Dudleya species out of a book for his research project. He later went on to work at the UCSC Arboretum for 30 years, taking care of the succulent research collection before retiring and transitioning to a volunteer position.
McCabe agrees the interest in drought-tolerant plants is one reason why the plants have become so popular, plus the industry got better at growing succulents, making them less expensive to grow in mass quantities. He also believes "it's just fashion, it's a fad," not unlike past temporary interests in carnivorous plants, tulips or orchids.
In the meantime, experts like McCabe worry that the Instagram Effect will wipe out some endangered varieties. He says he's thankful that at least Dudleya farinosas, the variety popular in China, is a common one. It's also easy to find for purchase, including at Succulent Gardens and at Navarros Mixed Nursery in Castroville.
And while it's true that social media has sparked interest in succulents, others, like Monterey Bay Area Cactus and Succulent Society President Tom Karwin say the fascination has been slowly taking root for years.
People are discovering not only how easy succulents are to grow, but also how varied they are in color and size, he says. Hundreds of people showed up for the society's annual plant sale in San Juan Bautista in April, including more middle-aged and younger people than in the past.
"We often think gardening is appealing to people in retirement, but we're seeing more and more younger people," he says. "It's definitely trending."
Scheidt says succulents' ease of care and natural beauty will keep consumer interest high for years to come.
"We're not seeing the popularity slowing down," she says.
---