Om Oasis yoga teacher Sterling Taylor and I make small talk about our past lives in Oakland as we pull off our underwear to begin our 60-minute session of yoga-in-the-buff. We move to the mats, kneel in the Vajrasana pose and begin to focus on our breathing.
I'm calm but I still can't shake the wariness of contorting my bare body in ways that will expose parts of me I haven't seen.
On principle, I try to blast any hang-ups I have about being naked in the presence of others. From prior experience I know once you get over the curiosity of viewing parts typically hidden, they just become parts. Breasts, buttocks, penises and vaginas are just as normal as noses, cheeks, eyes and chins when sexualized thoughts are absent.
"For me this is about experiencing non-sexual male intimacy," Taylor says to me in the thankfully warm studio. "That said, if you – or if I – get an erection, it's really no big deal, those things can happen."
~○~
People do yoga for many reasons, some for the serenity, others for a workout. As it's grown in popularity, dozens of new practices have emerged, building upon – and diverging from – the ancient practice. Now Taylor brings to Monterey a form of yoga to help people push boundaries and get comfortable in their own skin.
"I was so nervous and anxious the first time I did naked yoga," says Taylor, 32, who offers private yoga sessions for men at Om Oasis in Monterey, where he also teaches a more traditional clothed version.
Taylor had already started his teacher training at Om Oasis a few years before he tried his first naked class in Oakland. He says when he entered the class he laid his mat in a corner and stared out the window at a tree, trying not to look at anyone, but then suddenly he felt comfort:
"I came up into Warrior I [pose] after 10 minutes of anxiety then I was like, 'Oh, this is what it feels like to be in your body.'"
After years of being uncomfortable with his shape, he observed something transformative he didn't expect.
"For so long I focused on how I could cover up my body and how I could make myself look like everyone else," he says. "Then there was no label. It was just me."
Body issues in the United States are often warped by our schizophrenic display of bodies. There's a multi-billion-dollar porn industry that pushes fake parts and unrealistic expectations of shapes and sizes. But we can't view a normal naked body on basic cable. Images we're bombarded with shame the myriad forms of normal healthy bodies, says Taylor. Curating a comfort in our naked being can address many esteem issues we have about ourselves, he continues.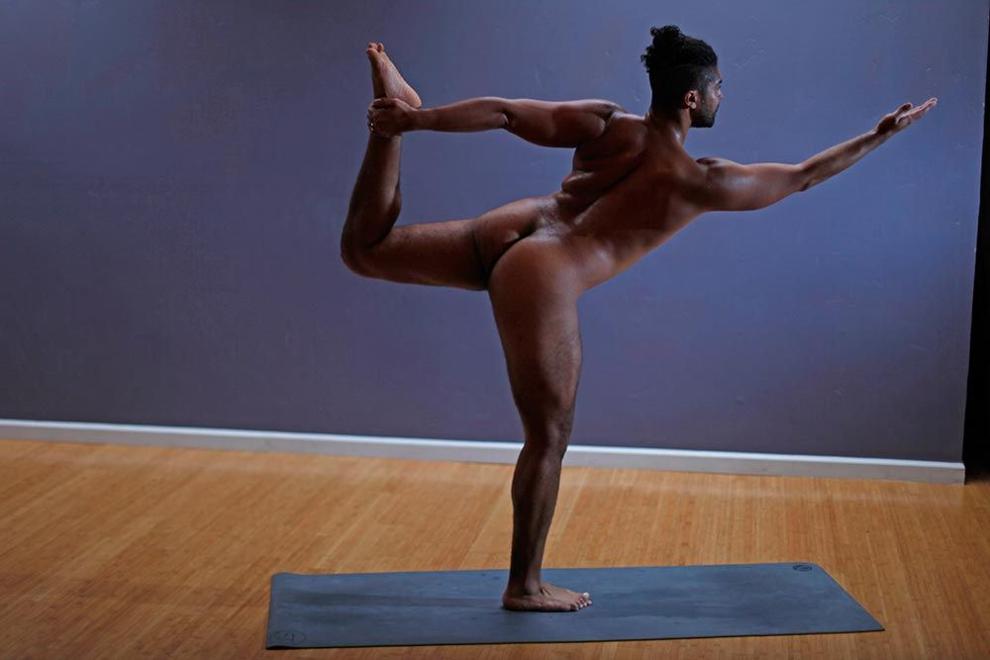 "I also think naked yoga could help women, and especially trans people," he says. "There's so much more pressure on them about body image, being naked in a safe space could be a healthy way to find comfort in their bodies."
Aside from heady ideals of naked liberation, nudity and sexuality can be difficult to pull apart, especially when the parts involved are normally private. Taylor concedes many gay men practice naked yoga because they enjoy being around naked men. To be fair, plenty of other straight men do things like Bikram yoga for the added bonus of being around a dozen minimally clad women for 90 minutes in a 105-degree studio.
There's a curious phenomenon that's occurred over the years. As reported in the New York Times, men's locker room designers are now changing traditional open-shower layouts as millennial men find it difficult to be naked in front of other men. A generation ago men were uncomfortable with homosexuality, but didn't think twice of being openly naked with their buddies.
In a time of greater acceptance of alternative sexualities, men in their 20s and 30s can be less tolerant of same-sex nudity. Capitalizing on this shift in attitudes, comedy writer-director Judd Apatow (of Walk Hard and Superbad fame) creates comic discomfort by putting a penis in seemingly every one of his movies.
Taylor, who grew up in Monterey County and moved back with his husband in 2014 after 10 years in New York City and a few more in Oakland, says he has a few regular clients. There are also men who have taken sessions but found it wasn't for them, and a few others who came expecting a sexual experience and left disappointed.
~○~
We move through the sequence of poses: the warrior poses, downward dog and cobra, then into the pigeon pose and other ground movements. Thirty minutes into the session I'm covered in a typical amount of sweat.
Taylor walks over and gives me tips on my posture. I notice his toe nails are decorated with a sparkling turquoise polish. I imagine he might be taking notice of my tattoos.
After a while, being naked ceases to be the primary thing in my mind. Instead I'm trying not to fall over while in the tree pose or I'm frustrated with the lack of flexibility in my hamstrings. No awkward boners, no uncomfortable gazes. It's just yoga with more freedom of movement than I've experienced.
Self-consciousness doesn't hit me again until we lay back in the happy baby pose – and not only because my wet flesh makes fart noises against my rubber yoga mat.
To do the happy baby you must lay on your back, grab your feet, pull your knees toward your shoulders and your feet in opposite directions, opening the pelvis and stretching the inner groin. Complete exposure.
From there it's not long before we wrap things up. We sop off sweat with our towels and put on our clothes. We chat for a few more minutes as I pay – Taylor typically charges $100 for a one hour session of naked yoga.
I leave not completely sure what to make of the experience but confident that I'll probably take more yoga classes with Taylor in the future – though they'll be the group "power yoga" classes he teaches on Thursday nights, with clothes.
OM OASIS is located at 631 Cass St. in Monterey. Naked yoga sessions are made by appointment via www.sterlingtayloryoga.com