Like across most of the United States, crime in Monterey County has been dropping over the past few decades.
In 1995, there were 2,895 violent crimes and 14,372 property crimes across local law enforcement jurisdictions, comprising 12 municipal police departments, one university police department, and the Monterey County Sheriff's Office.
The number of crimes has trended downward since then, reaching a historic low in 2018, which saw 1,741 violent crimes and 8,406 property crimes, both about 40-percent lower than 1995 levels.
During the same period, the total staffing level of Monterey County law enforcement agencies has remained relatively stable. There were 870 officers and civilian employees in 1995, and 947 in 2018, with mild fluctuations in the intervening years.
The extent of the disconnect between the crime rate and police staffing levels in Monterey County is revealed in an analysis by the Weekly of data that the FBI routinely collects from local law enforcement agencies.
Monterey Police Chief Dave Hober notes that his department's staffing is lower than it has been historically, and barely enough for all community needs. "The crime rate is a discussion point but it's not how we decide our staffing," he says. "There are many variables in play."
The Weekly's analysis comes as local government budgets face unprecedented cuts due to the pandemic that brought commerce to a halt in March as public health officials ordered the population to shelter in place and all nonessential activities to stop.
At the start of the pandemic, on March 20, Seaside City Manager Craig Malin warned just how bad the cuts could get. "Our principal operational mission is to continue police, fire, water and sewer services for as long as possible," Malin wrote in a note to the public.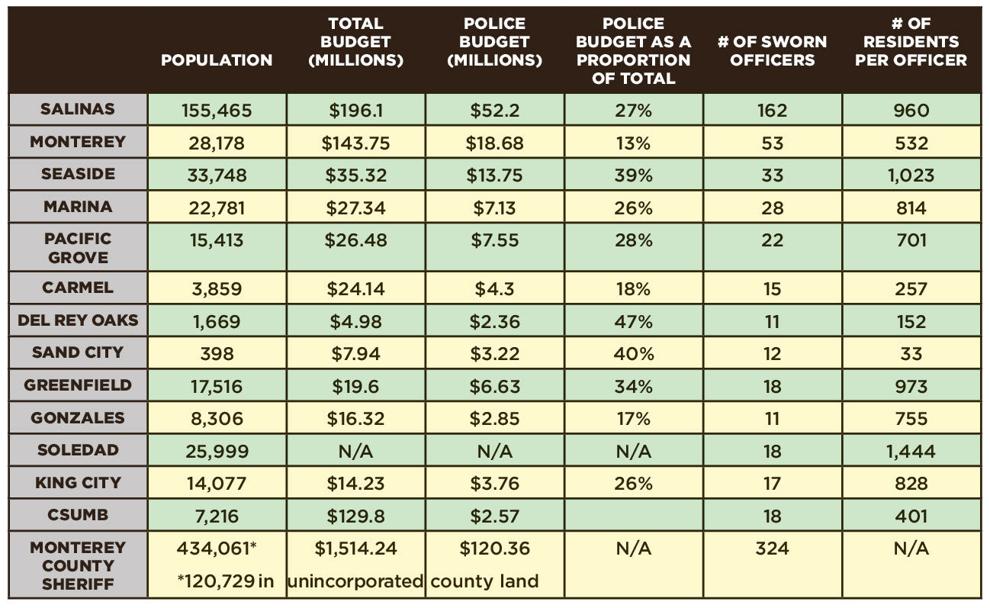 Two months later, as governments began to contemplate reopening the economy, the police killing of George Floyd was captured on camera. The public vacuum produced by the quarantine was suddenly filled by masses of people on the streets demanding justice. Soon, activists and some elected leaders started looking for justice in the difficult decisions over which public services are worth preserving and which can be cut. The Black Lives Matter movement, for example, pressured the mayors of New York and Los Angeles into promising to take money away from police and investing it elsewhere in the community.
In Monterey County, the momentum for cutting police budgets is not as far along, but the pressure is building. The anonymous group known as Monterey County Protest, with its sudden presence on social media, called to "defund the police and put funding back into the community," in a post on Twitter. Salinas community activist Matt Huerta has been echoing the same sentiment. Seaside City Councilmember Jon Wizard and Monterey City Councilmember Tyller Williamson used their platforms as elected leaders to question longstanding spending priorities, and their statements on the issue have led to rebuke from within their respective police departments.
By the request of residents and by the nature of the job, police deal with some of the most complicated social issues from homelessness to mental health, Hober says: "I have a bare-bones staff to deal with all the issues we are asked to deal with in this community."
As an idea once considered radical has made its way into the mainstream, local radicals press on, organizing community members around the banner of "Community Before Cops."
A loose coalition of local activists, teachers, college students and whoever shows up on Zoom on any given day, Community Before Cops has emerged just as many Monterey County cities host annual budget discussions. The group is holding regular planning meetings with the goal of swaying budget decisions.
One of the central ideas uniting Community Before Cops is that cops are carrying out social services that would be better performed by trained specialists, according to River Navaille, who helped establish the group. Too often, Navaille says, police officers face homelessness and mental health issues they are not equipped to handle. "Why do we have a police force that dominates the public sector?" Navaille asks. "Are we really dealing with our community's problems if we are policing them?"
Navaille, a 28-year-old who lives in Seaside and teaches theater at Seaside High School, is a product of public arts programming. For seven summers, they worked in the Monterey Recreation Department, which proved to be a pivotal experience. Part of what motivates Navaille is to ensure that other youth don't lose the same opportunities as cities are forced to make cuts.
"Arts programs are really important that serve students in a unique way giving them confidence, and leadership experience while being safe and seen in a community," Navaille says.
Editor's note: The chart above should have noted that the city of Del Rey Oaks and Monterey Regional Airport share a police department. MRY pays the city of Del Rey Oaks for roughly half, $1.2 million annually, meaning the city's share is about 25 percent of their total budget.