WHO'S IN TOWN?
Tourism and agriculture might the two biggest economic drivers in Monterey County, but everything stalls without Highway 101. According to the Central Coast Coalition – which includes the Transportation Agency of Monterey County, Association of Monterey Bay Area Governments, and agencies from four other counties – 150,000 vehicles per day travel the corridor, carrying $6.5 billion worth of produce. The direct route between San Francisco and Los Angeles also carries thousands of tourists daily. California Transportation Commission Chair Fran Inman is in town this week for a transportation town hall, inviting public feedback on transportation needs. The CTC is the primary decision-maker for transportation project funding.
1-3:30pm Wed Sept. 19, town hall. Gonzales City Hall, 117 Fourth St., Gonzales. 775-0903.
FREE SPEECH
There are some rare occasions that give courts the power to block a media outlet from publishing information. They include revealing troop movements during wartime, per a 1931 U.S. Supreme Court decision. They also include information "that would set in motion a nuclear holocaust," per the Supreme Court's ruling on the publication of the Pentagon Papers. Not on the list: publishing confidential city documents from attorneys to members of city council telling them how to do their jobs. That threshold, which leans in favor of the First Amendment, is the reason the Monterey County Weekly prevailed in Monterey County Superior Court on Sept. 7. The city of Greenfield sued the Weekly – and former city manager Jaime Fontes, who city officials suspect of leaking documents – seeking an injunction preventing publication of memos marked attorney-client privilege. Judge Susan Matcham denied the city's complaint, and also denied a motion by the city to file documents in the case under seal.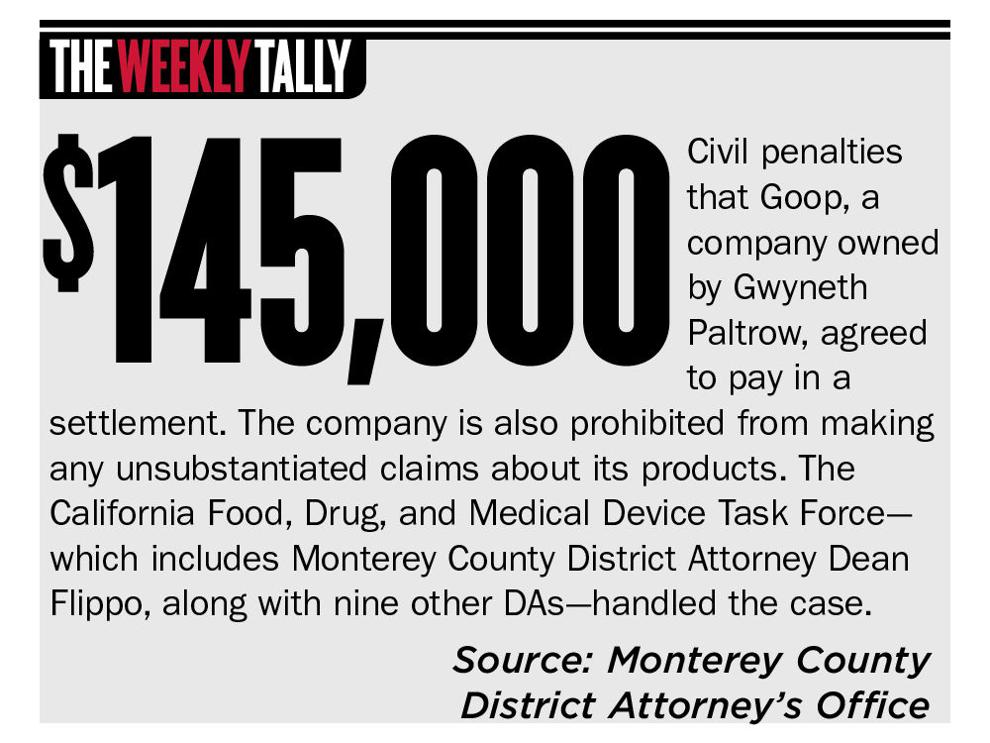 GOOD WEEK / BAD WEEK
GOOD:
Earth is moving, in a good way. It's been a good week for construction in Salinas and demolition in Seaside, with major projects moving forward. On Sept. 10, crews broke ground on the future Salinas Police headquarters on East Alisal Street, a $56 million project that will include more space and modern amenities for officers, as well as a community room and places to meet privately with officers, in a central location. Salinas also began building the new – and expanded to about three times its former size – El Gabilan Library on North Main Street. Meanwhile in Seaside, the first hammer struck a wall where 10 buildings are coming down on the former Fort Ord. The demolition project began Sept. 5 and will remove blighted buildings, making way for Seaside'sCampus Town project, an 85-acre area slated for future mixed-use development, to be built by the firm KB Bakewell.
BAD:
For the most part, motorcycle riders don't like being up in the air. But thanks in part to a lingering lawsuit and the shuttering of a popular company that organized track days, there is uncertainty around the future of rides around WeatherTech Raceway Laguna Seca. Track days allow non-racers access to race tracks for fun. But in 2015, Daniel Kim broke both his legs in an accident at Laguna Seca, then sued Monterey County, the track's then-sponsorMazda, nonprofit track operator SCRAMP and event host, Keigwins at the Track. A judge dismissed all but the suit against Keigwins, which had operated the event for 16 years without a lawsuit. Owner Szymon Dziadzia determined not to settle, and has closed the company. There may be a glimmer of hope for riders: A California couple has purchased the Keigwins database and debt and may keep it going.