---
---
Compared to the polished showrooms of proud collectors, the garage behind Mohr Imports' space on Del Monte Avenue is hardly impressive. The walls are drab. The floor is wet from a recent detailing. It bears all the hallmarks of a functioning warehouse.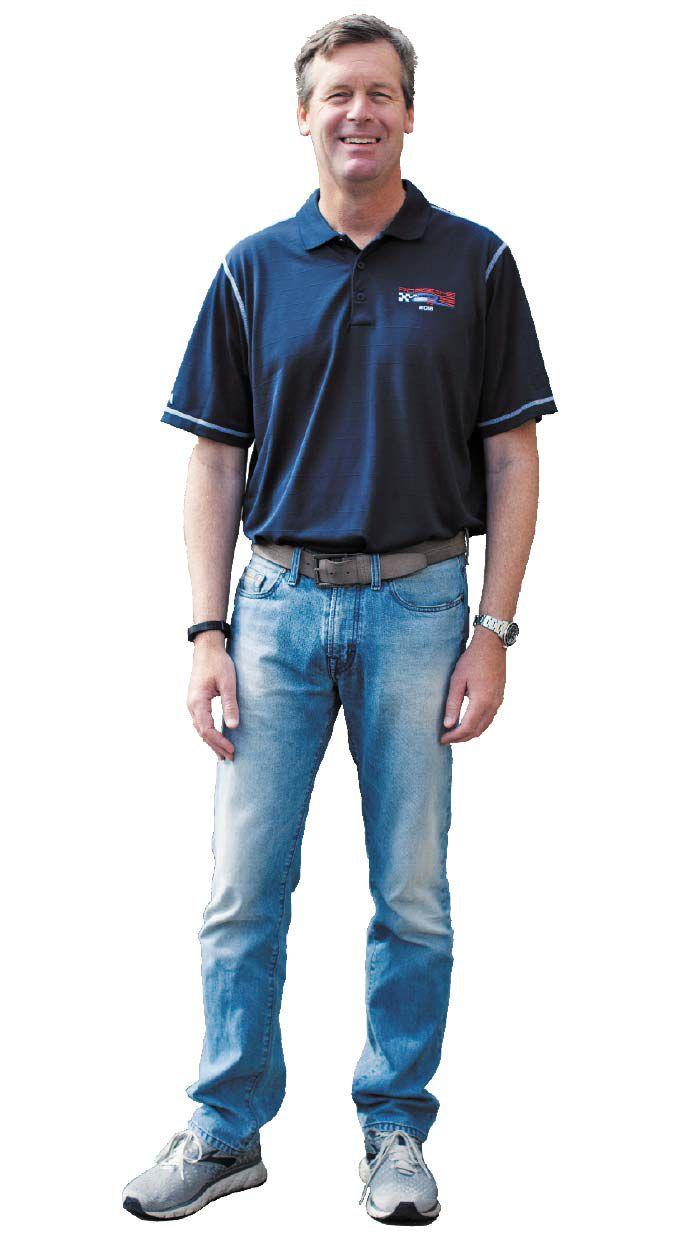 That's what it is – a space to securely store sports cars owned by clients, to prepare consigned cars for sale to an international market, to house their own collection and ready classics for auction during Car Week. But Adam Mohr had no plans to join the classic and sports car brokerage started by his father Al. He studied political science at the University of Southern California and was expecting a job in that field. That was until 1994.
"I thought it would be a part-time summer job," Mohr recalls. "It turned into a lifetime job."
Mohr Imports opened in 1984, operating from Seaside before moving to its current location. Although the shop began with a specialty in Italian cars, their current stock includes a coveted '65 Ford Mustang K-code convertible, a '36 Bentley and a 2012 Mercedes AMG roadster. But Mohr estimates that of the past 500 cars that have rolled through their shop, half have been Porsches.
Weekly: What's Car Week like for you?
Mohr: This is the one week collectors come here. People come in, we reconnect with customers, we try to get to as many events as possible. People in the collector car world will say 'Oh, I know your spot. I drive by there.' They feel like they know you. Car Week has helped a lot over the years.
Is it sometimes scary to buy an old car?
Most of the older cars are so simple, you're not at the mercy of a computer – getting a light on the dash with a code, chasing down the problem. It can be scary buying from people you don't know, but you know what you're getting into within a few hundred feet.
A lot of collector cars just sit on display. Do you have a preference between restoring or preserving and enjoying them?
From a dealer standpoint there's no preference. But from a personal standpoint it would be a car you can enjoy. There is a happy medium. I found a mid-1980s [Porsche] 911 that had belonged to a man whose widow said he'd drive once a week, but hit every mailbox on the way. So it had been repainted. But it runs well if you want to go somewhere.
What do you tell people who want to get started collecting?
It's usually something they relate to. The classic response is to find the best example that you can afford, one that speaks to you. Attend Car Week events. Go to car shows. See what's out there. Strike up conversations with the owners.
Some people start on the computer. We had a guy come down from the Bay Area and buy a '96 911 Targa. He said, "This is the car that was on my father's wall." He came down with his girlfriend and another friend. They just got in the car, threw their junk in the back and lit out. He found us by looking online.
Collectors used to rely on big Hemming's catalogs. How has the internet changed things?
It's funny. Talk about Hemming's – I knew of people who would have it overnighted to them so they could have one day, get that little advantage. The internet has made it easier to market without advertising. As soon as you have something priced market-correct, your reach is anywhere in the world.
It's rare that someone just walks through the door anymore. You end up not having that much dialogue with buyers. And you have to invest a lot in the photography. In 2000 or 2001 we put in a photo booth in the back and brought in a professional photographer. Now we send cars outside – the setting, the scenery – to make the car stand out. You provide a lot of details so you don't get that 'hey, you didn't tell me about' call. It's made the business more transparent.
How do you survive the economic ups and downs?
We turned a lot to consignment. The downside is not very big. And there hasn't been a downturn since 2008. In 2008, the pre-1988 cars you could export easily due to the favorable exchange rates, so our business was good.
Was there ever a time you didn't want to be around classic cars?
We did a lot of vintage racing – that I thoroughly enjoyed. So no, my interest just kept going.
What's it like to race a vintage car?
Oh, it's fantastic. Sometimes you wonder about your safety, but it's great.