---
---
Erin Carey first discovered the powerful connectivity of physical performance, unconstrained by language or culture, as a teen. She traveled in a summer ballet exchange program to Mongolia, Russia and Morocco. "I just fell in love with being on the stage and the cross-cultural exchange that can happen with that," she says.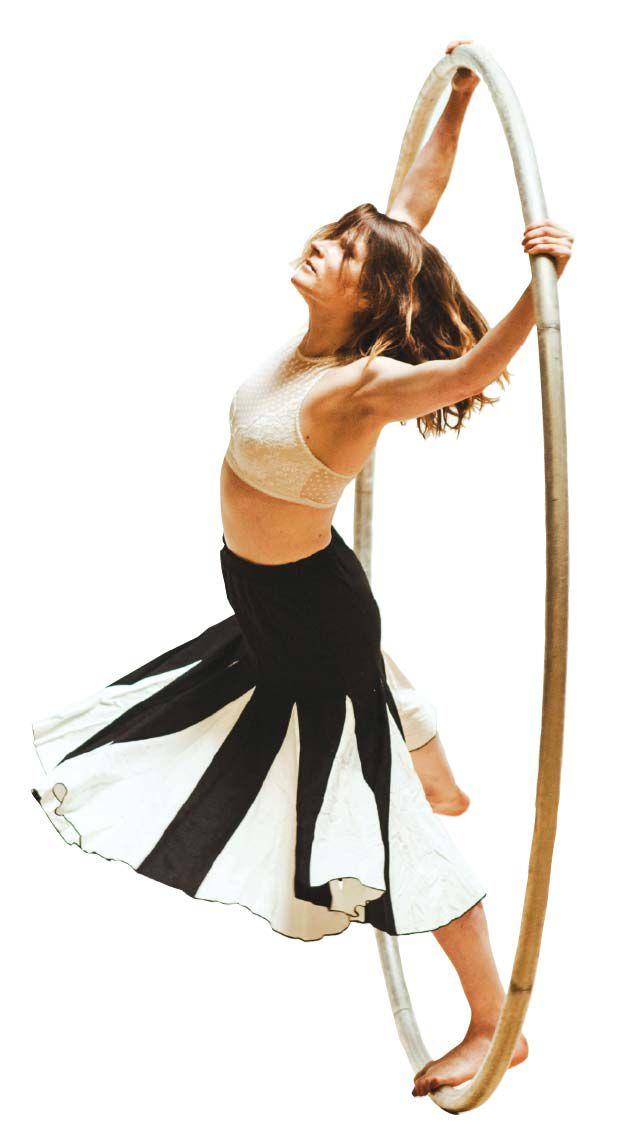 But she decided to pursue something practical, and went to college to study marine biology and political science. Three years in, she changed course, enrolling instead at Circomedia, an esteemed circus school in England. After an eight-year career touring, she was ready for a more stable life and moved to Big Sur in 2012.
She was born at Fort Ord and raised in Pittsburgh, and kept Monterey County in mind as she toured the world. In 2015 she co-founded the Radical Movement Factory in Santa Cruz where she continues to teach, as well as at Mindful Movement Studio in Carmel. She still tours seasonally and performs locally with Big SurCus and Community Palette, and will appear at the Big Sur Fashion Show on Sept. 20.
Weekly: "Running away to join the circus" has a negative connotation to it. How did you think about it when you went to circus school?
Carey: In America it's considered more entertainment and not art, although groups like Cirque de Soleil are helping to change that. In Europe it's been a long-standing tradition and circus is considered more of an art form.
I always saw it as an art form. It was also this personal journey for me. When I was in college, I struggled with a severe eating disorder and I was hospitalized for three months. During that time it was an awakening: What do I want? What would make me strong and choose life? I could envision myself in the air; I could be strong to do that.
For me it really wasn't running away, it was running toward. It was helpful in giving me a reason to want to rebuild my body and be a strong woman, physically and emotionally.
How do you train to be strong enough?
It does require a lot of strength, precision and just intelligence about body mechanics. As I've gotten older, I've learned how to use my body most efficiently – that's one benefit of getting older is learning to work wiser, not harder.
Do you ever get scared performing high up?
The thing I like about it is it requires all of your attention. You can let go of other worries for a while, because it demands it. The one place I do have fear is on the Cyr wheel, which I've taken up in the last year and a half. The process of learning this whole new apparatus has helped me realize how much coaching is helpful. It is so counterintuitive: Your whole brain is telling you, from thousands of years of evolution: Do not throw your skull at the ground. It's like a motorcycle, the faster you go the easier it is, but it's hard to get that initial speed.
You're a member of the Mid Coast Fire Brigade. You told me you woke up in the middle of the night, on the third anniversary of the Soberanes Fire thinking about it.
The thing that haunts me most is the lasting effect it's had on our community. So many people lost their homes and haven't been able to rebuild yet.
But I think we all sign up for it when we live here, that lifestyle in the elements. I love feeling small, that nature is the bigger player. And we all need each other. Like the circus, we all have to work together to live there.
After the fire, Palo Colorado had a rough winter and your house was damaged. What's the story of your downed tree?
When I first got to Palo, the first thing I did was hire an arborist to come set up a point [for aerial practice and performance] on a maple tree over Palo Colorado Creek. The branch itself was about 40 feet from the bank, so I had a lot of room to play.
On Presidents Day 2017, there was a debris flow and a flash flood. Water was rushing everywhere, down the road, bifurcating our house. Then we hear this creaking, and the tree that held my aerial silk, almost instantly came over. I had nowhere to go, power lines down on one side, water rushing on the other. I just froze. The crown of the tree came over me, and everyone was screaming. I thought I was dead for a second. Then I realized there was a major limb on either side of me. I had just one bruise on my arm. I always thought it was kind of a mythical story, because this tree I had danced with came down on me, but spared my life.