It's New Orleans, so there is deep lore.
Back in the mid-1700s, enslaved black people who sought refuge in the Louisiana Bayou were welcomed and harbored by various Native American tribes. Through the subsequent years – the American Revolution and the Civil War, the co-mingling of Congo Square, the advent of Mardi Gras – black folks remembered that alliance and showed gratitude through the act of homage: donning elaborate Native American-esque outfits of feathers, beadwork, patches, horns, shells, lace and fringe; playing percussive African, Carribean, Creole and Native American musics; parading and dancing through the streets; and chanting Native American phrases mixed with French and Spanish.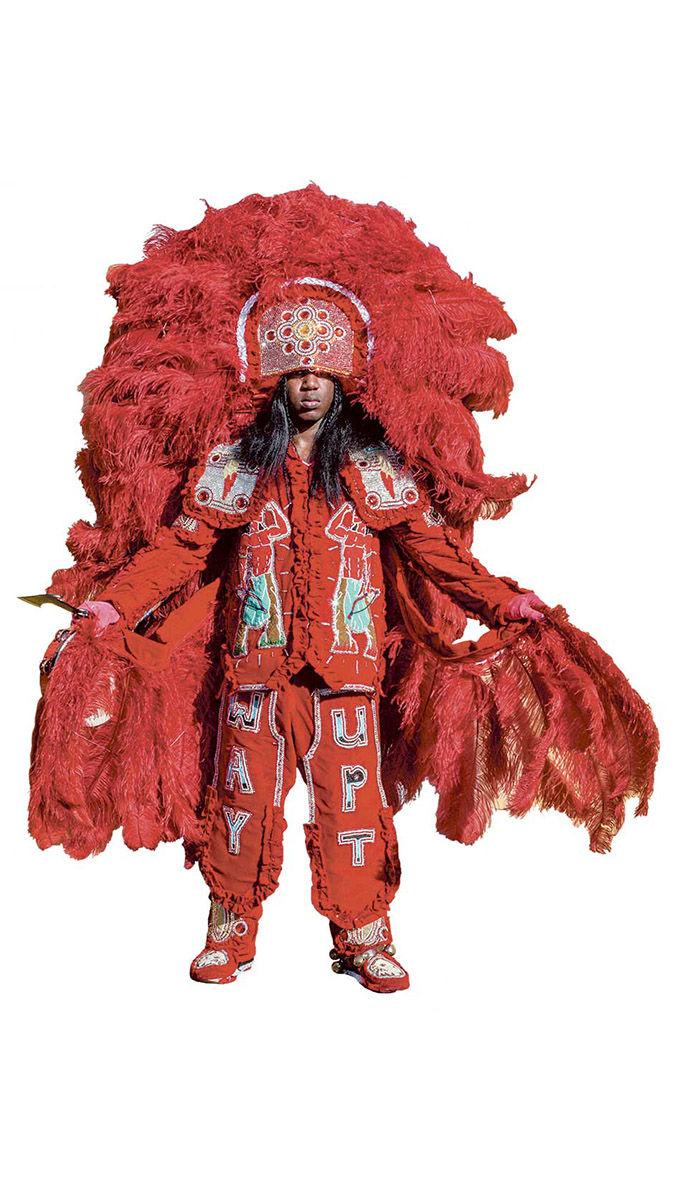 That tradition survives today in New Orleans' African American community as Mardi Gras Indians. There are about 35 active "tribes," composed of family, kin or friends who hold positions like the big chief (the leader), queen (companion to the chief), spyboys (scouts), flagboys (banner bearers), and wild man (security). They are often accompanied by New Orleans' famed second line music crews and "street culture" music.
The tribes spend all year designing and making the resplendent wardrobes (they call them "suits") for each year's iteration of St. Joseph, Super Sunday and Mardi Gras. Back in the 1970s, the rivalry between various tribes could result in fights and violence, but now it's all ritual, music and showmanship.
J'Wan Boudreaux, 21, is a Mardi Gras Indian. He is a spyboy. His tribe is the Golden Eagles – founded in 1977 by his grandfather Big Chief Monk Boudreaux, who claims Choctaw and Cherokee lineage – and made up mostly of their large family. J'Wan is also frontman for New Orleans band Cha Wa, a hodgepodge of Mardi Gras Indian tradition, funk, brass band, jazz and more. Band founder Joe Gelini (see his interview at mcweekly.com/art), played in an early Mardi Gras band with Monk Boudreaux and calls J'Wan the "heir apparent for being the next great Mardi Gras Indian singer for his generation." When the band plays at the Monterey Jazz Festival (2:20pm and 5pm Saturday), they will premier new songs from their upcoming third album. "Cha wa" roughly translates in Indian vernacular to "We're comin' for ya!"
Weekly: Is any part of Mardi Gras Indian culture religious?
Boudreaux: We do have a prayer called "My Indian Red." It's a blessing. It's said at funerals or when we put our suits on for [special events]. It's like a roll call.
How do you merge African American and Native American cultures?
We're paying homage. In New Orleans, when the slaves were trying to escape, Native Americans were the ones to [help]. That's how we learned how to do this. They taught us. This was our way of saying thank you. We have Native American in our blood.
How long have you been a spyboy?
For 20 years. It was gave to me by my grandfather. You can either get promoted or you can move [positions]. You can't move to the Big Chief spot without him telling you.
What did your grandfather teach you about this culture?
About sewing, singing. He really don't talk too much about it. He would tell us the do's and don'ts: If we got into a controversy, the hatchet is not for use as a weapon. He's one of the oldest big chiefs out there. He's been through the era of when they were fighting. He was trying to teach us to change.
In some pictures you have a hatchet. What is the meaning of it?
That is one of the tools the Indians used when they was hunting. Spyboys were known for carrying hatchets.
Are there songs you do that come from old tradition?
Probably pretty much every song you hear in the streets of New Orleans [goes] back years and years, when Indians first came out. They're handed down through generations.
Do you wear full regalia during Cha Wa's whole set?
Yeah. A lot of people can't withstand the heat. I keep my whole suit on during the whole show. It weighs [more than] my body weight.
Do you make a new suit every year?
Yes. You gotta know how to sew. The previous year's suit, we tear them down and give patches to the younger kids who can't sew in our tribe. We start at age 2.
What does it mean to have such a rich culture where so many are poor?
It means everything. It gives people something to look forward to. People can enjoy [the procession] and not worry about anything for a moment.