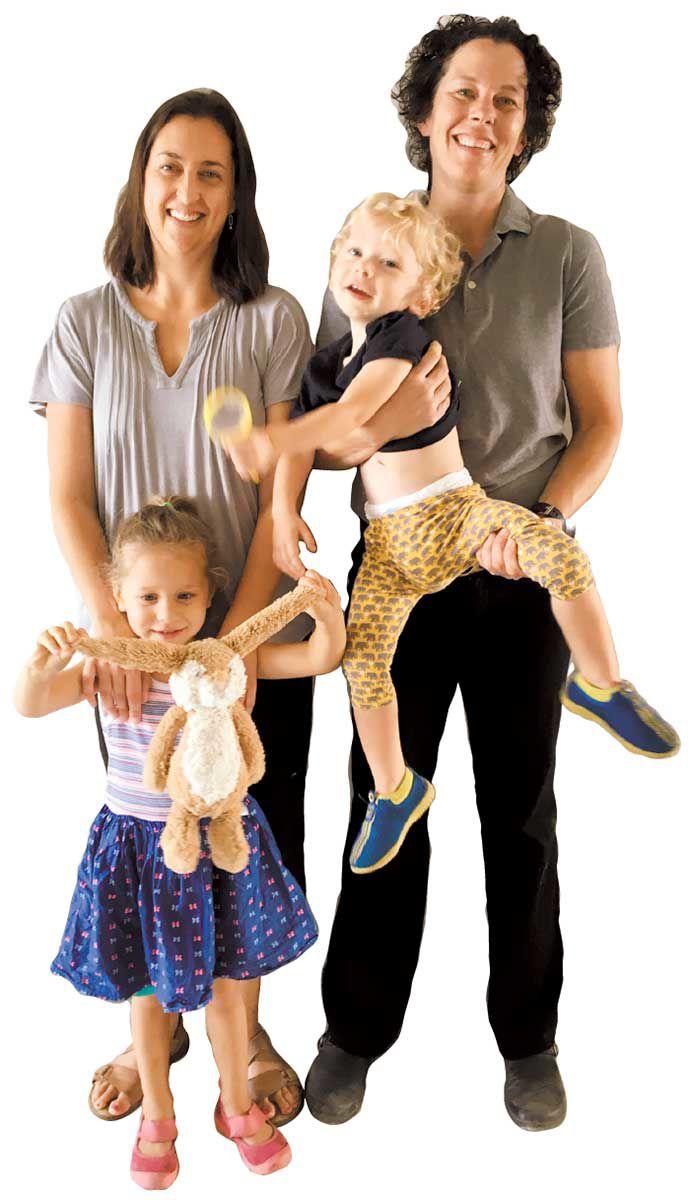 Kelley and Molly Calvert seem perfectly at home – 77,000 miles from their Seaside house. They met at the Middlebury Institute for International Studies in 2002. They started dating in 2011 and were one of the first same-sex couples legally married in Monterey County in 2012. Fast-forward six years and they find themselves full-time in Chiang Mai, the largest city in northern Thailand, as they have been for the last eight months and plan to remain for the next 16. The relocation comes after Kelley, a longtime MIIS writing instructor (and former Weekly intern), took leave when she earned a fellowship to teach English in Thai schools through the U.S. State Department, in what she describes as both an educational and soft-diplomacy role.
That meant realizing a dream for the internationally-inclined couple. After living and working abroad independently – Kelley with the Peace Corps in West Africa, Molly with Catholic Relief Services in Haiti – they were eager to attempt it together, with their young kids (Cora, 4, and Jonah, 2).
The Weekly caught up with them over a lunch of Burmese salads with fermented tea leaves, and again in their State Department-funded sixth-floor apartment where they're the only Westerners in the building.
Weekly: How has the life change gone?
Molly: It was a leap of faith. I feel like our kids are being taken care of. This place has been amazing for them. To see their faces when they're being wrapped in an elephant trunk is so beautiful. Last night they were dancing in the warm rain.
We didn't want to see having kids as a barrier to living abroad, but we did have a sense of urgency to do it while they're young. It's going to get harder when they make their own attachments.
Kelley: I have to say when the elephants were hugging our children, I was a little scared.
What do you wish you could import to U.S. society when you return?
Kelley: In the U.S. we feel like we live in a safe society with a lot of law and structure. There isn't a lot of that here – just look at the traffic. But there is a collectivism and Confucianism and family structure that makes it a lot more safe. There's a real sense of security. People here value overall harmony.
Molly: Everything here is so child-friendly. When you go to the grocery store there's a play area. In some restaurants, there's a kids' area. Everybody here loves kids – and they're expected to behave.
What's been the most meaningful difference in the way you're received as a same-sex family?
Molly: People see us in the States and want to know, "Who's the mom?" They can be invasive and rude. Here it's a family and they accept us. They don't question us. It's a peaceful culture.
What were the reactions to your plans to travel?
Molly: You talk about going overseas with your kids, and people say, "Man, that's scary and so dangerous." It's a beautiful gift to them to see another pace of life, to see another type of culture. Cora bows to her teachers.
Speed round: What do you miss most about Seaside?
Kelley: The ocean. The clean air. Hiking. The [lesser] population density. The sense of space.
Favorite travel proverbs?
Molly: Mark Twain says, "Travel is fatal to prejudice, [bigotry] and narrow-mindedness."
Kelley: "The world is a book, and those who don't travel only read one page," [Augustine of Hippo].
What would you say to people considering a similar move?
Kelley: To trust it's going to be a positive experience. Before we left I had nights I didn't sleep well. It's turned out to be the best thing that has happened.
Coolest thing to see Jonah learn here?
Molly: "Shoes off [inside], Mommy!" Even when it's OK.
And Cora?
Kelley: She knows what to do in a temple.
Favorite Thai word?
Molly: Bai tiao – go to relax, travel, wander, all in one word.