Jim Nantz has a lot of friends – tens of millions, if you count all those who follow sports on television and hear his "hello friends" greeting.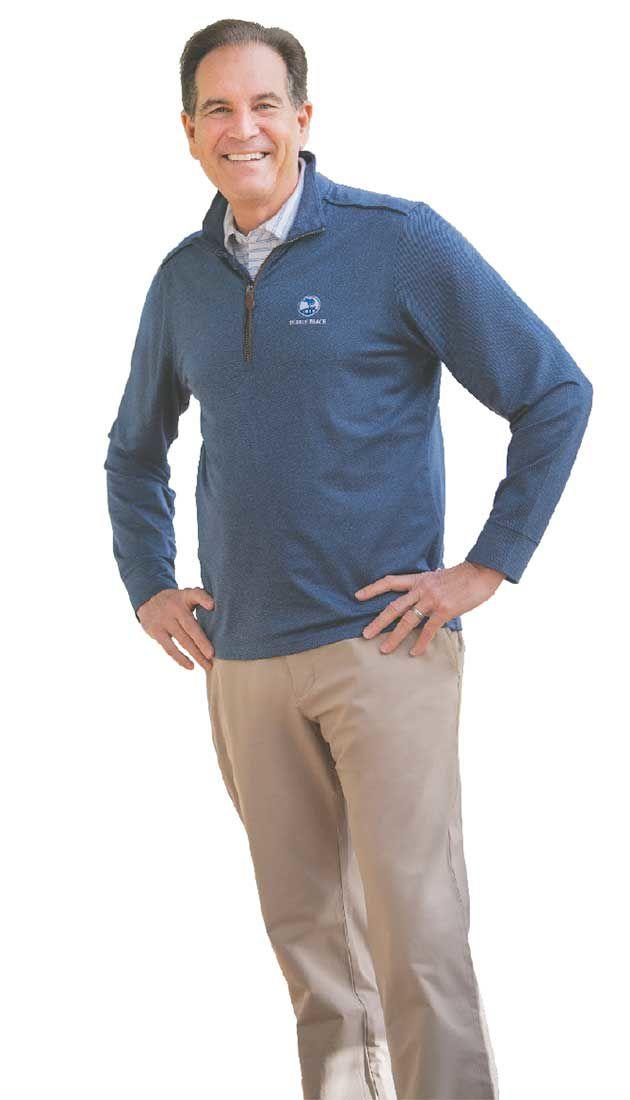 Since he joined CBS in 1985, the Pebble Beach resident has provided play-by-play coverage of basketball, NFL football, tennis, the Olympics and the PGA Tour. Nantz will be in the broadcast booth again this week, calling the shots at the AT&T Pebble Beach Pro-Am (his NFL partner Tony Romo is in the field). But he also has a wine label – The Calling – and he's celebrating the grand opening of a new clothing line and Pebble Beach store.
The Jim Nantz by Vineyard Vines collection features golf and casual clothing and is his second venture with the company. In 2018, Vineyard Vines started a Forget Me Knot line to support an Alzheimer's care center Nantz and his wife helped to open in Houston. In other words, Nantz has a lot to talk about.
Weekly: You have a clothing line? How does that happen?
Nantz: Entrepreneurship is a trait I've always admired. To create something, build it, seed it, grow it takes vision and effort. I had a history in the golf thread arena, having served for eight years on the board of Ashworth clothing company. I was exposed to all the facets of running a hugely successful operation – design, sales, marketing, distribution. It has served me well as we re-entered the golf apparel world, in partnership with Shep and Ian Murray [of Vineyard Vines].
How did the partnership begin?
It all began with a book about my father, Always By My Side. It dealt with my dad's long battle with Alzheimer's and how my family attempted to cope. I realized there was a large group of people who related to the message. Soon we realized there was more to do than just write a book about my father and enjoy the benefits of traveling to the greatest championships of American sport. So my wife, Courtney, and I decided it was time to roll up our sleeves, write the first of many checks, and create a new Alzheimer's clinical care and research center at Houston Methodist Hospital. That was in 2011. The Forget Me Knot collaboration with Vineyard Vines was an effort to spread visual awareness to what we were doing in Houston. The reaction was fantastic and a few years later. Vineyard Vines was talking to me about expanding.
Can we add fashion designer to your resume?
I can't help myself. I'm a hands-on guy. We work on every facet of the brand – from early design mock-ups to marketing ideas. We have a great team.
Speaking of team – you and Tony Romo. How do you get into rhythm with new broadcast partners?
In most cases that takes time. With Tony we had it from day one, but that was a unique case. Tony and I had a strong friendship years before CBS paired us. There was not a "get to know me" stage in our on-air relationship. We knew each other well and enjoyed each other's company. Man do we have fun!
How full is your place during the Pro-Am?
It's busy – family always visits. My CBS family is here. Our tour friends are here. We do a lot of entertaining, including one night with over 150 guests at our house. By the end of the week we are exhausted.
What do you enjoy about the Pro-Am – besides the fact that you can walk to work?
I feel the presence of Bing Crosby to this day. The fun, the revelry, the respect for the game and the gratefulness one feels being a part of this great event. It's always been my favorite week, even before we moved here in 2012.
You started network golf coverage in 1986. The '86 Masters – where does that rank in your list of greatest moments?
One of my all-time faves. Feels like a dream now – Jack Nicklaus winning his historic sixth green jacket. I was 26 years old, calling the action from the 16th tower just a little more than three years removed from graduating from the University of Houston. I was overwhelmed by the gravity of the moment.
Jack Buck, Pat Summerall, Al Michaels… what's it like to be one of the broadcast legends?
I certainly don't look at it that way. There is still a little boy inside of me who is never going to take for granted for one minute this gift that I've been given.